1XBET Football World Cup 2022 Betting:  Up to Rs. 26, 000 Bets in Qatar 2022
Get ready to use the 1XBET World Cup offer 2022 as the FIFA World Cup starts this Sunday (20th of November, 2022) in Qatar. All eyes will be on the oil-rich Middle Eastern nation as they host the 22nd edition of the glamorous footballing tournament. Be sure to bet and win on live matches. Sign up with 1XBET today to get started.
1XBET Football World Cup 2022 Betting Offers
This is a great time to be a customer of 1XBET, especially if you are a football lover. Apart from the welcome bonus offered upon registration with the exclusive promo code, you also have a chance to shine as a punter in the 1XBET football World Cup 2022 with the special offers below:
Top Betting Site in India
Fast & Secure Payments
Competitive exclusive offers
Ballon d'Or Bonus is a broad bonus and special offer where you can participate in three-level prize draws and earn amazing prizes.


To participate in this offer, you need to place a minimum bet of 164 INR on 1.6 odds or greater on live matches of the FIFA World Cup Qatar 2022. For each bet you make, you will be rewarded with promotional tickets. You can then open up the "Ballon d'Or" when you collect a minimum of 3 tickets where you are guaranteed to win any one of many bonuses. Pick up a minimum of 10 promotional tickets to qualify for the "super prize draw".
Level 1 Prize Draw: To participate in the Level 1 prize draw, you need to pick up between 10 and 29 tickets. 5 winners can win the first prize of Samsung Galaxy Book Pro 15.6″, 10 winners will win the second prize of Apple iPhone 14 256GB, and 15 winners will win the third prize of Samsung Galaxy S22 8/256GB. There are also prizes for 4th, 5th, 6th, 7th, 8th, 9th and 10th place winners.
Level 2 Prize Draw: To qualify for this draw, you will need to pick up between 30 and 59 tickets. 5 winners will win the 1st prize of an Apple MacBook Pro 14″ 202, 10 winners will come 2nd and win Apple Phone 14 Pro 256GB, and 15 winners will win Samsung Galaxy Flip 4 8/256GB. Similar to Level 1, there are prizes for the 4th to 10th place winners.
Level 3 Prize Draw: This draw is open to anyone who collects 60 or more tickets. The star prize is a Bentley Bentayga Speed 2022, which is reserved for one winner, while 5 winners will win the second place prize of Apple MacBook Pro 16″ 2021, and 10 winners will go home with the third place prize of a Samsung Galaxy Fold4 12/256GB. Everyone can be a winner, as there are prizes for the 4th to the 10th place winners.
How to Bet on the World Cup 2022 at 1XBET?
1XBET has created a special betting page dedicated to the FIFA World Cup 2022. There are eight groups in the world cup (Group A, B, C, D, E, F, G, and H), and you can place 12 bets on each group. These betting lines include a simple "YES" or "NO" bet, and they include
Group Qualification Bets:
1st (Team) In Their Group
2nd (Team) In Their Group
3rd (Team) In Their Group
4th (Team) In Their Group
To Reach Knockout Stage Bets
1-3 Places Bets
To Reach Quarter-Finals Bets
To Reach Semi-Finals Bets
To Reach Final Bets
3rd Place Bets
2nd Place Bets
Winner Bets
A typical example of 1XBET World Cup betting is where you place a "YES" bet on, say, Netherlands in Group A emerging as the tournament winner. The odds for this bet (at the time of writing this post) are 15.

To take advantage of this 1XBET sports betting opportunity, you need to do the following steps:
Register on the website. Select your country of residence (India), preferred currency (INR) and enter the promo code VIPOFFER to complete the sign-up process.
Go to Football from the 'Sports' section.
Choose the Football world cup tournament from the leagues and tournaments.
Click on the betting market you wish to bet on.
Check the odds, and add the event to the bet slip.
Deposit money to place your bet.
1XBET Football Markets & Bets
As mentioned already, 1XBET Qatar 2022 World Cup betting will be special as a page has been devoted to this great footballing spectacle. There are 12 different types of bets and you can increase your payout by placing "Parlay" or "Accumulator bets". However, you also have "Singles", "Lucky" and "Chain" bets.
All bets can be made pre-match, and the odds are clearly stated for everyone to know what they stand to win if your bets are successful. 1XBET football World Cup betting offers are impressive, with highly competitive odds.
Now that the rest of the footballing world is on hold, you should focus on 1XBET World Cup betting offers. You can place bets on:
The team that finishes 1st, 2nd, 3rd and 4th in their group.
The teams to reach the knockout, quarterfinal, semifinal and final stages.
The team to finish 4th, 3rd and 2nd in the tournament.
The team to win the FIFA world cup.
You will be able to take advantage of the following markets when placing live bets on matches:
Win, draw or lose
Corner
Goal
Yellow or red card
Free kick
Score
1st half
2nd half markets and so on.
World Cup offers from 1XBET are sure to be one of the most exciting and rewarding in the sports betting industry.
1XBET Live Betting During WC 2022
You can place bets in real-time while monitoring the matches to know if your bets are going according to plan. To place live bets, you simply decide which match or matches you want to bet on.
Next, decide on the type of bet you intend to make, for example, Senegal v Ecuador in Group A. You can then choose your preferred betting market, such as; Win, Draw or Loss.
As the home team, a win or draw bet for Senegal will see you placing a "1X" bet, while a win or draw for Ecuador will see you placing a "2X" bet. As with most live bets, 1XBET offers you a cash-out option to avoid a total loss of betting funds during a live bet.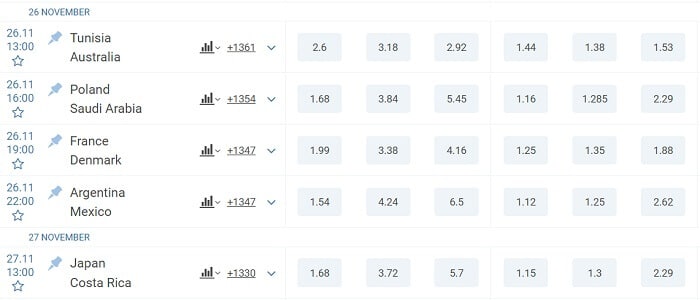 1XBET World Cup Predictions & Tips
While you soak in this 1XBET World Cup offer 2022, you might also want to consider our predictions and tips to help you optimise your use of this offer. Here are five of our top predictions to help you make a winning bet right now!
Tip #1: Netherlands to the top group:
That's right! Group A consists of the Netherlands, Senegal, Ecuador and Qatar. While Senegal comes to this world cup as African Champions, they will miss Sadio Manè, who is their top scorer and their talisman. It has greatly reduced their chances of qualifying from this group and, in effect, increased the chances of the Netherlands topping Group A. Ecuador will likely be their toughest opponent, but with a young squad lacking big tournament experience, Ecuador may fall short. Hosts – Qatar is not expected to give Louis Van Gaal's side many problems either. The current odds for the Netherlands topping their group is a decent 1.35, but you may want to include odd in an accumulator bet for a much greater winning purse.
Tip #2: Brazil to finish 1st in their group:
Another likely 1XBET football betting outcome for this world cup is Brazil finishing first in their group. Brazil is in Group G with Switzerland, Serbia and Cameroon. While this group looks tough on paper, the Brazil squad is heads and shoulders above all the other teams, and they are even most bookmakers' favourites to win the world cup. With impressive firepower with players like Vini, Newmar, Rodrygo, Richarlison, and Antony, we expect Brazil to roll over most teams in the tournament. The odds for Brazil winning their group are currently set at 1.332.
Tip #3: Canada finishing 4th in their group:
Canada is an unknown quantity at this World Cup, but that is not necessarily a good thing, as that also means they are inexperienced and lack the quality to advance beyond the group stages. They will finish 4th in their group consisting of the second-highest FIFA-ranked team in Belgium, the 2018 FIFA World cup runners-up – Croatia and Morocco, and the highest FIFA-ranked African team at 22nd in the world. Canada will be making up the numbers at this World Cup and you can place a bet for them to finish 4th in their group with the odds at 1.95.
Tip #4: Argentina to reach Knockout stage:
This is a no-brainer! As Lionel Messi plays in perhaps his last World Cup, all eyes will be on his team, as they have had an impressive run this year. We expect that the likes of Mexico, Poland and Saudi Arabia will not pose too much of a problem to this Argentinian team on Group C. The odds of them reaching the knockout stage is currently set at 1.085.
Tip #5: Denmark to top Group D:
This might be a surprising prediction to most people, but Denmark has shown that they know how to beat France. They have beaten them twice already this year. The first was a 2-1 away win on the 3rd of June while the second was a 2-0 home win on the 25th of September. They may just make it a hat trick of wins against France at this world cup. The other teams in Group D include Australia and Tunisia, but we do not see these teams posing any threat to Denmark at this World Cup. You can expect an odds of 3.64 from this one, so you can sign up now to benefit from the 1XBET football World Cup betting offers.
1XBET World Cup 2022 Odds
The top FIFA ranked teams are expected to dominate as seen in the low odds of them qualifying from their respective groups. On average the odds of the top teams topping their groups range from 1.32 (France) to about 1.96 (Spain). You should take advantage of the 1XBET football World Cup betting offers to make a killing before the year ends.
1XBET World Cup Live Stream
Once you have registered and activated the 1XBET World Cup offer 2022, you can stream live matches directly from the website once launched on your desktop or mobile browser or via the 1XBET mobile app. Watching games from the app is excellent, as you can easily do so while on the go. In addition, you can place bets using any of several banking options while still streaming a live match at the FIFA World Cup Qatar 2022.
Similar Sites for Betting on FIFA World Cup 2022
While the 1XBET is offering a lot of World Cup 2022 offers, other sports betting sites are pumped up for this world cup offering exciting bonuses as well.
Sites like Betway, Betwinner and 22bet take this world cup seriously and offer their customers juicy bonuses. These are reputable sportsbooks with nice markets and odds. They are also open to punters from India and accept deposits/bets in INR.
FAQ
There may be many questions you would like to ask, but here are answers to five frequently asked questions about the 1XBET World Cup offer 2022.
Is there a promo code for 1xbet World Cup betting?
Yes. The promo code for the 1XBET World Cup offer 2022 is "VIPOFFER".
What are the special World Cup offers at 1xbet for football?
There are several other special football offers available at 1XBET sports exchange. You have the World Cup Ballon d'Or Bonus, and football bonus (accumulator bet) offers, amongst others.
How to place bets on the World Cup 2022 with 1xbet?
Before you can enjoy the 1XBET football World Cup betting offers, you must register with 1XBET, and then bankroll your betting account. After this, you can go to football bets and the FIFA World Cup 2022. Winner page to place your bets. 
Who is the 2022 World Cup Favourite to win?
Brazil is the bookies' favourite to win the FIFA World Cup Qatar 2022, so take advantage of the 1XBET World Cup offer 2022 to place a "Winner" bet at odds of 5 today. 
Can I watch the matches on 1xbet?
Yes, 1XBET allows you to stream matches live while still placing bets simultaneously.