Who doesn't love a good casino movie? There's something about the charm, glitz and glamour of the gambling world that makes for great cinema… not to mention the darkness that lies beneath some of the high roller's lifestyles, the genius of card counting and the general excess that goes hand in hand with Las Vegas!
From Ocean's Eleven to Rounders, Hollywood has long been fascinated with casinos. Here are some of our favourite Casino movies for you to check out, if you don't already have them in your collection!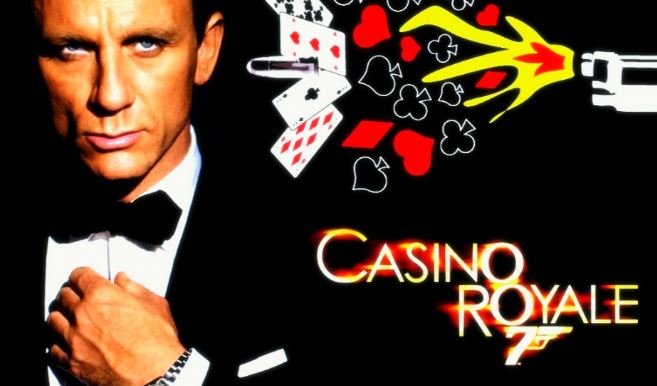 #1-Casino Royale (dir. Martin Campbell, 2006)
The first outing for the 'blonde Bond' himself, Mr. Daniel Craig, Casino Royale was a massive hit, and a vast improvement on the dodgy 1967 original retelling of Ian Fleming's timeless spy novel. It has since become a favourite with Bond fans and casino lovers alike, thanks to its slick depiction of the high-rolling world.
One of the world's most notorious terrorists – Le Chiffre – is in Montenegro, where he's playing a high stakes poker tournament, hoping to win back enough money to appease his dangerous acquaintances. MI6's finest agent is sent out by M to play against the bad guys, and stop Le Chiffre from taking the money and getting away. The stakes are higher than ever, the women are ravishingly gorgeous, and Bond has to keep his cool in order to avoid an international catastrophe.
Captivating and edge-of-your-seat exciting, Casino Royale is a classic casino film that will stand the test of time.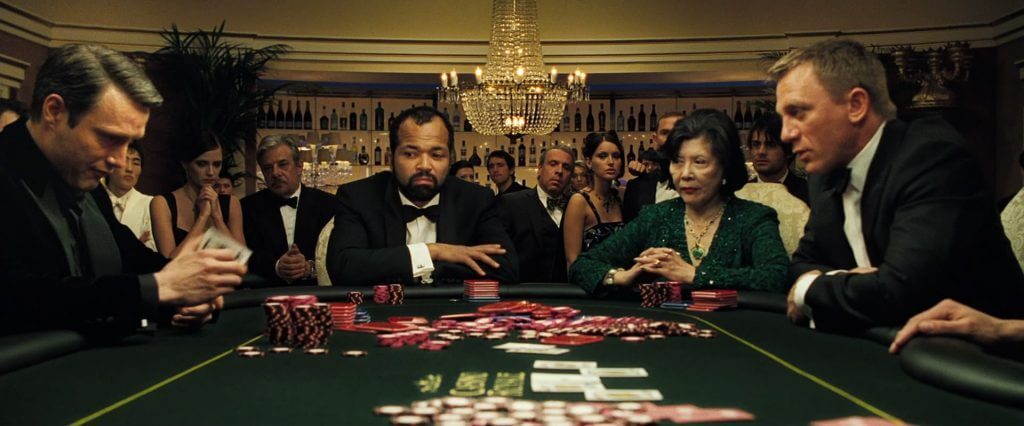 #2-Fear and Loathing in Las Vegas (dir. Terry Gilliam, 1998)
There aren't many casino films which have a cult following quite as astounding as that of Fear and Loathing in Las Vegas, a movie based on Hunter S. Thompson's popular collection of writings about a far-out, psychedelic and at-times terrifying road trip across the west of the USA.
Thomson has been given a large advance of cash to cover a major sporting event in the desert. What better way to spend it than dragging his deranged Samoan lawyer along for the ride, with a vast amount of narcotics and the intention to hunt out the American dream?
Hunter and his partner might not find the meaning of life, but they soon discover gamblers, corrupt cops, drug takers and dealers, strange hitchhikers…oh, and some imaginary bats and giant lizards, too…
This isn't the side of Vegas the adverts necessarily want you to see. It's dangerous, deranged and devilish, and holds a dark mirror up to western society in general.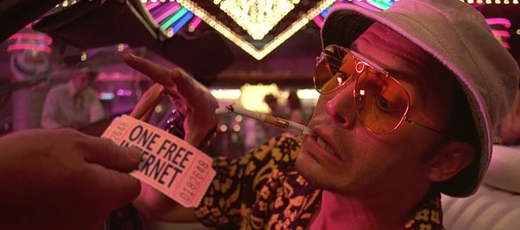 #3-The Hangover (dir. Todd Phillips, 2009)
It seems there's a whole genre of casino movies on the subject of 'what happens in Vegas…' but this is arguably the best of them all.
Three friends – Phil, Stu and Alan head out to Las Vegas for their best friend Doug's big bachelor party blow-out… but they wake up the next day with no memory of the night before. So far, so normal… until they realise the bridegroom has vanished, there's a tiger in the bedroom, and one of them has mysteriously lost a tooth and gained a wedding ring. With only a few hours to put together all the pieces of the increasingly bizarre puzzle, find Doug, and get to the wedding, it's a thrill ride packed with laughs at every turn.
All in all, 'The Hangover' is a hilarious depiction of Vegas' casinos, and more or less everything that could possibly go wrong there.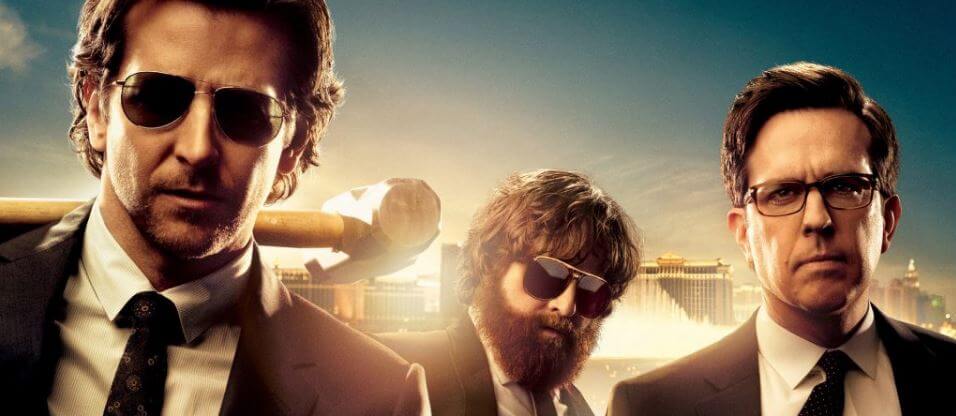 #4-Casino (dir. Martin Scorsese, 1996)
In one of Martin Scorsese's finest hours, he depicts the juxtaposition at the heart of Las Vegas: the beauty, glamour and success on the strip, and the nasty, underhand dealings that go on behind the scenes.
Robert De Niro plays Sam 'Ace' Rothstein, a casino manager in Las Vegas who has connections to the mafia but who now lives a normal, quiet life with his wife. That is, until his old friend Nicky Santoro – played brutally by Joe Pesci – turns up, fully grown and now a key player in the mafia. His ambition and plans will wreck Ace's own plans for peace and quiet, and expose an ugliness at the heart of the business.
This is a film which brings out the darkness from between the cracks of Vegas' great casinos. Murder, greed and power reign… but what a movie!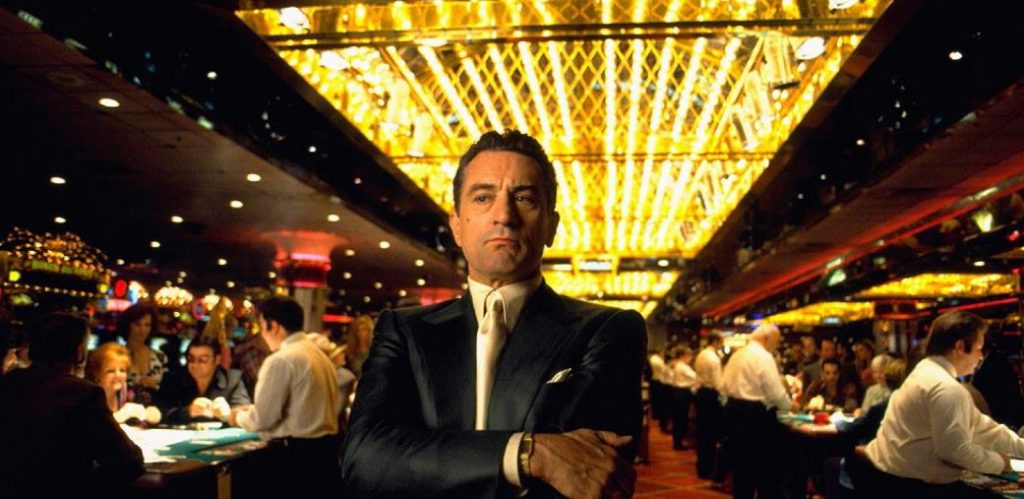 #5-Ocean's Eleven (dir. Steven Soderbergh, 2001)
George Clooney's Danny Ocean has a plan. He wants to pull of a historic heist, but needs a crack team of high-flying, risk-taking and talented men and women in order to get the job done. They want to rob not one, but three of the most famous casinos in Las Vegas, and have their eyes set on a $150 million prize.
Of course, things don't run completely smoothly, and the team come across plenty of dangers, twists and turns along the way. But will they succeed? This great movie will keep you guessing until the end.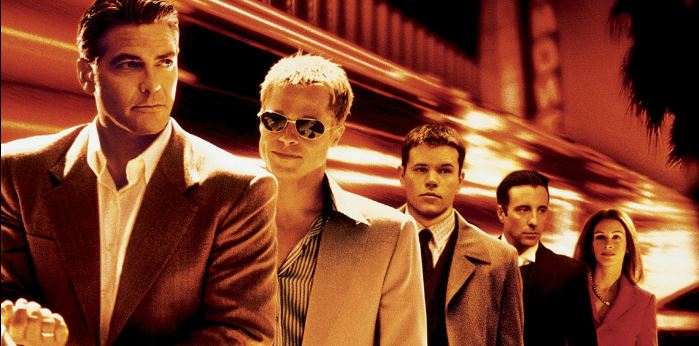 #6-21 (dir. Robert Luketic, 2008)
Ben Campbell is an ambitious medical student, who needs a scholarship to transfer to the prestigious Harvard School of Medicine due his lack of funds. However, his maths professor, brilliantly played by Kevin Spacey, picks him out on the basis of his talent for numbers, and invites him to join his elite team of gifted individuals.
From that point on, Ben's free time is taken up by trips to Vegas, where he makes huge winnings from card counting at the Blackjack table. But with so much money at hand, greed and corruption are never far away… and before long, disaster and hatred beckon their call.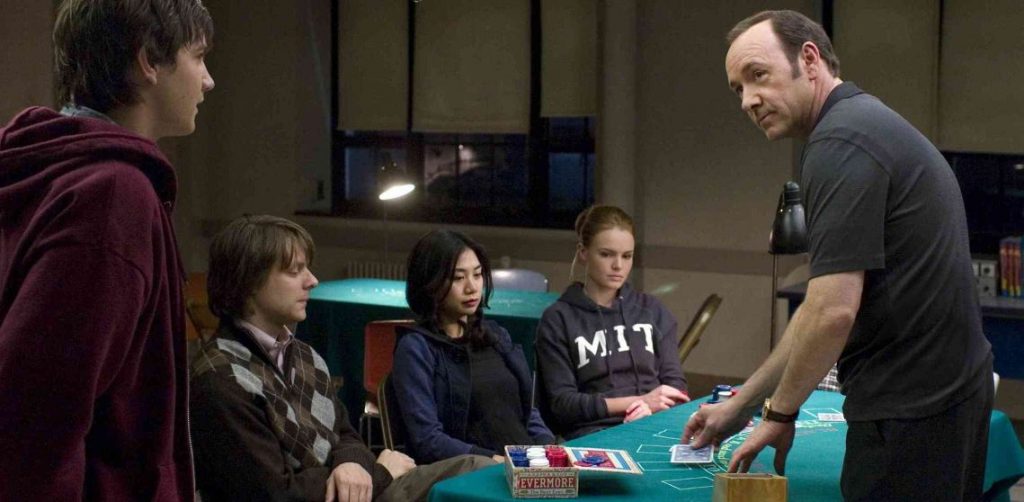 #7-Rounders (dir. Dahl, 1998)
Matt Damon's character in Rounders, Mike McDermott, may have a talent for poker, but he soon discovers you can't win them all. After a disastrous game against a Russian gangster, he decides to focus solely on his studies, and leave his gambling lifestyle behind him. However, his childhood friend has just been released from prison… and he owes somebody a lot of money.
Mike is spurred back into the world of poker, in a desperate bid to help out his friend before it's too late. A classic movie for poker fans, and great performances from the leading actors.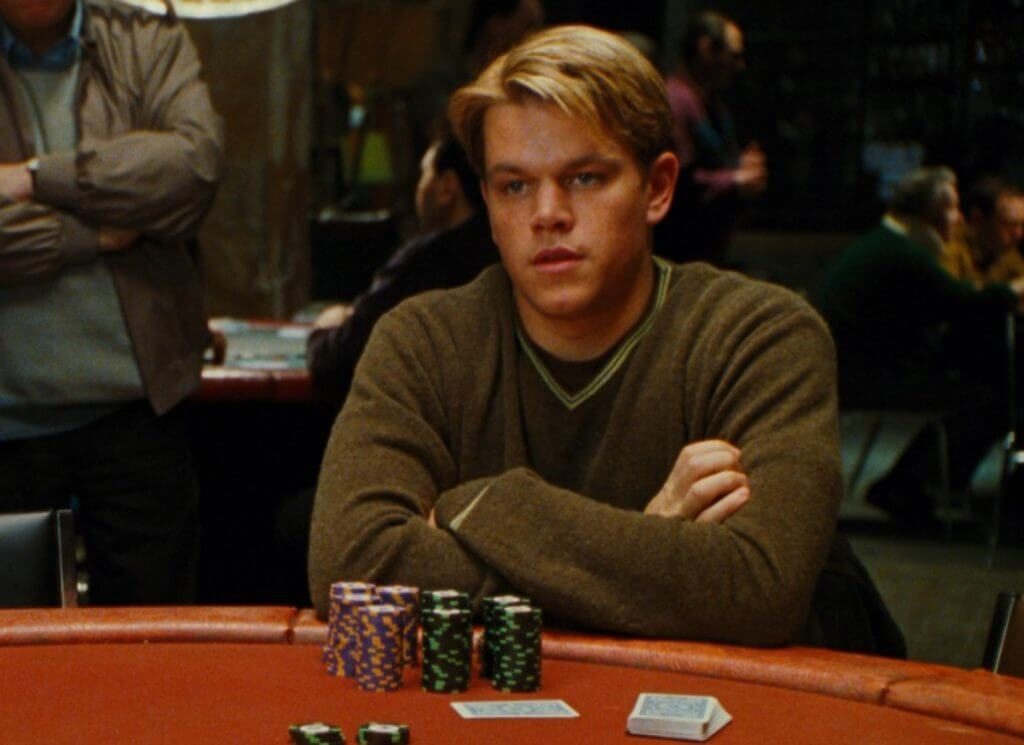 #8-The Gambler (Karel Reisz, 1974)
Axel Freed is a man with a complex double life. To his friends and family, he's a mild-mannered teacher and writer, but secretly, he's a gambling addict whose habits and expenses are spiralling out of control. He steals a wad of money from his mother, and heads to Vegas in a last-ditch attempt to win his money (and his life) back.
The Gambler is a powerful moral story about the horrors of addiction, and just what some people will do when it comes to the crunch.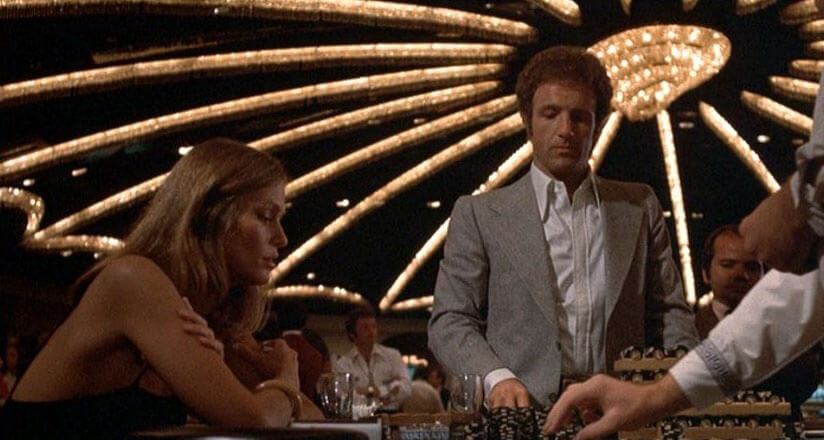 #9-Rain Man (dir. Barry Levinson, 1988)
For many people, Rain Man is the quintessential Vegas movie. It's a fascinating tale of worlds colliding, and when Tom Cruise's greedy and petulant character Charlie Babbit finds out about his autistic savant older brother (played in a legendary performance by Dustin Hoffman) his first thought it to take him to Vegas and let him count cards at the Blackjack tables.
All in all, it's a film about mental prowess, family connections, and that grey area between 'legal' and 'illegal' that certain talented individuals can exploit in the casino.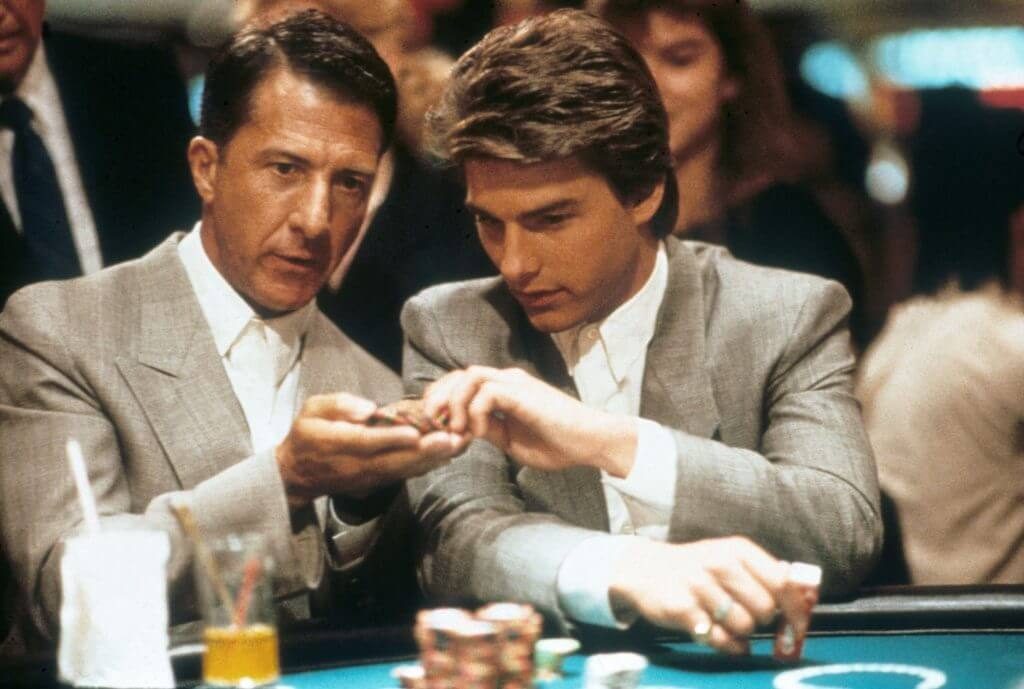 #10-Croupier (dir. Mike Hodges, 1998)
One of the few big British casino movies, Croupier quickly became a cult classic. Clive Owen plays Jack Manfred, a struggling writer desperate for cash. He gets a new job as a casino croupier, but gets sucked into the lifestyle of the casino, and in particular, a set of underhand deals that take over his life as they spiral out of control.
A long way from Las Vegas, Croupier is a colder, harder look at the casinos on the other side of the Atlantic.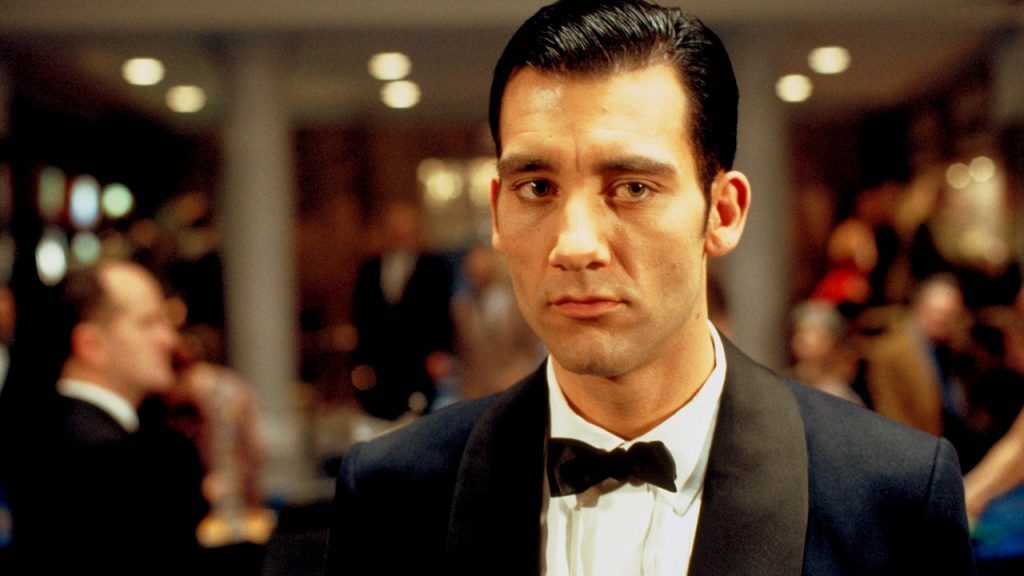 So, these are our top 10 casino movies! Do you think we've missed any off the list? Should some of our selections not have made the cut? Let us know in the comments!