Esports betting is a growing fascination in the iGaming niche in many places of the world including Ghana. The niche has lots of features like an accumulator bet, a value bet, a bet calculator, and all of the other options you might find at a betting exchange.
Esports Predictions
There are currently no new tips. Check again later.
How to Bet on Esports?
To put it quite simply, esports are video games that can be played by and between individuals. For the purpose of esports betting, these games take on a competitive nature. That means players don't just play for fun anymore, it's a fight or a race to see who will win; although that doesn't remove any of the fun from the games.
There are many varying genres of esports and that's what makes them so popular. Esports betting isn't all that different from traditional sports betting. Since you are ultimately betting on the performance of a person, there are many aspects to both types of betting which are similar.
Just like traditional sports, esports have odds given by the bookmaker and you have to do your research before you bet on a sport. We'll delve into the odds and tips for esports in a later section of our guide.
Betting on esports is simple. Again, just like in traditional sports, you just select an event, add it to your betslip, adjust your stake and place the bet. It's that simple.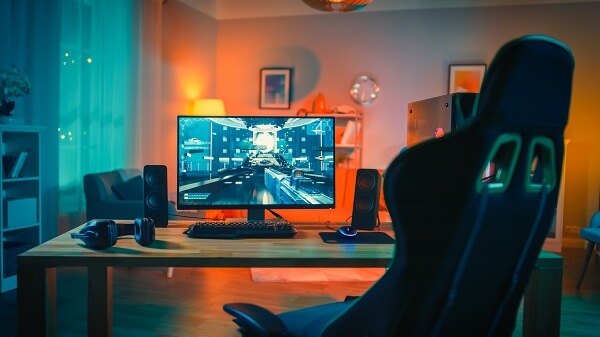 Esports vs Virtual Sports
One common mistake people make is confusing esports and virtual sports. While on paper they seem pretty much the same, there are slight differences. As we mentioned earlier, in esports you bet on the performance of a human player in the game.
But in virtual sports, you're betting on the computer's performance. The outcomes are generated by Random Number Generators and other software. So, the two aren't quite as similar as people seem to believe.
Esports Betting Markets
One thing in esports that are different from traditional sports are the betting markets. We already mentioned that there are many genres of esports. And the markets you'll find in each of these are going to depend on the type of sport.
For example, there are multiplayer games, single player games, fantasy adventure games, and many more. The markets will depend on the titles and the types of esports you're betting on.
One of the markets is the multiplayer online battle arena. These are strategic video games where players have to work in teams to compete and battle against each other. Titles you can expect to find under this category include Dota 2 and League of Legends.
Another popular category includes the first person shooter games. These are explosive and fast paced games and that's the reason punters enjoy betting on them so much. The title that's most popular under the first person shooter games is Counter Strike: Global Offensive.
And one other mentionable market is the simulated sports market. This brings us back to the old classic: FIFA. These are probably the esports most similar to traditional sports and you'll find a lost of similarities when betting on them as well.
Most Popular Players/Teams
Since esports are played by actual human people in a competitive setting, there have been many players who've gained popularity in the community. One thing to remember is that esports had a community of its own before the betting on esports came along.
Lee "Faker" Sang Hyeok is one of the all-time most popular League of Legends player who has even brought home the world championship 3 times. Luka "Perkz" Perković and Rasmus "Caps" Winther are two of the other popular LoL players.
And the mentionable names for games like Dota 2 would include Johan "N0tail" Sundstein and Jesse "JerAx" Vainikka. There are plenty of others since the industry is so large. But we won't mention them since that would turn this guide into a huge read.
Best Esports Betting Sites in Ghana
If you're wondering about betting sites for esports in Ghana, there are plenty. Betboro, Premier Bet, and Betway are some of the most popular operators who provide plenty of esports markets for punters to bet on.
Esports Betting Tips
There is no end to the types of bets you can place on esports since there are so many genres. The most common include system bets, outright or match winner bets, and similar ones that can be placed on strategic team-player games.
But there are also many types of esports specific bets that are in conjunction with the game title itself. These are probably the most popular ones since people generally look to esports to get a different experience from traditional sports.
There are plenty of ways you can get ahead of your competition and get a greater chance to make a correct prediction. However, it's important to remember that the primary goal of betting is entertainment rather that turning it into an income source. Betting is a game of chance, and nothing can guarantee you a win.
Engage on the Platforms
Remember when we said that esports has a community of its own? Well, you can find those communities on different social media platforms. A lot of gamers tend to flock to Twitch since the platform has a lot of features that mesh well with the gaming community.
Follow the Gamers
You'll also find gamers creating content on YouTube and other platforms. Gaming content is most popular when it's live and you'll also find a lot of insight in these live streams.
Watching live streams and following popular players on social media will give you an idea of the abilities of these players. And this will ultimately help you when you're trying to place bets in the esports niche.
Pick the Right Bets
We've previously mentioned the common types of bets in the esports markets. So, if you look at it simple, match winner bets are probably the easiest to predict. If you have an idea of the players' abilities in the match, you shouldn't have too much trouble getting your predictions to stick.
If you want a bit more excitement in your bets, you could opt for something more complicated. Placing a handicap will do the trick but it will also make it more challenging for the punter to guess correctly.
Research
Research is important regardless of whichever kind of bet you make. One of the ways to research is following the players or teams on their respective social media platforms. But that might be a bit too time consuming for some punters.
Instead, go to platforms like reddit. Reddit is a goldmine for sports betting tips and other hacks in general. And there are also huge communities of gamers on reddit, so that makes it all the better.
Select the Right Tournaments
Esports tournaments come around all year long. And there are players with varying levels of skill. So, you're better off selecting a tournament that you're already familiar with before betting on it.
No Hard and Fast Rules
In terms of betting tips, again it really does depend on the specific title which you are betting on. There is no guaranteed hack that will give you a 100% chance of winning. In fact, you won't ever find tips that guarantee you wins on any kind of sports related betting.
What Are Esports Betting Odds?
Regardless of which odds format you use for your esports betting, the result will be the same and the potential winnings will also be the same. The most common types of odds for esports betting are:
Fractional Odds
Fractional odds for a team to win the next CS:GO tournament would look like this 2/5. This means for every $5 you wager, you would win a profit of $2.
Decimal Odds
Decimal odds are multipliers for your stake. So, if you had decimal odds of 3.0 on a FIFA tournament, you'd win your stake x 3.0 if you won the bet.
Esports Betting Review
Our overall verdict on esports betting is that it has gained quite traction. The niche is rapidly gaining more and more popularity and now is a greater time than ever to get into it.
Best Esports Tournaments
Esports betting is the most popular in the form of competitive tournaments. There are lots of esports tournaments that take place all year round. And they have players with varying levels of skills.
Following these tournaments is a good way to expose yourself to esports betting and the games. Below are some of the most popular esports tournaments that you can bet on today:
League of Legends
There are many LoL tournaments that take place but the most popular one is The League of Legends World Championship which is an annual professional league hosted by Riot Games.
Dota 2
Dota 2 has The International, a tournament that is hosted yearly by Valve but you can find many other Dota 2 tournaments hosted often around the world.
CS:GO
CS:GO has multiple yearly tournaments that are all popular for gamers around the world. These include the PGL Major Tournaments which were held in Stockholm in 2021 and Antwerp in 2022.
Fortnite
Fortnite has an annual World Cup Tournament that is very popular among gamers and punters alike.
FIFA
FIFA has been around for a long time. And so, there are plenty of events happening all around the world as FIFA tournaments. You can find these at different online sports betting sites.
Esports Betting FAQ
Below are some FAQ related to esports betting:
Which esports tournaments can you bet on?
You can bet on tournaments like Dota 2 and LoL which are the most popular currently.  But you can find plenty of other options as different sportsbooks.
How does the esports betting work?
Esports betting works just like traditional sports betting. You select an event to bet on by looking at the odds and doing some prior research and place your bets.
Where is esports betting legal?
Esports betting is legal in multiple countries around the world such as Ghana, UK, Italy, Spain, and many more.
How do you win an esports bet?
There is no way to guarantee winning an esports bet. All you can do is place your bet with full confidence after taking the proper preparations.