There is nothing like the thrill of a horse race. The excitement of the crowd and the sporting excellence of the runners and riders is something everyone should enjoy. So learning how to bet on horses is vitally important before to place a bet on an Indian betting site.
This beginners guide will tell you everything you need to know about horse race betting. Plus, which races to look out for throughout the year.
Best Offers to Bet on Horse Racing with in October 2023
Strategies for Betting on Horses
Horse racing betting is not difficult to understand. For the newcomer there may be some confusing language and terminology to pick up. But once you are up to speed with that you can concentrate on working out how to bet on horses.
Here are a few strategies you can try – with some horse betting tips to make it easier for you to be successful while you learn how to bet on horses.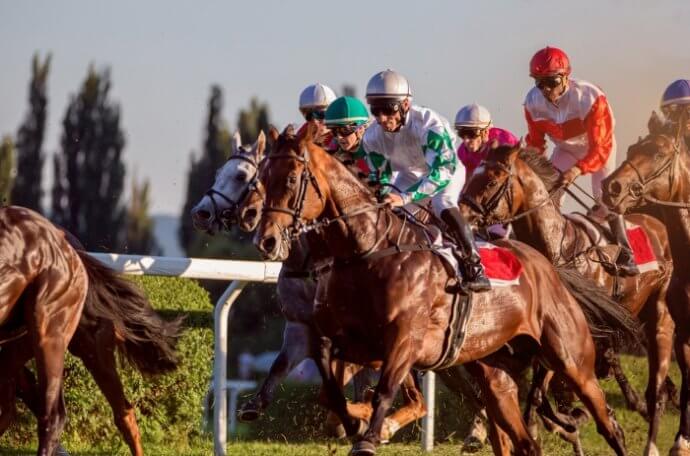 1. Compare prices
Horse betting tips or strategies are nothing more than systems that racing fans use to try to be successful in their betting. When you know how to bet on horses, you will see that nothing is foolproof – or guaranteed. But comparing the odds at different bookmakers is something that all punters should do.
With online horse racing betting you can quickly see which bookie is offering better prices and go with them. These seemingly small details make a lot of difference when it comes to profit amounts.
2. Limit your each way betting
You will learn exactly what is an each way bet in a little while but basically you are making two bets – one to win and one to place. The each way odds are usually around ¼ of the starting price so to get any meaningful returns you should never go for a horse with odds of less than 4/1.
Some professionals would avoid these bets all together but when you are learning how to bet on horses they can be a good way to come away with some returns.
3. Check out the specials markets
Some newcomers concentrate on how to bet on horses using just straight bets on races. But for more chance of picking up an offer you should also take a look at the specials offered by the bookies. It could be something like a bet on how many winners a certain jockey will race at a meeting.
The advantage here is that you might be able to pick up enhanced odds – or other bonuses as part of the deal.
4. Bet on the jockeys
When you are learning how to bet on horses you will obviously try to pick up which horses are doing well at the time. Although the most famous horses are always a popular bet you could do worse than take a closer look at the jockeys instead.
The top jockeys will be able to make a lesser horse perform well. You could get better odds, as the horse is not fancied – but more chance of a win thanks to the rider.
5. Note the recent winners
As in any sport, it is a fact that winners keep on winning. So, one of the most basic of horse betting tips is to check the recent results and bet on the successful horses. As time goes on you will find that the odds will not be as big as they used to be but a modest return is better than no return at all.
6. Look for beaten favourites
There is an extra point to note with the previous horse betting tip however. For better odds, look for horses that were narrowly beaten as a favourite in their last race. The way horse racing fans and bookmakers work is that once a horse is beaten they are not as fancied – however good they may be. You will find that these previously beaten favourites attract good odds in their next race.
7. More each way horse betting tips
Another thing to look out for when it comes to each way betting is clear favourites. You won't want to bet on them – but you do want to go for the second or third favourites in that race. Bookmakers can only set odds for a win. So if a horse is out of the running to finish first, but has a very good chance of finishing in the top four, then the odds (even at ¼ of the price) should look pretty good.
8. Don't go crazy with your accumulators
Accumulators – or multiple bets – are particular favourites of people who are learning how to bet on horses. With very little outlay you can win large amounts. But for an accumulator to win you need all the events in the bet to be successful. So the tip here is to not add to many legs to your accumulator. The odds will be long for a reason.
9. Check the going reports
You will learn as you progress with your discovery of how to bet on horses that there are a number of factors crucial to being successful. As you will have seen it is not just down to the horse. Sometimes it is more to do with the going.
The going report concerns what the track is like – good, heavy or firm. Some horses will prefer specific conditions – but the trick is to act quickly when the going changes suddenly.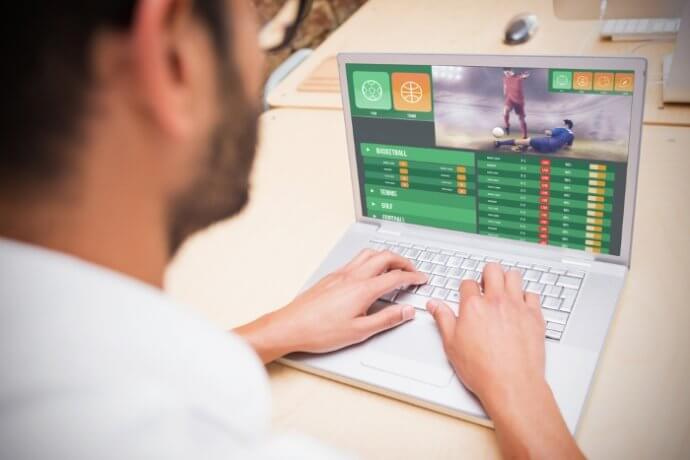 Horse Racing Betting Types
Now you have a few horse betting tips you should find out how to bet on horses. There are a number of different betting options in any race. Some of the multiple bets, in particular, will seem very confusing. But there are a few basic options available for anyone looking to learn how to bet on horses.
Win bet
The most straightforward of all betting types. Just pick the winner of the race in question. Online betting sites make it very easy to actually place a bet. All you need to do is choose a horse and decide on a stake. Who said learning how to bet on horses was difficult?
Place bet
As the name suggests, you are simply betting on a horse to place – or finish in a specified number of positions. It depends on how many runners are in a race to how many places are involved with this wager.
Each way bets
We touched on what is an each way bet earlier. It is actually two bets in one. One is for the straight win, the other for a place (usually second, third or fourth – but you can sometimes get extra places). If your horse wins you win the full odds for the win, plus ¼ odds (depending on the amount of runners) for the place.
If your horse finishes second, third or fourth you still get the ¼ odds pay out.
Forecast and tricast betting
With these bets you are selecting who will finish first and second (forecast) or first, second and third (tricast) in a race. The odds can obviously be very attractive but these can be very difficult to predict. Probably one to avoid when you are first learning how to bet on horses.
Reverse forecast and tricast betting
This is the same as before but the horses you select can finish in any order. They just have to be the correct horses.
Multiple bets
These kinds of bets cover a whole range of choices but ultimately come down to you predicting more than one outcome in more than one event – but in a single bet. These are also referred to accumulators or accas. It could be as little as two events (which is a double).
Or the single bet can have many levels of accumulator within it. If you are just discovering how to bet on horses the safest multiple bets would be with around three to four legs. The main thing to note here is that every part of the bet must win for it to be successful.
Placepot
These bets are particularly popular for racegoers – but can be equally as satisfying online. With a placepot you are selecting a horse in each of the first six races at a particular racetrack. You win if they all manage to place.
Jackpot
Similar to the placepot but even harder to win with. With the jackpot your six horses must all win their individual races. You will get great odds – but that is because it is extremely hard to win a jackpot.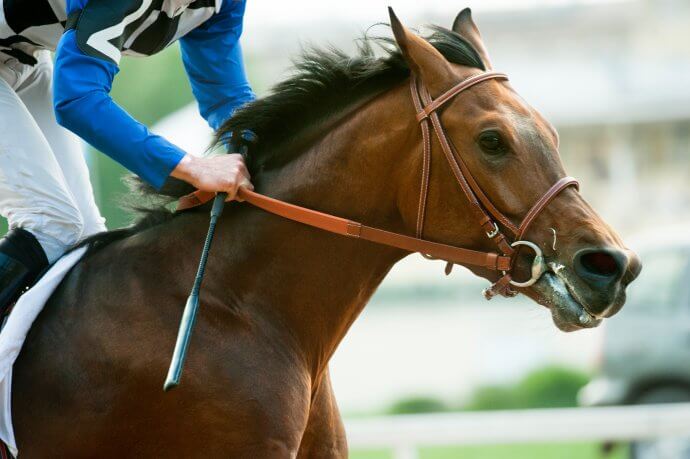 Important Races to Bet On
Now that you have the basics when it comes to how to bet on horses – and can answer the question 'what is an each way bet?' – you need to know which races to look out for.
Every bookmaker will cover meetings, almost every day, from across the globe.
But there are some big races that attract a lot of attention.
These are some of the most popular races and are a must for anyone wanting to learn about how to bet on horses.
Grand National
Possibly the biggest horse race in the UK calendar. It may not be the highest class race of the year, but for spectacle it is hard to beat. Attracting people who do not bet on another race all year, the Grand National has become a British institution. At just over four miles long, the horses jump 30 fences in two laps of the Aintree circuit. Always an exciting occasion.
Epsom Derby
One of the most prestigious flat races in the world, the Epsom Derby has been run since 1780. It is the middle leg of the famous Triple Crown and the undulating course always provides a test for the runners and riders. All the top trainers want their horse to win this one.
Ascot Gold Cup
Another huge UK race from the flat racing season, the Gold Cup is always held in the middle of the Royal Ascot meeting. Perfectly aligned with the pomp and splendour of this famous event, the Gold Cup virtually determines the flat champion of the season.
Prix de L'Arc de Triomphe
One of the most prestigious races in Europe, the 'Arc' is a Group 1 flat horse race run at Longchamp. It has a prize purse of €5 million open to three year old and older horses – and held in October each year.
Kentucky Derby
Much like the Grand National, the Kentucky Derby transcends horse racing and has become part of popular culture. First held in 1875 it is possibly the world's most famous race. The $2 million purse attracts some of the finest horses in the world – and the occasion attracts a whole host of celebrities each year.
Learning How to Bet on Horses
Once you have the basics of horse racing you will soon know how to bet on horses – and hopefully be fairly successful. It is the 'sport of kings' and the glamour of some of the most prestigious meetings is only rivaled by the thrill of the races.
The best piece of advice is to do your research. Once you know more about the jockeys, the horses, and the various racetracks, you can make your selections with informed insight. So to round up this article:
1. What is the best strategy for horse racing betting?
The best strategy is to look in to the event you are betting on and research the horses racing as well as the jockeys. Always be on the lookout for those more unpopular bets, they can have substantially better odds as they are more than often overlooked.
2. How do I know which horse is the best one to bet on?
Research the horse and look how it ran on previous years race, remember that the type of track matters and especially who the jockey is. A jockey can make a previous years third place runner into a winner.
3. What is the best horse racing betting type?
Which ever suits you best, sometimes betting on outright winner is best. If you're feeling that you know exactly how the race will go check out the odds on forecast or tricast bets.
4. So what are the best sites for horse racing betting?
Check out the top table on this article, we will be updating it with the best sites and promotions specifically for horse racing.
How to bet on horses overview
The "How to bet on horses" guide included the odds information, the bookmaker offers, the types of betting for horse races and how you can stream your favourite events. You can see an overview of this guide, bellow.