One of the most popular events in motorsports, many punters now look to bet on MotoGP. Most betting sites in India offer some form of MotoGP betting, with your options increasing year on year.
With a range of MotoGP betting odds available to you, how can you ensure betting success? Well, it's not that easy. There are, however, a range of MotoGP tips and strategies you can use to help you pick the right options. We're going to analyse these in our guide.
This guide aims to illustrate a range of techniques that could help you win more often than you lose. We'll also discuss the most popular MotoGP bet types and markets. Let's start by examining the best bookmakers you should consider when you want to bet on MotoGP events.
The Top 7 MotoGP Betting Sites
MotoGP is one of the most popular events in Motorsports for both viewers and bettors. The sport has a way to go before it seriously challenges Formula 1. However, its increasing popularity means that you can choose from a range of bookmakers when you want to bet on MotoGP.
With a range of options, it can be difficult to decide on which sportsbook is for you. For us, it's important to consider several aspects before you sign up to any online bookmaker. Competitive odds, a range of promotions, in-play markets and live streaming are all features that should be available.
We'll delve a little further into what we look for in a betting site a little later. Firstly, we've displayed our top bookmaker choices in the table below.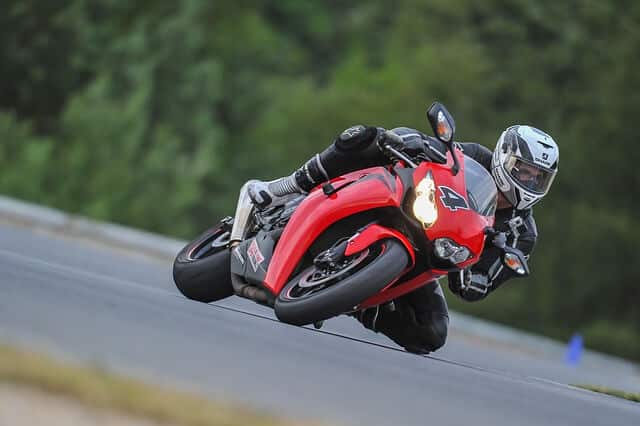 Different MotoGP Betting Types
Successful betting can be difficult to achieve, particularly if you're new to the betting scene. Knowledge of the sport itself is, of course, beneficial, but betting on MotoGP requires a completely different frame of mind.
You must learn how MotoGP odds and markets work. What do different markets mean? You might find that particular markets suit your betting style. Finding a betting site that caters to your needs is key. 
Choose a bookmaker that offers a variety of betting markets. While MotoGP is still considered as somewhat of a niche market, the top betting sites will provide you with plenty of options.
What markets can you find? There are many available with the top bookmakers. Individual race odds and outright markets are offered consistently throughout the season. You can also find ante-post odds if you're looking to bet on MotoGP before the campaign has started.
Let's take a closer look at the most popular markets for MotoGP betting. We'll start with the most common, the Race Winner market.
Race Winner
One of the easiest ways to bet on MotoGP is to focus on the Race Winner market. With this market, you simply pick who you think will win a selected race. If your choice proves successful, you win your bet.
Each Way betting is also a possibility within the Race Winner market. If you bet on a rider to win and they come second, your bet could still be successful, albeit at reduced odds.
An alternative to an Each Way bet is the Podium Finish market. Odds tend to be shorter on this market, compared to the Race Winner option. However, it's worth considering if you're expecting a tight race. Pick a rider to finish in the top three places and, if your choice does just that, your bet is a winner.
Live Betting
It's difficult to replicate the thrill of live betting. With a sport as fast and furious as MotoGP, live betting can prove as exhilarating as watching the event itself. Live betting can also present many value betting opportunities. To take advantage of these, it's key you pay close attention to the race as it happens.
Let's use an example. Let's say that Marc Marquez is trailing behind the leaders. Through your research, you know that Marquez is one of the best riders on the circuit. With him so far behind top spot, in-play odds on Marquez to win will be longer than they were at the start of the race. Betting in-play on this rider to win could provide much more value.
Live betting also allows you to alter your betting plans. If a rider crashes out at some stage during the race, you could decide to place a bet on another rider for a podium finish, or an outright win bet.
Outright Constructors Winner
As with their F1 counterpart, the Constructors Championship is hugely popular with punters looking to bet on MotoGP. This Outright market is available at the start of the season and throughout the campaign.
Research which constructors have performed well in recent seasons. What riders do they possess? It's also a good idea to look at which constructors embrace the latest technology in MotoGP.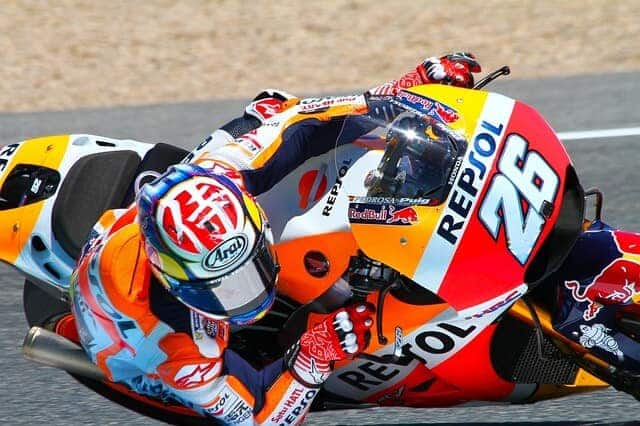 Outright Championship Winner
The Championship Winner market is also available throughout the season. As you'd expect, MotoGP odds on this market will fluctuate during the campaign. If a rider has a particularly bad start, their odds could lengthen. Similarly, if a rider wins the first four races of the season, their odds could shorten dramatically.
Betting on MotoGP Championship Winners is arguably more popular than its Constructors counterpart. As such, you're more likely to find more Championship Winner odds at the majority of bookmakers.
Other MotoGP Odds And Markets
We've discussed the most popular options when betting on MotoGP. There are, though, many more that might suit your betting style more accurately. Let's go through some of your other options when you bet on MotoGP.
The Pole Position market isn't as common as those we've discussed before. You should, however, have access to this bet with the best betting sites. Pole Position is exactly what you'd expect. You place a bet on the rider who you think will earn pole in qualifying.
Top Three Qualifying gives you more leeway than the Pole Position market. With this bet, you're wagering on which riders will finish in the top three positions in qualifying. The odds with this market are generally greatly reduced.
Onto the Without Rider market. This is a market which excludes a particular rider, usually the favourite. Essentially, you pick a rider to win the race if the selected rider's performance is ignored. 
The Rider vs Rider market can provide excellent value. Your betting site will provide a market with two riders. Pick which rider will finish ahead of the other. Whether your choice wins the race is irrelevant, so long as they finish higher up the leaderboard than their stated opponent.
To Finish The Race isn't a common market but can provide value. As its name suggests, you pick whether a particular rider will complete the race or otherwise. Now, many factors could come into play with this market. Weather conditions and technical issues are common problems in MotoGP. Did a particular rider face issues in qualifying? Their odds to finish the race could be longer because of this.
MotoGP Betting Strategies And Tips
Betting on MotoGP successfully can be a difficult task. The key factor in any sports betting is to realise there are no surefire bets. Anything can happen in any sporting event, particularly in one as fast-paced and exhilarating as MotoGP.
While betting shouldn't be considered as a 'get-rich-quick' scheme, there are ways in which to increase your chances of success. How can you do this when you bet on MotoGP? The key is research.
Now, research isn't an automatic route to winning. What research does, though, is help you choose your bets more wisely. There are plenty of aspects to MotoGP research you should conduct. 
Studying the latest results is one important factor. Has a particular rider been struggling in recent races? Perhaps a rider only needs one more win to clinch the Championship title? Any event or possibility is important to consider when you bet on MotoGP.
If you're struggling for inspiration, it's worth taking the time to find MotoGP betting tips. Now, you don't need to follow these tips blindly. However, MotoGP betting tips can provide you with a detailed analysis and explanation of why that prediction has been given. This information can help you analyse the race yourself, giving you different factors to consider.
Keep a note of the MotoGP betting tips you come across. Compare these to the actual events in the race. Which predictions were accurate? 
Similarly, check out the latest MotoGP stats. Many of the top betting sites provide you with the latest statistics. You can use these to judge the value of the MotoGP odds on offer.
There are many other aspects to consider when you bet on MotoGP action. We'll take a closer look at a few of these now.
Keep An Eye On The Weather
The weather can play a huge part in deciding which riders perform well or otherwise. Which riders suit dry conditions? If the conditions are wet, riders are likely to be slightly slower, with conditions much more dangerous.
Whilst it's difficult to accurately assess weather conditions in advance of the race, it can be worthwhile to do this a few days before the event starts. 
In-Play Market
We touched upon MotoGP live betting briefly earlier, but in-play betting is a factor you should take seriously. Betting on MotoGP live can help you cover your pre-race bets. You can also analyse the race as it happens, allowing you to pick bets with value.
For instance, let's say a particular rider has short pre-race odds to win. There might not be much value in these odds. However, the rider has a poor start to the race and is trailing behind after the first few laps.
The odds on that rider could lengthen. If you believe that this rider could improve as the race goes on, it could be a good time to place a Race Winner bet.
Compare The Odds
There are many important aspects to consider when you sign up to a bookmaker. One is the MotoGP odds available. Are they competitive? Does your bookie of choice consistently offer you the best odds?
It can be an arduous task to compare odds from different betting sites, but it's one that is worthwhile. If your bookmaker offers you shorter odds than their competitors, it might be time for a change.
Rarely is there a huge difference in odds between bookmakers. However, taking shorter odds regularly can result in you losing out on potential profit. With a one-off bet, the slight difference in odds might not seem that important.
However, if you're planning to bet on MotoGP action throughout the season, ensure you're offered the best possible price.
Check The Qualifying Form
The Qualifying rounds give you a great opportunity to assess the riders. To give yourself the best chance of betting success, it's vital you pay attention to this stage. Doing so will show you which riders have performed well on the track and which seem to struggle.
The Qualifying rounds also determine where on the grid each rider will start. This can help you choose which riders are likely to earn a podium finish or win the race outright.
MotoGP Betting Odds Explained
If you're new to betting on MotoGP events, odds can seem a little overwhelming. How can you work out the value of the odds on offer? What do odds mean?
Odds are a way of expressing the probability of an event occurring. Let's use the aforementioned Marc Marquez. A betting site has listed Marquez to win the race at odds of 2/1. To work out the implied probability, we can use this calculation:
1 / (2 + 1) X 100 = 33.3%
So, we divide the two numbers in the fractional odds, in this case, 2 and 1, by 1 and multiply this figure by 100. This gives us 33.3%. In other words, the bookmaker is giving Marquez a 33.3% chance of winning the race.
Now, don't be put off. You don't need to be good at maths to be successful when betting on MotoGP action. Some sites can do the calculations for you. However, it is important to work out the chances that your bookmaker is giving an event happening.
You can then, from your research, give a rider your probability. If you believe that Marquez stands a greater chance than what the bookies are giving, you could have just found a value bet.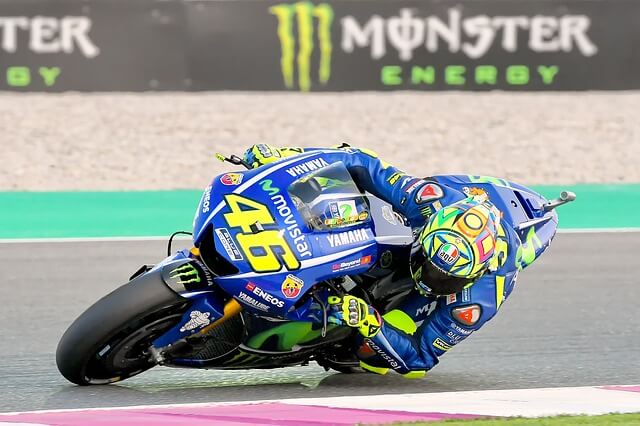 MotoGP Live Streaming
Moto GP passionates will really appreciate to watch the show live on their mobile. Some bookmakers may provide a MotoGP live streaming facility. To access MotoGP live streaming, your operator might require you to have a funded account or to have placed a bet on that particular race. Location requirements might also be an issue.
As for Formula1, MotoGP races can also be broadcasted on television. Events can be available on satellite television, with some terrestrial broadcasters offering selected races.
How We Selected Our Bookmakers For MotoGP
As we stated earlier, we judge bookmaker options by specific criteria. The most important aspects include the following:
Betting Offers

Odds

Betting Markets

Live Streaming
Betting offers can enhance the profits you make, or reward you with free bets. The best bookmakers make promotions and bonus opportunities available often. Similarly, we've found that the top betting sites offer competitive MotoGP betting odds consistently, meaning you can trust you're getting value.
The number of betting markets available is also important. A good range of markets means that you can choose which betting market suits your style. 
MotoGP live streaming is a great option to have. The ability to watch the race you've bet on, as well as place MotoGP live bets, can enhance your betting experience greatly.
How to bet on MotoGP overview
How to bet on MotoGP guide included the odds information, the bookmaker offers, the types of betting for MotoGP and how you can stream your favourite events. You can see an overview of this guide, bellow.