In this cricket betting guide, you'll find out how to register on a cricket betting site and how to bet on cricket. Moreover, you will learn what different bets mean and some strategies that you can use to increase your winnings.
Betting on Cricket
In terms of popularity, cricket ranks second on the list, with an estimated 2.5 billion fans. In addition, only football has more fans worldwide, with about 3.5 billion. A wide variety of countries and areas all over the world enjoy cricket, including India, South Africa, Pakistan, Sri Lanka, and the United Kingdom.
Moreover, in the International Cricket Council (ICC), the game's governing body, over 100 members are eligible to play Test matches, including 12 full members. Apart from test matches, there are two other cricket formats – One Day Internationals, and Twenty20 Internationals. This means that there are plenty of opportunities to bet on cricket all year round.
Furthermore, the biggest cricket tournament in the world is the ICC World Cup, which comes around every four years. Additionally, bettors can also choose to place wagers on tournaments such as The Ashes, T20 World Cup, or even on the Indian Premier League.
It's also important to mention that betting on cricket allows players to explore different types of bets. Some of them include match-winner, series score, inning run, and others.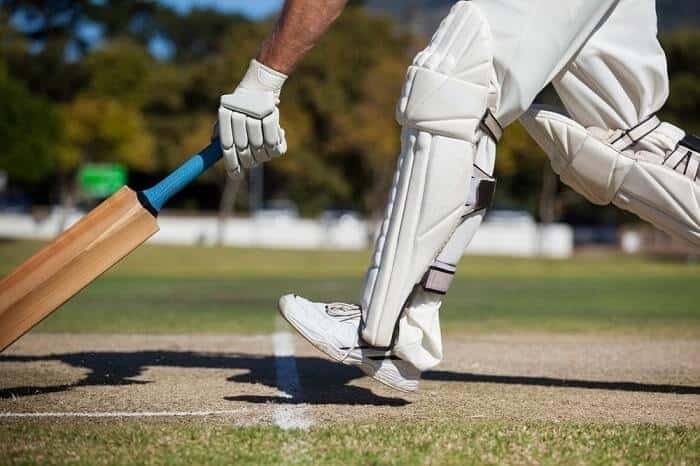 How to Register on a Betting Site and Bet on Cricket
All bettors who want to place a bet on cricket online need to register with a preferred bookmaker. Here is what they need to do:
Choose a Betting Site
There are many bookies in Nigeria that bettors can choose from. In addition, opting for a licensed and regulated site ensures a safe betting experience. Moreover, the transactions are secured on these sites and the players' personal information is protected.
Furthermore, picking a betting site that gives a variety of bonus offers is recommended. Also, the sportsbook should have good customer service in case an issue comes up.
Register and Verify the Account
Firstly, to create an account, the player must be of legal age and the casino must be legal in their country of residence. Additionally, depending on the operator, name, email, and country of residence will most likely be required.
There are two alternatives to verify an account: sending a document that includes personal information and an ID or sending the bookmaker a verification email.
While the registration process is quick, verification can take up to seven days. The player can place bets within those seven days, but they must wait for the verification process to be over before withdrawing them.
Make a Deposit
Making a deposit is a simple process. The customer can deposit money into their favourite online cricket betting site using a variety of methods like credit and debit cards, e-wallets, and bank transfers.
Place Your Bets
To wager on a cricket match, the player must first understand every game strategy and when to place the bets. Furthermore, players need to click on the odds they want to place on their betting slip as well as the amount they wish to stake.
The Different Types of Cricket Bets
There are many different types of cricket bets that players in Nigeria can bet on. You can find some of the most popular betting types below.
Money Line
The Moneyline is one of the most common sports betting options. Additionally, many beginner cricket enthusiasts and experienced bettors prefer this option of betting.
It's one of the most simple wagers to place because you're only betting between the two teams to win or lose.
2 Way Bets
Two way bets are the most basic type of sports wagering. These wagers are common in all sports that do not allow draws. In this bet, there are two possible winners to choose from.
3 Way Bets
In a cricket match, a three-way bet is offered if there are three winning possibilities: Team A wins, Team B wins, or the match ends in a tie. Because of the extra stake, this bet offers better odds than the two-way bet.
Tournament Outright Winner
This form of bet aims to determine the outcome of an entire competition. It's not about predicting who will win a specific game or event. It involves predicting the winning team or a player.
Tournament Best Bowler
The tournament's best bowler bet wagers on the person who you think will get the most wickets in the whole tournament.
Series Winner
If you're unfamiliar with cricket or you are a newbie fan, you might not realise that two teams frequently play a series of matches. They usually play three or more matches in a row rather than one.
Therefore, to win this wager, you'll have to predict which of the two sides will win the games. Keep in mind that you're picking the winner of the entire series, not one of the individual games.
Series Score
Another option to bet on a cricket game is to bet on the results of the several games that were played. So, to win you'll have to guess what the series' final total rating will be. You win if your guess score is the closest.
Match Winner
The most frequent cricket wager is a Moneyline bet on the match-winner. You bet on who would win between the two participants. Depending on the outcome, some bookies will enable you to wager on a draw.
Completed Match
The Completed Match bet is of one the easiest cricket wagers. Consequently, this bet is only applicable to one-day cricket matches which means you only have to wager upon whether the match will be finished on a specific day or not.
If you believe the weather or some other factor will prevent the game from playing on that day, you can consider making a bet on the game not being played. You just bet yes or no on whether the game is played on the stated day.
Tied Match
Another simple bet is a tied match. If you believe the match will result in a tie, you simply wager yes or no. Because of its simplicity, this bet is particularly popular among newbie cricket fans.
Innings Run
When it comes to innings runs, your job is to properly guess the number of runs the team will score in the first stages of the game.
The bookmaker will show a variety of runs, and you will simply wager on whether the actual number of runs scored will be higher or lower than the number indicated by the sportsbook. This wager exists as over/under at some sportsbooks.
Propositions Bets Run
A proposition bet is a wager made on an individual player or event in a game rather than the game's outcome. Thus, almost every wager in cricket is a proposition wager. Props are popular as novelty bets because they allow you to predict individual or team achievements.
Other Cricket Bets Available
Cricket has a variety of different bets to keep the fans entertained. Besides the ones mentioned above, there are also Man of the Match bets, Toss Combinations, Top Batsman, and many more.
Betting Value
Value betting is one of the best strategies for betting out there. By betting on value bets, you bet on matches you see as value bets. Here is how you can calculate the value of a bet:
x (value) = (operator's odds x your assessment of likelihood to win) – 1
To put it in practice, let's say Nigeria is playing against South Africa tomorrow. The odds look something like this:
Nigeria to win 2.50
Thus, after doing your research, you conclude that Nigeria has a 60% chance of winning.
Value = (2.5 x 60%) – 1 = 0.5
If the value is over 0.0, the bet is a value bet. With the odds of 2.5 and our assessment of a 60% chance to win, there is 50% value in betting on a Nigerian victory.
Depending on the actual bet, you won't win every time. Nevertheless, by learning from your mistakes, you can get better and recognise value bets more easily. It is a great strategy that can pay off well in the long run.
Cricket Betting Odds Explained
Cricket-betting odds work in the same way as with any other sport. For example, if India and Nigeria were to play tomorrow, the odds might resemble something like this:
Nigeria to win 2.50
The odds of 2.50 is the operator's assessment of the Nigerian likelihood to win.
If you were to bet ₦1000 on Nigeria to win, and it does, you'd receive ₦2500 in total. The formula is that you take the amount you wagered and multiply it by the odds given.
So in this example: ₦1000 x 2.50 =₦ 2,500 (₦1500 profit)
Cricket Competitions to Bet On
Below are some of the most popular cricket competitions that Nigerian bettors can bet on.
Indian Premier League
IPL is the most popular cricket competition in the world. Each season, more and more people are joining in. Moreover, the teams each play two games against each other, home and away, and the top four teams earn their place in the playoffs.
T20 World Cup
This tournament includes 16 teams, split into 4 groups. After a group stage, the knockout phase decides who plays in the final.
The last edition of the tournament was in UAE as well as Oman, with Australia coming out as champions. West Indies, the previous champions, lost during the Super 12 stage. Many betting fans love this competition for its many upsets, which makes it fun for betting.
Cricket World Cup
Cricket World Cup happens every four years. As a result, it has had many different formats throughout the years but has most recently turned back to its 1992 format.
Here, each team plays against other teams once and the top four teams earn their place in the semifinals and the finals after that. The current reigning champions are England, having beaten New Zealand in the 2019 edition of the tournament.
Strategy When Betting on Cricket
Any veteran bettor knows that having a strategy in place is much better than betting with no proper tactic. Thus, to minimise your losses, there are several factors you should consider before wagering:
Know the Sport Well
It's quite easy to place bets and anyone can do it in a few clicks, but it is much harder to place a winning bet. If you don't know much about the sport, then you will end up losing most of your bets.
The importance of informing yourself about the sport is essential. For this reason, a long term fan can easily recognise patterns of a game, which might hint at the possible outcome. You should learn everything about cricket before you play.
Be Rational – Do Not Bet on Impulse
This is as important as knowing the sport, perhaps even more. Undoubtedly, patience and rationality are crucial skills when it comes to sports betting. Therefore, one thing you should never do is chase your losses.
Surely, after losing a wager, you might want to place another, hoping that the next one will break the losing streak, but this rarely happens. Consequently, it's crucial to keep a cool head.
Know the Cricket Betting Markets
Odds on cricket matches can vary greatly depending on the operator you choose. Although this may not seem like much at first glance, in the long run, this can make a huge difference in your budget. So, do some research on the odds the operators provide before you settle for a single operator.
Learn How to Lay the Draw
This is one of the most used strategies in sports betting. Instead of betting on a draw, you bet against the draw. This means that your bet will win if either of the teams manages to win the game. Certainly, the most important criteria for laying the draw are match selection and recent results.
Be Aware of Injured Players / Weather Forecast / Home Team Advantage
Before wagering your funds, always check for the list of injuries the teams suffered. Without knowing that a key player suffered an injury, you may place a bet, only to realise that your team's chances are much lower. Doing your research is key to not making this mistake.
Another factor to consider is the weather forecast, as it might have a great impact on the game. In addition to that, home advantage can have a big effect on the game. If the stadium is full of home fans, it gives the players a big boost in performance.
Set a Betting Budget
Having a strict budget is a great way to keep your betting in check. So, by setting some betting money aside, you ensure that you don't spend too much of the money you need.
Top 10 Sites to Bet on Cricket: Current Offers and Bonuses in Nigeria
Presented below are some of the best betting sites in Nigeria that offer a great selection of cricket tips with various bonus offers.
Betting Sites
Bonuses
Code
Bet9ja

100% welcome bonus +50% casino bonus

MAX9JA
1xbet

300% up to ₦189 280
Bet on 1xbet
Betking

Bet and Get ₦25,000 in Free bets
BONUSBET
Betway

Offers 100% bonus up to ₦250,000
PROMOMAX
N1bet

300% bonus up to ₦500,000
Bet on N1bet
Betwinner

100% bonus of up to ₦100,000
BEMYBETNG
Yangasport

Get up to 600% Acca Bonus
MAXPROMO
22bet

100% bonus up to ₦50,000
Bet on 22bet
Pari Match

100 bonus up to ₦150,000
NGPARI
bet365

Up to $30 in Bet Credits*
(Key Terms: Min deposit requirement. Bet Credits are available for use upon settlement of bets to value of qualifying deposit. Min odds, bet and payment method exclusions apply. Returns exclude Bet Credits stake. Time limits and T&Cs apply.)
Code: BETMAX365
(The bonus code BETMAX can be used during registration, but does not change the offer amount in any way)
How We Selected Our Bookmakers for Cricket Betting
Betting Offers. This is one of our most important criteria when choosing a bookie. You can learn a lot by looking at their betting options. Therefore, if a sportsbook only offers a few select tips, then it would be a good idea to change your bookmaker.
Odds. The odds a bookie offers reflect their business, and obviously, the higher they are, the better. Therefore, the odds on a single match can vary dramatically depending on the sportsbook you choose. You can check the odds for multiple sites by visiting cricket odds comparison websites.
Betting Markets. By choosing an operator with a bigger cricket betting market, you can enjoy better wagering options.
Live Streaming. An operator that offers a Live Streaming Service will always have an advantage over those who don't. Live streaming allows you to watch the game you bet on, live in real-time. Furthermore, you can watch from any device you own like a laptop, mobile, or PC. In addition to that, you can also place bets on live matches, while watching it.
Licensed bookmakers. By choosing an operator that is safe and legal you can rest assured that your money is secured.
Frequently Asked Question About Cricket Betting
If you want to learn more about cricket betting, here are some of the most frequently asked questions.
How Can I Bet on Cricket Online?
Create an account, deposit your money and place bets.
What Are the Easiest Cricket Bet?
2 way and 3-way bets are the simplest cricket bets.
Can I Bet on Cricket From My Phone?
You can use the internet or the mobile app if there is one.
What Is 2 Way Betting in Cricket?
In 2 Way betting, you choose between two teams to win.
Is Handicap Cricket Betting Available?
Yes, many operators offer this type of bet.
Can You Use Accumulators and Parlays in Cricket?
Yes. Both accumulators and Parlays are available in many bets.