This article is a bet.co.za review, and we analyse all the bookmaker's features. New bettors can use the bet.co.za bonus code when signing up and pursue the bookmaker's welcome bonus.
Our Bet.co.za Review
Before getting fully into the Bet.co.za South Africa review, we have listed a few important points and features of the brand.
The bookmaker has a very nice website interface.
There is a responsive customer care team to handle any issues.
As a new customer, you get a welcome bonus with fairly easy-to-meet requirements.
There are easy-to-use options for depositing and withdrawing.
There are a lot of options in the sports betting market.
You can also find the best casino games from top casino game developers.
And the best part of betting on bet.co.za, is the bonus section is brimming with offers for almost every sporting event.
---
---
Is Bet.co.za Legal in South Africa?
Yes, bet.co.za is legal in South Africa and licensed to operate an online betting and casino site. Its licence is from the Western Cape Gambling and Racing Board. Unlike some other bookmakers, bet.co.za was developed in South Africa for South Africans, with all the necessary registration and documentation.
Bet.co.za Welcome Bonus Review
The first deal you can get as a bet.co.za customer comes after registering an account with the bookmaker. The bookmaker offers a welcome bonus, 100% First Deposit Bonus up to R1,000. Also, they can use the code BMB100. And the good news is that the T&Cs are more than reasonable, in our opinion.
To unlock the bet.co.za welcome bonus, follow the steps below.
Visit the bet.co.za website and complete the registration process.
Verify your email and deposit at least R50.
Accept the welcome bonus pop-up when making your deposit.
After meeting all the terms, the bookmaker will credit the sports welcome bonus to your account up to R2000.
After receiving the bonus, you can now use it to place bets. However, to be able to withdraw the money from winning the bets, you must meet some wagering requirements. Make sure to check them out before starting to pursue the bonus.

Other Promotions
This bet.co.za South Africa review can't be complete if we don't mention the other promotions on bet.co.za. The bookmaker is popular for the number of available promotions on its site whenever you check. It is possible to see up to 20 promotions available at a time.
Some are time-limited, while the rest are always on promotions. We have selected some of the most interesting ones and briefly analysed them below.
Multi Bonus
This is also known as an accumulator bonus. With this bonus, you get an extra percentage on the amount on a bet slip up to 50%. The percentage increases as the number of games in your multi-bet increases. It starts at 3% for 2 games and climbs to 50% for 25 games.
To qualify for this bonus, the legs in your multi betslip must have a minimum of 1.2 odds.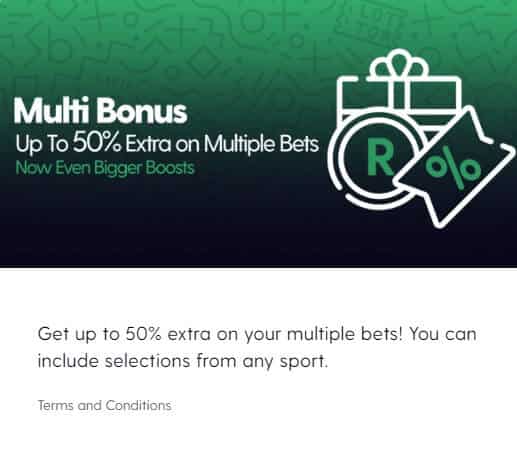 One Leg Cut Promo
Don't lose your stake if one game in your bet slip goes wrong. With this bonus, you get back your stake up to R100 if one game in your bet slip doesn't win. To qualify, you must have at least 5 games in your multi-bet slip, each of which must be 1.2 odds or above.
Cricket Live In-Play Promo
Get up to R100 in free bets when you bet live on cricket games. How to qualify for this bonus is to place a minimum of R1000 on live cricket bets from Monday to Sunday. Then, when the bet is settled, you will get your free bet. The bets must be a single of at least 1.5 odds or in a multi-bet slip of 2 or more games with at least a cumulative of 2.20 odds and each game at least 1.20 odds.
PSL Multi Madness
You can get free bets when you bet on the PSL games in a multi-bet of at least 5 games. The games in the slip must have a minimum odds of 1.5 odds and a cumulative of at least 2.20 odds.
Bet Builder
The bet builder promo allows you to add more than one prediction per game to a bet slip. You can add up to 6 selections from one game, and you must place it as a single bet. Bet builder makes the odds of a game more valuable because it combines all the odds of the market you bet on. This promo is only available for pre-match betting for football and basketball games.
Bet.co.za Sports Betting Review
The major reason for the betting site is to bet on sporting events. And the bookmaker has a lot of them. So here are some sports and events you will find on the bookmaker.
| | |
| --- | --- |
| Football | The English Premier League, Premier Soccer League, La Liga, Serie A, Ligue 1, Bundesliga, etc. |
| Basketball | NBA, WNBA, EuroBasket, EuroLeague, etc. |
| Rugby | United Rugby Championship, Rugby World Cup, The Rugby Championship, etc. |
| Cricket | One Day International matches, Indian Premier League, Twenty20 World Cup, ICC World Cup, etc. |
| Tennis | Roland Garros, Wimbledon, U.S Open and the Australian Open. |
| Ice Hockey | National Hockey League, Championship Hockey League, Australian Hockey League, Swedish Hockey League and World Championship. |
| eSports | Counter-Strike, League of Legends, Call of Duty, Arena of Valor, Rainbow Six, StarCraft, DOTA, Overwatch, etc. |
| Baseball | Major League Baseball and South Korean KBO League. |
| Golf | Ryder Cup, Presidents Cup, U.S Open, U.S Masters, PGA Championship, etc. |
Bet.co.za Payment Methods
You can't successfully place a bet on the bookmaker without depositing money. And after your bet wins, you may want to withdraw the amount. So as part of our bet.co.za review, we will analyse the deposit and withdrawal channels.
Here are some deposit channels on the bookmaker's site.
Masterpass
SID Instant EFT
OTT Voucher
Zapper
MasterCard / VISA
OZOW
To make a deposit, you have to log into your bet.co.za account and click on the money symbol or the deposit button at the top of the page. You can now choose any deposit channels listed and complete the process.
The only withdrawal channel on bet.co.za is to your bank account. So, to withdraw from your bet.co.za, you have to log into your account and click on 'My Account'. Then, select withdrawal from the options and enter your bank account details. Finally, confirm the withdrawal request, and it will be queued for processing.
Bet.co.za Mobile Review
You can access the bet.co.za betting platform on your mobile device. First, there is the mobile site. And in the past, the bookmaker used to offer a mobile app for Android and iOS. However, the mobile app was discontinued.
But you can still use the bet.co.za on your mobile device by adding it to your home screen. While it doesn't have the advanced security and notification feature that mobile apps have, it functions like one and is available for Android and iOS devices. Follow the steps to add bet.co.za to your home screen.
Visit the bet.co.za website on your mobile phone.
Click on your browser menu and on the 'Add to Home Screen' option.
The icon of the bookmaker will be added to your home screen, and you can now enjoy one-click access to the bookmaker's website.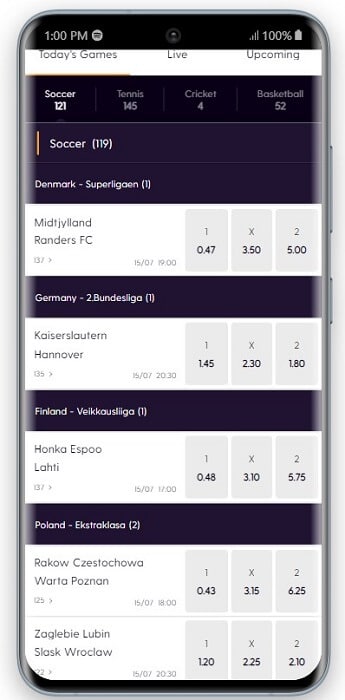 Bet.co.za Registration Review
As part of the bet.co.za South Africa review, we have to look at the registration process. Before using the above features of the bookmaker, you must register an account. The bet.co.za account registration process has three steps.
This is in line with the requirements to have a full profile of every customer by legislation. Some details that you need to register an account include your name, email, phone number, address, ID number, etc.
Bet.co.za Live Betting/ Live Streaming Review
The bet.co.za live betting section is well developed and adds a new layer to betting. With live betting, you can choose to bet even after the game has started. You can access the live betting feature by clicking on the 'Live' tab on the homepage.
And the section is filled with a wide range of sports events and even eSports events. There are also many betting markets in the live betting section, almost as many as the pre-game market.
Even though live streaming complements live betting, the bookmaker doesn't offer it. Instead, you'll see the livescore section, which has a lot of in-game statistics. The livescore also offers a lot of information like the head-to-head data, performance in the last five games, and every necessary information about the game.
Bet.co.za Customer Service Review
The bookmaker's website is easy to use and well-designed. And most times, all the features are working well. But once in a while, you can run into an issue using the bet.co.za betting platform.
The good news is that customer service is taken seriously at bet.co.za. For example, the bookmaker has an FAQ section that contains over 500 frequently asked questions about using the betting platform. So any issue you have can be resolved without speaking to a customer service rep.
But if you don't see an answer to the issue you are facing, that is where the customer service team comes into play. You can contact the customer service team on the following channels.
Email: supporta@bet.co.za
Phone: 0861 238 000
Social Media: You can send a message on Facebook (betcoza) or Twitter (@betcoza).
Live Chat
These channels are available from 0800-2300 on weekdays and 0800-2200 on weekends. This is except for the phone, which is available till 4 pm daily.
Conclusion
Bet.co.za is the home of sports betting in South Africa. They are famous for their promotions in the sports betting section, as they offer promotions for almost every sports event, with a robust live betting section. Also, the casino section has both simulated versions and live casino games.
They also offer betting information and predictions on their Bet Central blog. And their customer service is top-notch. However, you will not see every feature on bet.co.za, for example, virtual games or live streaming. But you can be sure that whatever feature the bookmaker offers is executed excellently.

Bet.co.za Review South Africa FAQs
As we end this bet.co.za review, below are answers to frequently asked questions about the bookmaker. Please contact the customer care team on the bookmaker's website if you have any additional questions.
What is Bet.co.za?
Bet.co.za is a betting company in South Africa. It was established in 2012 and operates a betting site that is home to several sporting events, casino games and lucky numbers.
Where is Bet.co.za legal?
Bet.co.za is legal in South Africa. The bookmaker is licensed and registered by the Western Cape Gambling and Racing Board in South Africa.
How to bet at Bet.co.za South Africa?
You can bet on bet.co.za by creating an account with the bookmaker. You can then log into it, choose the sports game you want to bet on, make your predictions and stake the bet.
How to get free bets on Bet.co.za?
There are so many promotions on bet.co.za that offer free bets as a prize. However, the most prominent is the welcome bonus which gives R1000 in free bets to every new customer.
Other examples include the Tennis Live In-Play promo, Cricket Live In-Play promo, PSL multi-match madness, 19th Hole promo (for golf betting), Points fest promo (for rugby betting), and Footy Free Bet(for betting in the Premier League).