For all the betting on-the-go lovers from Zambia, there is a 10bet app for mobile and tablet devices that you can use and enjoy betting.
| | | |
| --- | --- | --- |
| best betting sites | devices | link to site |
More precisely, you will get to know this app's availability for different platforms as well as how to download, install and use it.
---
---
About 10bet App
A vast majority of operators provide their customers with the ability to use their mobile apps. Similarly, this brand did the same by developing an Android app as well as a mobile website.
This bookmaker's app and mobile website let you use a lot of features and options. Some of them imply registration, using the available payment options, selecting bonuses and placing bets.
The app is not difficult to download and install. It is designed to cater for customers' needs and provide them with a comfortable and pleasant betting experience.
This is mostly because it is simple and user-friendly, even though it features multiple options. The aforementioned characteristics of this bookie's mobile app are pretty much the same as the ones found on the mobile website.
How to Download the 10bet App for Android?
There are plenty of players whose devices operate on the Android platform. Because of this, we provide you with a guide on how to download this sportsbook's Android app below.
How to download the 10bet Android app?
Visit this bookmaker's mobile website by using a web browser app on your mobile or tablet device.

Click on the "10bet new and shiny app" button located at the very top of the mobile website.

If asked, confirm and start the download procedure.
Allow your device to install apps from unknown sources if needed, and wait for the app to download.
Be patient as the app is being installed, and click on the app icon to run it afterwards.
It is important to mention that there is another way of using this operator's app. In other words, you can do so by using the pre-installed web browser app on your phone.
Once you open the app or visit the mobile website, you will be able to use multiple services, one of which relates to completing the 10bet registration.
How to Download the 10bet App for iOS?
At the moment, this brand does not list an app for the iOS platform as available. However, there is still a chance for you to enjoy this bookie's services by using an iOS mobile operating device.
The way you can achieve this is by using any of the web browser apps you have on your phone.
Also, you can install a web browser app from the App Store for the purpose of using this sportsbook's mobile website.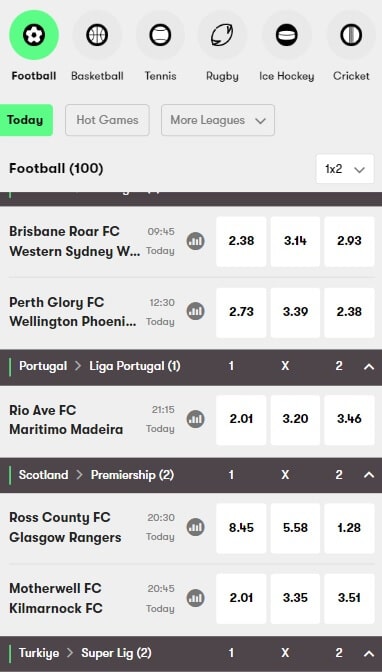 Accessing this operator's mobile website through your phone allows you to get your hands on all the services, all of which are also available on the desktop website.
10bet Mobile Version
As discussed earlier, there is a chance for you to use the mobile website of this brand.
In fact, the only way you can use this bookie's services on an iOS operating device is by accessing the mobile website. As for the Android platform, you will have an opportunity to use both the app as well as the mobile website.
One of the advantages of using the mobile site is that you don't need to download any apps. Instead, you could just use any web browser system app on your phone.
Importantly, there are a lot of services available for you on the mobile website. All of them are very useful as they help you enhance your betting experience.
Since we talk about a highly-functioning website, you can complete some practical tasks, one of which is account opening. In addition, you may use a 10bet bonus code, if one is available.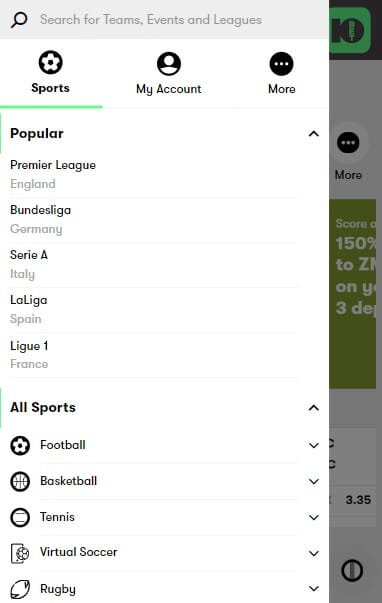 What Are the 10bet App System Requirements?
Any portable device, be it a mobile phone, tablet, or the like, comes with particular hardware and software characteristics.
These traits determine the ability of a device to perform certain tasks, such as running an app. First, the requirements of this sportsbook's Android app are not too high.
Most Android apps of this type don't require the latest system version in order to function properly.
Still, this doesn't mean that your device's system version should be outdated. On average, the system version that can run sports betting apps on Android nowadays is 5 or higher.
On top of that, this brand's Android installation file won't usurp much of your device's storage space, as its size is only 16 MB. As there is no iOS app, you can use a web browser application on your iOS operating device and access this bookmaker's mobile website in no time.
Needless to say, your mobile phone or tablet operating on the iOS platform automatically meets the necessary criteria to run a pre-installed web browser app.
Plus, your device's hardware should be in good condition. Lastly, you will need to secure a stable internet connection in order for things to work flawlessly.
10bet App Review
For the 10bet review up, we outline some of the features that made this bookie's Android app and its mobile website popular.
Easy to Use
Before all else, we need to note that you can easily install the Android app or access the mobile website.
Both the app and the mobile website are designed to provide you with easily accessible features and options. The sections are clearly defined, and you can enter them very fast.
Doesn't Consume too Much Mobile Data
One of the things to have in mind when using the betting on-the-go option is mobile data consumption.
Namely, if you don't have a Wi-FI connection, you may need to use your own mobile data. While some apps can use lots of your mobile data, this is not the case with the 10bet Zambia app.
Plenty of Features and Options
Of course, it is always important for you to have the features that you need at your disposal.
For this reason, this sportsbook includes numerous services that every betting enthusiast wants to use. As a matter of fact, you can create an account, make a deposit, opt-in for promotions, place bets, request withdrawals, etc.
Safe and Secure
Every user desires to join and use the services of a scam-free operator. Luckily, 10bet is a brand that has a legal operating licence.
This further means that it is completely safe to join as it includes various safety measures.
Some of the most important ones are encryption, data protection, account activation, and the like. The same goes for this bookmaker's payment methods.
The banking options available on the website are widespread and used by people all over the world. Therefore, they are pretty much safe and secure.
10bet Zambia App FAQ
To finalise our review, we include the FAQ section that you can read down below.
Is the 10bet app available in Zambia?
This bookie's app is available for Android users in Zambia. The app is easy to download, install, and use. It includes many interesting services that can make your betting experience neat.
Speaking of iOS devices, you can access the mobile website using a web browser app on your phone. The mobile website is almost identical to the Android app and the desktop site.
How to install the 10bet app?
This sportsbook's app is only available for the Android platform. First, you have to visit this operator's mobile website and click on the "10bet new and shiny app" button. You can then agree to start the download process.
If needed, you should allow your device to install app files from unknown sources. When it comes to iOS operating devices, you can go straight to this brand's mobile website and enjoy your time there.
How to use the 10bet app?
Upon installing the Android app, you should tap the app icon on your screen to run it. Later, you should be able to easily access any of this bookmaker's options and features. For iOS users, you need to open the mobile website. Similarly, you are likely to navigate the website easily after this.
How to login to the 10bet app?
To log in while using this bookie's Android app or mobile website, you simply need to locate the login button and press it. Next, you have to type in your mobile phone number and the 4 digit PIN, after which you should hit the login button again.