Start your 1xBet agent registration and join 5 000 betting brokers worldwide that started their own business as 1xbet representatives. Keep reading on how to earn money through the 1xbet platform and become a 1xBet agent in India.
What Does it Mean to Be a 1xBet Agent?
In short, being a 1xbet bet agent means representing the 1xbet platform and earn a commission through creating a betting shop network or by acting as a middleman. If you use any of these payment methods – UPI, Net Banking and Bank Transfer you can earn your own commission.
1️⃣Ensure Safe and Secure Payments
Agents have a separate account where they can make a deposit in 1xbet. 1xBet agent contacts the bettors to ensure secure transactions and withdrawals.
2️⃣Earn 2-5% Commission
1xBet India agent acts as a middleman to help bettors deposit and withdraw through his account. The agent is an individual associated with and representing the 1xBet platform. However, he operates on his own and earns his commission from the betting site.
3️⃣Process Player's Funds Safely
When a player deposits money, it will be sent to the agent's account. The agent accepts money from the bettors, then tops up the users' betting account and helps users withdraw from the same. This whole process looks like the money has been transferred from one 1xBet user to another. You can learn the basics of this position through the 1xBet training program that their manager provides. As you understand the working of this process, you can create your own network of agents and earn commissions accordingly.
How to Register and Become a 1xbet Agent in India?
You can effortlessly become a 1xBet agent India. Before you start, you need to prepare the following details:
Email address
Valid mobile number
Terminal location address (the location from which you would like to work from)
Once you have that, here's how to become 1xbet agent in 4 steps:
Open your device browser and start the 1xbet registration process.
Click on the 'Become an Agent' option available on the site.
Fill out the application form with your personal details.
Click on 'Submit' to send the 1xBet team your application.
How to Verify and Finalise the Application?
After you have sent your 1xBet application, you get a confirmation email. Through the email, the operator informs you that your application was received successfully. Further, a manager from 1xBet will contact you to give you other associated instructions.
So, you have to wait till the team verifies your details. This is a necessary step to ensure that you are a verified and reliable 1xBet agent in India. Also, it validates effective cooperation and avoids crossing work zones.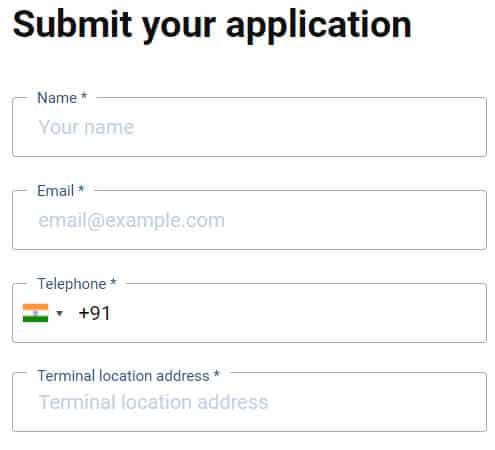 What are the Fees and Commission for New 1xBet Agents?
As a 1xBet India agent, you earn commissions on the transactions made by the players. As one of the leading betting companies in India, you can earn when players are activating the 1xbet promo code upon sign up.
There is no fixed 1xBet agent salary. For deposits, the agent receives 2 to 6% 1xBet agent commission. Furthermore, there is a 2- 4% commission set of withdrawals.
However, the final percentage of the commission you earn as an agent depends on factors such as geolocation and a few other parameters.
Access the agent registration form and sign-up to get the agent status to know the exact commission you will be getting here.
Terms and Requirements
There are some requirements for individuals to qualify for 1xBet agent registration. These include:
You must be an adult of legal age. The operator does not encourage children to pursue this option.
You must have a device like a smartphone or a tablet through which you can offer agent services whenever needed. This also helps you stay in touch with the 1xBet.
The agent mobile application will be downloaded on this device.
Ensure to use a good-speed internet connection to your device. Since you will be involved in money transactions, it is advised to avoid slow internet, especially when on the move.
Provide valid information to the 1xBet team during the verification process to ensure good reliability.
Benefits of Making 1xBet Agent Registration
1xBet shop agent position comes with several benefits. So once you opt-in to become a 1xbet agent with this operator, you have the following 1xbet agent benefits:
No strict work time and limits: You work according to your convenience and time. If you want, you can work round the clock without much effort.
It's absolutely free to join: Registering at 1xbet is free of charge and there are no fees.
You don't need to invest: There is no requirement to invest your own funds if you register to become a 1xBet agent.
Create your own network: Run your network of agents and take this opportunity to create your business.
The process is safe: The transactions processed by you as an agent are anonymously executed.
Can you Become a Shop Agent on the 1xBet App?
After the registration and verification is finalised, 1xBet managers will send a link to the prospect. This link helps you download the 1xBet shop agent application. The manager also creates your special 1xBet betting agent account. The details will be shared for you to log into the 1xBet agent application.
Remember, not everyone has access to the application for 1xbet agents. Only those who have verified their account will receive the link to the 1xBet betting agent app.
Everything You Need to Know About Becoming 1xBet Agent: FAQ
We have covered everything you need to know about 1xBet agent registration. Here are some additional answers to the generally asked questions.
What is the 1xBet agent salary?
Onexbet agents get no salary. Instead of a salary, agents are paid on a commission basis. For every deposit made, the 1xBet agent scheme gets you a 2 to 6% commission. Further, a 2 – 4% 1xBet commission is set for each withdrawal processed.
Can you register as a 1xBet agent from India?
Yes, you can register and apply from India.
How long does the application process take?
The operator tries to process your 1xBet agent registration application as soon as possible.
Is it safe and legal to become a shop agent for 1xBet?
Yes, the Onexbet agent position is safe and absolutely legal to seek.