With the Cricket World Cup coming up soon, we will give a comprehensive guide to ICC World Cup Betting and how you can bet on the tournament.
We give you valuable information on the host country and venues, key dates for the 2023 Cricket World Cup, and top bookmakers for Bangladeshi bettors including a handpicked list of ODI World Cup betting sites accepting Bangladeshi players.
Are you wondering about Bangladesh's chances at the 2023 ODI World Cup as well? We'll assess their performance potential. Furthermore, we'll unveil the favorites for the ICC World Cup 2023, spotlight key players, delve into Cricket World Cup odds, and introduce the best Cricket World Cup betting bonuses. Let's dig into it.
Who Is Hosting the 2023 ICC Cricket World Cup?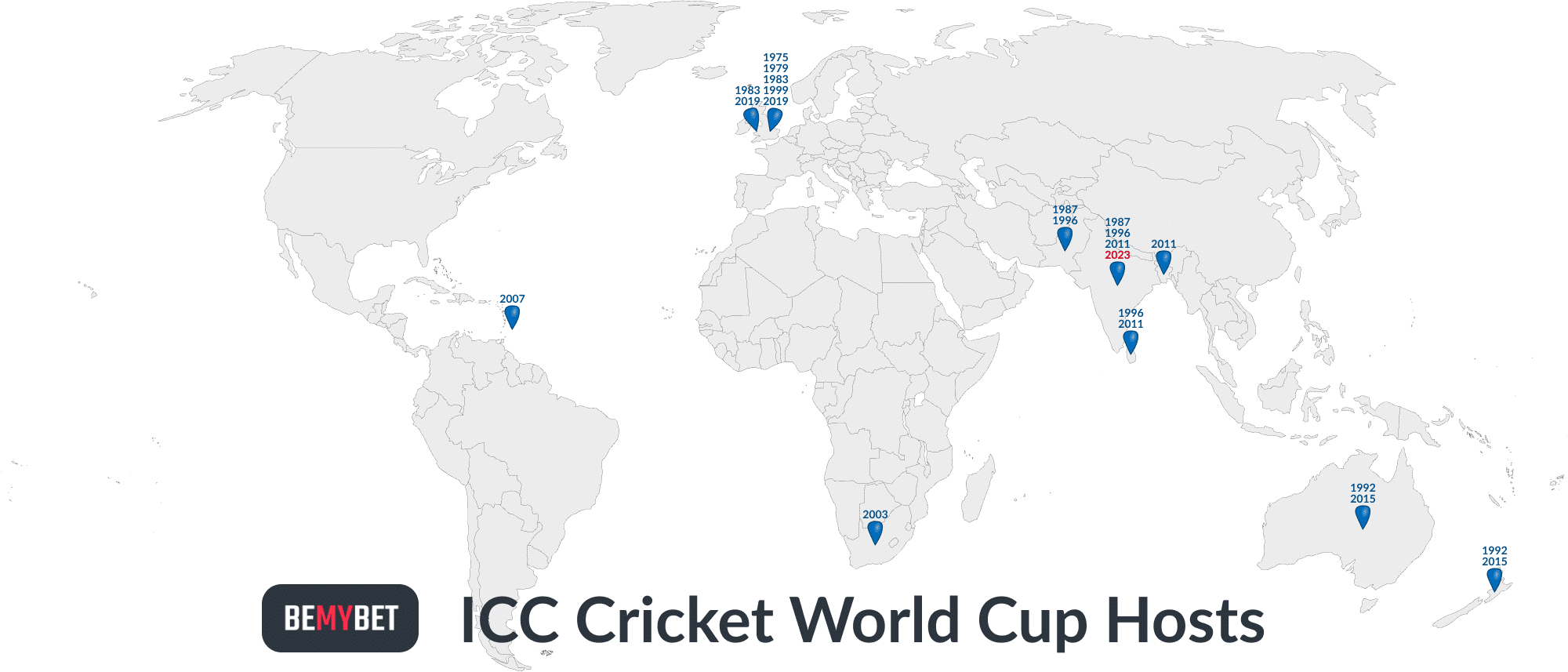 The 2023 ICC Cricket World Cup will be hosted in India, igniting the cricketing world with excitement. This grand event will showcase cricketing excellence and offer Bangladesh bettors a chance to participate in thrilling betting activities.
As the tournament unfolds, cricket enthusiasts worldwide will be treated to a display of exceptional talent and sportsmanship. The iconic Narendra Modi Stadium in Ahmedabad will witness the climax of the final match, where two deserving teams will compete for the coveted title.
Here is the complete list of venues for the ICC World Cup 2023.
Narendra Modi Stadium, Ahmedabad
Rajiv Gandhi International Stadium, Hyderabad
Himachal Pradesh Cricket Association Stadium, Dharamsala
Arun Jaitley Stadium, Delhi
MA Chidambaram Stadium, Chennai
Bharat Ratna Shri Atal Bihari Vajpayee Ekana Cricket Stadium, Lucknow
Maharashtra Cricket Association Stadium, Pune
M.Chinnaswamy Stadium, Bengaluru
Wankhede Stadium, Mumbai
Eden Gardens, Kolkata
Fans and bettors can expect a nail-biting competition as teams display their prowess in pursuit of cricket's most coveted trophy. From stunning batting displays to breathtaking bowling performances, each moment will keep audiences on the edge of their seats.
For Bangladesh bettors, the 2023 Cricket World Cup is a golden opportunity to explore the world of sports betting. So, analyze team form, assess player statistics, and make calculated bets to elevate the excitement of watching the games.
Join the cricketing frenzy and be part of the global celebration, the ICC Cricket World Cup. Witness unforgettable moments, celebrate victories, and experience the thrill of betting on Cricket World Cup like never before.
2023 Cricket World Cup Key Dates
The wait is almost over, and the ICC World Cup 2023 promises to be an exhilarating cricketing extravaganza. Commencing on October 5 in Ahmedabad just after finishing the Asia Cup 2023, the tournament begins with a rematch of the 2019 final as England takes on New Zealand, setting the stage for a compelling opening clash.
For Bangladesh, their campaign commences on October 7 against Afghanistan in Dharamshala, a crucial fixture for the team to assert their dominance from the outset. On October 19, the stakes rise as Bangladesh faces its arch-rivals, India, in Pune, a match that will surely be a spectacle for cricket enthusiasts.
The game on October 24 against South Africa in Mumbai is a pivotal moment for Bangladesh, as victory will keep their dreams of making it to the semi-finals alive. On November 2, the spotlight will be on Bangladesh again as they face Sri Lanka in Delhi, a must-win match to progress further in the tournament.
Beyond Bangladesh's games, several marquee encounters promise to captivate the cricketing world. On October 8, India takes on Australia in Chennai, setting the tone for a thrilling contest. The highly-anticipated India-Pakistan clash on October 14 in Ahmedabad will undoubtedly be a highlight of the group stage.
November 4 brings a showdown between Australia and the reigning champions, England, in Ahmedabad, an encounter that promises sparks to fly on the field. The semi-finals, scheduled for November 15 in Mumbai and November 16 in Kolkata, will witness the top 4 teams battling fiercely for a spot in the ultimate showdown.
And finally, on November 19, witness history being made as the final takes place at the Narendra Modi Stadium in Ahmedabad. Don't miss a single moment of the action and bet smartly to make the most of this cricketing spectacle.
Cricket World Cup Bookmakers for Bangladeshi Bettors
Bangladeshi cricket enthusiasts can find their perfect match with these top bookmakers in the exhilarating world of ICC betting. We recommend 1xBet, BetWinner, and Mostbet, and here's why.
1xBet
High odds on the Cricket World Cup
Amazing ICC World Cup markets
Great World Cup promotions
With an extensive range of betting markets for the ODI World Cup, 1xBet caters to every cricket fan's preferences. Whether you want to bet before the match, go for outright winners, or make in-play wagers during the games, 1xBet has you covered. Their competitive odds on international cricket matches give Bangladeshi bettors an edge.
1xBet offers a sports bonus, 100% up to 13,000 BDT, to new users, providing a great incentive to start betting. But remember, users must be 18 years or older to participate. The minimum deposit required is only 100 BDT.
To avail the offer, bettors must be at least 18 years old and make a minimum deposit of 100 BDT. Upon depositing, switch to your bonus account and wager the bonus amount five times in accumulator bets. Ensure that every accumulator bet comprises three or more events, with a minimum of three events offering odds of 1.40 or higher.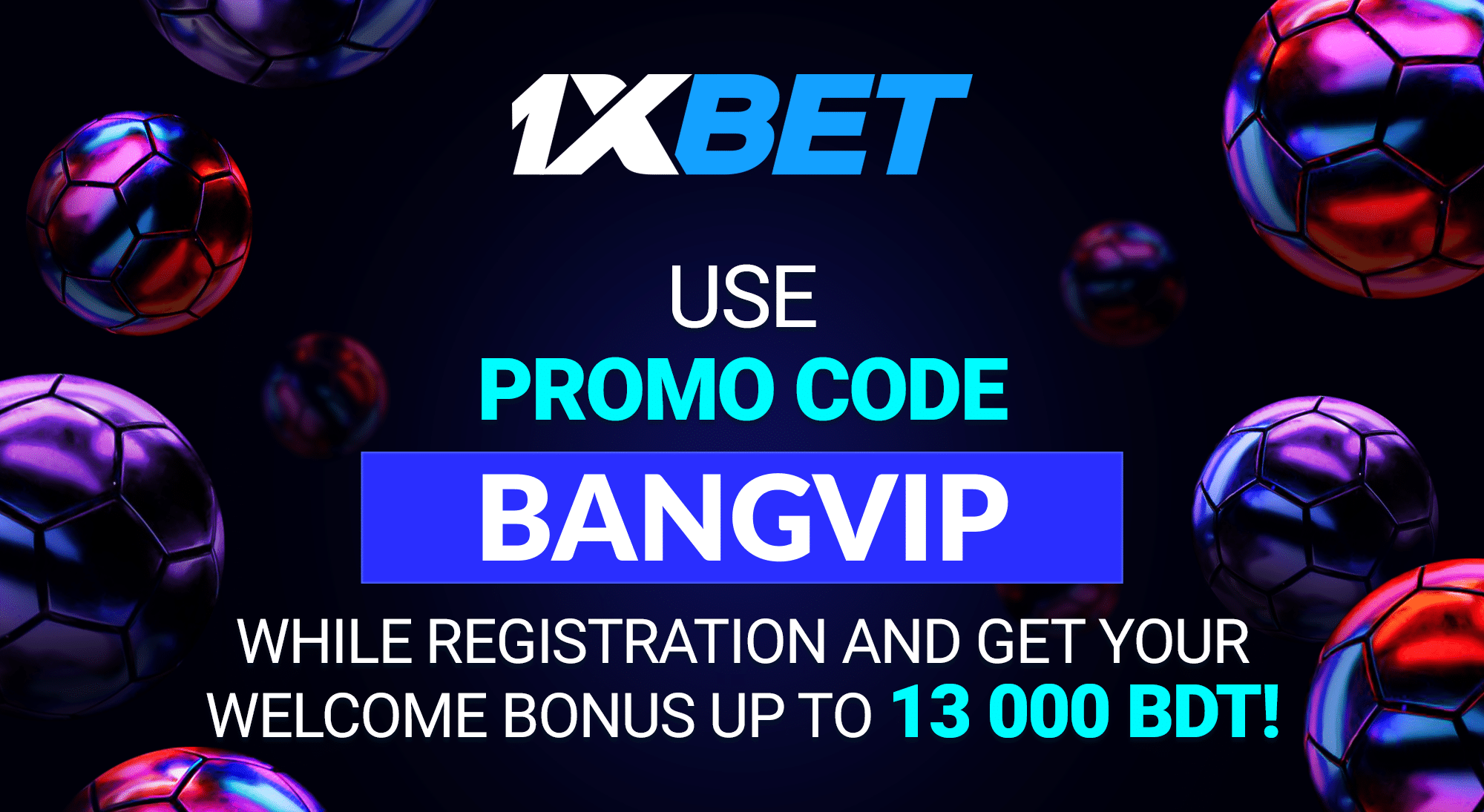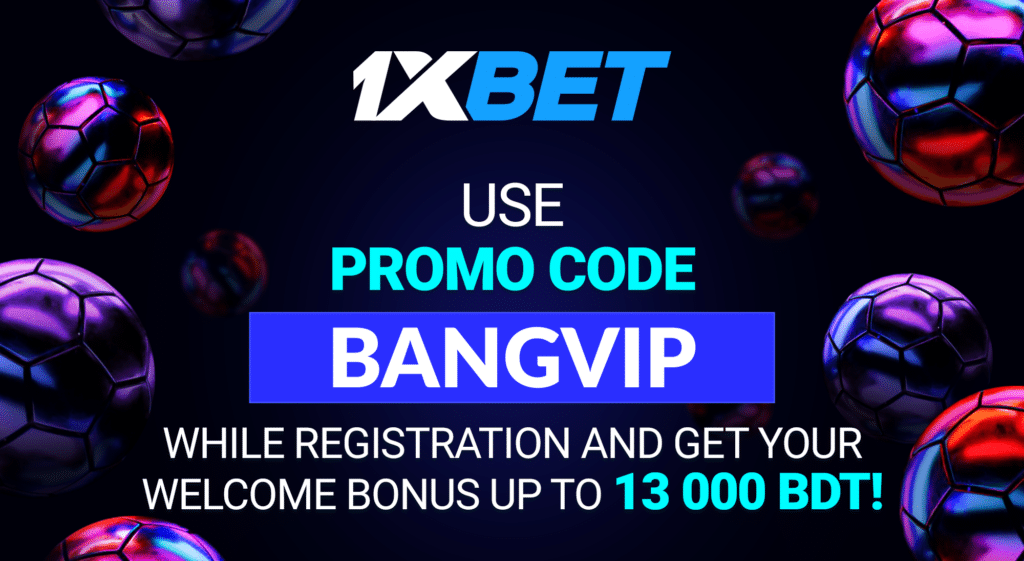 Make sure not to miss out on the incredible BANGVIP 1xBet promo code, granting you access to this exclusive deal. By taking advantage of this enticing offer, bettors from Bangladesh can fully optimize their betting experience and revel in the excitement of the World Cup like never before.
However, it's essential to bet responsibly and avoid excessive gambling. Always set a budget and stick to it, even when the excitement of the World Cup gets intense.
1xBet offers an excellent platform for Bangladesh bettors to enjoy the ICC World Cup betting experience. Remember to play responsibly, stay informed, and embrace the thrill of cricket betting while keeping it enjoyable and under control.
BetWinner
Perhaps best ODI World Cup live betting
Great Cricket World Cup offers
Very nice interface for cricket betting
For Bangladeshi bettors seeking thrilling cricket action, BetWinner is a fantastic choice. They present an array of betting options for the ICC World Cup, including pre-match, outright, and live betting. BetWinner's competitive odds on international cricket events entice fans to take their chances.
New users can avail of a 100% bonus, up to 13,000 BDT (or equivalent in another currency), on their first deposit. The minimum deposit to activate the bonus is 100 BDT or equivalent. Ensure that at least 3 events in your accumulator have odds of 1.40 or higher. The bonus must be utilized within 30 days of registration. Full terms and conditions apply.
With the BetWinner promo code BANGVIP, Bangladeshi bettors can enhance their betting experience and get started on BetWinner's platform.
Embrace the excitement of cricket's most prestigious tournament and take advantage of BetWinner's offer. Remember to gamble responsibly, and enjoy the thrilling World Cup action.
BetWinner presents an interesting opportunity for Bangladesh bettors to get involved in the ICC World Cup action. Utilize the promotional offer wisely and savor the thrill of betting on your favorite sport.
Mostbet
Up to 25 000 BDT

18+. You must select sport or casino bonus upon registration. Minimum deposit 200 BDT. The maximum bonus with our bonus code is 25 000 BDT. It is necessary to fulfill the following conditions within 30 days after making the first deposit: put the received bonus in the 5-time amount from the bonus account using "accumulator" bets . At least 3 events in the accumulator must have coefficients of at least 1.40, the maximum number of events in the accumulator is unlimited.

Full T&Cs

Good for World Cup bonuses
Big ICC World Cup betting market
Low minimum deposit
Embrace the World Cup frenzy with Mostbet, offering an incredible platform for Bangladeshi bettors. The bookmaker boasts an excellent selection of betting markets for the ODI World Cup, covering all the action from the beginning till the grand finale. Their competitive odds on international cricket give bettors ample opportunities.
MostBet offers a sports bonus of up to 25,000 BDT for new users. Remember to choose between the sport or casino bonus when registering, and make a minimum deposit of 200 BDT to avail of the offer. The maximum bonus with the Mosbet promo code MOSTBANG is 25,000 BDT.
Keep in mind that to unlock the bonus, you must meet certain conditions within 30 days of making your first deposit. Place bets from the bonus account in a 5-time amount using "accumulator" bets. Your accumulator must have at least 3 events with coefficients of 1.40 or higher. The best part is, that there's no limit to the number of events you can include in the accumulator.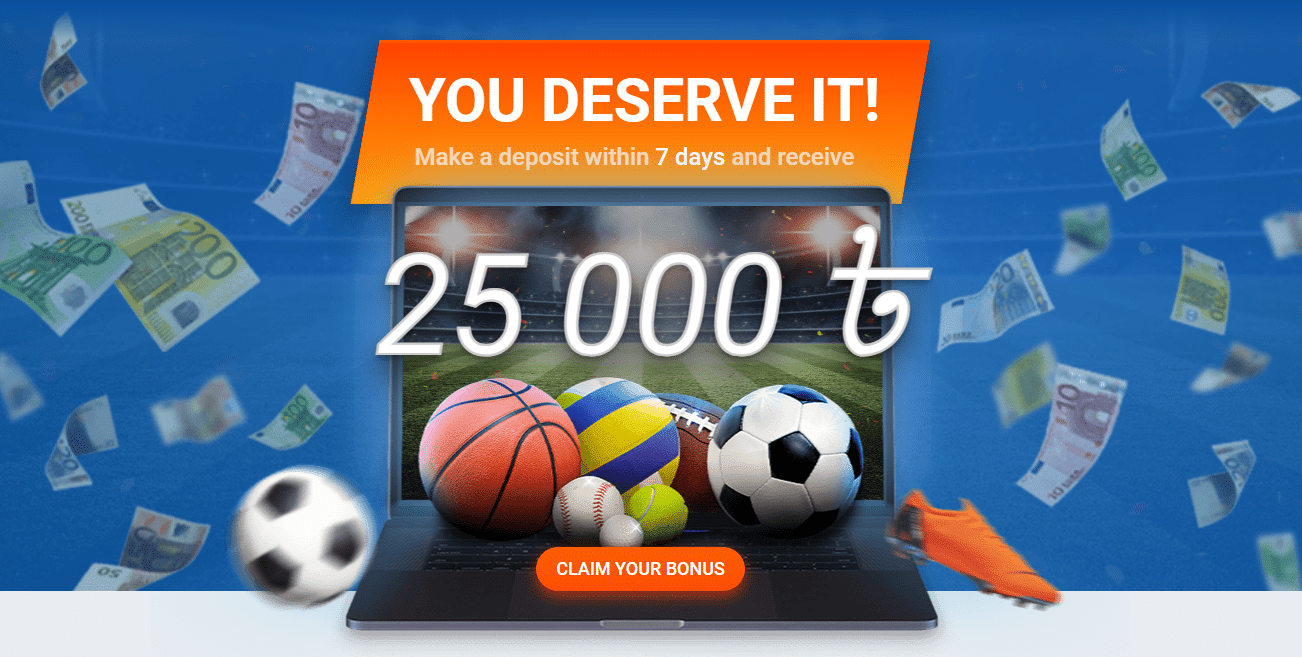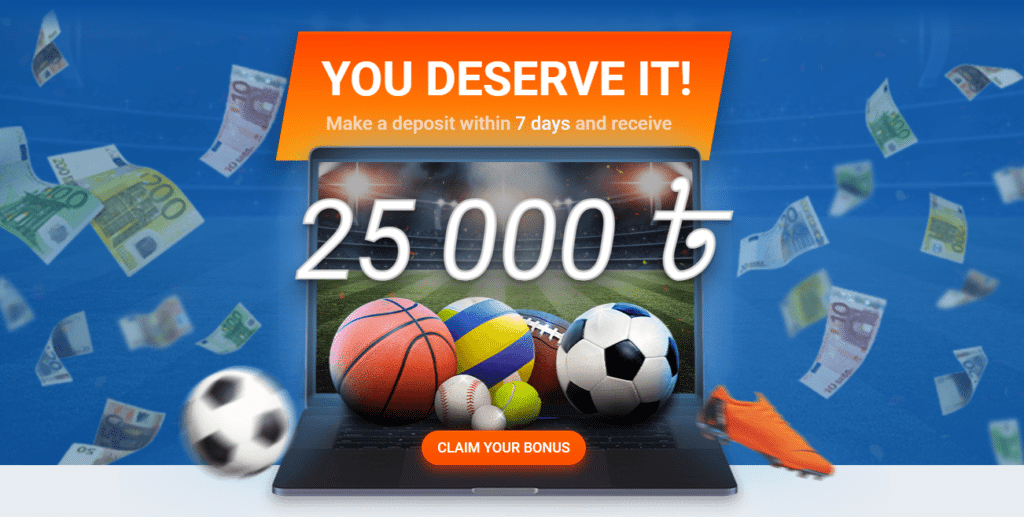 Whether you're a seasoned bettor or a newcomer, Mostbet ensures an exciting and safe betting experience. With their user-friendly platform and a wide array of betting options, you can bet on various cricket matches in the ICC World Cup and other sports too.
Mostbet stands out as a reliable bookmaker in the market, offering competitive odds and an extensive selection of sports and events. Their prompt customer support is always ready to assist you with any queries.
Each of these bookmakers presents an exciting welcome offer to new users. This means you can kick off the final betting preview with a bonus boost, making your World Cup experience even more rewarding.
List of ODI World Cup Betting Sites Accepting Bangladeshi Bettors
As the ODI World Cup beckons, Bangladeshi bettors can rely on our expert-endorsed betting sites. With a meticulous approach, our team assesses each bookmaker, ensuring reliability and credibility. These selected sites boast an impressive range of betting markets for the Cricket World Cup, spanning pre-match, outright, and live options to cater to diverse betting preferences.
International cricket enthusiasts will delight in the favorable odds these bookmakers offer, enhancing the potential for the outcomes. Additionally, various welcome offers from these sites add an extra layer of excitement for new players. As you continue reading, discover our exclusive compilation of the best Cricket World Cup betting sites, tailored to empower Bangladesh bettors.
How Will Bangladesh do at the 2023 ODI World Cup?
Bangladesh's ODI cricket venture has been highly remarkable. The upcoming 2023 World Cup will allow them to exhibit their advancement and contend at the utmost level.
The inclusion of Shakib Al Hasan, widely recognized as the globe's top-tier all-rounder, bestows Bangladesh with a competitive advantage. His multifaceted skills with both bat and ball render him a pivotal force in influencing game outcomes.
The swashbuckling opener, Litton Kumar Das, has the ability to take the game away from any opposition. His aggressive style of play will be instrumental in setting the foundation for Bangladesh's innings.
Mushfiqur Rahim's solid technique and ability to read spin make him a reliable middle-order batsman. He can anchor the innings and accelerate when needed.
Mustafizur Rahman's ability to deceive batters with his cutter makes him one of the best bowlers in the bowling department. Bangladesh will look to him to make breakthroughs.
Taskin Ahmed, the leading fast bowler brings youthful exuberance and pace to the attack. His skills, ability to swing the ball from both sides, and experience will complement the new bowlers in the squad.
In the potential scenario where all essential contributors perform at their peak, Bangladesh holds a formidable prospect of advancing to the semi-finals in the 2023 World Cup. The remarkable transformation from underprivileged competitors to serious challengers exemplifies their unwavering commitment to progress and development.
ICC World Cup 2023 Favourites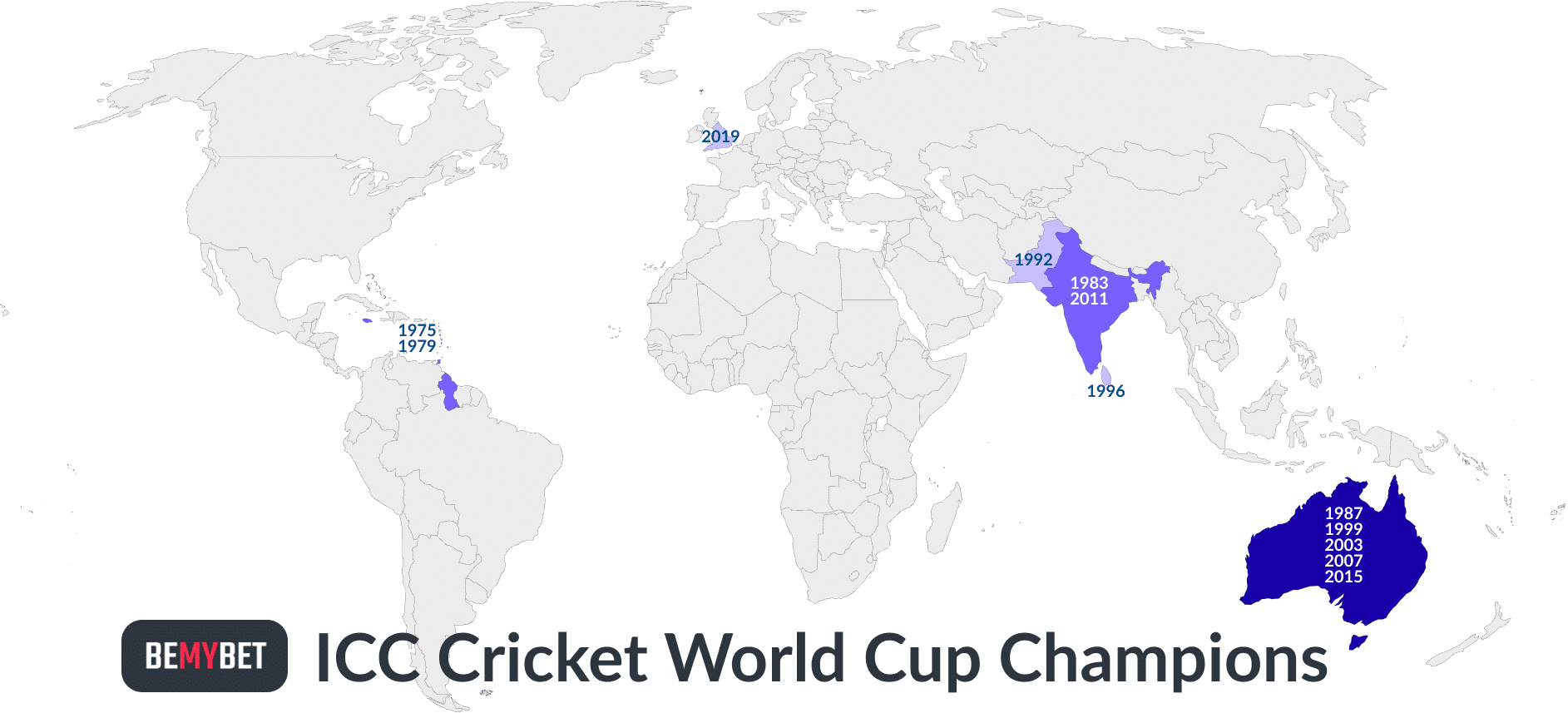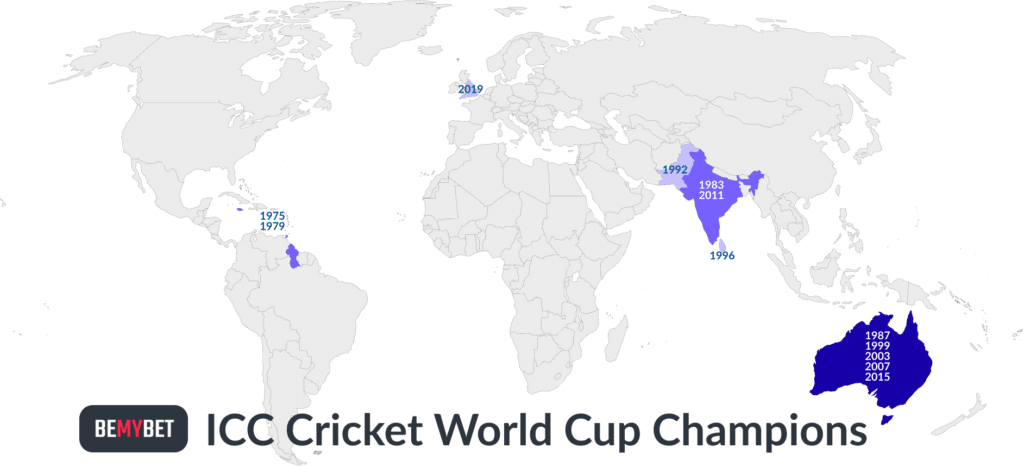 As the Cricket World Cup 2023 draws near, anticipation and excitement sweep across the globe. Among the many participating nations, at least 6-7 countries are gearing up to lay their claim on the coveted title. The stage is set for an exciting and fiercely competitive tournament, with the odds separating the hot favorites and marginally favorite sides.
England: The Defending Champions with a Strong Squad
Certainly, without a doubt, the defending champions, England, possess an incredibly robust and well-rounded team in the forthcoming Cricket World Cup. On the prior occasion, they emerged victorious on their own turf, determined to uphold their championship. England's extensive reservoir of skilled players, supported by match-altering individuals, provides ample grounds for them to aspire to secure another ICC trophy, even amidst the demanding circumstances of India.
Australia: The Ever-Consistent Contenders
While England's squad is formidable, no team exudes consistency in ICC events quite like Australia. The five-time world champions may not be as fearsome as they were in the early 2000s, but any opposition would love to avoid facing the mighty Australians on the cricket field. Their well-settled combination of performers presents a significant threat to other teams.
India: The Men in Blue with Home Advantage and Massive Fanbase
When it comes to home advantage, India stands out as a dangerous and fearsome side. The Men in Blue proved their mettle in the 2011 CWC, and this time, as the sole host nation for the entire competition, they hold the condition advantage and boast the biggest fanbase. With passionate supporters rallying behind them, India emerges as the biggest favorite for the 2023 ICC World Cup, determined to reclaim the trophy on home soil.
Pakistan: The Unpredictable Contender
Yet, amidst all the favorites, one team consistently keeps everyone guessing – Pakistan. Renowned for their unpredictability, Pakistan showcased their prowess in the 2022 T20 World Cup, losing to Zimbabwe but still making it to the finals. As they set their sights on a 2nd CWC title, Pakistan's unique blend of talent and uncertainty makes them a thrilling team to watch.
New Zealand: Consistency and Skipper Woes
Another side that demands attention is New Zealand, fondly known as the Kiwis. While they have not claimed a World Cup victory, the New Zealand cricket team boasts an impressive history in ICC tournaments.
They consistently reach the semifinals in both One-Day and T20 World Cups, having achieved this feat in all four preceding ODI World Cups. Their consistency and determination to reach the pinnacle of cricket make them a formidable contender, despite the absence of their regular skipper, Kane Williamson.
Bangladesh: The Surprising World-Class Side
In the midst of established cricketing giants, Bangladesh emerges as the potential dark horse of the 2023 CWC. The Tigers have proven themselves as a world-class side in One Day Internationals, putting up commendable performances in recent years.
With the tournament being held in India, conditions that mirror their sub-continental familiarity may empower Bangladesh to deliver deadly performances. They command respect and should not be underestimated as they eye a shot at the ODI World Cup glory.
Afghanistan: The Potential Giant Killers
Another team that might cause a series of upsets is Afghanistan. Familiarity with the playing conditions gives the Afghans an edge and relishes the opportunity to showcase their talent on the global stage. This sub-continental team has the potential to be the giant killer of the 2023 CWC, taking on established teams with tenacity and skill.
As the cricketing world prepares for the 2023 ICC Cricket World Cup, enthusiasts can anticipate intense rivalry, unforgettable occurrences, and the rise of fresh cricketing champions on the international platform.
Key Players at the ODI World Cup
In each iteration of the ICC ODI World Cup, cricket enthusiasts are treated to extraordinary displays of talent by iconic players who imprint indelible marks on the game. These exceptional individuals embody the spirit of their respective teams, assuming pivotal roles in their quest for cricketing greatness. With the highly anticipated ICC World Cup on the horizon, let us now explore the profiles of some of the most significant players to keep a keen eye on throughout the tournament.
Babar Azam – The Elegance Personified
The best batsman of Pakistan is renowned for his stylish play, and has captured the cricketing world's attention with his impeccable strokeplay and unwavering performances. Babar has earned the place of the top batsman of the contemporary era by displaying elegant shot selection and precise timing. Whether it's steadying the innings or unleashing a surge of aggression, he possesses the skill to adapt seamlessly, making him a formidable presence in the limited-overs format.
Mohammed Siraj – The Rising Star
Hailing from India, Mohammed Siraj has quickly risen through the ranks with his impressive pace and swing bowling. Siraj's remarkable talent lies in his adeptness at exploiting movement off the pitch, cementing his role as a vital asset in India's formidable bowling attack. His uncanny ability to secure pivotal wickets precisely when they matter most sets him apart, making him an indispensable player for any team fortunate enough to have him.
David Warner – The Explosive Opener
The Australian cricket sensation David Warner is an exceptionally dynamic and assertive left-handed opener capable of dismantling any formidable bowling attack on his best days. Renowned for his unparalleled power-hitting and unwavering courage, Warner stands tall as one of the most dreaded batters in the global cricketing arena. With his blistering starts at the helm of Australia's batting lineup, he consistently sets an imposing tone for their innings, leaving opponents on their toes from the very beginning.
Shakib Al Hasan – The All-Round Maestro
Bangladesh's Shakib Al Hasan is a genuine all-rounder who excels with both bat and ball. A reliable left-handed batsman, Shakib possesses the ability to stabilize the innings and accelerate when needed. As a left-arm spinner, he can also create pressure on the opposition and pick up crucial breakthroughs. His experience and versatility make him a crucial player for Bangladesh.
Pat Cummins – The Pace Spearhead
Hailing from Australia, Pat Cummins is one of the most skillful fast bowlers in contemporary cricket. His ability to generate pace and bounce consistently puts batters on the back foot. As the spearhead of Australia's bowling attack, Cummins is known for his deadly accuracy and the ability to trouble even the best of batters.
Virat Kohli – The Run Machine
Indian captain Virat Kohli is often regarded as one of the finest batters of this era. With his exemplary technique and an incredible hunger for runs, Kohli has shattered numerous records across all formats. His consistency and determination to excel in high-pressure situations make him a true match-winner for India.
Rashid Khan – The Wizard with the Ball
Afghanistan's Rashid Khan is a leg-spinning sensation who has taken the cricketing world by storm with his mesmerizing deliveries. His variations and ability to deceive the batters make him a potent threat in any conditions. Rashid's exceptional bowling skills have earned him accolades from cricketing experts worldwide.
Transitioning from one player to another, it's evident that the upcoming ICC World Cup will witness some intense battles between these key players. Their performances will not only dictate the fate of their respective teams but also set the stage for cricketing excellence on a global scale.
Cricket World Cup Odds
As the anticipation mounts, let's delve into a more detailed analysis of the tournament's odds. Among the leading contenders is India, a formidable and dynamic powerhouse that stands out with the highest probability of securing victory. With their star-studded lineup and outstanding performances, they are the ones to watch closely during this thrilling cricket spectacle.
Cricket World Cup Winner Prediction
Our comprehensive analysis indicates a formidable contender to lift India's coveted trophy. With a balanced squad and star-studded lineup, India possesses the experience and talent needed to reign supreme on the grand stage.
Surprising the world may be New Zealand, a team with a knack for rising to the occasion. Known for their resilience and underdog spirit, the Black Caps could well spring surprises and leave their mark on the tournament.
On the flip side, fans may witness a potential disappointment from England, the defending champions. Amid fierce competition and mounting pressure, England might find it challenging to retain their title.
Best Cricket World Cup Betting Bonuses
As the highly anticipated ICC World Cup approaches, bookmakers typically roll out enticing betting offers, such as free bets and cashback deals. Rest assured, we'll keep this section up to date with the latest and greatest offers as soon as they become available.
In the meantime, you can secure your spot by completing your registration on 1xBet. By doing so, you can claim their fantastic welcome bonus using the 1xBet promo code. So, why wait? Get in on the action and start your thrilling cricket betting journey with a head start.
ICC World Cup Betting FAQs
Is it safe to bet on the Cricket World Cup in Bangladesh?
Yes, it is safe and legal to bet on cricket world cup in Bangladesh. Reliable betting platforms with secure payment options ensure your safety. Trusted bookmakers follow strict regulations, providing a secure betting environment. Enjoy the thrill of betting on your favorite teams with peace of mind. Join now and experience the excitement of the cricket world cup betting in Bangladesh.
Can I bet on the Cricket World Cup online?
Yes, absolutely. As a Bangladesh bettor, you can enjoy the thrill of ICC World Cup betting online. Various reputable betting platforms offer a wide range of markets and odds for all matches. Conveniently place your bets from the comfort of your home or on the go, thanks to user-friendly interfaces and mobile apps. Join now to experience the excitement and potential rewards of betting on the biggest cricket event globally.
What is the best bookmaker to bet on the ODI World Cup?
When it comes to betting on ODI world cup, the bookmaker 1xBet stands out as the top choice for Bangladesh bettors. With a stellar reputation, user-friendly interface, and competitive odds, they offer an unrivaled betting experience.
From pre-match to live betting, 1xBet covers all bases. Seamlessly navigate their platform, place bets securely, and enjoy swift payouts. For the ultimate betting thrill during the ICC World Cup, 1xBet is the ideal choice for Bangladeshi punters.
Who has the highest odds on the Cricket World Cup?
India boasts the highest odds for the ICC World Cup 2023. As the tournament favorite, India offers promising betting opportunities for Bangladesh bettors. With their strong team and past performance, India's odds are worth considering. So, if you're looking to make the most of this exciting cricket event, India stands out as the top contender with various betting prospects.
What is the best Cricket World Cup betting bonus?
The best cricket world cup betting bonus can vary and change over time. It depends on the betting platform and their promotions. To find the most suitable offer, compare bonuses, odds, and terms. Transitioning between sites is simple, ensuring you get the best bets. Always check the latest promotions to make an informed decision and boost your betting experience.