Betting on F1 racing can be considered a niche market although the event attracts a lot of fans. F1 is the biggest event in motorsport, most Indian bookmakers now allow their customers to bet on F1 events. There is a range of F1 betting options available to you, including Outright betting and individual race markets.
Enjoying a sport as a viewer and betting on Formula 1 successfully are two very different things. What do you need to know to bet on F1? That's where we come in with our F1 betting guide.
There are a variety of aspects you should consider. F1 betting can be tough to get right. 
Main F1 Betting Types
Betting on Formula 1 events can appear overwhelming to newcomers. Many race fans believe that possessing an intimate knowledge of the sport can translate to successful Formula 1 betting easily. This, however, isn't necessarily the case.
There is a huge difference between knowing a particular sport and knowing how to bet on that sport. When you're looking to bet on F1, it's important to learn how betting works. 
The first aspect to consider is what F1 betting odds are available. What markets can you bet on? Finding F1 betting odds that suit your needs and style is key to successful betting. 
The best bookmakers offer a range of F1 betting odds and markets. Take the time to examine each betting market available. Doing so will help you make better choices when you bet on F1.
There are a vast number of markets available to you when you're betting on Formula 1. Race Winner, Grid Position, Fastest Lap and Place markets are amongst the most common for individual race bets. Outright markets, such as Driver's Championship and Constructors Championship, are also options open to you.
Let's take a look at the most popular Formula 1 betting markets.
F1 Driver's Championship Odds
Arguably the most popular way to bet on F1 is the Outright Winner market. F1 betting odds on who will win the Driver's Championship are available throughout the season. This market can offer value, particularly if you pay attention to the current rankings.
Let's use an example. Let's say Lewis Hamilton is favourite to win the Driver's Championship. After five races, Hamilton is top of the F1 standings. However, you've noticed that his Mercedes teammate Valtteri Bottas has been improving in recent races, with podium finishes in his last three outings.
The odds on Bottas will be longer than those for Hamilton but could be worth your consideration. This is particularly so with Each-Way betting, available with most Indian bookmakers today. Research is key. More of this later.
Let's keep it simple for now, though. Essentially, if you bet on F1 Driver's Championship odds, you're betting on a Driver to finish top of the rankings at the end of the season. If your choice does just that, you win your bet.
Driver Vs Driver Match Bets
Now onto a market that has increased in popularity massively in recent years. Driver vs Driver Match Bets allows you to choose between two given racers to finish highest in the rankings. This F1 betting market can be offered as an Outright, that is, which driver finishes highest in the rankings at the end of the season.
Many bookies also make this market available for individual races. Choose a driver from the options given. Your choice doesn't necessarily have to win the race itself. If your selection finishes above their rival, you win your bet.
F1 Race Winner Odds
Possibly the easiest form of individual race betting is the Race Winner market. Simply put, you choose a driver to win a given race. 
In-Play Race Winner odds could also be a good option. For example, let's say that Max Verstappen has a particularly troublesome pit stop, and ends up in the tenth position when he rejoins the track.
However, from your research, you've learnt Verstappen has a good record of podium finishes, even when trailing towards the back of the pack. In-play odds on Verstappen to win will be much longer at this point than at the start of the race. These F1 betting odds could be worth your consideration.
Fastest Lap Odds
Fastest Lap odds are available for both qualifying and the race itself. If you're looking at betting F1 odds for the race, it's certainly worth checking the qualifying times of each driver. Also, look at how quickly each driver has completed laps on a particular course in previous seasons.
You'll notice that some drivers tend to perform particularly well on specific tracks. For example, Lewis Hamilton has won five of the last six British Grand Prix events.
Top Three Finish
When you bet on F1 regularly, you'll learn to recognise when particular races are hard to call. One way of compensating for this is to take advantage of the Top Three Finish market. With this bet, you don't need your selection to win the race itself, but to achieve a podium finish instead.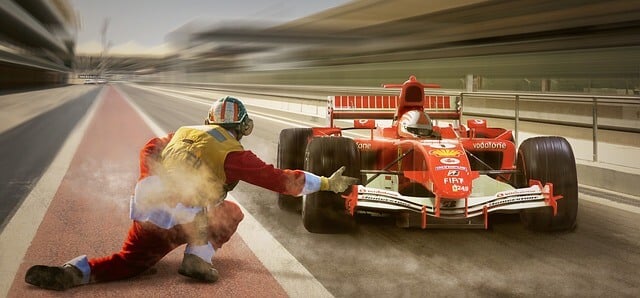 F1 Betting Strategies And Tips
As we touched upon earlier, successful betting on Formula 1 can be extremely difficult to achieve. Even if you're a fan of the sport itself, you must approach placing wagers with your mind focused on betting.
It's important to note that betting should not be considered as a way of making easy money.  Winning bets regularly is a hard task indeed. There are, though, some F1 betting tips and strategies you can employ to give yourself a better chance of success.
Conducting thorough research is essential. Is it possible to win a bet on a whim without research? Yes. Does research make winning a bet a certainty? No. However, what research does do is help you find value when you bet on F1 and, in turn, keeping you one step ahead of the bookies.
Let's take a look at some of the key factors when you prepare to bet on F1 markets.
Use F1 Stats
The case with many sports, but particularly with Formula 1, is that the smallest details matter. Having a deep understanding of a particular race and the drivers taking part helps hugely. Alongside this, it's also important to understand the F1 betting odds available too.
We recommend you look at previous F1 stats in advance of betting on a Formula 1 race. Which drivers are in good form? Who has the best record on a particular track? How well does a driver perform in wet or dry conditions? 
You can find F1 stats at several bookmakers. Alternatively, there are reliable and trustworthy sources on the web that can provide a range of statistics. Use this information to help you choose the right F1 betting odds.
Read Race Previews
Another good idea is to check out race previews. You might already have well-researched ideas of how a particular race might play out. It's still worth reading other opinions, as these can make you aware of other betting aspects you might not have previously considered.
Similarly, read F1 betting tips. You'll come across sites that claim to provide winning tips, but for a fee. Be aware, you can find good F1 betting tips for free. The best F1 tips will provide an explanation and analysis of the tip provided. 
Now, you don't necessarily have to follow the tip itself, you might have a completely different opinion. It is, though, worth reading how other punters bet and the aspects they look for when they bet on F1.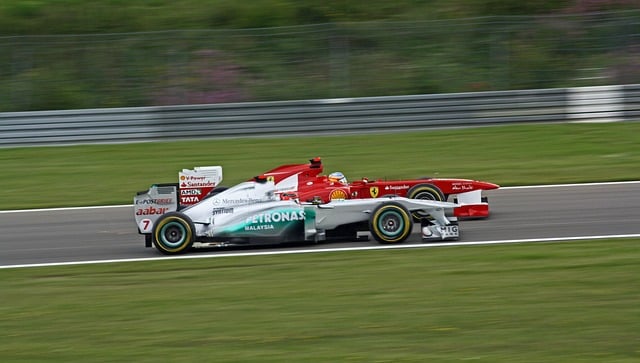 Check The Weather
The weather can play a huge part in dictating how a race will finish. Research constructors and the wet or dry tires they put on their vehicles. Has a particular driver achieved a good record when racing in wet conditions?
This is also important when you bet on F1 in-play markets. If it is expected to rain during the race itself, would a particular driver need to make a further pit stop? Keep a close eye on proceedings, as well as the local weather forecast.
Grid Position
This might sound like an easy enough aspect to consider – a driver starting the top of the grid is more likely to perform well in the race. A driver starting from the back of the grid could find it difficult to achieve points finish. 
This, though, can depend on the track. Is a track relatively open with long stretches? This can make it easier for a driver to overtake successfully. If a track is known for its bends and curves, this makes overtaking difficult. 
Study Lap Times
The most successful F1 bettors pay close attention to Practice and Qualifying sessions. Here, a bettor can assess how well a driver or team responds to the track and its conditions in preparation for the race. 
Learn the average lap times for each driver from Practice and Qualifying session stats. This can give a good indication on which drivers will perform well in the race itself.
Top Sites To Bet On F1: Current Offers And Bonuses
In India, it's not unusual to see bookmakers that offer some form of Formula 1 betting. It can be difficult, though, to choose which bookmakers are worth signing up with. To differentiate between which bookmakers are worth your consideration, there are specific features you should contrast and compare. 
We'll show you how we chose our recommended bookmakers shortly. Firstly, the table below displays our top bookmakers for Formula 1 betting.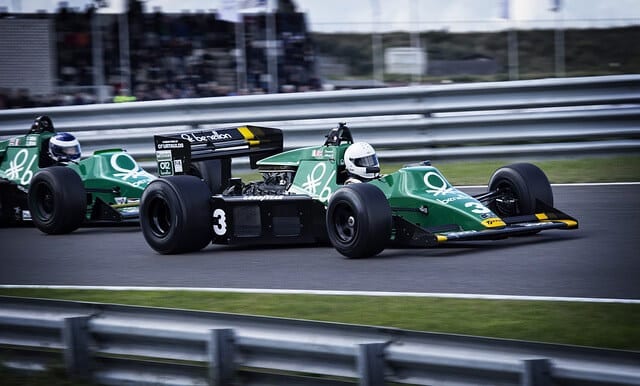 How We Selected Our Bookmakers For F1 Betting
Whilst many bookmakers offer you the opportunity to bet on F1, certain features separate the best from the rest. We've listed the aspects we look for in a bookmaker below, we'll discuss each feature in detail shortly.
Betting Offers

Odds

Betting Markets

Live Streaming
Betting Offers
Offers and promotions can help create a more financially rewarding betting experience. The best bookies offer a range of bonus opportunities available on Formula 1 events.
What offers are available? Price Boosts are common with F1 betting, such as increased odds on a driver to win a specific race. Enhanced Odds offers have also been offered previously. An example of this type of promotion could be enhanced odds on Lewis Hamilton to win the British Grand Prix.
Now, it's easy to be lured in by the promise of a massive increase in odds or huge free bet amounts. These offers might not necessarily the best available. The best promotions tend to be easy to claim, with simple terms and conditions. Talking of t's and c's, make sure you read the fine print before you attempt to claim any promotion.
Odds
This may sound like an obvious one, but it's important to find an operator that offers competitive odds regularly. If you take shorter odds often, you could find you miss out on profit.
The best F1 bookmakers will offer their customers competitive odds throughout the season. It's worth taking the time to compare odds from a range of bookmakers to ensure you're getting the best value.
Betting Markets
We've covered the most popular betting markets in our guide. If these are your markets of choice, you'll be pleased to know that most bookmakers offer these as standard. However, if you prefer more exotic markets, you need to find a bookie that suits your needs.
Live Streaming
The option to watch the event you've bet on is an attractive factor. F1 live streaming can be a possibility with selected bookmakers. The ability to unlock F1 streaming can depend on several factors, though. 
F1 live streaming can be dependant on your location. Selected sporting events can only be legally streamed if your bookmaker holds the broadcasting rights. 
Another F1 streaming requirement might be the need to have a funded account. Many bookmakers only give you access to F1 live streaming if you have deposited within a specified period too. 
A third requirement to access F1 streaming is that you might need to have placed a bet on the race you want to watch. 
For any bookmaker live stream, ensure you read the terms and conditions attached.
F1 Live Streaming
As the Moto GP, the Formula 1 events are broadcast on terrestrial and satellite television. Along with the race itself, practice and qualifying sessions are also shown. 
You can also find F1 streaming on the web. Make sure, though, that any stream you access is legal and safe to download.
How to bet on F1 review
How to bet on F1 guide included all the information you needed to start betting on your favourite F1 events. You can review this guide bellow.