This is the time of year when many are looking to learn how to bet on rugby. Rugby betting is very easy to learn, but you will need to focus on a few things. So, this guide will help you learn how to place wagers on rugby games in no time!
Recommended Rugby Betting Sites
So, after you have all this rugby information and rugby tips, you are ready to place your bets. But, where do you place your bets? Luckily for you, this table has the best online bookmakers for you to bet on rugby.
Rugby Union vs. Rugby League
One of the most important factors you need to learn early on is what is the difference between the Rugby Union and the Rugby League. This is important so that you can bet on the games of your choice. And, you do not want to place a bet on the wrong game!
The Rugby Union and Rugby League operate under different rules. So, it is almost like they are two different sports. An explanation of the difference between the Rugby Union and Rugby League is below.
Rugby Union Explained
In the Rugby Union, two teams consist of fifteen players each. The game is eighty minutes long, comprised of two forty-minute halves. The goal of the game is to score a "try" which is worth five points.
A "try" is when the ball is grounded in a marked section on the opposite side of the pitch from one's own. Both teams try to score the most points to win. However, the game is more complicated than just that.
After a "try," the offensive team has the opportunity to score two additional points by kicking the ball through the H-shaped posts. This is known as a conversion. This is taken from in-line with where the "try" was scored, but the kicker can place the ball as far back as they wish to.
Teams advance by moving forward while passing the ball backwards. The ball can be kicked in any direction. The team on defence will try to stop the forward momentum of the other team by tackling the offensive team. 
If the attacker is tackled to the ground, that forms a "ruck." If the attacker stays on their feet, it is called a "maul." And this is all you need to know to understand the Rugby Union games.
Rugby League Explained
So, the basic principles of Rugby League and Rugby Union are the same. That is, teams try to score "trys" and get the most points over their opponents. However, the Rugby League games are known to run at a faster pace than the Rugby Union games. 
The Rugby League also has "trys", conversions, and "field goals" like the Rugby Union. A field goal is worth one point in the Rugby League and three points in the Rugby Union. And, Rugby League games also are eighty minutes, consisting of two forty-minute halves, just like in the Rugby Union.
However, the Rugby League teams consist of thirteen players as opposed to fifteen as in the Rugby Union. Another major differentiating factor between the two is rules that are enacted after a tackle is made. The Rugby League has no "rucks" and no "mauls" like the Rugby Union has. 
In place of rucks and mauls, the attacking side will instead retain possession by rolling the ball back with their foot to a teammate. The Rugby Union imposes no limits for the time in possession. However, the Rugby League only allows the attacking team to be tackled a total of six times before they are required to turn over possession to the other team.
The Rugby League also has no line outs. So, that means that when the ball goes out of a play, the teams can contest a scrum. But, the basic rules and principles of the two games are the same.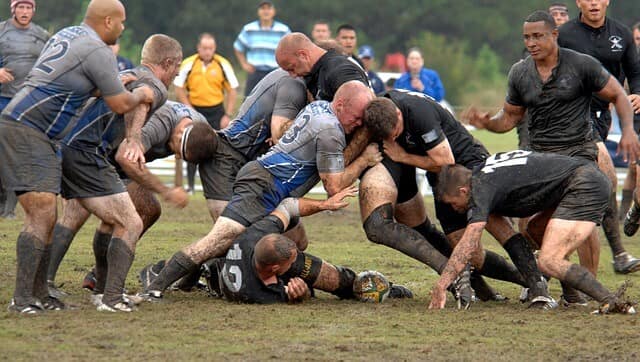 Rugby Betting Odds Explained
Another of the first things you need to know is how to understand rugby betting odds. When trying to bet on any sport, you will need to understand the betting odds that are listed. Then, you will be able to place an informed bet at the bookmaker.
Any time you are betting on a sport, betting odds will be a factor. Bookmakers have to list betting odds for bettors to know how much they stand to make from their wagers. So, when looking to bet on rugby, make sure you look at the rugby odds the match.
Rugby odds on sportsbooks can be listed in multiple ways. Moneyline Odds (can also be called American Odds), Fractional Odds, and Decimal Odds are all popular ways to list odds. Typically, you will find Rugby odds listed as Moneyline Odds. Once you find your rugby odds, you can calculate how much you stand to profit from any wager you place.
Main Rugby Betting Types
Now, once you figure out the betting odds, it is important to choose the type of bet you want to place. Rugby betting typically consists of a few types of bets. So, the most popular types of bets when betting on rugby are listed below.
Outright Results Betting
Outright Results Betting is one of the most common types of bets that you will see in any sport. If you are new to rugby betting, you may want to stick to this kind of bet. So, an outright results bet is almost self-explanatory.
With an outright results bet, you place a bet on the predicted outcome of a rugby match. In most cases, you will choose the team that you expect to win and place your money on them. However, when points spread betting comes into play, this type of bet can get more complicated. 
You can look at the odds listed for both rugby teams to see which team is favoured to win. And then, using those odds, you can calculate how much you would stand to win if you place a wager on that team. It's just that easy.
Accumulators
Now, this is where betting on rugby gets more complicated. An accumulator bet is when the profits from a first bet are then added to a second bet with the original stakes. If that bet wins, it is added to a third bet. And it keeps going like so.
When you get to a five-bet accumulator, that is called a fivefold. More than five bets like this are called "permutations." Permutations are any sort of combination of bets that are available within these selections. 
Permutations allow for losses to occur as well. So, if one of your bets loses in the permutation, you can still win overall. Permutations are a more advanced sort of rugby bet.
Half Time/Full Time
A half time bet is also a pretty straight forward type of bet. It is different from an outright bet in one major way. And, that is that you will be placing your wager on who will be leading the game at half time. 
However, a half time/full-time bet is different from a half time bet. In a half time/full-time bet, you place your money on who you think will lead at half time and the end of the game in combination. You can bet on the same team to win both halves if you wish, or a combination of both teams.
But, it is important to remember that just because a team is leading at half time, does not mean they will win the game. So, make sure you do your research before placing this type of bet. 
Try Scorer
There are multiple types of Try Scorer bets that you can place. It all depends on the type that interests you. For instance, you can place a bet on the player you believe will score the most trys in the game. 
You can also place other kinds of bets on players. You can place a bet on the player you think will be the first to score a try. So, you should do your research on the players before placing a try-scorer focused bet.
Handicap
Handicap betting can make games more interesting. A bookmaker will give one team a handicap in a match to make the game more exciting to bet on. Handicap betting is typically used when one time has a significantly greater chance of winning a game.
A handicap can be added to make the betting more even. That way, for the favoured time to win the match, they not only have to win but also overcome the handicap to be the winner in a handicap bet. So, you can see it that is a fun type of bet to place when there is a disparity in skills of two teams set to compete.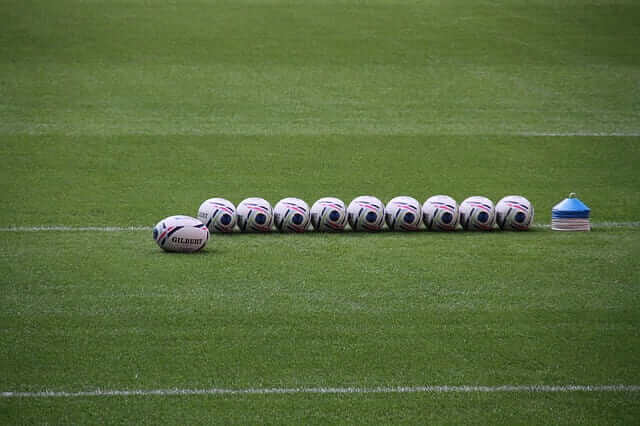 Best Rugby Betting Tips
Now that you have read about the types of bets you can place when betting on rugby, you will want to put your money down soon. But, there are still a few more rugby betting tips you can use to place the best bet possible. So, here are some more rugby tips to help you place your wagers.
Domestic Betting
When domestic betting for rugby, you can place your wagers on different things. Bettors can put money on domestic games as well as domestic seasons. Bets can also be placed on individual games. 
For instance, you can bet on who will win or what the points spread will be. You could also place a try-scorer bet or the number of trys that will be scored. Or, you can look at the entire campaign. 
This would involve betting on who would win the entire season. Or who would place in the top three teams? There are many places where you could put your money down.
Handicap Betting
When looking to bet on rugby, you should look into handicap betting. Many bookmakers offer handicap betting options. This type of betting requires extra research on the bookmakers' fronts.
So, if there is a great disparity in skill between two teams in an upcoming match, handicap betting is the way to go. That way, you can win more money on your bet. And, it is more exciting to watch the game.
In a handicap bet, the team that is the underdog will have the odds evened. The team that is favoured has a negative points marker added to their odds. So, they will need to win by even more to be the winner in a handicap betting situation.
Find the Best Odds
Before putting any money down, you will want to do your research. And, this will involve looking at many bookmakers. You will want to make sure the bookmakers have comparable odds for the matches you are looking to bet on.
Then, you will want to examine these odds. You can use these odds to figure out which bet will give you the biggest profit. And that will help you choose the amount to stake in your bet.
Once you know the amount you want to bet, you can use the odds to calculate the profit you would win. So, this will be very helpful when choosing which bet to place. And, you will be able to win the most bang for your buck.
Major Rugby Events to Bet On
Now that you have read all the best rugby tips, you will want to place your bets. A good idea is to look into the upcoming rugby events before placing a wager. That way, you could place your bets on a rugby event.
Rugby World Cup
The Rugby World Cup is a men's tournament. It is a rugby union tournament that takes place every four years. The tournament features teams on an international level. Twenty teams take place in the Rugby World Cup. It has been taking place since 1987. New Zealand currently holds the record for the most Rugby World Cup wins. The record is three.
Six Nations
The Six Nations championship is held annually. It is an international rugby union competition. Teams from England, Ireland, France, Italy, Wales, and Scotland compete in it. 
Champions Cup
The Champions Cup is held annually as well, just like the Six Nations Championship. It is a rugby union tournament. European Professional Club Rugby organizes the tournament each year. 
This event is a top-tier competition. It is for the clubs of countries whose national teams competed in the Six Nations Championship event.
Challenge Cup
The Challenge cup is also heald annually, just like the Six Nations Championship and the Champions Cup. It is a rugby union competition organized by European Professional Club Rugby.
It is known as a second-tier competition which is behind the Champions Cup — a top-tier event.
How We Selected Our Bookmakers for Rugby Betting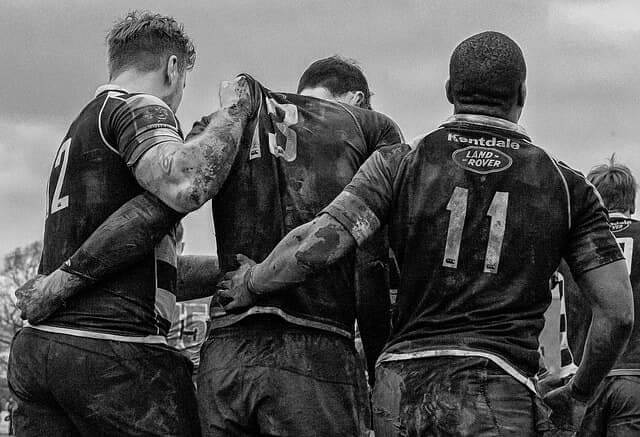 So, now that you are looking at bookmakers, you will want to know why the above bookmakers were listed. And, you will want to choose the bookmaker that will work best for you. Well, here is the criteria that were used to choose the best bookmakers. 
Betting Offers
When signing up for a bookmaker, it is important to compare the welcome offers. The best betting sites will have welcome offers for new users. These offers can include a first deposit match up to a certain amount of bonus cash. Or, it can include both. The above bookmakers have the best welcome offers available.
Odds
Another really important factor when choosing a bookmaker is the odds listed. You will want to make sure the bookmaker has reliable odds. And, you will want to make sure the odds are favourable for customers to win a good profit.
Betting Markets
Also, you will want to make sure your bookmaker of choice has a variety of betting markets. That way, you can place bets on a wide variety of sporting events. And, that will make your betting experience more fun.
In-Play Betting
You may also want to find a bookmaker that has in-play betting. This means that you can place a bet while the game is going on. This can make your betting experience and watching experience more exciting.
Live Streaming
Live streaming is another important factor when choosing an online bookmaker. When looking to bet on rugby, you will want to be able to watch the rugby match. Luckily, many of the best online bookmakers offer live streams of the games.
Bet on Rugby Conclusion
Now that you have learned all about rugby, you can bet on rugby without worry. Just make sure to remember the tips you learned. And you should be able to place the best bet possible.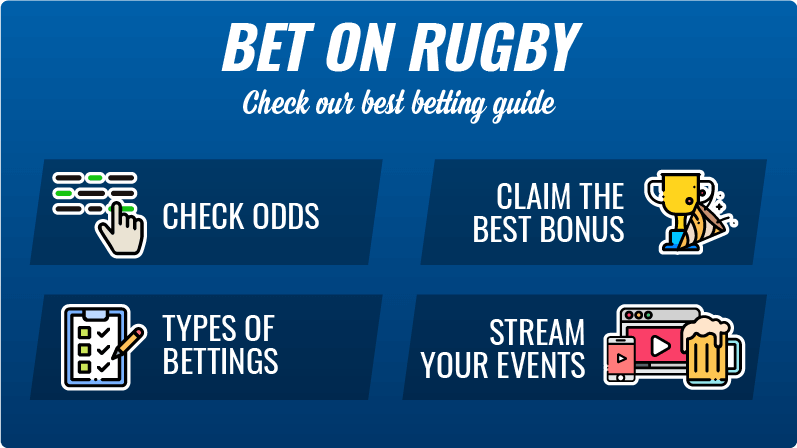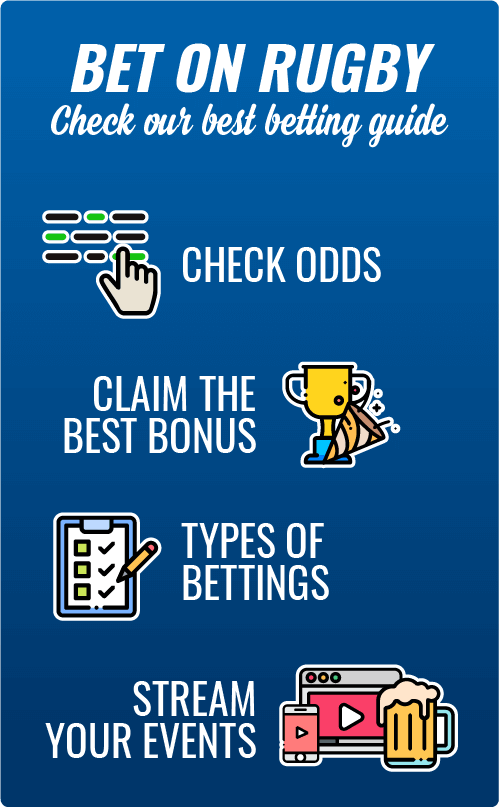 Betting on Other Sports and Events
Outside of the rugby betting season you can use the account with your operator to place bets on other sports and events.