Sports enthusiasts who want to bet on rugby will find plenty of betting opportunities online. A variety of betting markets are available in Nigeria, such as handicap, straight match bets, and first try-scorer.
Betting on rugby matches at the best betting sites in Nigeria is very easy to learn, but there are some things that you need to keep in mind. Continue reading to learn how you can wager on this sport.
Betting on Rugby
Many rugby fans enjoy betting on their favourite teams and players. Even though the traditional playing nations like New Zealand and the United Kingdom dominate the sport, rugby's appeal has spread globally. This sport continues to flourish, attracting new players and fans from school pitches to huge stadiums.
Rugby Union is one of the most popular sports played by genders of all ages. During the forecast period of 2021 to 2027, rugby goals are expected to increase drastically. In 2014, there were over 2.3 million registered players on a global scale.
Rugby has 405+ million fans and is played in 221 countries by over 10 million people worldwide. As of 2010, the World Cup in Japan had 857 million TV viewers, making it the fifth-highest viewed sporting event.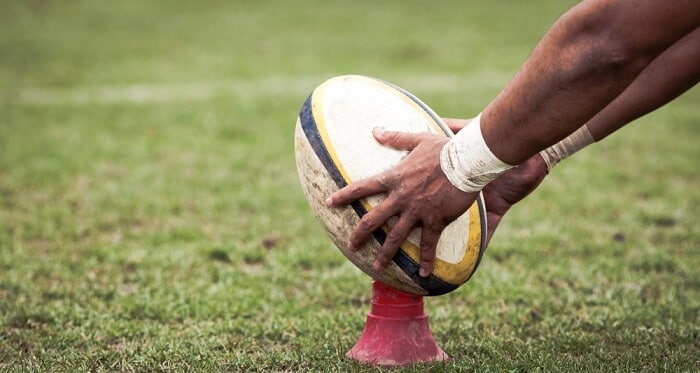 How to Register on a Betting Site and Bet on Rugby
Here's a step-by-step guide on how to register and bet on rugby matches in Nigeria:
Step 1: Choose a Betting Site
Understanding your preferred betting features will help you to narrow down and choose the perfect betting site. Finding a top-notch sportsbook has never been easier due to all of the operators available in Nigeria. They include great odds, payment methods, live betting, customer support, and welcome bonuses.
This is a crucial step for wagering on rugby as it determines the quality of your wagering experience. Ensure that you pick a licensed operator for an outstanding betting experience.
Step 2: Register
Now that you've found a betting site, it's time to create your account. Locate the "Register" button on the homepage and fill out your personal details. The following information is required to create a login with all Nigerian betting sites:
Full name
Date of birth
A document of identification
Home Address
Phone number
Unique username and password
Furthermore, you may need to add a welcome bonus code, choose a deposit method or set preferences like odds format and currency.
Step 3: Select a Preferred Payment Method and Make a Deposit
When opting for a payment method, you can discover which options are available in Nigeria and accept Naira. Here are the standard banking options:
Credit/Debit Card
Prepaid Card
E-wallets
Cash Cage
Bank Deposit
ATM Deposit
QR Code Payment
In most cases, betting sites have a minimum deposit amount of 100 NGN, but service fees may apply. Check whether the operator allows you to withdraw winnings with the same payment method before opting for it. Once you fund your account, you will be able to bet on a range of betting markets.
The process usually goes like this:
Firstly, sign in to your sportsbook account.
Then, navigate to the "My Account" section and click on "Deposit."
Next, select your preferred deposit method and enter the amount of money you want to deposit.
Lastly, click "Confirm" to complete the transaction.
Place Your Bets
Once your account has been funded, you can move on to creating a betting slip. Find the desired rugby event you bet on and make your selection by picking a result. A bet slip will be on the right side of your screen, where you can choose an outcome and view the odds.
Many online sportsbooks in NG offer wagering on events such as:
The Rugby World Cup
Six Nations Championship
The Rugby Championship
Rugby Africa Cup
Rugby Europe International Championships
Nations Cup
It is important to understand the different types of odds and bets accessible by online platforms: American odds, Moneyline odds, Over/Under, Handicaps, etc.
The Different Types of Rugby Bets
Here are some common rugby wagering types you can find at almost any licensed online sportsbook in Nigeria.
Handicap Bets
A handicap bet is placed on a clear favourite in a matchup. As a popular feature in Rugby League sports betting, handicap betting is also referred to as 'the betting spread.' There will be a series of wagers on the bookmakers' playing fields with some favourites combined for an overall winner.
When an underdog plays a favourite, the underdog has to win by a specific margin, which may exceed the standard win margin. In other words, anything that could give the underdog an advantage makes a matchup far more exciting for bettors.
Match Bets
Rugby match betting is a popular method of wagering. Generally, rugby matches are high-scoring with very little chance of a draw result. While finding a bookmaker offering draw bets is still possible, they are uncommon with odds possibly going as a high 40/1.
Match Results
When you choose match results wager, you simply pick a team you think will win, lose, or draw. A bet on the outcome of matches at an international level often offers little value. The reason is that major upsets rarely occur at an international level.
Winning Margin
This betting type predicts how many points a team will win in a match. It usually comes in batches of 10, although a smaller range of 5 points can often be found. As you are betting on a winning margin within a certain window, odds on a winning margin are often higher than odds on handicaps. Of course, this depends on how aggressive is the handicap. While the risk is higher than for a handicap bet, so is the reward.
Due to rugby's scoring system, margin bets provide four options: Team A win by 1-12 points, Team A win by 13+ points, Team B win by 1-12 points, or Team B win by 13+ points. However, several bookmakers take wagers on smaller points brackets and exact margins of victory.
Moneyline Bets
Also known as 'match odds betting,' it is relatively straightforward as you select your winning team. Make sure to take a close look at the odds presented and use them to make an informed decision.
Most of the time, favourites will always have shorter odds. They are the safest choice as their statistical advantage over time supports a victory. In contrast, the odds will be much better if you make an excellent judgment with an underdog.
Outright Bets
Another known term for this wagering type is 'outright betting.' This bet in rugby is a prediction for a tournament or series of sporting events. Favourites defeated by underdogs at any moment can drastically change your wager. During tournaments, odds can fluctuate, making it important to shop for odds frequently.
Try Scorer
It doesn't matter when your player takes the field, as long as it is before the first try is scored. Bets that are placed after the first try in the second half is scored are void.
Rugby betting typically focuses on three try scorer markets:
First try-scorer – the player who scores the first try of the game.
Last try-scorer – the player who scores the final try of the game.
Anytime try-scorer – a player who scores a try at any point in the game.
Several variations are possible, including the position of the try scorer, the try scorer from each team, and the try scorer in each half.
Over/Under Bets
Over/under bets are placed on the total match points. Ultimately, you must decide whether the final score of a game will be above or below the given figure.
Over/under odds for rugby matches are based on the total combined score. Both teams have odds on whether they will total more or fewer points than a predetermined amount. The oddsmakers say this figure will vary depending on the matchup between teams.
Rugby Accumulator
Among the different forms of multiple betting, the accumulator bet is the simplest. With an accumulator bet, you can pick any number of selections, and your chosen stake will be all that you pay. Accumulators have just one betting line, but all the selections must win for the wager to be successful. Remember that you are not limited to betting on the same rugby tournament or on the same day.
Other Rugby Bets Available
There are a few other bet types you can opt for when wagering in Nigeria, such as futures and outrights, first scoring play, etc. There are other types of multiples, like doubles (on two selections) or trebles (on three selections).
Rugby Betting Odds Explained
Rugby betting odds are the same as those offered in other sports betting markets. It is important to check your preferred sportsbook for rugby betting lines if you are looking for specific lines. The odds will be created based on whether both teams will score a combined total of points in excess of or below the theoretical total. Betting odds are the potential returns, including the stake.
The decimal betting odds format is the default format used by most online betting sites in Nigeria. They are shown as one number, indicating how much a winning bet would pay on a 100 NGN bet. For example, if the odds are 6, a winning bet would pay out 500 NGN profit and the original 100 NGN stake.
Strategy When Betting on Rugby
It is important to create a firm strategy before you start rugby betting. Consider adding these six factors to your betting strategy.
Know the Sport Well
Before you place a bet on a rugby match, make sure to check the rules, as each match has a different set of rules. In the Heineken Cup and Premiership, scoring four tries in one game earns bonus points, encouraging attacking play. Whereas the Six Nations Cup does not have this rule. So, keep this in mind when you place a wager and its impact on point-scoring.
Be Rational – Do Not Bet on Impulse
Wagering on an impulse can eventually lead to making rash and poor decisions. As a result, this can affect the quality of your betting experience at any Nigerian sportsbook. Stay calm and collected when placing beats, and remember to wager responsibly to avoid major losses.
Know the Rugby Betting Markets
Rugby betting offers a diverse range of markets like betting on individual players, handicaps, try-scorer, and more. Betting on a player's score or whether they will be sent to the penalty box are more possibilities. Bookmakers always aim to accommodate more registered players, regularly introducing them to other betting markets.
Be Aware of Injured Players / Weather Forecast / Home Team Advantage
Make sure to check the weather before choosing to bet on rugby. Weather conditions, such as rain and wind, could be a disadvantage to the players. Strong winds can affect passing – particularly spot-kicks – and a wet field makes attacks more difficult. On the other hand, players of certain builds will benefit from hot, dry weather.
One injury is all it takes to end a player's season, so you need to look at the team's performance and its top players, i.e. their strengths and weaknesses.
The home-field advantage also strongly impacts sports, and rugby is no exception. A lot of teams prefer to play at home because of the familiarity. Furthermore, players may feel fatigued or experience jet lag from travelling if the match is scheduled in a foreign country.
Know About Player/Team Statistics
One of the first steps is to be knowledgeable about the (best) players in the team and their current form compared to the competition. This includes finding out which teams have injured players, team ranking, etc.
Set a Betting Budget: Only Money That You Can Lose
All bettors need a bankroll management strategy. Set a starting budget, then decide on your betting budget and staking plan.
The starting budget is the amount you are initially willing to lose. While your betting budget involves how much money you want to set aside for wagering. Then a staking plan determines the amount you will use for each bet.
Top 10 Sites to Bet on Rugby: Current Offers and Bonuses in Nigeria
Nigerian residents can wager on rugby with the following sportsbook operators.
Here are their current promotions and bonuses for the NG market:
Betting Sites
Bonuses
Code
Bet9ja

100% welcome bonus +50% casino bonus

MAX9JA
1xbet

330% up to 189 280 NGN
Bet on 1xbet
Betking

Bet and Get 25,000 Naira in Free bets
BONUSBET
Betway

Offers 100% bonus up to 250,000 Naira
PROMOMAX
Frapapa

100% up to ₦50,000
Bet on Frapapa
N1bet

300% bonus up to 500,000 Naira
Bet on N1bet
Betwinner

100% bonus of up to 100,000 Naira
BEMYBETNG
Yangasport

Get up to 600% Acca Bonus
MAXPROMO
22bet

100% bonus up to 50,000 Naira
Bet on 22bet
Pari Match

100 bonus up to 150,000 Naira
NGPARI
bet365

Up to $30 in Bet Credits*
(Key Terms: Min deposit requirement. Bet Credits are available for use upon settlement of bets to value of qualifying deposit. Min odds, bet and payment method exclusions apply. Returns exclude Bet Credits stake. Time limits and T&Cs apply.)
Code: BETMAX365
(The bonus code BETMAX can be used during registration, but does not change the offer amount in any way)
How We Selected Our Bookmakers for Rugby Betting
Nigerian punters are guaranteed to only the best betting sites on this website. The displayed platforms have been thoroughly compared and tested based on specific criteria.
Some of the factors our betting experts take into consideration when selecting the top wagering sites in Nigeria are:
Betting Offers – Only the best sportsbooks offer plenty of different bonuses and promos to be featured on our site. We look closely at their welcome bonuses, weekly/monthly offers, VIP and Loyalty programs and more.
Odds – To be one of our top selected bookmakers, a rugby betting site must provide competitive odds on various markets.
Betting Markets – Noteworthy rugby bookmakers must include a wide selection of betting markets, spanning different events and tournaments.
Live Streaming – Live streaming is another key feature that our betting experts analyse. Betting platforms that provide this feature often rank higher.
Licensed bookmakers – All of the online bookmakers mentioned on this website are fully licensed, it is a safe and secure betting environment.
Rugby Competition to Bet On
To place a successful rugby wager, you must first become familiar with the competition you will be betting on. In addition to the tournament's level, the difference in the trophy's value will affect the outcome.
Here are some of the most popular rugby competitions you can bet on:
Six Nations Championship – This championship with Six Nations odds is held every February and features the six best sides in Europe. Teams competing include England, Wales, France, Ireland, Scotland, Italy, and Wales.
World Cup Sevens – The first World Cup Sevens took in Scotland in 1993. There are only seven players on each side, making the game more athletic with more attacking plays. The women and men of New Zealand have dominated this event in recent history.
Rugby World Cup – This is rugby's premium event, lasting for approximately two months. As soon as the group stages are complete, it moves to the quarter-finals, marking the beginning of the knockout stage.
European Champions Cup – This competition features the best teams from Europe, such as the English, Welsh, Irish, and French teams.
Frequently Asked Questions About Rugby Betting
Want to learn how to bet on rugby? Here are the most frequently asked questions about rugby betting:
How Can I Bet on Rugby Online?
To bet on rugby online, Nigerian punters must be of legal betting age (18+). Then they need to register to a sportsbook platform and deposit some funds. After, they need to pick their desired rugby betting market, compose a betting slip and confirm the stakes.
What Are the Easiest Rugby Bet?
One of the simplest bets by betting on the moneyline, which means you're backing a team to win the game. Winning margins or timing of the game outcome are irrelevant.
Can I Bet on Rugby From My Phone?
You can bet on rugby and sports on your smartphone via the bookmaker's mobile-optimised website or by downloading the app. Almost all bookmakers in Nigeria offer a mobile website, so you can use whichever browser you prefer to load it. Apps are usually available for Android and iOS devices.
Can You Place an ACCA on Rugby?
Yes. Placing an ACCA on rugby is identical to placing one on any other sport. After selecting multiple rugby selections on your bet slip, just choose the accumulator option. Then, add the amount you wish to stake and place your bet.
Is Draw Common in Rugby?
No. Draws are extremely rare in rugby games. Over the past decade, only four draws have occurred in over 150 matches played in the Six Nations. This translates into 2.7% of matches ending in a draw.