Horse racing betting is a popular choice for many bettors when choosing a sports wager. In this guide, we provide details and tips about horse racing odds and how to bet on horse racing. In addition, we outline some of the best betting sites in Nigeria, where players can access wagers and offers for different racing events.
Betting on Horse Racing
Globally, horse racing is a hugely popular sport followed by millions of punters each year. In the US alone, the horse racing industry is valued at over $3 billion, while the industry is worth an estimated £4.1 billion in the UK.
Currently, there are a few standout countries that provide horse race options. Among them are the UK, the US, Australia, France, Japan and the United Arab Emirates. In these nations, there is a lot of activity in horse races. But, there are variations in each nation.
For instance, the UK is well known for its longer race tracks, which often include jumps. However, in the US, the races are shorter and more purposed for Quarter horses, bred to run shorter distances. Chariot racing also exists in the US.
Alternative races around the world include a pull race in Japan and the longest international endurance race, the Mogul Derby.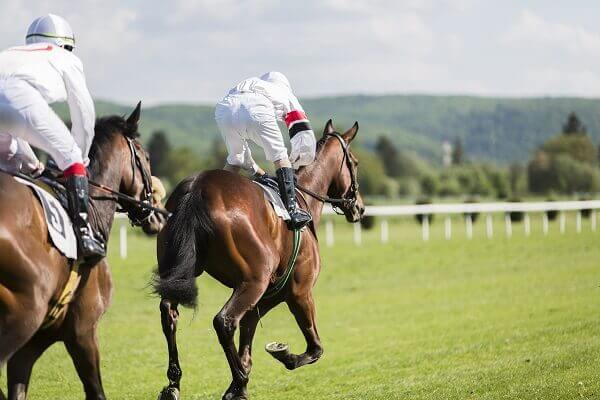 How to Register on a Betting Site and Bet on Horse Racing
Firstly, when new customers want to get started with betting on races, there are some steps to follow. In this section, we provide a guide on how new bettors can select, register and start betting with a new bookmark.
Choose a Betting Site
To begin, new bettors looking for horse race betting options can choose their preferred bookmaker. Generally, bettors can do some research about which site suits their needs and requirements. For instance, some providers may have good odds but not so good promotions. Alternatively, another bookmaker might have great promotions but poor live betting options. Before committing, always take some time to compare at least two or three betting sites.
Registration
Then, once new players settle on their favoured site, they need to register. Often, this process will take a few minutes to complete. Also, bookmakers usually ask new customers to input some basic personal details. These include full name, email and phone number. Lastly, before completing registration, be aware of any T&Cs that apply.
Make a Deposit
Next, once a player sets up their new account, they can transfer funds to use on bets. Usually, betting sites ask players to make a minimum deposit when transferring money to an account. However, this min amount varies per provider. In addition, some betting platforms offer different deposit methods. Before completing the registration, players should check that their favoured bookmaker has the deposit options they want.
Choose Wager
Lastly, once the deposit reaches a new account, players can choose different horse racing bets. There is a huge variety of horse racing odds on betting sites. Although, some bookmakers may have more options than others. Usually, players have to add their odds to a digital betslip, confirm their stake and then enter their bet.
The Different Types of Horse Racing Bets
Bettors have a lot of different options when it comes to wagering on horse races. Overall, there are vast selections beyond just selecting the race winner for an event.
To help understand the different odds and horse racing betting lines, we have prepared a betting guide below. This explains most of the bookmaker's markets and odds.
Straight Bets
In short, bettors choose one horse to win or place during a race via a straight bet. This is the easiest and one of the most common forms of betting for horse racing.
However, there are a few different types of straight bet, which we explain here.
Win Bets
A win bet is when a bettor selects a horse to win a race outright. Sometimes, the field of racers can be from five to 30, or more in some races. But, in this type of bet, the bettors' horse must come first in the field.
Place Bets
Via a place bet, players select whether their horse will come in first or second place. To win, the horse can finish either first or second.
Show Bets
Lastly, a show bet is when a bettor chooses a runner to finish in the top three. Again, the horse can place first, second or third to win.
Exotic Bets
In contrast, exotic bets are when punters select finishing positions or actions from multiple horses in a race. These types of bets are extremely popular in the horseracing industry. But there are many types of exotic bets to choose from.
Below, we provide an overview of the different exotic bets that betting sites provide.
Vertical Exotics Bets
Firstly, a vertical exotic bet is when players correctly choose the exact finishing order of a race. Therefore, if two horses swap positions in the picked order, the bet doesn't work.
Horizontal Exotics Bets
Horizontal exotic bets are a type of parlay bet that requires multiple outcomes. Via a horizontal bet, players select the winners of consecutive races. Sometimes, this is referred to as a 'double'.
Boxing Exotic Bets
Similar to a vertical, a boxing bet is when the horses have to finish in certain positions. However, for an exotic boxing bet, the horses can finish in any order. For instance, a player could choose three horses to place in the top five in a race. But they wouldn't have to finish first, second or third and they could place second, fourth and fifth.
Multiple Bets
Via a multiple bet, players must select the winners of multiple races from the race schedule. Ultimately, this works the same way as an accumulator bet. For example, if a punter selects the winners in races one, three and six on specific race days and one doesn't win, the entire bet falls through.
Quinella
Lastly, the quinella bet requires horses to place first and second, but in no particular order. As long as the racers finish in the top two from the field, the bet works.
Combination Straight Bets
Sometimes, bettors want to combine their straight bet selections to make a win-place-show bet. Through this wager, players are placing three bets under one stake. For instance, in a ten horse race, the punter can pick horse five to finish first, second or in the top three. If the horse wins, all three bets payout. However, if it finishes second, the place and shows bets payout. But, if the horse comes third, only the show bet comes in.
Other Horse Racing Bets Available
The each-way bet is another popular choice. Via an each-way wager, players back a horse to win a race. However, if the racer finishes in second, third, fourth, or, sometimes, even fifth, the bettor receives part of their payout. For example, someone might back a horse to win the Grand National with each way bet paying out to fifth. Then, if the horse finishes fourth, the player receives one-quarter of their initial winnings.
Betting Value
Occasionally, bettors will use the strategy of value betting on horse racing. Essentially, value betting is where players work out the probability of a horse winning compared to the bookmaker's odds. As a result, punters then select the horse from the field they think has the best value rather than the racer they think will win.
However, players must calculate the probability of a horse winning the race before committing. For example, if the favourite has a 50% chance of winning, there is no great value. Whereas, the second or third favourite may come with 30% or 25% odds, which shows a value bet.
Horse Racing Betting Odds Explained
Ultimately, different regions and countries use different odds for horse racing. Here, we guide bettors through how to read different types of horse racing betting odds.
Firstly, fractional odds are most commonly used in the UK. These types of odds represent the ratio of your stake compared to your returns. For example, 5/1 odds show for every dollar, pound or currency you wager, you get five in return. Therefore, if someone bets $10 on a horse to win at 5/1 odds, they would receive $50 from their winnings ($60 including stake).
However, more commonly used around Europe and Asia are decimal odds. These odds show how much bettors win for every dollar, pound or currency wager. For instance, 4.0 odds show that a player would receive $4 for every $1 staked.
Lastly, Moneyline odds are frequently used in the US betting system. Sometimes, these are referred to like horse racing betting lines. Moneyline odds reflect how much a bettor needs to stake to win $100. Also, these odds are preceded by either a plus or minus sign. The plus sign shows the underdog and the minus, the favourite. For example, in a horse race, the bookmaker may give the favourite -200 odds of winning. As a result, to win $100, bettors would need to wager $200 on the favourite.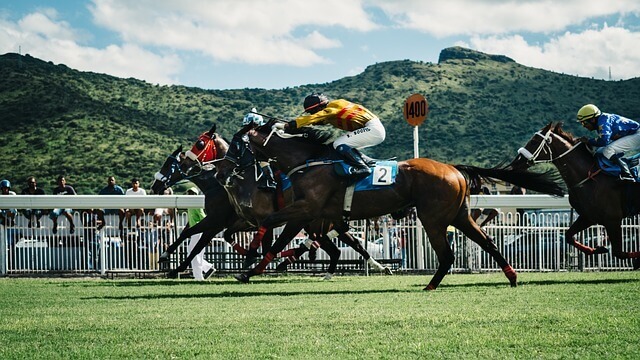 Strategy When Betting on Horse Racing
When horse racing betting, there are some strategies players can use. Generally, even using just a few different techniques and spending some time doing a little research can help make informed decisions.
Below, we share some of our top tips for horse racing betting.
Know the Sport Well
In horse racing, knowing the runners and their jockeys is important. Ultimately, by following different races and horses, bettors can notice the form and physical attributes of the horse. Then, they can use this knowledge to decide which races the horse will be strong in. Also, even following one or two horses and jockeys can lead to better judgement, rather than relying on luck alone.
Be Rational – Do Not Bet on Impulse
Often, a considered and well-researched approach to any bet works better than impulse. By looking at race forms and reading race previews, players can form rounded opinions of the horses taking part in an event.
Know the Horse Racing Betting Markets
Usually, betting on straight bets alone is a poor long-term strategy. Over time, novice bettors get more used to horse racing terms and markets. As a result, they become more confident placing wagers on exotic and multiple bets. Also, when players combine their pre-race research with knowledge of the different betting markets, they can see what odds work best for different horses.
Be Aware of Injuries, Weather and Home Advantage
Understanding the context of horse racing is essential. For example, a horse recovering from an injury is unlikely to recapture its best form without a lot of practice. Also, weather impacts horse racing hugely. Generally, wetter conditions make the ground softer, which can benefit some horses. In comparison, harder ground suits other horses and jockeys. Furthermore, home advantage can work in some cases when jockeys and horses return to their home race because the home crowd can give the racers an additional lift.
Set a Betting Budget
Keeping track of a bankroll is vital in sports betting, including horse racing. Generally, betting for enjoyment requires sticking to a budget. Ultimately, by keeping track of wins and losses, bettors can make better judgements about future bets. Over time, players can also build up a long-term log of how their bets have performed over a season.
Top 10 Sites to Bet on Horse Racing: Current Offers and Bonuses in Nigeria
Below, our table shows the best racing sites that players can access. Also, we highlight details of each provider's welcome offer for new players.
Betting Sites
Bonuses
Code
Bet9ja

100% welcome bonus +50% casino bonus

MAX9JA
1xbet

300% up to 189 280 NGN
Bet on 1xbet
Betking

Bet and Get 25,000 Naira in Free bets
BONUSBET
Betway

Offers 100% bonus up to 250,000 Naira
PROMOMAX
N1bet

300% bonus up to 500,000 Naira
Bet on N1bet
Betwinner

100% bonus of up to 100,000 Naira
BEMYBETNG
Yangasport

Get up to 600% Acca Bonus
MAXPROMO
22bet

100% bonus up to 50,000 Naira
Bet on 22bet
Pari Match

100 bonus up to 150,000 Naira
NGPARI
bet365

Up to $30 in Bet Credits*
(Key Terms: Min deposit requirement. Bet Credits are available for use upon settlement of bets to value of qualifying deposit. Min odds, bet and payment method exclusions apply. Returns exclude Bet Credits stake. Time limits and T&Cs apply.)
Code: BETMAX365
(The bonus code BETMAX can be used during registration, but does not change the offer amount in any way)
How we Selected our Bookmakers for Horse Racing Betting
When selecting the best betting sites for horse racing, we considered and researched several key areas to make a sound judgement.
Firstly, we focused on the number of current betting offers available. Generally, each bookmaker has at least some offers for new and existing players. However, we also researched the quality of the bookmaker's offers to judge the value for customers.
Generally, many bookmakers provide competitive odds for a range of sports, including horse racing. For our horse racing bookmakers, we compared various odds for different race betting selections to find the leading providers.
When choosing a new betting site, bettors want a range of markets available rather than just odds for outright winners. As a result, we looked for betting providers that offer bets in a host of markets. The leading bookmakers offered straight bets as well as exotic and each way markets.
Today, bookmakers offer a range of live streaming options to stand out in the sports betting arena. When selecting the best betting sites, we looked for platforms that offer live streams of events from around the world. However, some betting platforms have accompanying criteria before bettors can view live horse racing events.
Often, bettors like to sign up and wager with online bookmakers knowing they can bet safely and securely. As a result, we found bookmakers that have legal gambling licences. By having a licence, betting sites must ensure player safety and offer a certain level of service through their platform.
Frequently Asked Question About Horse Racing Betting
Below, we answer some of the most common questions about horse racing, bets, odds and betting strategy.
How Can I Bet on Horse Racing Online?
To wager online, bettors must set up an account with an online bookmaker. Then, they can make deposits to their accounts and place real-money wagers on races. 
What is the Easiest Horse Racing Bet?
Generally, the easiest horse race bets are straight bets. Overall, these are the easiest bets for beginners to understand. However, with more experience, bettors can start placing exotic horse race bets, which offer more options. 
Can I Bet on Horse Racing From my Phone? 
Today, most online bookmakers have downloadable apps where bettors can access odds and place wagers. However, before joining a bookmaker, check that they have an accessible app available. Alternatively, players can generally access their preferred site through their mobile web browser. 
What is a Quinella Bet?
A quinella bet is when a bettor wagers on their chosen horse to finish in the second or first place. As long as the horse finishes in the top two, a quinless bet works.