Betting on football requires punters to know and understand all the football markets provided on a betting site. Football is one of the most popular sports in Nigeria that bettors wager on, whether online or at betting shops. Discover here how to bet on football in Nigeria.
Thousands of football matches take place every week, so you have a lot of choices and various markets available for you through the different licensed and legal bookmakers in the country. Once you understand how a betting market works or what it entails, it is easier for you to place your bets on your selected matches.
Here is an article that aims to discuss details regarding all you need to know about how to bet on football.
Bet on football
Football is a huge sport and arguably has the highest global television audience in sport compared to other sports. Meanwhile, football betting is a worldwide phenomenon, generating billions every year.
Before you can start betting on football, it is crucial to understand the different aspects and fully know about football games. Once you know all these, it will help you decide how to wager on football.
Football betting affords you different markets on matches around the globe. For example, you can bet on the first/last goalscorer, correct score, full-time score, half time score, etc.
Different people have different preferences when it comes to how to bet on football. Some do this by going to the betting shops to place their bets, while others prefer betting online. Whichever way you choose is acceptable, although most people believe that the online method of betting is the most efficient way of betting on any sports.
There are dozens of countries worldwide offering legal sports betting to their residents, so bettors have to choose from numerous sites the betting platform that best suits their betting style. In addition, these different countries have rules and regulations governing them regarding betting.
Nigeria is one of those countries where betting on football is popular and legal. Betting in Nigeria is regulated by the National Lottery Regulatory Commission, as different countries have a body that regulates and controls betting operations.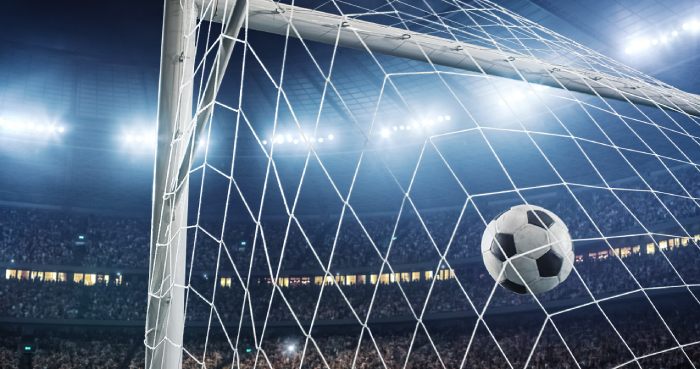 How to register on a betting site and bet on football
Registering on a betting site is a simple process. First, identify one or more reputable bookmakers and open an account with them to start betting on football.
Here are guides on how to register on a betting site and wager on football.
Choose a Bookmaker
To start, you need to identify and choose a trusted betting site. You can't sign up on all sites, so it's essential to make your findings on the best betting football platforms and pick the one that suits you. In addition, some bookmakers offer welcome bonuses, free bets, and promotions to new and existing users, so you can also consider this while searching for betting sites to join.
You should also consider choosing a bookmaker that provides the best odds on football markets, as betting sites with big odds are an advantage.
Register an Account
After choosing your preferred bookmaker, the next thing is to register an account on the website. Enter the website's URL on your internet-connected device, and it will take you to the homepage, where you'll be able to locate a tab to join the betting site.
While registering, the website will need you to fill in some details. Therefore, it is essential to fill in all details correctly to avoid encountering a problem on the website. Another important thing is to read and understand the website's terms and conditions to help you know the dos and don'ts of the site.
Fund your account
After registering, you will need to fund your bet account before you can start placing bets on the site. Punters have to choose a payment method from the numerous ones provided on the site to help them deposit funds into their accounts. You will also need to provide your account details because the account provided is where you will be able to withdraw your winnings.
In addition, make sure the name on the account used for deposit is the same account you're sending your winnings to help avoid fraudulent acts on your account.
Furthermore, some bookmakers require you to deposit a specific minimum amount to enjoy the rewards the site would offer. So it's vital to know information like this.
Place your bets
After depositing funds in your account, the next step is to start placing bets. You will be able to place bets up to the value in your account.
Explore the numerous football games and betting markets provided on the website, make your picks, and then place your selected bets with your funds.
Bet on football – The different types of football bets
Betting on football offers bettors different types of bets; let's take a look at some of them.
Full-time results
The most common football bet on betting platforms is full-time result. They are usually the 1, X, 2 options where you're predicting a home win (1), an away win (2) or a draw (X) as the outcome of a match in normal time.
For Instance, Let's take a look at the Barcelona vs Real Madrid match where Barcelona is the home team, and Real Madrid is the away team. So predicting 1 means you're expecting a Barcelona win, 2 means a Real Madrid win, and X means you are expecting a draw between the two sides.
Half-time results
The half-time result bet involves predicting the outcome of your football bet at half-time. Your bet is valid in the first 45 minutes of the game and expires at the end of the first half.
For example, you place the 1X2 option half-time bet on a Chelsea Vs Arsenal match. Therefore, 1 means you're expecting a Chelsea win at half-time, 2 indicates an Arsenal win at half-time, and X means you predicted a draw between both sides.
Draw no bet (DNB)
This bet allows you to wager on either of the two teams winning a game but without the option of a draw. Instead, you're betting on one of the two teams to win, and if the game ends in a tie, you get your stake back. The odds on each team are usually smaller due to this option.
For instance, your prediction is Leicester DNB in a Tottenham vs Leicester game. You win if Leicester wins the match and lose if Tottenham wins instead. However, you get your stake back if it ends in a draw.
Accumulator bets
An accumulator bet is a selection of multiple matches combined in one bet. Every single bet in your accumulator bet must end according to your prediction to win the bet.
For instance, you predicted a home win for five games in your accumulator bet. If all 5 home teams win, you win the bet, but if a draw occurs or an away team wins in any of the 5 games, you will lose the accumulator bet.
The advantage of placing an accumulator bet is that it allows you to win more than placing a single bet. However, the disadvantage is that you will lose all once you lose one of the bets.
MoneyLine bets
The term Moneyline bet is used mainly in the US for US Sports. However, a Moneyline bet is simply a bet on which team would win a game. If the team you wager on wins, then you win. It usually has two or three outcomes depending on the sport, in this case, football, so three outcomes, i.e. Home, Away or Draw.
For instance Barcelona -145, Manchester United +400, Draw + 240. So a bettor will need to wager $145 on Barcelona to win the bet using $100 as the betting unit and will have to wager $100 to win $400 for a Manchester United win. If your prediction is a draw, you will have to wager $100 to win $240.
Over/Under bets
The over/under bet allows you to predict that the total goals in a match would be more or less than the sportsbook's given goal line. There are different variations, e.g Over 0.5, 1.5, 2.5, 3.5 or Under 0.5, 1.5, 2.5, 3.5 etc. It can also be called total goals.
For instance, if you predicted Over 2.5 goals in a game and both teams recorded three or more goals, your bet is successful, but if the total goals are less than 3, the bet is lost. On the other hand, if you predicted Under 2.5 goals in a game, the total goals scored by both teams must not be more than 2 goals. So you will win if the total goals are less than 2 goals and lose if they are more than two goals.
Correct Score
The correct score has to do with predicting the exact outcome of a game after normal time. The odds for this kind of bet are usually high as you're to correctly choose the number of goals the home and away team will record or if there won't be goals in the contest.
For instance, if Liverpool defeat Norwich 4-1 in an English Premier League game, you need to predict the exact scoreline to win a Correct Score bet. Anything aside from the 4-1 scoreline means you lose the bet.
Handicap betting
Handicap betting is another common type of football betting. In this case, the bookmaker gives an advantage to the weaker team and a disadvantage to the stronger side. Bookmakers usually display Handicaps in brackets, and a team must score one more goal than their handicap to win.
For example, in a Leicester City vs Manchester City match, the bookmaker may give a 1.0 handicap. Leicester City will be starting the game with a 1.0 goal advantage while Manchester City will have a 1.0 goal disadvantage. If you bet on a Manchester City win, Manchester City must win the game by at least two goals for you to win your bet.
However, if Manchester City win by only one goal, your bet will be refunded because the result means a draw. If you are betting on Leicester City, they must win or draw the game for you to win your bet. However, if Leicester City lose by one goal, your bet will be refunded because it essentially means the game ended in a draw.
Asian Handicap
The Asian Handicap involves wagering on the outcome of a match in which the bookmaker gives a team a head start before the game begins. The head start can be 1, 0.25, 0.5, 0.75 goals etc.
For example, in a Manchester United vs Norwich game where Manchester United are favourites. You may bet on Manchester United to win with a handicap of –2.5 or Norwich to win with a handicap of +3.5 or more if you believe United will defeat Norwich by three goals.
The bookmaker refunds your wager if both teams are level after the Handicap is applied (for example, if you bet on 'Manchester United -3' and they win 3-0, 4-1, or 5-2, etc.). Here is why betting on 'half goals(0.5)' appeals to the punter since it eliminates the possibility of a void bet by eliminating the draw.
European and Asian Handicaps are quite similar. The difference is that the Asian Handicap eliminates the chances of a draw, but a draw is possible for the European Handicap.
First/Last Goalscorer
This is as explanatory as it sounds. You're to predict the first player or the last player to score a goal in a match. If another player scores the first goal or the last goal in the game, you lose the bet.
For the first goalscorer prediction, make sure the selected player is starting the game to be sure you are making the right decision. If your player does not play or comes on after a goal has been scored, your bet will likely be void.
There are also other types of betting like Double Chance, In-Play betting, Both Teams To Score, corner bets etc.
Betting Value
A value betting situation is one where the odds offered by a bookmaker reflect a probability that is less than the actual probability of the outcome occurring. For example, the likelihood of a coin landing on either its head or tail is even; you have two outcomes here, the coin lands on its head or tail.
However, a bookmaker could offer 1.80 odds on the head while another offers 2.00 odds on the same head. It is clear that the bookmaker offering 2.00 offers value compared to the other. However, no Bookmaker will offer a value situation as a coin toss because they would go out of business quickly if they did.
The value of a bet equals its probability multiplied by its decimal odds minus one. After calculating, you have a value bet if the value is greater than zero.
To be a successful bettor, you must estimate the likelihood of probabilities better than the bookies, so your intuition plays a role.
For example, a game where Napoli is priced to win at 1.70 odds. Looking at the current form, you estimate that Napoli has a 60% chance of winning while the winning probability set by the bookmaker is 55%.
Therefore your opinion is that the odds should have been lower and not this high, which signifies a value bet.
Football Betting odds explained
Odds represent the probability of an event occurring. A bookmaker usually sets odds values, representing or showing the amount you will have after making a winning bet. So, the higher the odds offered on a specific football match, the higher the payout.
Odds tend to change before or during matches for various reasons. For example, it can be due to a change in the lineup. It can also be because of injuries, goals scored, bookings etc. Therefore, these events would cause the bookmaker to adjust the odds before or during a match.
Usually, odds are in three main formats; fractional odds (7/2), decimal odds(1.50), American odds (+400, -150 etc.), so you can choose the one you prefer. For instance, if the outcome of an event has an odds of 2, it means you will win 200 Naira for every 100 Naira you bet.
When examining football odds, it is easy to figure out the favourites and the underdog as the favourites are usually the ones with smaller odds, and the underdogs are the ones with bigger odds. Understanding what odds means and knowing the different formats will be helpful in reading betting odds.
In addition, it is vital to do research before placing your bets. That way, you can decide on which team to bet on. Also, you should be able to calculate the amount of profit you can earn with your bets. For example, if successful, a 500 Naira stake on 2.00 odds will earn you 1000 Naira, which is 500 Naira profit plus your initial stake of 500 Naira.
Strategy when betting on football
Here's a list of strategies to aid you when you want to find out how to bet on football;
Know the sport well
Having a sound knowledge of football will help you make your betting decision on the sport. But. conversely, you will be doing no good by betting on a sport you don't have a considerable understanding of.
Be rational
Do not bet on impulse. Instead, do proper research on a game you intend to wager on. You will already be on the losing side if you refuse to be rational.
Know the football betting markets
Before you begin placing your bets, you must be familiar with the football betting markets. Usually, people think the only market for wagering when it comes to football is the 1X2 market. Meanwhile, other markets include the Draw no Bet, Over/Under, Correct Score, Half-time Score, First Goalscorer, Both Team to Score, and others.
It is important that you do your research and get accustomed to most betting terms before you start betting on football.
Be aware of injured players/weather forecast/home team advantage
Several factors affect a team's performance, and you must pay close attention before you place your bets. You have to find out if a key player is injured before you wager, and you must also know if the home team could have a home advantage. Also, the weather could affect a player's performance, and you should be aware of the weather forecast.
Set a betting budget
Before you wager a bet, ensure you set a budget for your betting. Don't be greedy, and only wager an amount you can afford to lose.
Top ten sites to bet on football: current offers and bonuses in Nigeria
Some betting sites offer the best markets and odds on bets. Below is a table of the best betting sites in Nigeria showing their current offers and bonuses;
Betting Sites
Bonuses
Code
Bet9ja

100% welcome bonus +50% casino bonus

MAX9JA
1xbet

330% up to 189 280 NGN
Bet on 1xbet
Betking

Bet and Get 25,000 Naira in Free bets
BONUSBET
Betway

Offers 100% bonus up to 250,000 Naira
PROMOMAX
Frapapa

100% up to ₦50,000
Bet on Frapapa
N1bet

300% bonus up to 500,000 Naira
Bet on N1bet
Betwinner

100% bonus of up to 100,000 Naira
BEMYBETNG
Yangasport

Get up to 600% Acca Bonus
MAXPROMO
22bet

100% bonus up to 50,000 Naira
Bet on 22bet
Pari Match

100 bonus up to 150,000 Naira
NGPARI
bet365

Up to $30 in Bet Credits*
(Key Terms: Min deposit requirement. Bet Credits are available for use upon settlement of bets to value of qualifying deposit. Min odds, bet and payment method exclusions apply. Returns exclude Bet Credits stake. Time limits and T&Cs apply.)
Code: BETMAX365
(The bonus code BETMAX can be used during registration, but does not change the offer amount in any way)
These betting platforms offer these bonuses to their customers upon registration. In addition, you can also access promotions for existing customers on the betting websites, so you can enjoy them all once you register.
How we selected our bookmakers for football betting
We considered several factors before we chose our bookmakers for football betting. The factors we considered include the betting platform with the best betting offers, best odds, numerous football markets, bet in play, and live streaming options. We also considered websites that offer a friendly user experience and those that are licensed.
For example, Betway and Bet9ja allow you to stream live matches. However, 1xbet offers a variety of football market options, and Bet9ja has a beautiful user interface. 22bet and Betwinner offer high odds on football games. These websites all have qualities but differ in several ways.
Furthermore, the bookmakers are all legal and licensed websites in Nigeria.
Bet on football – Frequently Asked Questions about football betting
How do I place a bet?
First, you need to go to the bookie's website to place a bet. Next, choose the sport you'd like to wager on and select your preferred market. After, enter your stake and place your bet.
How can I bet on football online?
Visit a football betting site, sign up, and deposit funds into your account. Then, go to the sportsbook and click on football. Next, select your preferred game or games and wager.
What is the easiest sport to bet on?
Considering how popular football is in Nigeria, it is the easiest sport to bet on.
What are the easiest football bets?
The easiest football bet is the 1X2 market, the "home win, draw and away win market."
Can I bet on football from my phone?
Of course, you can. All you need is for your device to be connected, and you can start betting on football by visiting your preferred betting website.