There has been a growth in cycling betting recently so this guide on how to bet on cycling should help with any wagers. Hence, we look at bookmakers' coverage of the classic road races: Giro d'Italia, Tour de France and Vuelta a Espana and the Olympic Games on the best betting sites in Nigeria.
Betting on Cycling
The first point to bear in mind is that there are two types of professional cycling. Hence, there are track cycling events in a Velodrome which generate Olympic cycling betting. However, we will focus on road racing with special emphasis on the three Grand Tours: Giro d'Italia, Tour de France and Vuelta a Espana.
There are generally two types of cycling events on the road:
Races in which each competitor begins at the starting point at the same time, and the cyclist that crosses the line first is the winner.
Time trials in which riders begin at regular intervals and the cyclist that records the best time is the winner.
There are two road cycling events in the Olympics for both men and women: a race and a time trial. There are also indoor track events for Olympic cycling betting. However, it is rare for a cyclist to excel in both categories. Even so, there are examples of male riders who have won medals and been successful outdoors on the road and indoors on the track, but it is rare to excel in both disciplines.
Cycling is a global sport and there are races in the Southern and Northern Hemispheres. Even so, most professional races take place in Europe during a season that runs from February to September. However, the sport is covered live on television in many countries around the world, so there is a global interest in cycling odds.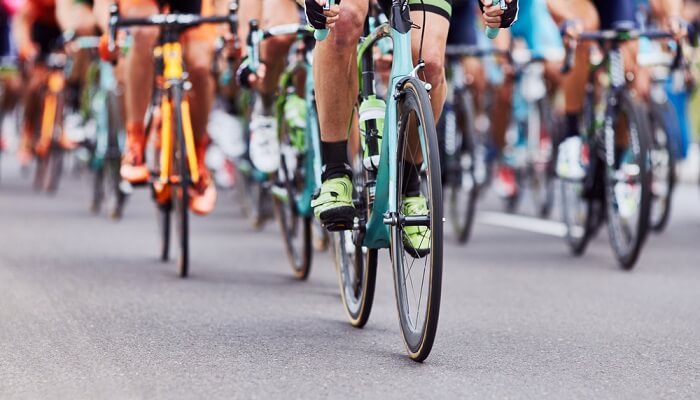 The Grand Tours
Golf has its major championships, snooker has ranking events, tennis has Grand Slam tournaments and cycling has the three Grand Tours. So, these are the races that mean the most and are a good guide to a rider's place in the ranking of the best professional road cyclists in the history of the sport. Hence there is plenty of cycling betting on the three races which are summarised below:
| Race | Country | Dates | Stages (2022) |
| --- | --- | --- | --- |
| Giro | Italy | May | 21 |
| Tour | France | July | 21 |
| Vuelta | Spain | August | 21 |
The ultimate for a cyclist is to win the three biggest races in the same season. So, bookmakers in Nigeria will include a market about this achievement in their cycling betting. However, even winning the three majors over a full career is an outstanding feat. Hence, you should look out on the cycling betting page with your bookmaker for odds on selected individuals to win the three.
As road racing is an Olympic sport, you could say there are four huge races. However, the Olympic Games only take place every four years, so riders only have a small window of opportunity to achieve the Golden Slam. Hence, this consists of the three Grand Tours and Olympic road race which are all gruelling and require huge discipline and dedication.
Winners of Each Grand Tour
As a mark of respect, it's only fitting to display the only winners of each of the three Grand Tours:
| Name | Nationality | Tour de France | Giro d'Italia | Vuelta a Spain |
| --- | --- | --- | --- | --- |
| Jacques Anquetil | French | 5 | 2 | 1 |
| Felice Gimondi | Italian | 1 | 3 | 1 |
| Eddy Merckx | German | 5 | 5 | 1 |
| Bernard Hinault | French | 5 | 3 | 2 |
| Alberto Contador | Spanish | 2 | 2 | 3 |
| Vincenzo Nibali | Italian | 1 | 2 | 1 |
| Chris Froome | British | 4 | 1 | 2 |
Please note that these records are correct as of May 2002. So, seven riders have won each of the Grand Tours at least once. However, we may have to update this table after the races in Italy, Spain and France during the summer.
It's also an interesting fact if you bet on cycling that each rider in this list is European. In addition, Eddy Merckx has the most Grand Tour wins with 11 but only Bernard Hinault and Alberto Contador have won the Giro d'Italia, Tour de France and Vuelta a Espana at least twice.
How to register on a betting site and bet on Cycling
It is important to find a betting site that provides good cycling odds and covers pre-race, in-running and ante-post outright markets. So, as part of this review of how to bet on cycling, here is a step-by-step guide to registering with a bookmaker that offers a good cycling betting service covering the three Grand Tours and the less important races throughout the season:
Find The Right Betting Site
There are many sportsbooks operating in Nigeria offering a range of sports and markets. However, only some may have comprehensive cycling betting throughout the season. So, you should join one of these sites in good time before the main events.
Create A Betting Account
Before beginning any cycling betting, you must create an account. This is generally a quick procedure that can be completed in just a few minutes. However, don't forget you must choose a unique Username and Password before submitting your application.
Deposit Betting Funds
Online bookmakers in Nigeria offer several banking options. However, mobile money systems are popular and trusted in Nigeria. So, you can deposit betting money for cycling betting using Airtel and M-Pesa, but also traditional methods like cards and Bank Transfer.
Place Your Cycling Bets
The next step is to place your bets on your favourite cyclists. These will usually be singles as any multiples will be related. So, you would not be able to place a double on a Stage and Race winner. If a rider wins a stage, the individual is more likely to win the race.
Watch The Race And Consider Cash Out
You can watch cycling live on television, and some bookmakers offer a live streaming service. Also, you could have the option to cash out a bet during live cycling betting. However, the value depends on the current betting and the stake and odds of the in initial bet.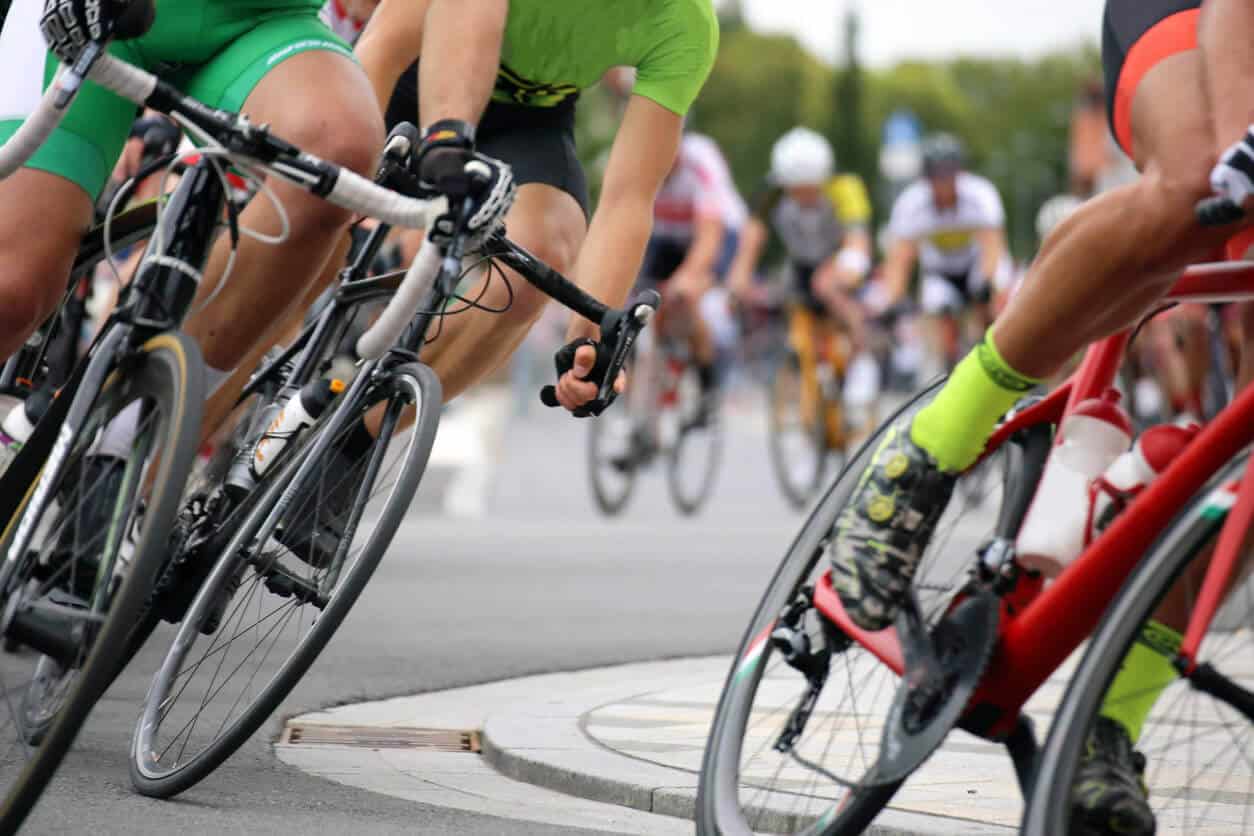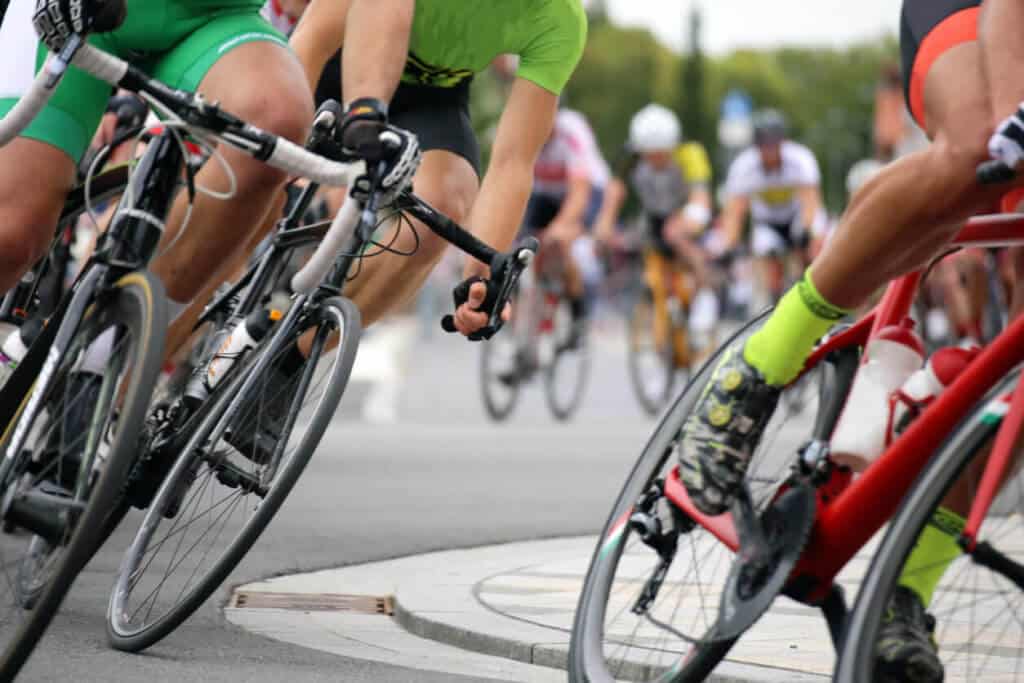 The Different Types of Cycling Bets
We now provide information about the types of cycling bets:
Outright Betting
Bookmakers offer cycling betting on the outright winner of the three major races. So, the market is for the Overall Classification, which is based on time. Therefore, the rider who completes the race in the fastest time is the winner. Also, betting is updated after each stage and you can cash out any bets. Also, some bookmakers will offer the cash-out option during live coverage of a stage.
You can place a win or each-way bet on the winner of the main events. The place terms for each way betting are generally one quarter the win odds for the first three places. So, at the time of writing Richard Caparaz is the favourite for the Giro and Tadej Podlogar is the favourite for the Tour. However, cycling betting is subject to change and these are cycling odds for 2022.
Stage Winner
Cycling road races take place in stages and there is only ever one stage on any day. However, there are a number of rest days when there is no competitive cycling. So, on race days, you can place win and each-way bets on the winner of the stage. Also, the place terms will also usually be one quarter the odds for three places. Also, you can cash out your stage winner bets before the final outcome.
Over/Under
There are over 150 riders in the Grand Tours, but not everybody will complete the race. So, injuries could lead to withdrawals and some riders may not have the stamina to finish the race. Therefore, there is an over or under a specific number of finishers bet. So, this is an interesting market when you bet on cycling. However, you should consider the weather as there are more crashes when it rains.
Winning Margin
The winner of road races is based on time. Hence, each rider that completes the race is given a classification in hours, minutes and seconds. Also, the same cycling betting is available for each stage. So, you can bet on the race and stage winning margin for many events. The options will be expressed in time and the difference between the cyclists finishing first and second could be only seconds.
Head to Head
Bookmakers publish head to head cycling odds for the Grand Tours and Olympic Games. Hence, riders who are close in outright betting will be matched in these markets. So, the favourite for the Tour de France could be bracketed with the second favourite in a match bet. However, bookmakers have rules when there are retirements, but a rider who finishes the race will beat an opponent who retires.
King of the Mountains
The most gruelling stages of any tour are those in which the riders climb mountains. Hence, there is a classification for the fastest rider over the mountain stages. So, in the Tour de France, the winner in this market is known as the King of the Mountains. Again, you can place win or each-way bets and cash out your selection before the completion of the mountain stages.
Other Cycling Bets Available
There are a number of other Classifications in the Tour de France. If you like variety when you bet on cycling, you can place bets in the following other markets:
Points Classification: rider that wins most points from intermediate parts of a stage.
Young Rider Classification: rider under the age of 26 who has the best time.
Rider of the Day: rider that brings most to a stage and not necessarily the winner.
Team Classification: the total time combined for each team member:
Lanterne Rouge: the slowest finisher who is awarded the Red Lantern.
Betting Value
When betting on cycling, you get betting value when you see a bookmaker has quoted odds for your favourite cyclist, which you think are too big. In fact, users generally place bets when they disagree with the odds compiler so the bookmaker offers better odds than our prediction. So, you can look for betting value in the outright odds for the Grand Tour and individual stages.
Another type of betting value can lie in the place teams for each way bets. So, typically, a bookmaker will payout on the first three riders in the Grand Tours. However, some bookmakers offer more places but lower odds. For example, you can back Chris Froome at 175/1 to win the Tour de France which equates to 37.5/1 for three places.
So, there is betting value in backing Froome at 100/1 at one fifth the win odds but for the first six places. The British rider is past his best and is unlikely to win his fifth Tour. However, if there are numerous retirements, he could plug on in the mountains to claim one of the minor places. Hence, you should compare place odds and terms to find odds value in your cycling betting.
Cycling Betting Odds Explained
Cycling betting odds are no different to fixed-odds in other sports. Therefore, you have the favourite which can be backed at the shortest odds and other cyclists at bigger odds. Also, you can take win and each-way odds when you bet on cycling. In addition, cycling odds can appear in decimals fractional, American and Asian formats.
Strategy When Betting on Cycling
Betting on sport in general and cycling, in particular, requires some type of strategy. This is because the sport has many nuances and is not just about lots of riders going as fast as they can on a bike. So, in order to improve your chances of having good bets, you should follow a strategy when you bet on cycling. Hence, here are some guidelines which form a strategy for cycling betting:
Know the sport well
In road racing, each team member has a role. There is often one rider who has the ability to win a stage and race. Hence, his team members have to ride as a group to give the best rider a decent chance in a stage or race. So, the 'domestique' (servant) rides for the benefit of the team and the leading rider.
If you know the sport well, you are aware of the domestics who rarely win. In fact, each team has one rider who has the potential to win and the others serve the team. Understanding that cycling is a team sport and very tactical should be part of your betting strategy.
Be rational – do not bet on impulse
This advice seems obvious but is ignored by many bettors on sports, including cycling. So, if you are watching a race on television, you will be privy to plenty of information and pundits who are asked for an opinion on the winners of a race. However, they usually don't have inside information.
It is very easy to place impulsive bets based on an ex-professional cyclist's opinion on how the stage will develop, but following a pundit can be impulsive. This is because even though they know the sport well, they generally have no extra knowledge, so you have to be rational when you bet on cycling.
Know the cycling betting markets
On a very basic level, you can bet on the outright winner of a stage or Grand Tour and Olympic race. Hence, there are many online resources covering recent results during the season and of the Grand Tours over a number of years. However, there may be markets in which you have a better potential to win.
For example, only a limited number of riders can be the King of the Mountains in the Tour de France. So, the team leader will target the Overall Classification. Also, when riders finish a stage in a bunch, they are given the same time if they are within three seconds of the winner.
Be aware of other factors
When betting on a major cycle race, you have to consider the following factors:
Injured riders who will struggle to finish a stage or maybe withdraw before the start.
Weather forecast because rain and a wet road surface create more potential for accidents.
Home advantage: Italian riders in the Giro, French riders in the Tour and Spanish riders in the Vuelta.
Participating teams and roles for each member, such as a domestique or the leader.
Analyse the event
There are different types of cycling events: road, track, mountain and BMW. Each type of event has different features which you must analyse before placing a bet.
Tactics are paramount in team events but vary depending on the type of race. Therefore, most track races in a Velodrome have sprint finishes because the time margins are relatively very small compared to long-distance multi-stage road races, such as the Tour de France.
Set a betting budget: only money that you can lose
This advice applies not just to cycling betting but betting in any form. It is meant to be fun and entertainment but if you bet beyond want you can afford, it can become stressful and loses its enjoyment. So, always try to bet within your budget.
Ideally, you have a clear mind when betting on cycling. That means avoiding chasing any losses, especially when you are dealing with outside influences. So, have a fixed session budget in mind and strive not to exceed that budget so the fun does not stop.
Top 10 Sites to bet on cycling: current offers and bonuses in Nigeria
After a thorough investigation, we are listing the top 10 sites to bet on cycling and the current welcome bonus:
Betting Sites
Bonuses
Code
Bet9ja

100% welcome bonus +50% casino bonus

MAX9JA
1xbet

330% up to 189 280 NGN
Bet on 1xbet
Betking

Bet and Get 25,000 Naira in Free bets
BONUSBET
Betway

Offers 100% bonus up to 250,000 Naira
PROMOMAX
Frapapa

100% up to ₦50,000
Bet on Frapapa
N1bet

300% bonus up to 500,000 Naira
Bet on N1bet
Betwinner

100% bonus of up to 100,000 Naira
BEMYBETNG
Yangasport

Get up to 600% Acca Bonus
MAXPROMO
22bet

100% bonus up to 50,000 Naira
Bet on 22bet
Pari Match

100 bonus up to 150,000 Naira
NGPARI
bet365

Up to $30 in Bet Credits*
(Key Terms: Min deposit requirement. Bet Credits are available for use upon settlement of bets to value of qualifying deposit. Min odds, bet and payment method exclusions apply. Returns exclude Bet Credits stake. Time limits and T&Cs apply.)
Code: BETMAX365
(The bonus code BETMAX can be used during registration, but does not change the offer amount in any way)
How we selected our bookmakers for cycling betting
Here are the criteria which we apply to select recommended bookmakers for betting on cycling:
There are different types of bets and events offered by a bookmaker and free bets and bonuses, including any welcome bonus. However, any returns from bonus cycling bets do not include the stake.
There is a betting margin in the odds which can be analysed on an odds comparison site. So, some bookmakers offer better odds on cycling to make up for less competitive odds on other sports.
Bookmakers offer many betting markets for cycling so you can select those that have a better range of markets for a Tour and each individual stage.
You can find bookmakers that live stream cycling events. However, due to contractual reasons, there are probably few that live stream the Giro, Tour and Vuelta.
Bookmakers in Nigeria must have a licence to legally offer cycling betting. Hence, an operator can be licensed by the Nigeria Lottery Regulatory Commission in the country.
Frequently asked questions about cycling betting
Here are the answers to some common questions regarding how to bet on cycling:
How do you bet on Cycling?
On a sportsbook, you visit the cycling lobby, make your selections, and click on the odds. You then select the type of bet on the bet slip, enter the unit stake and place the bet.
What is the easiest Cycling bet?
The General Classification is the main objective for the team leader in a Grand Tour so this is the easiest of several various cycling bets.
What are the best cycling betting markets?
The Points Classification is the most interesting because it involves several intermediate stages during a stage in the Grand Tours in Italy, France and Spain.
Should I bet on teams or individual riders in cycling?
There is usually only one potential winner in a team so in effect team betting is the same as betting on a particular rider in the Grand Tours or Olympic Games.