Each way bet is among the low-risk betting options Nigerian punters can use while wagering. Very few sports have an each-way betting option. It is a wager including two or more bets and will give bettors a return on their stakes. Read on to learn about each-way bet in more detail and which sports offer this betting type.
What Is an Each Way Bet and How Does It Work?
In the case of each way betting, the stake is split equally. Bets on a winner correspond to those on runners-up. Naturally, this type of bet requires more than one participant or team per sport. Players can find this option in sports like football, basketball, golf, etc.
This type of wagering increases bettors' chances of success even when their chosen athlete does not come first. Needless to say, it is less risky than full-coverage bets. Horse racing also falls under the category of sports with each way bet. It offers the largest number of them compared to other sports events.
Now, let's see how it works. For example, you wish to place$10 on a horse to win. That means you must bet an equal amount on a racing horse to finish the second, third, etc. Thus, your total stake, in this case, is $20. If both bets – the win bet and the place bet – win, you receive winnings. If one of the two wins, you again receive winnings, just only a smaller amount.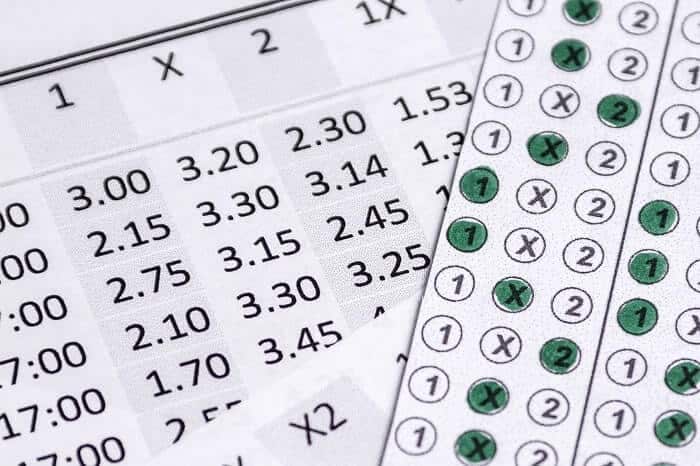 Each Way Betting on Football Explained
Although it has two teams and plenty of competitors, sportsbooks often do not provide this betting type in football. That is because there can only be two winners in a single event. Therefore, punters can expect to find it more frequently in top leagues and championships when there is a large competition.
Each way bets can prove valuable when you're not planning to back your favourite team. Instead, you give it the benefit of the doubt. It may be that some other team will win the competition. Furthermore, it can come in handy if you predict that a big-priced outsider will prove skilful enough. Thus, this type of bet can be a good choice should an underdog team reach the FA Cup final.
Imagine you have made a $5 equivalent bet on England to win the World Cup with 8/1 win odds. The total bet is then a $10 equivalent. This is what calculations would look like depending on the outcome:
If England wins – $5 x 8 + the stake amount = the total of a $45 equivalent
If England loses – $5 x 8 x 0.5 + the bet amount = a return of a $25 equivalent
Each Way Betting on Horse Racing Explained
Most bookmakers provide each way bet when there are five or more horses in a race. In addition, the number of places included in this type of wager varies among operators. Also, it depends on the type of horse race, how many runners are involved, the market, etc.
When placing this bet on a horse race, punters choose a horse to finish first, second, or third. Look at some examples of each way bets in horse racing with win odds on the first and second place:
5-7 horses with win odds of 1/4 (non-handicap)
5-7 horses with win odds 1/4 (handicap)
8-11 horses with win odds 1/4 (handicap)
16 or more horses with win odds 1/4 (non-handicap)
There is one additional option. For eight or more horses, win odds will be 1/5 if a preferred horse places 1st, 2nd, or 3rd.
Each Way Betting on Golf Explained
You must make two bets when placing an each-way bet on a golf game. The first is on the player you assume will win, and the second is on a player to finish the game inside the top five.
For example, you place a $50 equivalent each way bet, a $25 equivalent to win, and that amount to place. The terms are defined as an 'each way bet 1/5.' To receive a payout for the place bet, the selected player must finish among the top five.
Each Way Betting on Tennis Explained
When betting on tennis, you should place your first wager on the player you think will win. A second bet would be on the player who will supposedly reach the final. For example, the each way bet terms are 1/2, and the sportsbook offers this:
Andy Murray 1.80
Rafael Nadal 4.50
Roger Federer 7.50
Take Rafael Nadal as an example. A $20 bet on the player to win would cost you a $40 equivalent. The return for the win part would be $90 equivalent ($20 x $4.50).
Multiple Each Way Bets Explained
With multiple each way bets, players can wager on more than one outcome. If all your bets win except one, but only one is a placed bet, then the win portion is void. If one of your bets doesn't win or place, the entire wager is lost. Also, bettors should know that the returns from the win portion cannot be used as the stake for further selections.
Consider the following example of multiple each way bet on a horse race:
You bet on three legs – $20 go on a horse to win with $5 in winning odds and $2 of place odds. The runner does come first in the race. Then the win returns for this leg is a $50 equivalent ($5 x $10). You bet on two more legs to finish the second and third. A multiple each way bet will be successful if all the runners run a place.
How to Calculate an Each Way Bet?
Essentially, the amount staked doubles. For instance, punters are putting out an $80 equivalent stake when placing a $40 equivalent bet. One half goes on the win part, whereas the other to the place portion.
How to Calculate Returns When Placing an Each-Way Bet?
You must apply the fraction to the win and place odds to calculate each way bet. Let's imagine the fraction is 1/5 with win odds of 10/1. Then your return on the win portion would be $55 equivalent. Whereas the potential returns of place portion would be a $15 equivalent. In case your selection wins, both of these returns go to you.
Bettors can use a free each way calculator and save themselves the trouble of calculating odds. It is faster and more efficient. Moreover, it is valuable for determining the ideal stake.
Each Way Bets Tips
Consider the following tips for placing each way bets to your advantage, especially if you are a first-time bettor:
Know which events include this type of wager – Not all sports have this option available.
Use logic – Even though it is low-risk, do not spend more than you can afford to lose.
Keep in mind there are two separate bets – You have to wager on both the outcomes.
Use predictions – Some wagering experts forecast the outcome of a particular event based on the history of players, teams, or a league.
What Are the Pros and Cons of Double Chance Betting?
Double chance betting comes with both advantages and drawbacks. Before trying out an each way bet, take a look at its good and bad sides:
It is a low-risk bet with a higher chance of winning. That is because punters get to back two out of three possible outcomes. Thus, this type of wager doubles their chances of a favourable outcome, as the name suggests. It is a valuable strategy when backing up an underdog. Moreover, it is a solid option in an unexpected event.
What is not so appealing to wagerers are the odds. Odds are shorter than those for betting on a single outcome. In addition, this type of wager is not ideal when backing a favourite team. As suggested earlier, it is better to back up the underdog.
Where Can I Place Each Way Bets?
In this section, readers can take a look at some top sportsbooks in Nigeria offering an each-way bet:
Betting Sites
Bonuses
Code
Bet9ja

100% welcome bonus +50% casino bonus

MAX9JA
1xbet

300% up to ₦189 280
Bet on 1xbet
Betking

Bet and Get ₦25,000 in Free bets
BONUSBET
Betway

Offers 100% bonus up to ₦250,000
PROMOMAX
N1bet

300% bonus up to ₦500,000
Bet on N1bet
Betwinner

100% bonus of up to ₦100,000
BEMYBETNG
Yangasport

Get up to 600% Acca Bonus
MAXPROMO
22bet

100% bonus up to ₦50,000
Bet on 22bet
Pari Match

100 bonus up to ₦150,000
NGPARI
bet365

Up to $30 in Bet Credits*
(Key Terms: Min deposit requirement. Bet Credits are available for use upon settlement of bets to value of qualifying deposit. Min odds, bet and payment method exclusions apply. Returns exclude Bet Credits stake. Time limits and T&Cs apply.)
Code: BETMAX365
(The bonus code BETMAX can be used during registration, but does not change the offer amount in any way)
Frequently Asked Question about Each Way Betting
This section presents some frequently asked questions regarding double chance betting. Read on to find out the answers:
What Does 1/5 Each Way Mean?
It means you will receive money for your win portion at the odds you chose upon placing it. The bookmaker will pay you for the place portion of the bet at 1/5 of your odds.
What Is a Bad Each-Way Bet?
A bad each way bet is when the bookmaker offers the punter to wager on positive 'place' terms. In other words, the chance of the player placing in the game is less probable than the operator suggests.
How Does EW Accumulator Work?
The main difference is the number of selections that wagerers can make. In the case of the accumulator, they can place a single bet on four selections or more.
Which Sports Are Best For Each Way Betting?
An each way bet is best placed on sports such as horse racing, tennis, and golf.
How Much Does an Each-Way Bet Cost?
Each way bet costs are 2x your stake because there are two bets of equal cost.