Betting on Esports in India is growing in popularity, and that is only expected to continue over the next five years. You will learn everything that you will need to know about the different Esports betting markets and Esports betting odds right here.
| Betway Welcome Offer | Bonus Details |
| --- | --- |
| Welcome Bonus | 100% matched bonus of up to ₹2,500 on your first deposit |
| General Bonus Conditions | New customers from India only, 18+ |
| Last Verified | (October 2023) |
| Betway Betting | |
How Does Betting On Esports Work?
There have been a growing number of Indian bettors that have been learning to bet on Esports due to the simplicity and appealing avenues that have emerged. Betting on Esports works very similarly to betting on other sports, as gamblers are given the returns for their bet should they place their wager on the winning selection.
The markets may be slightly different, but understanding the odds is the same. However, there are certain elements that gamblers must take into consideration before making their first wager.
Understand The Difference Between The Games – Gamblers must be able to tell the difference between LOL and CS:GO before making a wager. You will need to know what you're looking for to ensure that you have a winning bet. The best way to do this is by watching a game before making a wager.
Research Teams – Just like any other sports, gamblers should look into the players on each team and the form that they have shown over the past number of weeks. Form will be the biggest giveaway regarding which way a result may go.
Favour One Game – When it comes to betting strategies, most gamblers seem to stick to one game so that they can stay up to date with the most relevant information. This ensures that there is no mix up in information and ensures all your focus is on one game.
Stats – When it comes to essential reading before making a wager, reading up stats is a must. This will ensure that you can find the best possible Esports betting tips and make the most knowledgeable wager.
Where Can You Bet on Esports?
Most online sports betting sites offer esports betting markets these days as more customers get into the titles and understand how to bet on esports.
You will always find the esports markets with the rest of the sports, so you shouldn't have any trouble finding an event after you have read this esports betting guide.
Here is the current offer of one of the most popular esports betting sites and their current welcome offer. Something that can be more than attractive to new players.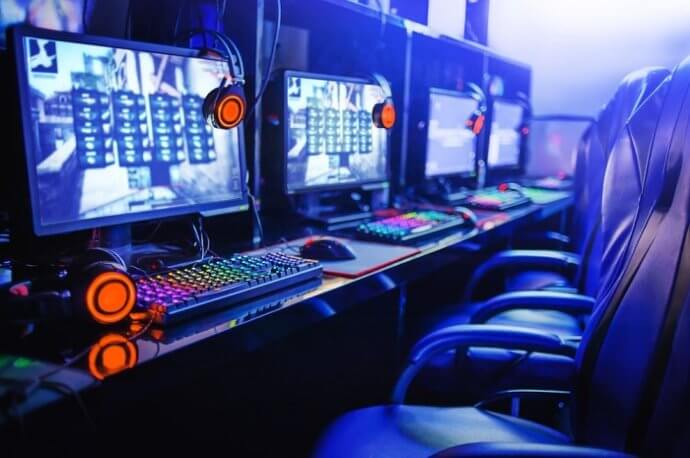 What Esports Games Can You Bet On?
In theory, any online betting site can offer markets on any esport. But there are a few titles that are most popular – and you will usually find the same esports across most betting sites. Games like League of Legends, Call of Duty and Counter-Strike are the most popular. FIFA betting is also growing in interest amongst Indian players.
You will find detailed esports betting tips in other articles, but this esports betting guide will show you how to understand the markets. So we will be telling you how to bet on esports like these.
What Are Esports?
Simply put, Esports is a competitive form of playing video games. Two teams often come up against each other the winners decided after one of the teams has claimed the map.
How a side wins is dependent on the game that they are playing with success in League of Legends coming when one of the teams have destroyed the opposing side's Nexus, while in Counter-Strike: Global Offensive, the teams will be looking to kill the opposing characters.
The Esports industry is one of the most popular ones in the world, with the sector reportedly worth $1.5 billion. That money is evident by the prize pots that are available to teams in the biggest competitions.
With the League of Legends World Championship prize fund being worth over $5 million. Other noteworthy events on the Esports calendar include the Call of Duty World League, The Overwatch League and the Dota 2 Asia Championships.
How to Bet on League of Legends?
League of Legends is what most people think of when there is talk of esports and video games, so read on this quick guide on League of Legends betting below. It is a multiplayer battle arena game where two teams of up to five players battle to destroy the opponent's 'nexus'.
Most betting markets for League of Legends cover league systems rather than tournaments. There are some very big events, such as the Mid-Season Interval though. The World Championship is contested by the very best players and attracts a huge audience.
League of Legends betting markets
League of Legends is a very analytical game, so it is perfect for betting fans who enjoy preparing and researching their selections. As it is essentially a video game, it can also be a very entertaining watch if you can live stream esports events.
The most popular League of Legends betting market is probably the match winner. But there are also markets covering individual games, as each match is played over a best of three, or best of five, basis.
As with traditional sports, League of Legends has a distinct hierarchy of players, so you may be able to find some good handicap betting markets. This is where you can back weaker players and teams given a head start.
Understanding League of Legends
As well as all the more conventional betting markets, esports like League of Legends also have their own game-related bets to look out for. First Kill and Map Winner bets are available as they relate to the game as it is being played. Once you understand the game you should be able to make selections here too.
Can I Gamble on Call of Duty?
The simple answer here is 'yes'. Call of Duty had previously fallen down the pecking order when it comes to first-person shooter games. But an all-new Call of Duty League is set to make it one of the most popular esports on the market.
Basis of Call of Duty
Call of Duty is usually abbreviated to CoD, so if you see that listed on a betting site you will now know what they are talking about! There are various different missions in this game but it is basically a military shooting game.
There are a number of different versions, so it will be interesting to see which ones become more popular with the esports crowd.
Call of Duty betting markets
In the leagues and events, Call of Duty usually becomes a team game. So the betting markets usually take the form that you would expect from any other sport. Match winner markets are always a big draw – as are outright winners at tournaments.
Who to bet on Call of Duty
This game is far simpler to follow and understand than something like League of Legends, so the new franchise league is going to be huge in esports.
The 12 teams in the CoD are sure to become household names and although they are mostly based in North America, there are teams in London and Paris as well.

Can I Bet on Counter Strike?
You will see Counter-Strike referred to as CS:GO in many places, including betting sites offering esports markets. That stands for Counter-Strike: Global Offensive, the full name of the game.
What is CS:GO?
Like Call of Duty, CS:GO is a first-person shooter in which players compete in teams of five. One team takes the form of a terrorist group aiming to plant a bomb in a specified location.
The other team is the counter-terrorists who must stop the terrorists, either by killing them or defusing the bomb.
Each match is played on a map and consists of rounds. The team who win the most rounds wins the match. There can also be multiple maps in a game, leading to a best-of result.
CS:GO Betting Markets
The most popular bets when it comes to CS:GO are the outright winner picks at tournaments and the match winners in individual head-to-head games. Upsets are not uncommon, so a little bit of research here can really pay off.
There are also correct score markets, covering the rounds of a game. These are usually in the form of an over/under bet – but some betting sites may offer a more comprehensive CS:GO selection.
How to Bet on FIFA?
If you are completely new to esports and esports betting, this is probably the easiest game to understand. FIFA is the biggest football game in the world and plays just like the real thing.
The FIFA Global Series and FIFA eWorld Cup are the biggest events on the calendar, but there are plenty more leagues and tournaments to enjoy when it comes to FIFA betting.
Best Fifa bets
The betting markets for FIFA are remarkably similar to what you would find for any football match. You can back match winners, total goals and half-time/full-time markets. With the tournaments, you can also predict outright winners.
FIFA is huge in the esports world and professional clubs and organisations have their own teams employing some of the best gamers on the planet.
Where can I bet on FIFA?
Most of the big betting sites offer some kind of football betting. Betway is a particularly good place to start.
Odds and FIFA Esports betting tips
As with traditional football betting, you should do your research before making your selections. These gamers are professional in their own right and have the same strengths and weaknesses as professional footballers.
It is also a good idea to bet on events that you can also live stream. This gives you an extra level of information when it comes to your live betting on esports.
What Are Esports Bets?
There are now a number of specialised esports betting sites, dealing with only these kinds of titles. But the traditional sports betting bookmakers that have got in on the action will always attempt to offer markets using language that sports fans will recognise.
This makes betting on esports – and picking up on esports betting offers – much easier. Here are a few of the most popular and common esports bets.
Outright Winner
This is a market for tournament play. Here you are predicting who will be the ultimate champion. For those of you new to esports betting, this is just the same as picking the winner of the World Cup.
Group Winner
Some tournaments are set out in a way that lends itself to groups. This market is for picking which group will end up winning the event and is much the same as the outright winner selection.
Match Winner
All esports are slightly different and can allow betting sites to offer bespoke betting markets. But many games – including those first-person shooters we talked about before – organise the overall event into matches or games. This bet allows you to bet on a section of the event, rather than the whole thing.
Handicap Bet
These bets can seem a little more difficult to understand for newcomers. But, essentially, they even up the chances for weaker teams or players to compete against the best.
In a game like FIFA, a weaker player may be given a two goal start in a betting market, so even if they end up losing the game by one goal, the bet would win.
Over/Under
These kinds of bets are particularly popular in the shooting esports titles. The bookmaker will state a certain number of kills, for example. This market allows you to bet on whether there will be more kills (over) or fewer (under).
Over/under markets can be used in sport as well, so esports such as FIFA could also provide bookies with a chance to offer this market there too.
Specials
We've grouped all the other markets relating to specific games under this catch-all 'specials' banner. Every esport is different, so there are different things customers can bet on depending on how the game is played. Once you understand a game, you will also be able to make an informed decision on betting markets like these.
The Biggest Esports Tournaments
Some events stand out more than others on the international calendar, and these are the events that will be attracting the most bets on Esports.
The International
The biggest event in the world of Dota 2 is one of the biggest events of the year. This year's event will be taking place in Stockholm, Sweden, in August. Gamblers will be hoping that they can get value on their bets with the competition likely to be an open event.
Intel Extreme Masters
This series of events is one of the most prestigious of the year, with events being held for Counter-Strike: Global Offensive, League of Legends and StarCraft II. The event is sponsored by Intel and take place around the world.
CS: GO Major Competitions
The biggest competitions in the world of CS: GO are referred to as majors. The biggest one to take place this year will be the ESL One Rio Major, and that takes place in November. Astralis will be looking to win a fourth major in a row.
Overwatch World Cup
There are four big events on the Overwatch calendar, but none of them come close to the World Cup. The event will take place between August and November, with the winners likely to take home a huge cash prize.
Fortnite World Cup Finals
Fortnite seems to have taken over the esports world over the past couple of years. Last year's event took place in the Arthur Ashe Stadium in New York. The location for this year's event hasn't yet been named, but it promises to be another lucrative event. Bugha won the 2019 edition and took home $3 million.
Evolution Championship Series
This competition focuses on predominantly fighting games, and will this year take place over the weekend of the 31st July in the United States. Justin Wong holds the most titles for this event, as he won eight between 2001 and 2014.
Mobile Esports Betting
The evolution of mobile gambling and betting on Esports has gone hand in hand. But, can players place a bet on Esports on their mobile devices on the upcoming events?
Mobile Games, Tournaments, Comparison To PC And Console
The world of console and PC gaming outweighs the popularity of mobile games and competitions. However, it has recently been announced that this could be about to change. Call of Duty have revealed their first upcoming mobile competition, with the winner walking away with $1 million.
The game has been hugely popular since its release, with over 100 million downloads in the seven days following its release. Clash Royale and Brawl Stars have also made ground on their console and PC rivals over recent years.
Where Can I Watch Esports Live?
Watching other people play video games has been around since video games were invented. But, with the emergence of esports, this has become big business and also a great way to keep up with the best gamers in the world.
The popularity of esports and esports betting has grown thanks to dedicated live streaming channels and other places where the big events can be followed as they happen.
Streaming sites such as Twitch and YouTube are heavily involved, but online betting sites have also got in on the action.
Various operators, Betway in particular, regularly schedule live stream esports events. This helps with betting on the events as customer account holders can follow the events in real-time and make live betting selections.
Our tip is to check the live streaming or in-play betting section of a bookmaker before you register for an account to make sure that you will be able to watch esports events.
How to Bet on Esports FAQs
Are you eager to learn more about betting on esports games? Find more answers in the FAQ section below.
Can you bet on Esports games?
Yes. There is a good selection of esports betting markets at most online betting sites these days. Just look at the sports menu to find out what is available.
What is the best betting site for Esports?
It might come down to what site you are more familiar with as to what the best is. In our opinion, Betway is well worth a mention and checking out as their offer has exactly what players need.
Is Esports betting legal in India?
Generally speaking, there are no laws that prohibit betting on Esports in India. On a country-wide scale, it is perfectly legal to wager on Esports in India.
However, certain states in India usually enact their own laws. This means that there are some states that prevent or could decide to ban Esports betting. So one cannot be certain before checking the legality and the situation within the state they are located in.
Be sure to view the laws in terms of Esports betting of the Indian state you are located in before attempting to place a bet.