Esports betting is gaining popularity in Kenya, and the best betting sites are offering more markets and impressive odds. Some of the major titles to bet on include Dota 2, Counter Strike: Global-Offensive, League of Legends, and FIFA.
Esports Predictions Today
There are currently no new tips. Check again later.
Esports Betting Explained
Betting on esports in Kenya may be a new venture, but in this guide, we will explain everything you need to know. We will expound on the main esports betting markets, the best sportsbooks, and tips and strategies to get you started.
If you are familiar with/ or have played games like Fortnite or FIFA, you have an idea of the action involved. However, in esports, you are betting on the top-world teams. Betting on esports can be easy but difficult to master.
Depending on the game you choose to bet on, there are numerous betting markets. There are also different teams, some of which are better at some esports titles than others.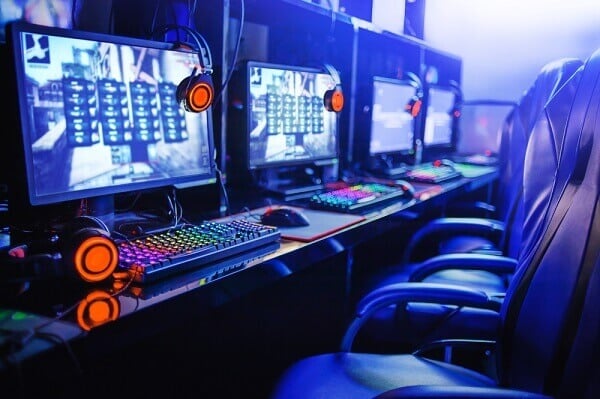 Esports Betting Markets
The esports betting markets vary depending on the esports game. However, the most common markets which often have impressive esports betting odds include;
Popular Esports Betting Markets
Match Winner: As the name suggests, you are betting on the winner of the specific match.
This is the most common esports betting market and is often available on major esports betting sites. The odds are provided on Team A or Team B winning.
Map Winner: This is a common betting market in games that require players to unlock different maps. For example, in CS: GO, you can bet on which team will be the first to unlock Dust 2, Inferno, and Mirage of Nuke.
Over/Under: Over/Under bet is another common esports market that requires you to wager on the score being over or under a certain amount. The score can be either total points or total maps.
Handicap bets: This is another bet type to explore. A handicap bet is a weighted bet that adds constraints on teams with an advantage to make it more of a level bet.
First Blood: In shooter esports games such as CS: GO, the First Blood bet allows you to bet on the player/team to get the first kill.
Most Famous Esports Players
With esports gaining popularity in the iGaming industry, being an esports player has become a viable career. With the competition in the game becoming stiffer, some players have attained impeccable rankings.
These top players are also paid a huge amount of money from the esports tournaments they participate in. Here is a list of 5 all-time best esports players.
Faker
Known as the best League of Legends of all time, Faker is one of the two people ever to win the League of Legends World Championship three times. He has won over $1.2 million
Rookie
Eui-Jin (Rookie) is considered to be the best League of Legends player after Faker. His team won the Champions Summer 2014 and later qualified for the World Championship. His net worth is estimated to be $559,519
N0tail
In terms of earnings, n0tail ranked at the top, having won over $7 million. Although most of his earnings are derived from Dota2, he is also a professional Heros of Newerth (HoN) player.
Forest
Patrik Lindberg (F0rest) is one of the best CS: GO players, having honed his craft since 2005. He played a crucial role in the dominant win of his team Fnatic which saw them break the record to become the highest-earning team in CS history.
How to Bet on Esports Online?
Under the esports umbrella, there are various disciplines. These include Counter-Strike: Global Offensive, League of Legends, Overwatch, and FIFA, just to mention a few.
When you log in to your favorite esports betting site, you will find different markets and odds depending on the game you choose to wager on.
How to bet on esports in Kenya?
Sign up for your preferred online sportsbook or betting exchange
Fund your account
Choose the esports title you wish to bet on
Analyse the markets and the esports betting odds.

As a beginner, you can start by using esports betting tips to help you understand the best betting opportunities. We have discussed the best esports tips to get you started in the section below. You can also use an online bet calculator bet to see if your stake will be valuable to not.

After understanding and identifying the most promising bet, go ahead and place your wager.

Your active bets will appear on your bet slip.
What is the Best Esports Betting Site in Kenya?
Fortunately, if you are interested in esports betting, there are numerous esports betting sites where you can find markets on the main esports titles. Our top recommendable sites include Betway, 22Bet, and Helabet.
Esports Betting Tips
As a beginner, you might be wondering how to be on esports. In this case, we have already mentioned the main games and the types of esports betting markets available.
However, before you begin placing your wagers, we have provided you with esports tips to guide you on how to bet on esports as well as manage your finances.
Do Your Research
Before placing wagers, it is essential to do your due diligence on the team you are looking to bet on. Be sure you understand their current form if they have new players or management, and the most recent performance.
You can understand more about your favourite team by watching previous matches.
Understand the Odds
Different markets have varying odds. When deciding on which odds to settle for, make sure that you have a value bet.
If you are lucky to win, you will get valuable wins that cover your risk. We have discussed in detail esports betting odds in the section below.
Take Advantage of Bonuses
Welcome bonuses and ongoing offers come in handy when placing esports bets. This is because, with the extra funds, you can place additional bets or increase your stake.
As a new player, there are tons of welcome bonuses that you can utilise.
Bankroll Management
If you are looking to learn an effective way how to bet on esports, then you must start by managing your finances. Essentially, you should only wager amounts you are comfortable losing.
Esports betting does not guarantee wins; hence, you should have a clear budget of how much you are willing to bet.
Avoid Betting Emotionally
While some punters tend to bet on their favourite team, it is important to bet based on statistics. If the statistics are in favour of your team, and your research also aligns with these stats, then you can bet on the team.
However, always stick with the team that is likely to win regardless of whether they are opponents. You can get an idea of which teams are favourite by checking online esports predictions.
Stick to What You Know
While it is tempting to explore new markets, as a beginner, it is advisable to stick to the teams and tournaments that you know. This will make your research and analysis easier since you already know about their recent performance.
Moreover, you can easily hunt for the best odds depending on your preferred esports event.
What are Esports Betting Odds?
As earlier mentioned, it is important to compare the odds available on different esports betting sites before placing your wager. Also, if you already have an idea of the esports predictions, it is easy to pick out the favourite teams to win.
You will find various odds at top of Kenya's sportsbook depending on the market. For instance, there are odds for Accumulator bet, handicap bet, over/under bet, and many more.
Here is an overview of the popular betting odds at esports.
Fraction Odds
Also referred to as British odds, the fraction odds are often presented with a slash or hyphen. These are common in most online bookmakers and are a preferred option among Kenyan players.
For example, a (4/1) odd would mean that you win $6 against every $1 wager placed. Essentially, this is the ratio of the amount won to the initial bet.
Decimal Odds
Also known as European odds, decimal odds are popular in Kenya since they are a bit easier to understand. This format makes it easy to pick out the favourites and the underdogs.
With decimal odds, the number represents the amount you can win for every $1 staked. Hence the number you see on the betting sites times your stake gives you your total payout.
For example, a betting market with odds of 1.3 means that a total stake of KSH 100 will yield KSH 130.
American Odds
Also known as Money Line, these odds are quite different from the others and can be quite confusing for a beginner. Basically, with this option, the odds for favourites are accompanied by a minus (-) sign, and this represents the amount you need to stake to win.
On the other hand, the esports betting odds for the underdog have a positive (+) sign, and this represents the amount won for every $100 staked.
What are the Best Esports Betting Strategies?
Just like other popular sports, there are some esports strategies that you can use to boost your chances of winning. Advanced bettors use these strategies, and as a new player, we would recommend you begin with the esports betting tips we have discussed above and then work your way up to these esports strategies.
Arbitrage Betting Strategy
This strategy requires you to place multiple bets on a single event. This way, you will be betting on all of the different outcomes of the esports match. For example, in a CS: GO match, you can bet on the over/under, tournament winner, first kill, and first map.
Matched Betting Strategy
This is another popular esports betting strategy where you utilise the available betting bonus to place wagers. With matched bets, you will be using the bookie's bonus offer plus your own funds to place bets.
Modified Martingale
The classic Martingale strategy involves doubling up your bet after each consecutive loss. On the other hand, with the Modified Martingale, you will double your stake after two consecutive losses, and on the third bet, you will lower the bet amount.
Hence instead of betting 10, 20, 40, 80, you will bet 10, 20, 30, 60.
Esports Betting Review
Esports betting is still relatively new in Kenya, but it is a booming industry in other parts of the world, including Asia, America, and Europe.
Fortunately, more punters are gaining interest in these online sports, and top Kenyan bookmakers now have odds on major esports titles. If you would like to venture into esports betting, we recommend you begin with more established esports games such as Dota 2, CS: GO, League of Legends, and FIFA.
One of the best places to get started is by watching previous matches and live competitions either on Youtube, Twitch or Discord.
Best Esports Competitions to bet on
League of Legends
League of Legends (LoL) is one of the popular esports games which offers a plethora of betting options. The LoL tournaments are organised by Riot Games and are categorised under Multiplayer Online Battle Arena (MOBA) games.
Some of the popular tournaments to bet on include the League of Legends World Championship, Mid-Season Invitational, and Regional Championships.
Dota 2
Dota2 is another MOBA game where 5 players from each team choose from a collection of over a hundred unique heroes. During gameplay, players can modify the abilities of their heroes by gaining experience or purchasing items.
Some of the common bets you can place include total maps, race to kills, first blood, and first Roshan.
CS: GO
Counter-Strike: Global-Offensive is another popular esports game that features many betting markets. You can either bet on a team or a map. Some of the top CS: GO teams that you can support include Natus Vincere, Vitality, G2, Gambit, and FaZe.
While CS: GO matches are ongoing throughout the year, there are major events that attract huge fans. These include ELEAGUE, the PGL, Dreamhack, and ESL.
Fortnite
Fortunate was launched in 2018 and has since been a favourite among many online players. This battle royale is one of the most competitive esports titles.
The Fortnite World Cup is one the highest rewarding tournament where players are awarded over $30M.
FIFA
FIFA is a popular game in Kenya, but most players are yet to explore the esports side of the game. Esports gives you a chance to watch and bet on your favorite team.
Some of the betting markets include Moneyline bets, outrights, in-play, and accumulator bets
How to Bet on Esports in Kenya – FAQ
Can you bet on esports in Kenya?
Absolutely! Top esports betting sites offer several esports betting markets for top esports games such as Dota 2, CS: GO, and LoL.
How does esports betting work?
Esports betting works similarly to football betting, where you first need to identify a market, and then place your wager.
What is the spread of esports betting?
Spread betting is common in esports, where bookmakers use handicap points to balance a very unbalanced match. This helps the odds even out. Spread bets use a – or + to indicate which teams are the underdogs and favourites.
How popular is esports betting?
Esports betting is very popular in Asia, the USA, and Europe; however, Kenya and the rest of the African countries have started warming up to esports games.
How are Esports odds calculated?
Odds are calculated as a ratio of the possibility of a certain outcome happening.