Rather than using a traditional bookmaker, perhaps it's time to consider trying a betting exchange. This guide explains how to get started with exchange betting, and we compare the pros and cons of these platforms with Kenya's best betting sites.
Top Betting Exchange Sites in Kenya
We've handpicked the top betting exchange sites for you to find the one that suits your style of betting and trading the best.
Betfair
Betfair is the world's largest betting exchange, which means that it offers the best liquidity. It's one of the best sites for horse race betting and football, as well as many other sports. Although its platform is arguably the best, its commission rates are higher than its competitors. Therefore, customers don't get as much value on their winning bets.

Matchbook
Matchbook is another top-rated online betting exchange. Customers can bet on soccer, horse racing, greyhounds, tennis, basketball, baseball, cricket, ice hockey, and golf. Furthermore, it offers live betting and a stylish mobile app for customers who want to bet on the move.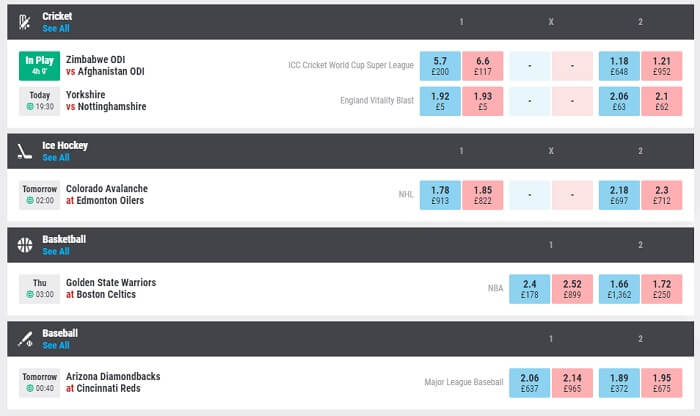 Smarkets
Smarkets is a growing betting exchange with a sleek and clean website and app. It offers great odds (with lower commissions than Betfair) on football, horse racing, and rugby, among other sports. Additionally, Smarkets has a nice welcome bonus for all new customers.

How Does a Betting Exchange Work?
Many new sports bettors can feel slightly intimidated by a betting exchange, but there's no need to be. The reason we say this is because, at a basic level, you can use Kenya's top betting exchange sites in the same way that you'd use a regular bookmaker.
Difference Between Betting Exchanges and Bookmakers
A betting exchange is a peer-to-peer platform where customers make bets with one another. This removes the role of a traditional bookmaker from the betting process. Essentially, there are two bet types – back and lay.
Back bets – A back bet is a wager on a selection being correct. For instance, you could bet on Liverpool to beat Watford. The bet wins if Liverpool win. This is the same type of bet you can place with a regular bookmaker.
Lay bets – This is one of the main differences. For a back bet to get matched, there has to be a lay bet. For example, a customer needs to 'lay' Liverpool winning, which means betting that they will not win.
We'll expand upon these further down this page, so you can gain a deeper understanding. However, the major difference, in a nutshell, is that you can lay bets.
Exchanges Charge Commission
With customers betting against themselves, how does a betting exchange make money? Quite simply, it takes a small commission from all winning bets. The amount deducted can range from 1% up to 7% depending on which exchange you use and how much you've won in your time on that platform.
How to Bet on a Betting Exchange?
Before delving into what you need to know about betting on an exchange, let's look at some of the reasons why bettors use these platforms instead of a regular betting company.
Higher Odds
With no bookmaker fixing the prices, the odds on betting exchanges tend to be nearer 100% (true odds). This means you get higher payouts on your winning wagers. Of course, you must factor in the commission fee, but generally, the payouts are still slightly better.
No Restrictions
It's common knowledge among seasoned bettors that if customers are too successful when betting with a regular bookmaker, they may face restrictions on their accounts. This doesn't happen when using betting exchange sites because you are wagering against other customers.
Trading – Once you get to grips with exchange betting, you'll be able to trade bets. This allows you to back and lay selections at different prices to secure a profit whatever the outcome. Trading is something that professional sports bettors usually do.
Back Bets
If you're brand new to online betting exchange sites, it's recommended that you start by placing 'back' bets. These wagers are simply to back a selection to win or be correct. You can think of this as a regular bet.
A KES 100 back bet on Arsenal to beat Norwich at odds of 4.00 returns KES 400 (KES 100 stake returned and KES 300 win profit).
The bet wins if Arsenal win.
The bet loses if the match ends in a draw or Norwich win.
Lay Bets
When a customer makes a back bet on Arsenal, he needs a lay bet on that team for the wager to be matched. Effectively, this is the opposite (the other half of the bet). Think of it like this:
A customer places a KES 100 back bet to win KES 300 profit.
Therefore, the other customer places a lay bet of KES 300 at odds of 1.33 to win KES 100 profit.
With lay bets, the amount you bet is known as your liability. For the example above, you are liable for KES 300, which is the payout on the back bet.
Set Your Odds
An advantage of these platforms is that you can set your own odds for any betting exchange market. When you are looking for something to bet on, you can take the odds that are already on the board, or you can set your own.
Let's say Arsenal are 4.00 to beat Norwich; however, you feel this price is too short. Therefore, when placing your bet, you back Arsenal at 5.00. Of course, for the bet to be placed, you need another customer willing to lay Arsenal at that price. It's labelled as 'unmatched' until another customer takes the price you set.
Liquidity
The issue with small betting exchange sites is that they don't have as much liquidity in their markets. With a regular bookmaker, it provides the liquidity, but on an exchange, the liquidity comes from all the customers.
You can view the amount of liquidity under the odds. For instance, to back Arsenal at 4.00 could have KES 100,000 in liquidity. Put simply, you could place a bet up to this amount (KES 100,000) and it would be matched instantly.
However, if you wanted to bet KES 200,000, only KES 100,000 would be matched, and the remaining KES 100,000 would be unmatched until other bettors take your price.
Markets
Compared to traditional online sportsbooks, there are often fewer match markets available on a betting exchange. Furthermore, even if the markets are available, you can only bet on them if they are liquid.
For customers who typically bet on 1X2, BTTS, O/U 2.5 goals, and other popular markets, there is normally good liquidity. However, if you want to wager on a match finishing 4 – 4 (correct score), the market could be illiquid.
Payouts
Everything on a betting exchange is automated, so you only need to focus on placing your bets. When your winning bet is settled, the returns – minus the commission – are returned to your account balance. You can then make a withdrawal or continue betting.
Step by Step
Serious bettors prefer using exchanges for the reasons mentioned above. However, we think all customers should give them a go. If you decide to try one out, stick to the information we've provided.
Start by only placing standard back bets.
Understand what liability is before moving onto lay bets.
Compare the odds (after the commission fee) to see where you can get the best return.
Set odds based on your predictions and probabilities, as these will be true values based on what you believe the outcome will be.
Betting Exchange FAQs
Take a look at our betting exchange FAQs for more information on this topic.
What are the main betting exchanges?
The top three betting exchanges in Kenya are Betfair, Matchbook, and Smarkets.
Do bookmakers use exchanges?
A bookmaker could use a betting exchange if it wanted to cover its exposure on certain bets. Of course, it would need to get the right odds to make betting on the exchange viable. There is no precise information as to if bookmakers do also bet on exchanges, but it's certainly a possible scenario.
How do you win on betting exchanges?
You win on a betting exchange by making the correct prediction for your selection. If you place a back bet, you win if your selection wins. For lay bets, you win if the team loses (which means you made the correct prediction).
What is betting exchange in football?
A betting exchange in football refers to bets placed through an exchange on football matches. You can choose from several markets like 1X2, both teams to score, over/under total goals, handicaps, and many others.