If you are wondering what the simplest form of multiple bets is, well, the answer is an accumulator bet. The goal of our review is to familiarise you with what is an Acca bet.
You will learn about the types of Acca bets and some helpful tips that help you place this type of bet.
Accumulator Bet of the Day
Many online bookmakers allow players to place an Acca bet. You can find thousands of sports events to choose from.
However, this type of bet is most common in football, where players utilise it to place their bets on a wide range of football matches across several leagues.
What Is an Accumulator Bet?
Also known as an Acca bet, an accumulator bet often includes more than one selection on a bet. This type of bet often includes 4 or more selections, which requires you to correctly predict the outcome of all selections in order to win.
When talking about the most popular types of multiple bets among sports fans, an Acca bet wins the title. To place your bet, you have the opportunity to combine any amount of bet selections for an Acca bet, as well as the stake amount that you choose to pay.
In addition, the odds are calculated differently from traditional betting odds. To be clear, Acca bets combine the odds, which gives the players who place the wager a bigger value.
The simplest explanation is that the odds are boosted and then multiplied together.
Moreover, there are various types of Acca bets you can place online. The following parts of our review will focus on bringing the most accurate details regarding each type. So, read below.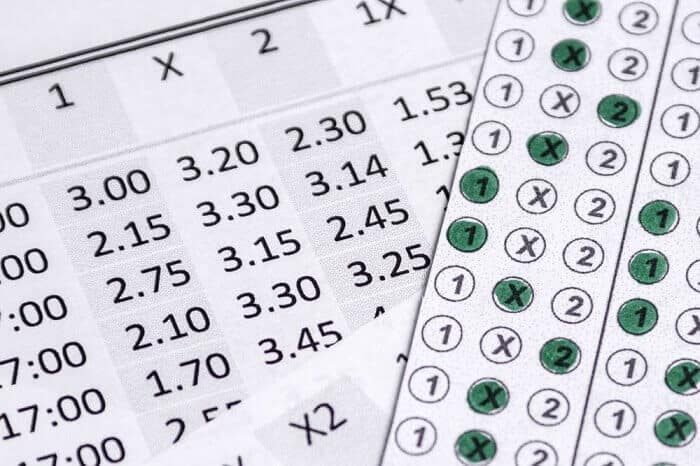 Where to Bet on Accumulator Bets?
Players can place an accumulator bet with almost all online bookmakers in Zambia. In this part of our review, you can find the top online bookmakers that allow you to place Acca bets.
Accumulator Bet Examples
To better understand how Acca bets work, take a look at the examples below.
Winning an Accumulator Bet
Suppose you want to place a double bet, which is a type of accumulator bet, and your bet consists of head-to-head selections; then here is what you need to do.
To illustrate, you must add a bet selection where Team D wins over Team E, and Team F wins over Team G. To win the bet, both selections must be successful. This strategy works great with sports like basketball, football, tennis, and cricket.
Losing an Accumulator Bet
Let's take the example from above. You want to place a bet with two head-to-head selections.
You add a bet selection where Team D wins over Team E, and Team F wins over Team G. Let's say that your bet selection, where Team F wins over Team G, loses, then your whole bet loses.
Types of Accumulator Bet
There are numerous accumulator bet types. The best way to find any type is to add your bet selection to your betslip.
Online bookies typically include a list of traditional accumulators, after which you can find other alternatives below it. So let's review some of the options and provide you with more details on each acca bet type.
Acca Bet
This is the traditional accumulator bet where you can add four or more selections. Most importantly, to win this bet, all your selections must win, meaning that you must correctly predict the outcome of all your selections.
Double Bet
As the name implies, this type of bet consists of two bet selections. This is one of the simplest and easiest bets to place.
To win this bet, both your selections must win. If one of your bets loses, then your overall bet loses.
Treble Bet
This is another type of accumulator bet that is straightforward to place and understand. To place a treble bet, you must add three selections to your betslip.
In order to win, the treble bet requires all your three selections to be successful. This means that if one of your selections loses, then the entire bet loses.
Trixie Bet
A Trixie bet is similar to a treble bet in terms of making three selections. However, this type of bet requires you to add three doubles and one treble to your betslip.
The top part about a Trixie bet is that if one of your selections loses, you still have the chance to win the bet.
Yankee Bet
To place a Yankee bet, you should make four selections. These selections must include a total of 11 bets; four-fold accumulator, six doubles, and four trebles.
Indeed, those placing a Yankee bet have the chance to win if one of their selections loses, as it requires a minimum of two selections to win.
Lucky 15 Bet
As the name indicates, the Lucky 15 bet consists of 15 bets across four selections. These include four singles, six double bets, four treble bets, and one 4-fold Acca bet.
Only one winning selection is enough for your bet to win. The reason behind this is that this bet includes four singles.
Accumulator Bet Tips
Here are a few tips you can follow that help you better understand how Acca bet works and how to place your bets.
Bet Calculator
The bet calculator is one of the best online tools you can use when placing your bets. As the name suggests, you can utilise the bet calculator to calculate your potential winnings after entering your stake amount, odds, and bet types.
You can calculate a number of different bet kinds, including an accumulator bet, Asian handicap bet, value bet, etc.
Betting Odds
Searching for competitive odds when placing Acca bets is one of the tips that most players follow. Hence, it is best to check out many online bookmakers and see the odds they offer before deciding which operator to join.
FAQs
If you have questions regarding placing Acca bets, check out the FAQs below.
What is an accumulator bet in 1xBet?
An Acca bet is a type of bet you can place at 1xBet when betting on sports like football. You can add four or more selections to your betslip and place a multiple sports bet.
How do you write an accumulator bet?
To place an Acca bet, you must sign up with a particular bookmaker. Then, choose the sport you want to bet on. For example, let it be football. Then, make your selections, and select the bet type and the odds. You will need to add your bet selections to your betslip. Under the Multiple bets section, you can find your Acca bet. Add the stake amount and place your bet.
What are the advantages of an accumulator bet?
The benefits of placing an Acca bet are numerous. One of the key benefits is that, at the expense of larger risk, potential winnings are higher. This is because if you place a single bet and it loses, the full bet will also lose.
What is a 7 fold accumulator bet?
As the name suggests, a seven-fold accumulator bet is a bet that includes seven selections. However, to win the overall bet, all your seven selections must be successful.