Ghanaians can download the Betika app on their mobile devices. In this Betika review, we will give you a detailed guide on downloading and installing this bookie's mobile app.
Livestream and cashout features
Great customer support
Competitive odds
🔎 How to Download the Betika App for Android?
If you prefer betting on Betika on your Android device, below are step-by-step instructions to download the mobile app.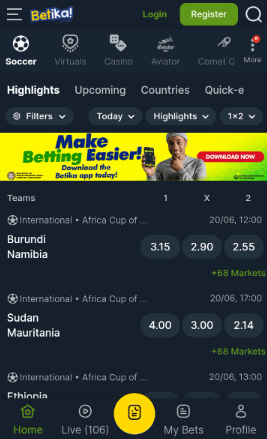 ✅ Go to the betting site on your Android device. Tap the More button on the homepage.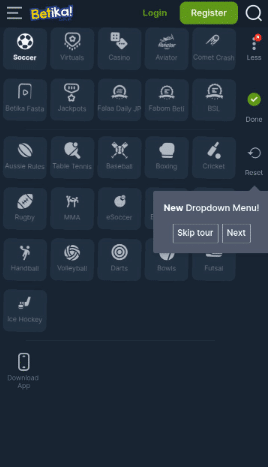 ✅ Click the Download App to access the Android Download button.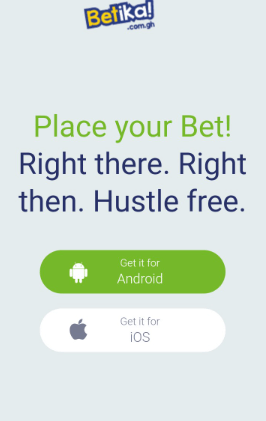 ✅ Tap the Get it for Android button to download the file.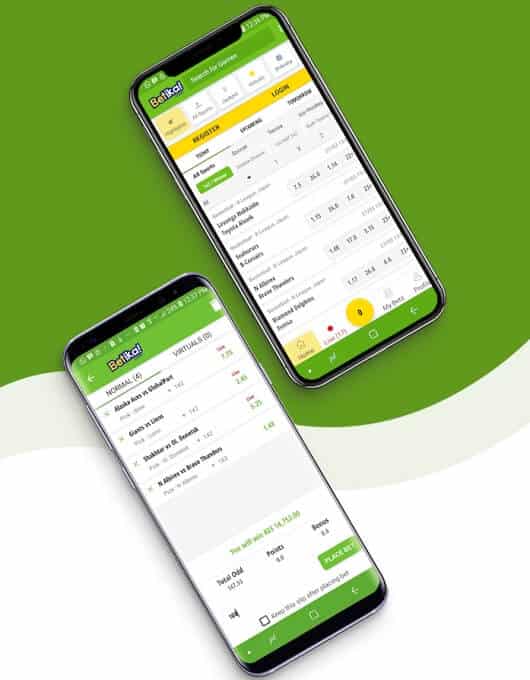 ✅Adjust your settings to enable installation. Once installation is complete, you can launch the app and start betting.
🔎 How to Download the Betika App for iOS?
To download the Betika app for iOS, do the following: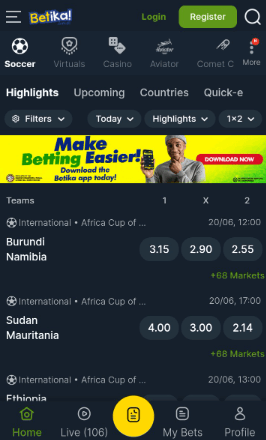 ✅ To start, visit the website on your iOS device. Click on More.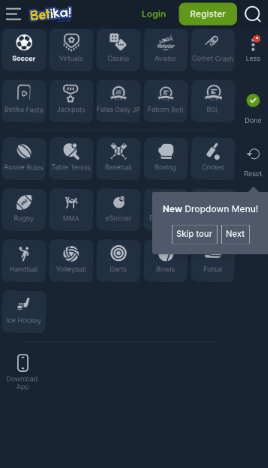 ✅ Tap the Download App button.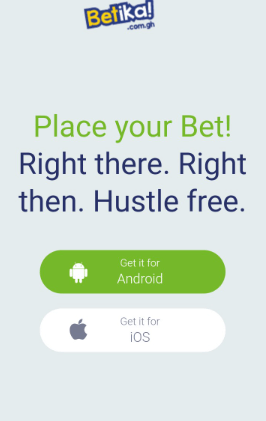 ✅ Select Get it for iOS, and you will be redirected to the App Store. Click the Get button. The betting app will be downloaded and installed on your device.
---
---
About Betika App
Betika is one of the most trusted bookies in Ghana. They are fully licensed and currently provide their gambling products in Nigeria, Ghana, and Kenya.
Apart from providing a gambling platform for punters in Ghana, this bookie has also developed a mobile app.
With the Betika app, punters no longer need to have their laptops with them to bet on sports. Instead, you can bet where ever you are and at any time.
In addition to providing unlimited access to their gambling platform, the app allows you to bet on popular sporting events. You can bet on live and pre-match games, as well as their virtual sports betting.
The Betika app is available for iOS and Android users and is very easy to install. In this article, we will explain how you can install the app on your mobile device.
In the meantime, if you have not completed your registration, you can do so now. When you download the app, you can easily register an account to start betting on sports or playing games.
What are the Betika App System Requirements?
Whether you are using an Android or iOS device, there are system requirements to be eligible to download the app from this bookie. So, what are these system requirements?
Like most mobile apps, there are some instructions developers provide before one can download their apps. The reason is that these apps have been tailored to meet the specifications of mobile devices.
Sometimes, the requirements may work for newer models, so if you have an older device, you won't be eligible to download the app. Fortunately, Ghanaian punters don't have anything to worry about.
The mobile app has very simple requirements, that allow some older devices access to their app.
For iOS
If you're using any Apple device, there are some requirements to install the app. For instance, your iPad or iPhone should have an operating system of at least 11.0.
Also, you should have at least up to 26.7 MB of memory space to install the app.
For Android
If you use Android phone models, you can access the app, as long as you meet the requirements.
Android phones with a minimum memory capacity of 512 MB can download the app. Also, their device must not use an Android version lower than 4.4.
How to Register at the Betika App?
After downloading the app, you must register to begin using the betting app. Find the instructions for the Betika registration in the outline below:
Launch the Betika app upon downloading and installing it.
Click Register on the homepage.
On the registration form, enter your phone number and password alongside the information the site requires.
Tap on Request Code to get your one-time password (OTP). The verification code will be sent through SMS. Enter the 4-digit code in the box and click on Verify Code.
Accept the terms and conditions.
Tap on Sign Up. Now, your account is ready.
How to Login Using the Betika App?
You have already created your login details during your registration. Follow the easy steps below to log in to your betting account.
Open the app and click Login.
Enter your phone number.
Input your password. Furthermore, you may select the Keep Me Logged In option to avoid repeating this process.
Finally, tap the green Login button.
How to Claim the Welcome Bonus Using the Betika App?
As a new bettor on Betika, you may receive the 175% Akwaaba bonus when you sign up. Here's who to claim this Betika welcome bonus:
First, open the app.
Tap Register to sign up with Betika.
Head to the Deposit section and make a qualifying deposit (5 GHC).
Next, go to the Sports section and select your choice of sports and event.
Enter your stake and proceed to place your bet. After that, you can get up to 175% bonus.
How to Deposit Money on the Betika App?
One of the reasons that make this bookie a trusted site is that they have multiple payment methods. The app also has all the payment options available on the desktop site.
For instance, punters can deposit money into their betting account with bank cards, as the bookie accepts payment with Visa and MasterCard. In addition, they also accept payment through mobile money.
If you want to make a deposit on the mobile app, here's what you have to do:
Step 1: Log in to your Betting Account
If you have already completed your registration, you'll need to enter your login details to access your account.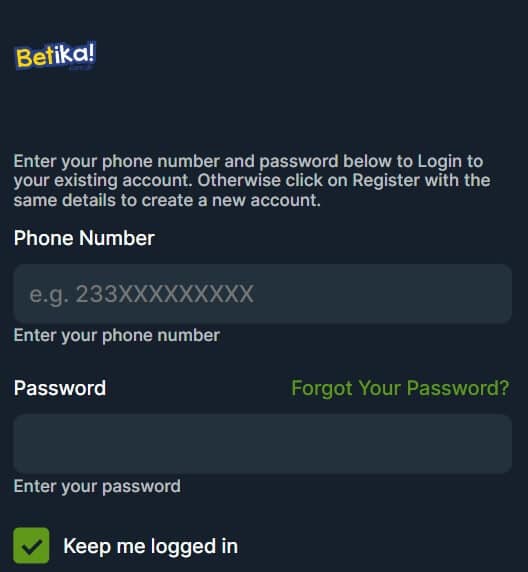 Step 2: Go to My Profile
On the bottom page, you will find "My Profile", tap on it. Find the deposit button and then proceed to make your payment.
Step 3: Enter the Deposit Amount
Enter the amount of money you want to deposit into your betting account.
The minimum deposit amount is GHS 1.00, while the maximum you can pay is GHS 5000. Tap on deposit after entering the amount, if you choose Mpesa, you will need to enter your mobile money PIN.
After completing the deposit process, your money will be credited instantly to your betting account.
How to Withdraw Using the Betika App?
Follow the steps below to withdraw money from your Betika account:
On the mobile app, sign in to your account.
Click on the Profile tab on the homepage.
Go to the Withdrawals section and choose your payment provider.
Enter the amount you intend to take out and click on Withdraw.
How to Bet on the Betika App?
Placing your first bet on the Betika app should be easy. However, you need to complete your Betika registration to begin using the betting site.
The process of registering on the app is easy and you can start using their site immediately.
If you already have an account, here's how to begin placing bets:
Step 1: Log in to your Account
Enter your login details to access your betting account. Make sure you enter your correct details, if not you won't be able to log in.
Step 2: Select your picks
You can select options to bet on football, tennis, basketball or other sports. The bookie has a wide range of betting options.
The site has popular markets like 1×2, Double Chance, Overs/Unders, and many others. Choose your preferred option after analyzing the game.
Step 3: Place your bet
After picking your games, enter the amount you wish to wager. Finally, you tap on "Place Bet" on the page.
Immediately, your selection will be registered, and you can then wait on the results.
Features of the Betika Ghana App
As we mentioned, Betika has included many features on their mobile app as you'll find on the desktop. The app is rich and it's impossible not to notice how much it has to offer.
Here are some of the unique features we found during our review:
Sports Betting
As you already know, Betika is a sports betting site. The site offers a wide variety of sporting events, especially soccer, basketball, tennis, volleyball, and others. You can bet on your favourite team and games.
Betika offers both local and international competitions, you will find big league games to wager on.
Betting Markets
This bookie not only offers the popular betting markets but also the unpopular ones. If you don't want to bet on the match winner, you can place bets on corners, cards, handicaps,s and others.
Live Betting
Another unique feature of this site is the live betting options they offer. You can bet live on your favourite sports events. It's easy to find the live betting section.
Also, you can keep track of live stats on their app.
Jackpots
Betika is known for its unique jackpot offers. The bookie's app also has its mega, midweek, and daily jackpot offers.
You can participate whether you are using the app or mobile lite site to compete for the jackpot winnings.
Casino Games
Although the bookie does not have a vast casino game library, you can still play many games here.
On the app, punters in Ghana can play slots, roulette, blackjack, and other card games. The Betika app has been fully optimized for a mobile experience.
Payment Options
If you are using Betika in Ghana, you won't find it difficult to make payments and deposits.
Betika offers a lot of payment methods for Ghana players. They accept Visa and MasterCard, as well as mobile money payments.
Betika Mobile Version
There is a Betika Lite version for mobile users who don't want to download the app. The mobile app works on all devices, whether iOS, Android, or Windows phone.
It is very simple and easy to navigate, like the mobile app.
To access the Betika Lite version, you will need your mobile browser.
The benefit of using Betika Lite is that you can save space on your device. The app is well-designed and will fit comfortably on your screen.
Apart from its appeal, the bookie designed a fully optimized and functional site for Ghana.
On this mobile-friendly site, you can bet on all sports this bookie offers. Also, it has all of the markets, games, bonuses, payment methods, and other features available on the desktop site.
Another thing to note is that the mobile-friendly app is not very different from the desktop site. It has a dedicated drop-down menu on the left side of the page.
It also has quick-click icons to find your preferred sports. In addition, you can easily find your bets at the bottom of the page.
Issues with the Betika App
There are a few possible reasons why you could have trouble with the Betika app. Here is how to fix them:
App Installation Issues
If you're having trouble installing the Betika app, ensure your internet connection is working. Also, check how much space you have on your phone.
If your device doesn't have enough storage, you won't be able to install the app. Also, ensure that the app works with your operating system.
Black Screen
This is a common problem with the Android OS. When you start an app, you may see a black screen for a few seconds, and then it crashes.
Most of the time, it could be a short-term problem with loading. 
All you have to do is go to your phone's Recent Apps page. Then, close the app and re-load it once more.
If the problem consists, try hard rebooting your Android phone as well.
Login Issues
If you can't log in, the Betika server may be down, so you can't access your account. Try to join in again in a few minutes.
Also, you might be trying to log in with inaccurate information. Please cross-check your login information to ensure accuracy.
Betika App Conclusion
To begin using the app from Betika, remember you need an account. If you don't have one already, ensure that you register.
The mobile app from this bookie is very easy to use. It doesn't have any complex features, which is good for bettors.
We like that this bookie created not only an appealing app but also a functional one.
On a final note, the Betika app download for iOS and Android is straightforward. As a result, you can download the site and register for your betting account.
Registering on the site and meeting the terms makes you eligible for a Betika welcome bonus.
Betika Ghana App FAQ
Let's answer some questions now.
Yes, the mobile app is safe to use in Ghana. Betika has an app that is fully encrypted and secure.
It's easy to install the Betika app on iOS and Android. You can install it on iOS devices directly from Apple Store.
Android users can install the app using the APK file downloaded from the official website.
You can use the Betika app to bet on sports or play casino games.
On Betika Ghana, you can bet on diverse sports, including table tennis, soccer, baseball, boxing, Handball, volleyball, rugby, and cricket.
You can contact customer support for the Betika Ghana app through email and phone.