Many sports and games are available on Parimatch, which caters to registered bettors in Ghana. Here, you will learn the Parimatch registration process, how to log in, and other relevant information about the site.
Parimatch Ghana Registration: Step-by-Step Guide
Creating an account with Parimatch is a quick and easy process that only takes a few minutes. You can sign up using your desktop or mobile device, whichever you want.
After registering, you will be able to claim the welcome bonus that is given to new players (after meeting the T&Cs).
How to create a Parimatch account?
First, head over to the Parimatch Ghana website.
Second, click the "Sign up" button at the top right corner of the homepage.
When the Parimatch registration form opens, enter your personal information.

These include your date of birth, phone number, email address, and password.

Next, after entering your information, click the "Sign Up" button to submit your details.

After that, the operator will send a verification code to the email address or phone number you provide throughout the sign-up process.
Lastly, confirm your account, and at this point, you should be all set.
---
---
Parimatch App Registration
The procedure of registering on a mobile device operates in a manner that is pretty similar to the desktop version. If you don't want to play on the mobile site, you can download the Parimatch app for the same experience.
This is a step-by-step instruction that will walk you through the process of registering on the mobile app.
First, launch the app after downloading.
Second, navigate to the top of your screen and click the "Sign up" button.


Next, input your details on the Parimatch registration form.


After inputting your information on the registration form, select "Sign up."
After that, the operator will send a verification link to your phone, and you will have to tap it to activate your account. When you do this, your account will be ready, and you can start betting.
What Is the Parimatch Welcome Bonus?
Like other online casinos, Parimatch offers a welcome AKWAABA bonus to new players who sign up on their website.
The welcome bonus is 100% up to 500 GHS. Right now, you might need the Parimatch bonus code to claim it.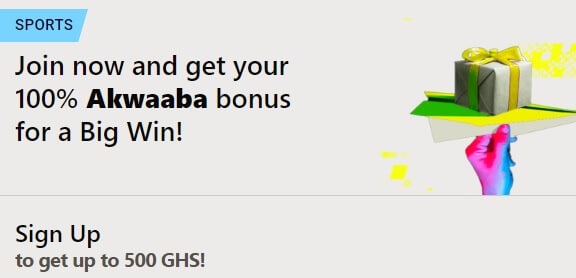 How to Verify a Parimatch Account?
Newly registered bettors on Parimatch must verify their account for a smooth betting experience. You can verify your account by uploading a copy of a passport, a driving license, or a national identity card.
In addition, to verify your residence, upload a copy of a recent utility bill or a letter issued by the government. This should be at least three months old.
Every bettor is required to comply with a set of terms and conditions, which are as follows.
18+ age requirement;
Keeping one's records up to date;
It is strictly forbidden to register an account on behalf of another individual;
Parimatch will request some of your personal information to verify your betting account. This information is only used for verification purposes.
When you register with Parimatch, note that the verification team will verify your information with the KYC documents you provided.
Any inconsistency, however minor, could result in problems with withdrawals or even the closure of the account. After filling out the registration form, you will have to provide an image of an identification document for verification.
It could take the sportsbook up to 24 hours to review the verification request for your account. On the other hand, if there is a large amount of work to do, there could be some delays.
If, after about five days, you haven't received a response to your message, you should consider contacting the support team. If the site accepts your betting profile, you will be able to deposit funds and begin betting on a variety of sports markets.
On the other hand, if your document contains inconsistencies, the operator may ask that you present further verification documents.
What Do I Need to Register on Parimatch?
Even though signing up for Parimatch only takes a few minutes, you can't move on until you satisfy the site's betting requirements. The prerequisites are not challenging to fulfil either.
They continue to be what you require for effective gambling on the website. Here are a few of the Parimatch registration requirements.
Age Requirement
An essential requirement is that gamblers in Ghana must be up to the legal gambling age. You must be at least 18 years old to register on the site.
Hence, if you are below 18, you cannot register and bet on Parimatch.
Phone Number
You won't be able to submit your registration form without a Ghanaian phone number. Hence, this is an essential requirement.
Therefore, you must provide a Ghanaian number to register your account. You will need it to complete mobile money transactions.
Location
To register with Parimatch Ghana, you must reside in Ghana. There are several countries where the sportsbook cannot operate.
Hence, if you are outside the Ghanaian territory, you will not be able to open an account on Parimatch Ghana.
Valid Documents
To prove your identity, you are required to present proper documents. Therefore, to prevent your account from being suspended, you must have the appropriate paperwork for the verification process.
A driver's license, a passport, and a national ID are necessary forms of identification that Parimatch recognizes and accepts. However, make sure not to give the operator any invalid documents.
How to Login to Parimatch?
You need to first log into your account before you can begin placing bets. When you log in, you can access your dashboard.
To log in, you will need to provide your email address and password that was provided during the registration. If you cannot recall the specific sequence of words and numbers, the system will allow you to reset the password.
Aside from betting, logging in is required for you to check the history of your wagers, withdraw any prospective winnings, or deposit. The following are the Parimatch login steps.
First, go to the official Parimatch Ghana website.
Second, click the "Log in" button beside the registration button.
Next, enter your contact number and your password.
Lastly, to log in to Parimatch, click the button that says "Login." You will be redirected to your profile if your credentials are legitimate.
On the other hand, if you enter the wrong phone number or password, the system might give you a login error.
Parimatch Ghana Review
Parimatch online sportsbook combines various sports betting markets with a selection of online casino games. Most importantly, it provides players with the opportunity to participate in live and in-play betting.
This online sportsbook offers a variety of features, some of which are mentioned in our Parimatch review.
After undergoing the Parimatch registration, you will gain access to a new world of opportunities. Bets on sporting events can now be placed by Ghanaians thanks to Parimatch.
Playing there is totally risk-free and entirely within the rules of the game. Both Android and iOS devices are capable of running it effectively.
The user interface is fluid, straightforward, and relatively simple to manoeuvre. In a nutshell, Parimatch is an excellent choice for sports bettors in Ghana.
Customer Service
The site does not disappoint when it comes to customer support. Support is offered in English, even though this is not the native language.
The significant benefit of working with the staff is that they are pretty quick to respond. Live chat is accessible to consumers at any time of the day.
You will see the live chat icon located in the lower right-hand corner of the screen. Phone support is also available using any number on their website.
Also, you can send an email with your question or request to [email protected]
Parimatch Ghana Registration FAQ
Is it legal to register on Parimatch in Ghana?
Yes, it is legal to register on Parimatch in Ghana. They have the proper license to operate as a sportsbook. Hence, you are sure that your information on the site is safe.
Can I register on my mobile device?
Yes, you can. There is a mobile version on the website for bettors who enjoy mobile betting. Also, you can download the application on your device and bet on your sports choices.
How long does the Parimatch registration process take?
When it comes to signing up, the process is uncomplicated, and you may generate an account in a few minutes.
Why can't I register on Parimatch?
If you do not meet up with any of the sign up requirements, you cannot register with the sportsbook. You must be up to 18 years and reside in Ghana.