Bet9ja is one of the leading betting platforms in Nigeria, where bettors can have the best betting experience. This guide will show you how to complete your Bet9ja registration.
How to Complete the Bet9ja Registration Process?
The Bet9ja registration process is quick and easy. Furthermore, it can be completed on any device – desktop, tablet, or mobile smartphone. Here's a general guide for how to register with Bet9ja, and further down the page, we go into greater detail for specific platforms.
Visit the Bet9ja official site.
Click "Register."
Complete the registration form.
Your Bet9ja account is now ready for use.
Bet9ja Registration on Desktop
Bet9ja gave its website a major upgrade a few years ago, and now it's one of Nigeria's most stylish and user-friendly betting platforms. You can effortlessly sign up for a Bet9ja account on your desktop device in a few short minutes:
Click the "Register on Bet9ja" button on this page to be directed to the betting site.
Tap the yellow "Register" button at the top of the homepage.


On the Bet9ja registration form, enter your email, first name, surname, and date of birth.
To claim the Bet9ja welcome bonus, enter the Bet9ja promotion code in the space provided on the form if you have one.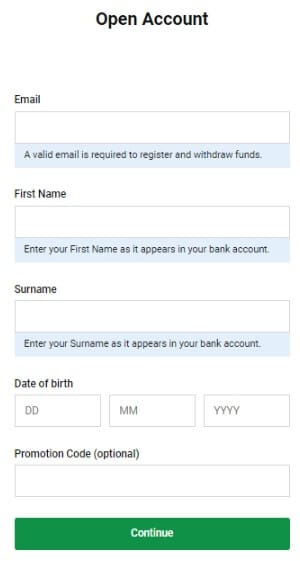 Then click the "Continue" tab to move to the next page of the registration form.
On the second page, you need to create a username and password. Additionally, you must enter your mobile number before clicking "Create My Account."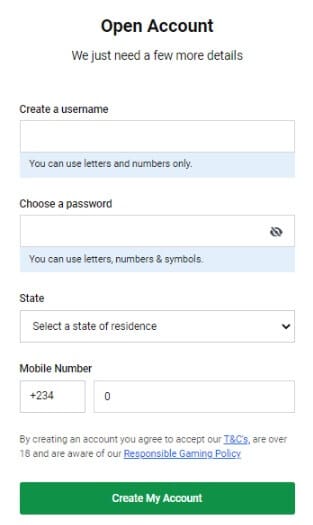 Afterwards, the website will automatically log you into your new Bet9ja account. Also, you'll receive an email for verification purposes. You must click the link (in the email) to confirm your account.

Bet9ja Registration via Mobile
If you're using a smartphone or tablet, registering on Bet9ja in Nigeria is also straightforward.
Firstly, go to the website using the Bet9ja Register button above.
In the top-left corner of the screen, tap "Register."
Complete the 2-part sign-up form by providing your personal details and creating a username and password.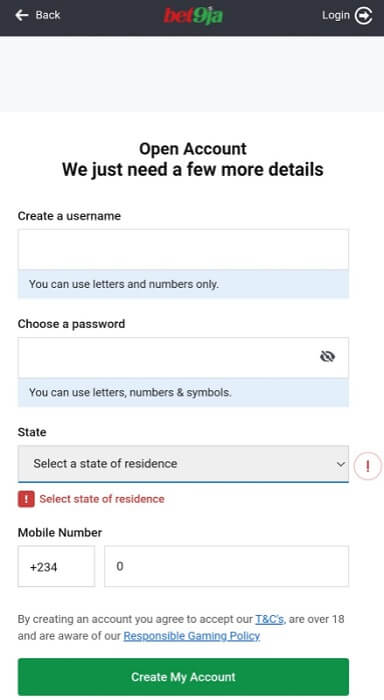 Your Bet9ja account is now ready to use.
Confirm your account by clicking the bookmaker's link to your email address.
Open an Account with Bet9ja – Terms and Conditions
To register a Bet9ja account, you must agree to this betting company's terms and conditions, which include the following:
Being at least 18 years of age and residing in Nigeria.
Providing accurate information on the Bet9ja registration form. This includes your surname and first name as appears on your bank account, email address, date of birth, and phone number.
You intend to open an account for personal use and are not acting for a third party.
You are legally able to enter into binding contracts.
Bet9ja also frowns at customers creating more than one account on the platform. The betting platform can block all your accounts if you are caught.
If you've answered "Yes" to all of the above questions, then you're eligible to set up an account without delay.
Bet9ja Welcome Bonus
Bet9ja offers new customers a welcome bonus when they join the betting platform. New users will get a sports welcome bonus and an extra casino bonus on their first deposits. You can read our in-depth review to see whether you need a Bet9ja promotion code to claim this offer.
Of course, a few T&Cs are attached, like all online betting bonuses. We've highlighted the main points for you below. However, we recommend fully reading the terms and conditions, so you understand the offer's requirements.
Only available to customers in Nigeria. 18+.
A minimum deposit is required to get the bonus.
Only one bonus per person, email address, household address, and mobile number.
Customers who register an account in a Bet9ja shop are not eligible for the casino bonus.
The initial deposit amount must be wagered 1x on sports at odds of 3.00 or greater. The bonus funds will be added to your account after settling these bets.
The wagering requirements for the sports bonus are 10x the bonus amount and 40x for the casino offer.
Bets made using bonus funds must be singles or multiples at odds of 3.00 or greater. All sports and markets are eligible.
Game restrictions apply when playing with the casino bonus.
Other Promotions on Bet9ja after your Registration
After playing through the welcome bonus, you can access other promotional offers on the platform. Both new and existing customers can claim ongoing bonuses. Note that all bonus offers come with the terms and conditions.
Here are the current promotional offers on Bet9ja.
Cut 1
If you have ever fallen victim to one game messing up your accumulator bets ticket, this is the offer for you. With Cut 1, you can still pay out from your betslip if one game cuts your accumulator bet. However, the accumulator bet must contain at least five selections to qualify for this bonus.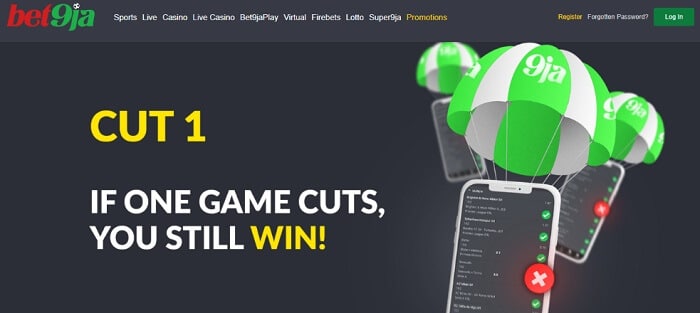 Also, you must select "Cut 1" on your betslip to get the bonus so that the bookmaker can recalculate your odds.
170% Multiple Boost
With the multiple boost offer, you can boost your odds by a percentage on a selected number of games. You must select 5 games on multiple bets to qualify for this promotion. You will get a 5% boost when selecting 5 games, increasing 170% when selecting 38 games or more. Each event in the selection needs to have minimum odds of 1.20.
Win Cash
Bet9ja allows customers to win cash on the platform after creating an account. With this offer, Bet9ja will convert your sports and casino bets into points, and you will earn rewards in cash. This reward applies for all bets, whether you win or lose, but the points earned depend on the number of bets, selections, and the amount staked.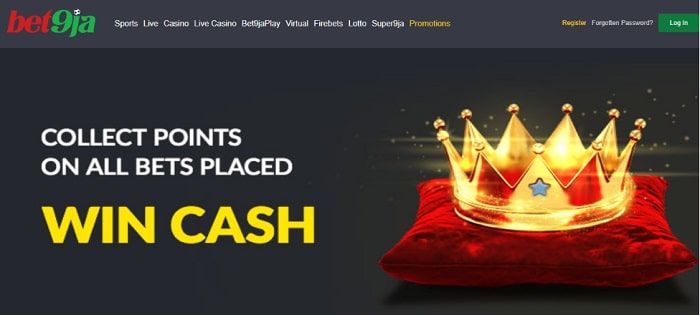 Why Register on Bet9ja
Registering an account on Bet9ja comes with lots of benefits. This section of the Bet9ja review will explain some of them.
Betting Options
Firstly, creating an account on Bet9ja allows you to access the betting options available on the platform. If you are a sports lover, the bookmaker allows betting on various popular sports, including Soccer, Basketball, Tennis, Baseball, and Darts. In fact, Bet9ja allows betting on up to 50 sports. Furthermore, the bookmaker allows special bets like politics and provides different sections for casino games, virtual sports, and other special offers like Super9ja and Firebets.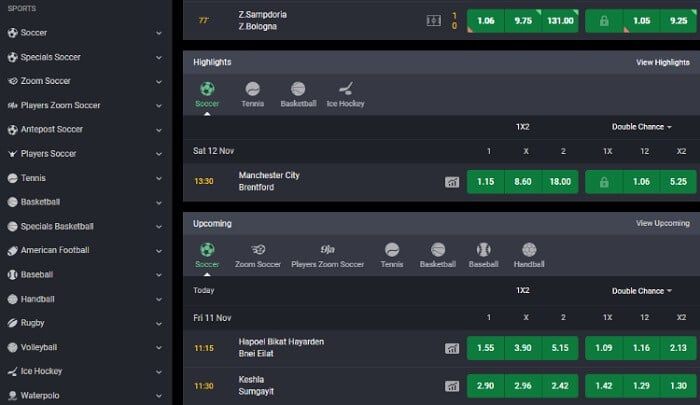 Payment Options
With Bet9ja, deposits and withdrawals from your betting account are simple. The bookmaker provides payment options that customers are familiar with, allowing them to easily place bets and claim their winnings. Some payment methods available include online deposits, bank transfers, cash deposits, ATM deposits, and credit card deposits. Ensure that the payment method has the same name as your registered name on Bet9ja to avoid problems.
Mobile App
The Bet9ja mobile app is only available for Android users and offers a better user experience than the desktop version. Bet9ja provides two apps; one for sportsbook games and the other for casino games. As a result, sports lovers can download the sportsbook app, while casino lovers can download the app explicitly meant for casino games.
You must register on Bet9ja to use the sports app to place bets or enjoy the best betting experience.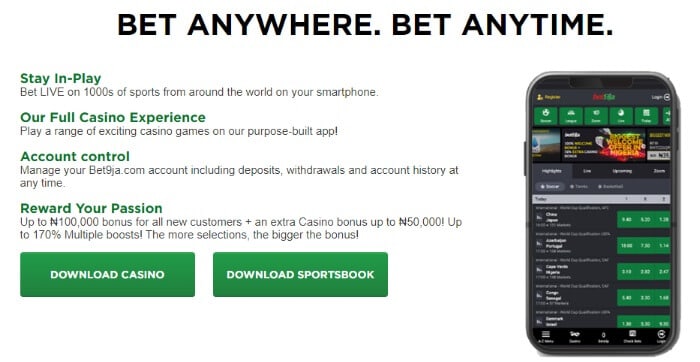 Promotions and Bonuses
Usually, many bettors sign up with a bookmaker because of the promotions and bonuses it offers. This is also the case for Bet9ja, as you will get one of the best registration bonuses in the betting industry when you create an account. You can visit the promotion section of the website by clicking the "Promotions" tab.
How to Bet on Bet9ja upon Registration
You can start placing bets immediately after registering an account on Bet9ja. Here is how to go about it.
The operator will log you in automatically immediately after you finish the registration process. Next, click the "Make a Deposit" icon.
Afterwards, go to the homepage and tap on "Sports." You will see a list of available sports.
Click the sports of your choice, for example, soccer. Next, you will see a list of categories with competitions you can wager on under soccer. This goes for all sports.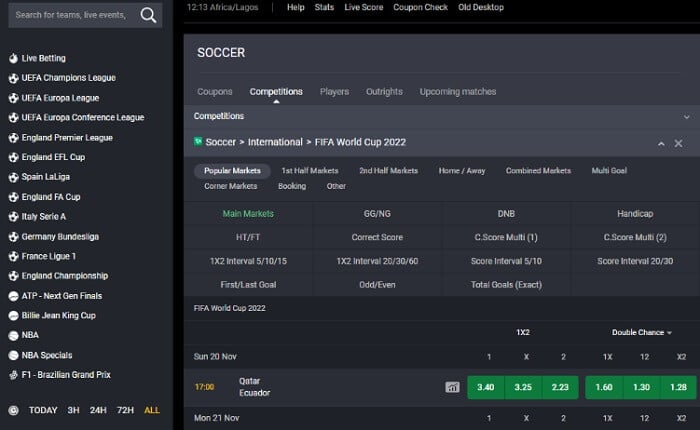 Choose the category of your choice. Assuming you chose "International" as your category, you will see a list of available competitions or tournaments.
Select the tournament you want to wager on. Assuming you selected the "World Cup," the page will contain all the available events and betting markets under this competition.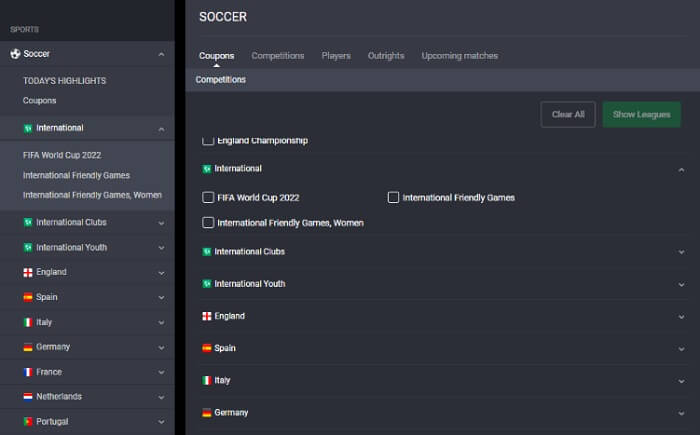 Find and click the game of your choice and select your odds. This will automatically create your betslip. You can pick as many games to make an accumulator bet.
When you are done selecting your games, go to your betslip, enter your stake amount, and click "Place Bet" to book your bet. You can tick the small box if you want the changes in odds to reflect on your betslip. However, you can untick the box if you want the odds to remain the same at the time of booking.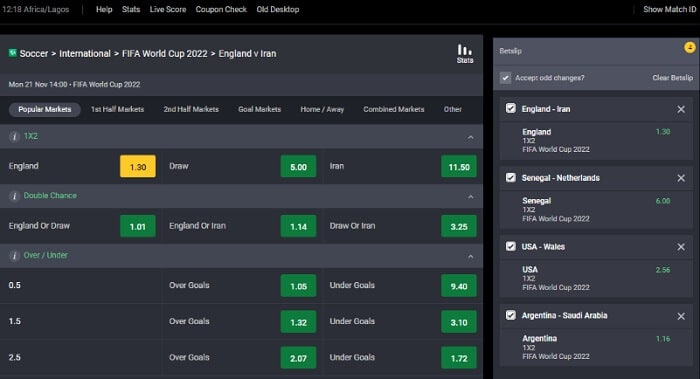 Next, the bookmaker will lead you to a page to deposit funds into your account (if you have yet to do so). Usually, Bet9ja allows you to make a deposit immediately after you complete the registration form.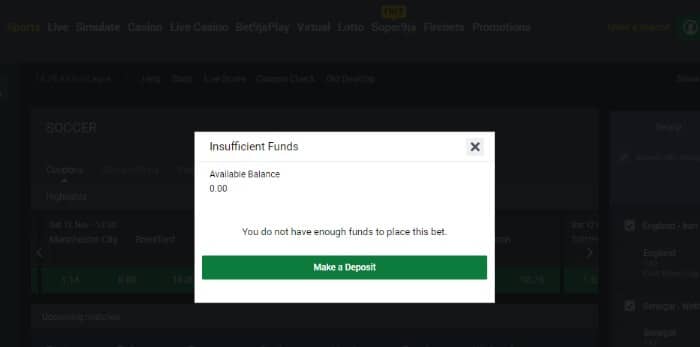 Now, wait for the games to be played to determine if your bet is a winner.
How to access the Bet9ja Account Deposit?
Once you complete the initial Bet9ja registration in Nigeria, you are automatically logged into your new account. You'll see a green button: "Make a Deposit."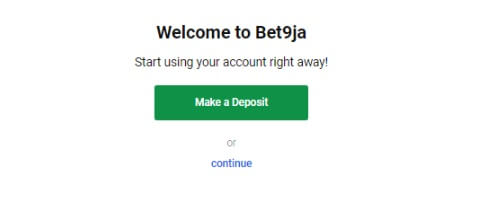 After clicking the button, a new secure payments page will open. From here, you choose your preferred deposit method by clicking "Continue."
Follow the on-screen instructions to complete the transaction. Most deposit methods are instant, so you can start betting within seconds.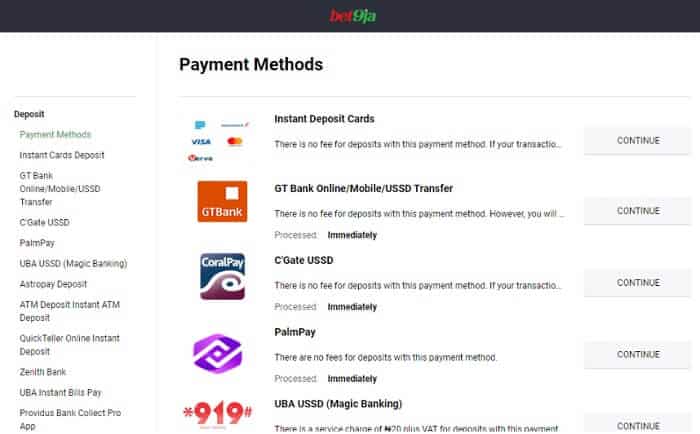 How do I Add a Bank Account to Bet9ja?
Adding a bank account to Bet9ja is quick and seamless. However, you can only add a bank account with the same name as your registered name on Bet9ja.
Follow these steps to add a bank account on Bet9ja;
Visit the bookmaker website and log into your account.
At the top-right corner of the page, click "My Account" then "My Account" from the list of drop down.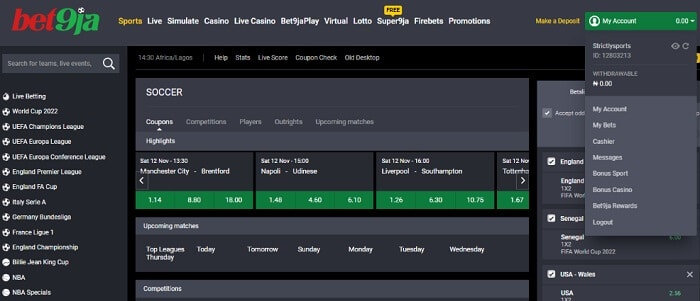 On the resulting page, click "Manage Bank Account" and then "Add Bank Account" from the drop-down.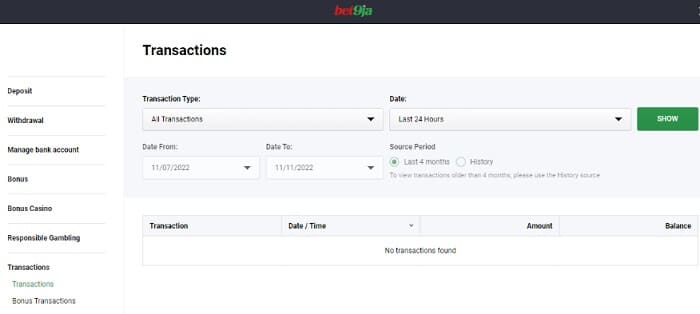 Enter your bank account number, choose the account type, and your bank from the available list.
Finally, tap on "Continue" to finalise the process.
Is it Legal to Register on Bet9ja in Nigeria?
Yes, Bet9ja is completely legal in Nigeria. KC Gaming Networks Limited is the registered company of the Bet9ja brand.
KC Gaming has a license from the Lagos State Lotteries Board. Furthermore, it has a Sportsbook and Gaming licence from the State of Osun and holds the appropriate licences in all other Nigerian states.
Since it launched in 2013, Bet9ja has become one of Nigeria's biggest and best betting companies. To highlight its popularity, Bet9ja was the third most-visited site in Nigeria in 2020 and the only local website to make the top 500 list globally (for total visits).
Bet9ja is an official partner of the Nigeria Professional Football League, cementing its position as the country's leading local bookmaker.
What Document to Provide When Registering on Bet9ja
The registration process on Bet9ja does not take long to complete, and you only need a few details to open an account. Here are some of them.
Valid Email Address – The bookmaker will send you a link to activate your account upon registration. It will also serve as the medium through which Bet9ja will communicate with you, i.e. receive customised bonus offers. You can also use your registered email to retrieve your account if you need to remember your login details.
Surname and First Name – Bet9ja advises users to input the names as they appear on their bank accounts. This will help them avoid any issues when withdrawing their winnings or verifying their account.
Date of Birth – Confirms you are of the legal age of 18. Any defaulter will lose their accounts and funds when caught. Using your correct date of birth will also ensure you avoid verification issues later.
Phone Number – Helps you receive promotional offers from the operator. Also, you can use your phone number to retrieve your account in case you forget your login details.
State of Residence – It is crucial to enter your residence to allow Bet9ja to certify that you are wagering from Nigeria. Only bettors from Nigeria are allowed to use Bet9ja.
Do you have problems with Bet9ja Registration?
Occasionally, you could run into problems when registering on the betting site. Here are the common issues and how to solve them.
Invalid Email Address – If you enter an invalid email address, you cannot create an account on Bet9ja. A "Green Mark" will appear when you enter your email address. Also, you must have access to the supplied email address because you cannot activate your betting account without it.
Invalid Personal Details – Inputting your surname and first name as they appear on your bank account is vital. Make sure to enter your correct phone number, date of birth, and state of residence to have a seamless registration process.
Slow Internet Connection – If you are opening a Bet9ja account online, you must be connected to the internet. You might have problems if you need a strong internet connection.
Website Maintenance – Although this seldom happens, you may need help registering an account if the Bet9ja website is down. If you try to access the site and it is not going through, it may be that the website is undergoing maintenance. The only solution, in this case, is to hold on and try again later.
How to Verify my Bet9ja Account
The betting platform takes KYC very seriously, and this will ensure they do not encourage internet fraud and money laundering. As a result, Bet9ja will ask you to provide a government-issued ID to verify your account. This could be your international passport, national ID card, NIN Slip, or driver's license.
Bet9ja often ask users to verify their accounts when they want to initiate their first withdrawal to be sure they are the real owners of the account. So, it is recommended that the users use names that tally with the names on their government-issued ID during registration.
Bet9ja Blocked my Account: What Should I Do?
The primary reason Bet9ja may block your account is if you open more than one account. The betting platform only allows bettors to have one account. If you are caught with more than one account, Bet9ja has the right to block all your accounts. However, if you have more than one account due to a mistake, you can quickly contact the betting platform to help close one.
Also, Bet9ja could block your account if you enter an incorrect password when trying to log into your account. You only have five attempts to provide your correct username and password. Once you exceed the five attempts, the bookmaker will block your account.
Furthermore, using names that do not tally with what is on your bank account or ID Card could allow the sportsbook to block your account. In addition, Bet9ja will stop your account when customer support finds out that you are not up to 18. Also, you will lose your account if the betting platform detects you are not wagering from Nigeria.
The only solution to retrieve your account is to contact customer support and provide the necessary documents requested.
Can I Close my Bet9ja Account?
Yes, you can close your Bet9ja account any time you want. However, you must contact Bet9ja at [email protected] or through your account to request an account closure. Provide the following details;
Account details
Reason for Deactivation
Valid ID Card
How to Edit my Bet9ja Account Details?
While you cannot change your registered username, Bet9ja allows users to change some of their account details. However, you have to contact customer support.
On the other hand, you can change your password on the website with these steps:
Log into your account, click on "My Account," then "My Account."
Tap the "Account Settings" icon on the resulting page.
Next, click on "Change Password."
Enter your old password.
Input your new password and confirm the new password.
Lastly, click on the "Change Password" tab to finalise the process.
FAQ
How do I create a Bet9ja account?
Click any of the links on this page to visit Bet9ja. Hit the "Register" button and complete the sign-up form.
Is Bet9ja legit?
Yes. The Lagos State Lotteries Board and the State of Osun licence Bet9ja (through its registered company KC Gaming Networks). It also holds the required licences to offer sports betting services in other states where gambling is allowed.
How to get the Bet9ja registration bonus?
The Bet9ja registration sports bonus is credited to your account after settling the qualifying bets. However, this operator states that customers should allow 24 hours to get the casino bonus.
Is it possible to place a bet on Bet9ja without having an account?
To bet online on Bet9ja, you must have an account. But it is possible to place a bet without an account from one of Bet9ja's land-based retail bet shops.
How to reset my password on Bet9ja?
If you have forgotten your password, you can reset it by clicking the "forgotten password" link. This takes you to a separate page where you choose how to change the password – via email or SMS confirmation. Next, insert your email/phone number, and a reset link will be sent to you.
How to reactivate my Bet9ja account?
To reactivate an old Bet9ja account, try your original login details. If they do not, contact customer service, and they will manually reactivate your account.
Can I do Bet9ja registration from my mobile phone?
You can complete the Bet9ja from any mobile phone; the sign-up process is the same.
Is it free to register on Bet9ja in Nigeria?
Yes. You can open an account from a betting shop, online, or through the app. Every option is entirely free. Payment is required when you want to deposit to add funds to your account.
How can I activate my Bet9ja account?
You can activate your Bet9ja account by clicking the link in the email that Bet9ja sends you after completing the registration process.
Can I have two Bet9ja accounts?
No, the betting platform only allows customers to have one account. Bet9ja may block all your accounts if you are caught having more than one account.
How long does Bet9ja sign up take?
It takes only a few minutes to sign up on Bet9ja. Click the "Register" icon on the homepage to initiate the registration process.
Can I have 2 Bet9ja accounts?
No, you can only have one Bet9ja account. The betting platform will block both accounts if you are caught.