This article will look at how to make a Bet9ja withdrawal. Once you have signed up for a new customer account using the MAX9JA Bet9ja promotion code, you will be able to explore all the betting opportunities.
Hopefully, you will be successful with your betting and then want to make a Bet9ja withdrawal. Read on to find out all about the process, how you can get hold of your money once you have moved on from the Bet9ja registration, and what Bet9ja withdrawal time to expect.
How Can I Withdraw My Bet9ja Bonus?
As with most online betting bonuses, some requirements must be met if you wish to withdraw the bonus amount. When you sign up with Bet9ja, you can claim a 100% deposit match up to the limit of N100,000. You will also receive a 50% extra casino bonus.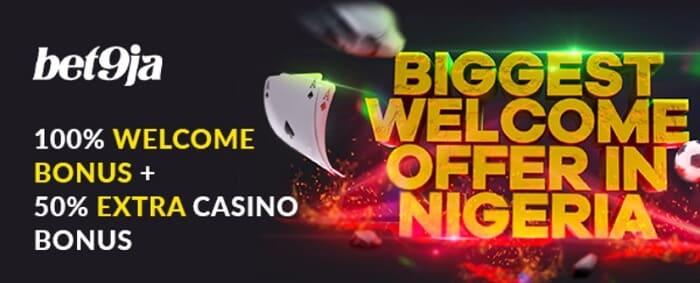 You can withdraw the amount, but there is a Bet9ja withdrawal policy. To withdraw the sports betting deposit match bonus, new bettors must wager and settle the full bonus amount a minimum of ten times with odds of 3.00 or greater. Furthermore, this has to happen within 30 days of the bonus being credited to the account. If you adhere to this you can then withdraw the Bet9ja bonus without a problem.
There are also Bet9ja withdrawal rules regarding the casino section of the bonus. Here, the 50% casino bonus must be staked no less than 40 times with a minimum bet of N50 within seven days of signing up. You should also probably check whether different casino games have different wagering results. It could be that you have to play more slots than roulette games to meet the wagering thresholds more quickly.
The withdraw Bet9ja bonus process is the same as you would request a withdrawal. To get started, you need to fulfil the requirements.
How to Withdraw Money From Bet9ja
Although there are some standard Bet9ja withdrawal rules when it comes to taking out bonus amounts, you can withdraw your other funds at any time. But expect some kind of Bet9ja withdrawal time, as the operator will need to confirm that it is a legit transaction.
Making a Bet9ja withdrawal is relatively straightforward and will take no time at all. This leaves you with the freedom to concentrate on more sports betting.
How to Withdraw From Your Bet9ja Account to Your Bank Account
Bettors registered at Bet9ja can only withdraw funds directly to a bank account. Despite this minor setback, the process is still quite simple to complete. Moreover, the entire withdrawal procedure is designed to be completely safe and secure too. You can count on Bet9ja to look after your money until you need it again.
You can follow this step-by-step guide:
First, log into your Bet9ja account and select "Withdraw" from the "My Account" menu.

Your bank account must be registered on the Bet9ja site.
If registered, just enter the amount you wish to withdraw and select the correct bank account from the drop-down list.
Click on "Make Withdrawal."
Remember that the minimum withdrawal allowed is N1,000.
Choose SMS or email to receive a one-time password (OTP) to authenticate the request.
Once the OTP has been entered, your withdrawal request will be confirmed. Keep in mind that the Bet9ja withdrawal time may depend on which bank you use.
What are the Bet9ja Withdrawal Rules?
If you wish to make a Bet9ja withdrawal, you should be aware that several Bet9ja withdrawal rules must be adhered to. This is on top of any withdrawal Bet9ja bonus policy. Apart from the minimum and maximum amounts outlined below, you must ensure that your bank account is registered with Bet9ja.
Furthermore, you may have to verify your bank account to be able to withdraw funds from your Bet9ja betting account.
What is the Minimum Withdrawal at Bet9ja?
The minimum withdrawal amount at Bet9ja is N1,000. You must withdraw at least this amount at any one time.
What is the Bet9ja Withdrawal Limit?
As we have mentioned, the minimum withdrawal amount is just N1,000. The Bet9ja maximum withdrawal is N9,999,999 per day. If you have any desire to withdraw more than the maximum amount, you should get in touch with the customer support team. They may be able to help with your demand.
Can I Withdraw From Bet9ja to OPay?
According to the Bet9ja betting site, you are only permitted to withdraw funds to a registered bank account. This may change in the future – keep revisiting this article as it is regularly updated with new information.
How Many Hours Does it Take to Withdraw From Bet9ja?
Many of the deposit payment methods at Bet9ja are instant, allowing you to access your funds straight away. But it does take a little longer to withdraw your winnings.
However, this is the usual protocol with online sportsbooks, as they strictly follow banking and security regulations. The Bet9ja withdrawal time is usually within 24 banking hours. So, you will find that the Bet9ja withdrawal time is the same as most other online betting sites.
The one thing that you should note when it comes to withdrawal times is business days. For example, if you see that your funds will be with you in 1-2 days, that could mean business days. This is important as your withdrawal may take a little longer if you request over a weekend or a public holiday.
Weekends or public holidays will not be included as 'business days', so you should make your request with that in mind.
Problems With Bet9ja Withdrawals
On rare occasions, you may encounter a Bet9ja withdrawal problem. But, you should not worry as any issue can be rectified immediately. This means that you should still receive your withdrawal in the quickest time possible.
How to Query a Pending Withdrawal on Bet9ja?
If you wish to query a pending withdrawal, you can go to your payment history after 15 minutes of requesting the withdrawal. There probably won't be a Bet9ja withdrawal problem at this time, but you can still check.
You will see a list of pending transactions on your account. Click on the query button next to the Bet9ja withdrawal you are interested in. The transaction will then be updated to either "Failed" or "Successful."
What Should I Do if I Cannot Withdraw From My Account?
If you still have a Bet9ja withdrawal problem, then the next step would be to get in touch with the customer support team. They will be able to look into your issue in greater detail and resolve it as soon as possible.
You can contact the help team with the following methods:
You should find the customer support team will be able to solve any problem and make sure that you receive the correct withdrawal amount.