BetKing is most certainly one of the top sportsbooks for punters in Nigeria. With a user-friendly website interface and a host of sports to attract punters, the operator has done very well since launching in the region. Placing a bet at BetKing is similar to most other sportsbooks, and you can conduct a BetKing coupon check to keep up with your bets.
What is a BetKing Coupon Code?
When you place a bet at BetKing, the betslip number that confirms it is known as the BetKing coupon code. To conduct a BetKing coupon check, you need to visit the BetKing website, or you can do it by other methods.
We'll explain this in more detail in our guide's next section. For now, we'll go into more explanations about what the BetKing coupon code is.
To bet on BetKing, you can use the website, SMS or USSD. Each method offers the same betting options and must be registered.
The BetKing registration process is straightforward; you just need to fill out the form. Next, you can log in and browse the available events to place a bet on. Select a market, adjust your odds and stake, and all of this will be added to your betslip.
If you place a bet using SMS or USSD, you will receive a text message confirming your bet. You must go to a different website tab to check BetKing slip for your bet.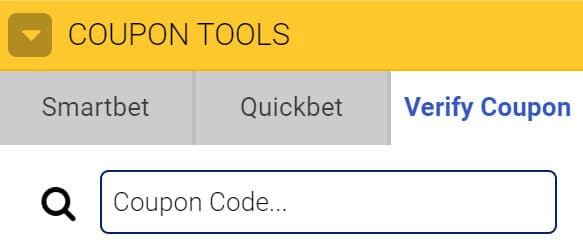 How Can I Check my BetKing Coupon?
When you have placed multiple bets and have bonuses using a BetKing promo code, you may have trouble keeping up with the status of each wager. In this case, you can check the status using either the website, SMS or USSD for your BetKing coupon check.
The procedure is the same on mobile and desktop. And you need to follow a few easy steps to complete your BetKing coupon check.
To do this via the website, you need first to launch the website and log in to your account. Next, in the top right corner, you need to enter the bet ID of the specific coupon for which you want to check coupon result. The bet ID is an 18-digit code unique for every bet.
This should be typed out in the verify coupon area, and you must click on search. Afterwards, a window will pop up with the details and status of your BetKing coupon check.
To check the status of your bet using SMS, you need to text your bet ID to the number 29070. Then, you will receive an SMS with the details and status for you to check coupon result.
You can also conduct the BetKing coupon check using USSD. For this, you'll have to dial the USSD code on your phone keypad. The code is *375#, and afterwards, you will receive prompts where you have to select the COUPON STATUS and then enter your bet ID.
The next window will display your bet's details and the status.
How Can I Check the BetKing Coupon Results?
The purpose of checking the status of your BetKing coupon is to know whether your ticket is a winning ticket. You can do so in one of three ways; using the website, SMS, or USSD.
All of the methods will reap the same results. And you can apply whichever you prefer for your BetKing coupon check.
Once you've visited the site and entered your bet ID in the "Enter coupon code" area, you can also choose to see the results of your coupon.
After you enter your bet ID, the following window will display tables with the status of your bet. There, you need to click on "proceed," and the website will notify you regarding the results.
If a green box is displayed, your ticket is a winning ticket. And if a red box appears, that is unfortunate as that means your ticket has lost.
BetKing also provides a list of bet codes that punters can use to gain immediate access to results. This feature makes everything that you do on the site much faster.
BetKing Old Mobile Check Coupon?
The BetKing coupon check process is the same as the old and the current versions of the mobile site. When you initially launch the BetKing website, you will receive a prompt on whether you want to select the mobile + or mobile lite version of the BetKing website.
You can select a default the next time you log in to BetKing using the mobile version according to your preferences. For now, select either, and it will redirect you to the BetKing homepage.
From there, you should be able to see an option for the BetKing "coupon check." Click on it, and it will direct you to the "Enter Coupon Code" area, just like on a desktop.
In the coupon code area, you need to type out your BetKing coupon check or bet ID in the coupon code area. This unique ID will be generated when you place a bet.
Afterwards, the website should display the details for you to check the BetKing slip. From there, you can choose to proceed, and the window will display whether yours is a winning ticket or not.
Need Help? Contact BetKing Customer Care
We decided to include the BetKing customer support details since checking the betslip for results may seem like an intimidating prospect. But when you know the process, it will be pretty straightforward.
But if you have issues, you can contact BetKing by contacting the live chat. There is also a phone number that you can call which is 017005581. You may also choose to email it at cs@betking.com.
Operating days for customer service are Mondays through Sundays and are available 24/7. The operator is also available for punters to contact using social media.