Frapapa Livescore is one of the betting tools customers can use as part of their research for pre-match and live sports betting. It's easily accessible on desktops, mobiles, and through the Frapapa Nigeria app.
This guide will explain all you need to know about Frapapa Livescore, including how to use it and the benefits it provides. Plus, you can find out about the new player welcome bonus that's available with the latest Frapapa promotional code if available.
What is Frapapa Livescore?
Frapapa Livescore is a hub where players can view live scores, results and statistics. To access this invaluable feature, click on 'Results' in the desktop menu. For mobile users, expand the drop-down menu and tap on Results from there.
Of course, before getting to the Frapapa Livescore area, it's worth knowing more about the eye-catching welcome bonus. The total package is worth 100% up to ₦50,000, which covers the first three deposits like so: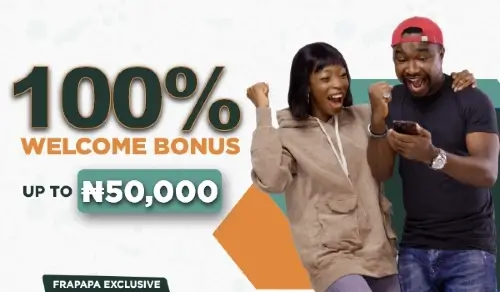 It couldn't be easier to get your hands on this offer. Here's a quick walk-through guide to get you started.
Visit Frapapa Nigeria using the link on this page.
Click 'Register' and complete the sign-up form to create your account. Also, enter any Frapapa promotional code if you have one.
Once your account is verified, go to the cashier and make your first deposit of ₦100 or more.
While depositing, make certain that you activate the bonus when prompted.
The money funds will be added to your account once your deposit has cleared.
There are some terms and conditions to follow in relation to qualifying bets and wagering requirements; however, if you successfully navigate those within the permitted time, you'll be able to cash out your winnings.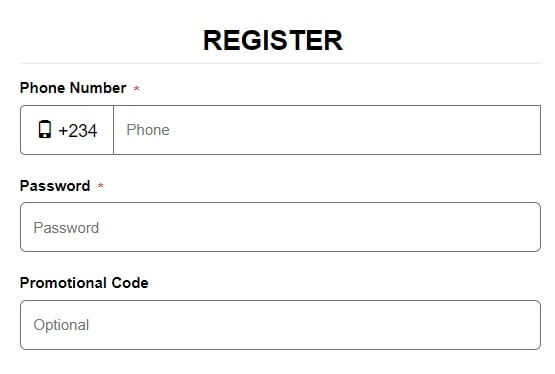 Frapapa Soccer Live Score
Soccer livescore is the most popular section within this feature. Players can view results and H2H stats from a plethora of matches. There's a menu on the page with all of the countries, leagues and tournaments, making it easy to find the games you want to look at.
Additionally, under the 'Today's matches' tab, it's possible to view in-play scores. However, soccer livescore lacks the in-depth minute-by-minute stats, such as possession, shots on goal, and dangerous attacks. To get this data, go to the live betting section and tap on the bar chart icon next to the match you're interested in.
What are Frapapa Livescore Features
Among the primary features is a menu with quick links to:
Yesterday's matches – effortlessly view the results from a range of sports that took place yesterday. You can delve into individual matches to get a more detailed picture of the action.
Today's matches – this is essentially a 'live now' feed, meaning you can view all the scores from your favourite sports in one place.
Tomorrow's matches – planning your bets is important to any strategy. Using tomorrow's matches, you can find the top games and thoroughly research your bet selections.
In addition to those, there's a calendar that you can click on to view the results of upcoming matches on a specific day. Another feature is 'My Events' and 'My Competitions'. This allows you to check a star, kind of like a favourites button, and add them to your lists, so you can quickly view each one when required.
Which Sports are Available on Frapapa Livescore?
All of the sports that you can bet on at this site are bundled into the Frapapa Live feature. Therefore, you can get results from matches and competitions spanning:
Soccer
Basketball
Tennis
Ice hockey
Handball
Volleyball
Baseball
Rugby
More …
When you open the 'More' section, you'll find American football, badminton, bowls, cricket, darts, esports, futsal, snooker, and table tennis. As a note, the esports' category can be split into separate games, including League of Legends, and Counter-Strike: Global Offensive.

Frapapa Livescore Advantages
The advantage of Frapapa Livescore is that it compiles all of the essential information for bettors into one area. Customers can use the results and statistics as part of their research.
We like the calendar feature too. This is ideal for preparing bets in advance, which is when the prices tend to be higher (on the favourites). And, as Frapapa Livescore covers all sports, it caters to every punter.
Frapapa Livescore Disadvantages
The main disappointment is that the statistics, both for past matches and live sports, don't go deep enough. However, it should be pointed out that you can find this elsewhere in the sportsbook, so while it's a drawback of Livescore, it's not a weakness of Frapapa.
Something else, while you can view the scores from various live sports, you cannot bet on them through the Livescore interface. To place a bet, you must go back to the sportsbook and find the event to get your bets confirmed. It would be more straightforward if there was a 'Bet Now' button, in our opinion.
Frapapa Welcome Bonus
If you want to give Frapapa a try, don't forget to take advantage of the multi-deposit welcome bonus. If you're a resident of Nigeria and you're a new customer, you're eligible to claim 100% up to N50,000 when you sign up and deposit.