Frapapa predictions are tips for betting on games with the bookmaker. The major Frapapa prediction are on soccer matches, even though you can have predictions on other sporting events. In this article, we look into the Frapapa prediction for some upcoming matches. If you are a new customer on Frapapa, you can create an account using the Frapapa promotional code.
Today's Frapapa prediction

allee
Yield: 11.62%
Marumo Gallants
vs
Sekhukhune United
Marumo Gallants 0.00 (AH)
Hi bE Community off we go to Africa, football. The hosts are the slim favs in this match up, I think they might snatch the dub here, at least should not lose. Hence my new bet 10 out of 10 units on Marumo...

GREENS
Yield: 1.45%
Kaizer Chiefs
vs
Royal AM
Royal AM 0.00 (AH)
29 Jan, 16:30 Kaizer Chiefs – Royal AM An inconsistent Kaizer Chiefs team definitely opens opens up this game for Royal AM even this is a risky one but I see them talking their chances in this game....

Montezuma4
Yield: 0.84%
Richards Bay
vs
AmaZulu FC
Under 0.5 goals in 1st half
Hi all and welcome at this South African game between Richards Bay and AmaZulu. In this game I see a very good chance for a bet under the line of 0.5 goals at the end of the first half. Richards Bay saw...

Kopsamson
Yield: 0.12%
Marumo Gallants
vs
Sekhukhune United
Marumo Gallants 0.00 (AH)
Marumo Gallants will be playing against Sekhukhune United in the South African Premier Soccer League and I am tipping the home team Marumo Gallants to win this game with a 0.0AH, I think Marumo Gallants...
Frapapa correct score
The correct score is a betting market available for most sporting events. In the correct score market, your goal is to predict the final scoreline of the game at the end of regulation time. The correct score market is one of the hardest to predict, so the value of the odds is also high. Some games with the correct score market on the bookmaker include soccer, American football and hockey. One of the betting tips to remember when placing correct score bets is to check the head-to-head record of the teams.
Frapapa Odds
The odds on Frapapa NG are competitive compared to other operators. The bookmaker makes sure the odds on games such as soccer, basketball, rugby, cricket and other popular games are the best value in the market. You can get odd boosts in soccer games on special events like Champion League, World Cup, AFCON and more..
You can also get value on live betting odds when you follow the match. Even though to place bets in the live betting section, you need to decide quickly as the odds change quickly, so a beneficial odd may be unavailable as the game progresses.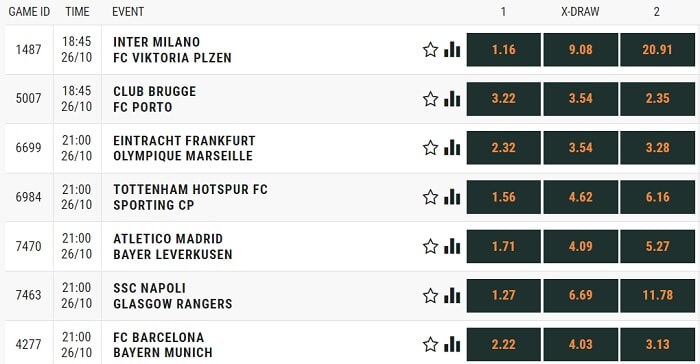 Frapapa bonuses
The good thing about Frapapa is the numerous bonus options you have to choose from as you make your predictions. These bonus offers give you more winning opportunities as you place your Frapapa predictions. Here are some Frapapa bonuses
Welcome bonus
There are two bonus options for the bookmaker, the first is the sports welcome bonus, and the second is the casino bonus. The sports welcome bonus is 100% of your first deposit up to ₦50,000, while the casino welcome bonus is 600% Casino & Virtual Deposit Bonus. You will have to meet T&Cs and wagering requirements for these two bonus options before withdrawing the amount.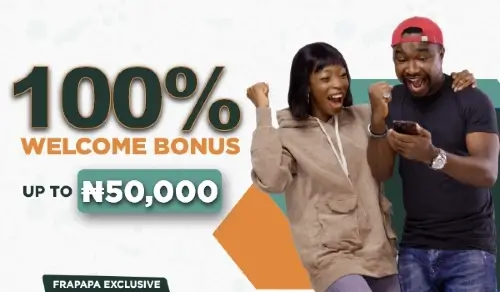 ACCA bonus
This is an accumulator bonus. The ACCA bonus is 400% of your winnings in an accumulator. To qualify for this bonus, the games on your bet slip must have a minimum of 1.20 odds. The bonus starts from 5 games and goes up to 50 games.
Frapapa club
Join the Frapapa club and get up to N10,000 in free bets weekly. To qualify for this bonus, play a bet of at least 2.5 odds and stake it with a minimum of N5,000 weekly. The next week, you will receive a free bet worth N500. If you stake between N10,000 – N20,000, you get a free bet of N1000. When you stake N20,000 – N50,000, you will get N5,000. If you stake above N50,000, you will get N10,000 worth of free bets.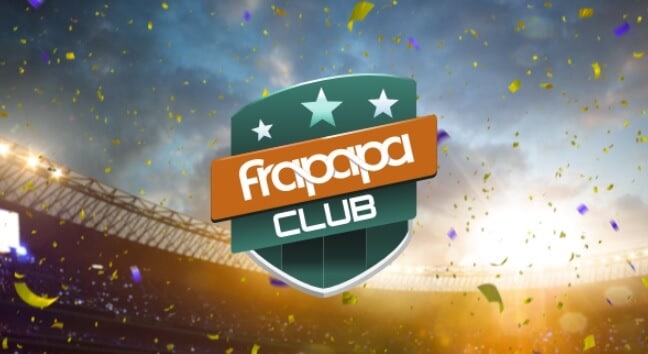 Cut 1
You can get a refund of your stake up to N10,000 on your ticket that was cut by only one game. The cut 1 bonus assures you of a refund. All you have to do is to meet the requirements. And they include that the bet must be an accumulator bet with 10 games and above. If one game cuts the ticket, you will receive a free bet of your stake, valid for 7 days.
Cashout
If your predictions are not going according to plan, you can cash out your game. This means you will take a percentage of the amount on the bet slip, not the full amount. The cashout option is available for most games, just look for the icon, and click on it to reveal the cashout prize.
Acca battle
You can win more on your accumulators when you bet on 5 games or more accumulators and stake it with N500 and above. For each 5-game accumulator you stake with N500, you get 1 point. If you accumulate up to 1000 points, you can unlock some prizes. From 7000 to 10,000 points, you will compete with other bettors for the 1st three spots and can win some prizes.
FAQ – Frequently asked Question about Frapapa
We conclude this article on Frapapa prediction by answering some frequently asked questions about the bookmaker. You can contact the customer care team on the Frapapa NG website if you have more questions.
How do I bet on Frapapa?
To bet on Frapapa, you must complete the registration process and deposit money into your account. After that, log into your account, head to the sports section and select the sports you want to bet on. Next, click to show the available betting markets, and click on the odds to make your predictions. Finally, enter a stake amount and click on the 'Confirm' button to place your bets.
Is Frapapa legit?
Yes, Frapapa is a legit betting website that offers betting services to bookmakers in Nigeria. Frapapa is registered as Soloti Gaming Limited and is licensed to provide online betting and casino services by the National Lottery Commission, Nigeria and the Lagos State Lotteries and Gaming Authority.
Is there cashout in Frapapa?
Yes, there is a cashout feature available on Frapapa. To cash out a bet, you must see the cashout icon next to it; click on it to reveal the cashout offer.
Can I withdraw my bonus on Frapapa?
No, you can't withdraw any bonus you receive on Frapapa directly. To withdraw a bonus amount, you must convert it to real money by meeting the bookmaker's wagering requirements. After then, you can make a withdrawal request.