New players who want to join this betting platform can complete the Ogabet registration to create a new account. Once players have joined Ogabet Nigeria, they can access a range of betting options and use the Ogabet promo code (when and if available).
How to Complete the Ogabet Registration Process?
Firstly, any new player wanting to bet on Ogabet must complete the Ogabet registration before they can start placing wagers. The Ogabet register process is quick and easy, and it only takes a few minutes to finish. Before completing the process, bettors need some details to hand, like a valid mobile number.
Below, we outline the Ogabet registration process with a step-by-step guide.
First, new customers can head to the Ogabet Nigeria homepage. Then, from here, press the green and yellow 'Register' button in the top right corner of the screen.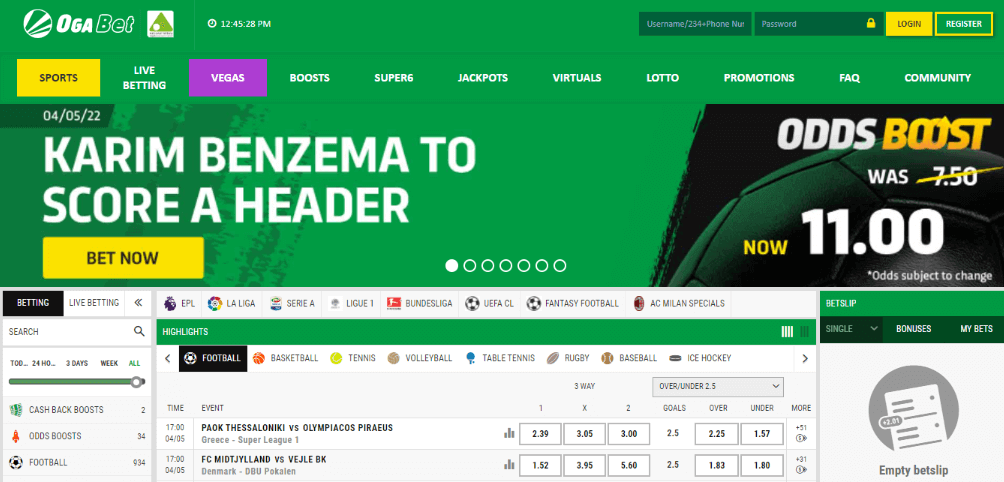 Next, a new page will load, prompting players to complete the Ogabet register process. During this step, players choose whether to continue online or via mobile. If using the online option, press 'Use full registration form', and a new page will load.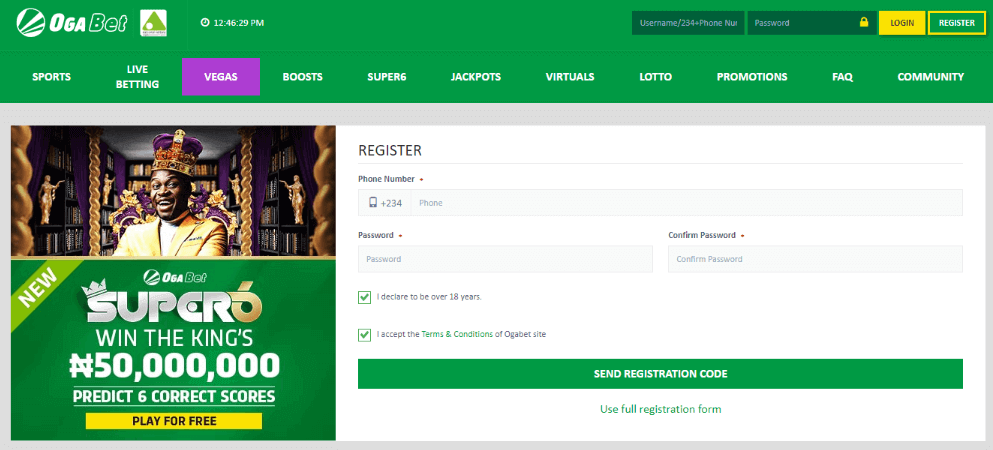 Here, bettors enter a few more personal details, such as full name, email address, and phone number. Then, new customers must set a safe and secure password during the Ogabet registration.


Lastly, players can read the terms and conditions and click the box to confirm they are 18 or over. To complete the new account set-up, click 'Register'. You will then be able to log on to your Ogabet Nigeria account.
Ogabet Registration via Mobile
Alternatively, players can use the mobile registration option to set up their accounts and bet on Ogabet. This is similar to the above step, but there are a few additional steps.
Below, we list the steps new players need to complete to register on mobile devices.
On your mobile browser, head to the betting site homepage and click the 'Register' button at the top of the page.
Then, on the following page, fill in the required details, phone number and password. Once ready, click the 'Send Registration Code' button.
Next, a confirmation code will be sent to your mobile device. Input this on the bookmaker's registration page, check the terms and conditions and click 'Register'.
Ogabet Registration on Desktop
In addition, bettors can register on their desktop devices online. To complete the Ogabet registration on a desktop platform, follow the step by step guide below.
On your web browser, type in Ogabet and then go straight to the landing page.
Then, you will be prompted to enter your personal details. Before doing so, you must click 'Use full registration' when completing the Ogabet register process on the desktop.
Finally, fill in all the required personal details, click the terms and conditions and press register to finish.
Open an Account on Ogabet – Terms and Conditions
New players must agree to the online bookmaker's terms and conditions before setting up an account. Ultimately, this is an agreement between the player and the company to ensure the safety of both parties. Therefore, reading and understanding the Ogabet Nigeria terms and conditions before joining is important.
Below, we provide an overview of the betting platform's key terms and conditions.
All customers must be aged 18 or over to use the betting platform.
Bettors must be located in a legal jurisdiction that permits Ogabet, i.e. Nigeria.
Players agree to provide truthful information upon registration and update the bookmaker of any changes.
Customers agree they are not acting on behalf of anyone else.
New players only and individuals can only open one account.
Ogabet Welcome Bonus
Currently, there is no Ogabet welcome bonus for new players. However, the betting site runs a range of alternative promotions for new and existing players. Among these include loyalty club offers and weekly free bets.
One of the main offers this betting site provides is the Jackpot 15 promotion. Here, bettors can wager ₦ 250 and must correctly predict the correct scores of 15 sports matches to win ₦ 125,750,000. But, players can also receive ₦ 250,000 for 14 correct predictions or ₦ 125,000 for 13 correct scores.
Furthermore, there are some accompanying terms and conditions for this jackpot game. Below, we list the important T&Cs of the game.
The ₦ 250 entry price is subject to change.
Overall winnings shared equally between any winners.
Only one prize allocated per entry.
Double chance bets apply. But each double chance entry counts as one prediction.
Jackpot 15 can only be played online.
Free bets or bonus amounts cannot be used in this game.
Players cannot change or cancel their predictions once placed.
How to Access the Ogabet Account Deposit?
Once a player has set up their account with the bookmaker, they can access different payment methods once logged in. To make a deposit and to access any other payment method, players can head to the homepage and click the 'Login' button. Then, they enter their sign up details and once on their account page, they can head to the deposit section.
Overall, Ogabet offers a range of payment methods that players can use. These include traditional methods, like Visa and bank transfer. However, the provider also accepts Interswitch, Flutterwave, voucher codes, and USSD.
Is it Legal to Register on Ogabet in Nigeria?
It is perfectly legal to register with Ogabet Nigeria as the company has a licence from the Nigerian Gambling Commission. As a result, this licence protects players' security and payment methods when using the site.
Since launching in 2016, this bookmaker has developed a reputation among African bettors. It is now a reputable site, and players can access a range of services. These include sports and casino betting, loyalty club offers and weekly free bets.
Ogabet Registration – Frequently Asked Questions
How do I create an Ogabet account?
To create an account with Ogabet, follow the steps outlined above. Also, when creating an account, ensure you read and understand the bookmaker's terms and conditions before committing.
How to get the Ogabet registration bonus?
Currently, there is no Ogabet registration bonus available to new players. Alternatively, new and existing players can access a range of promotions and loyalty club offers run by the betting provider.
Can I place a bet on Ogabet without an account?
No, any players who want to place bets via this online platform must create an account first. Furthermore, once a new player has created their account, they must deposit funds if they want to bet on the site.
How to reset my password on Ogabet?
On the homepage, click the padlock icon next to the password box at the top of the page. Then, players enter their mobile number, and the betting provider sends a verification code via SMS. Players then enter the code, and they can log in and input a new password.
How to reactivate my Ogabet account?
Occasionally, a betting site will suspend or deactivate an account. This can happen for various reasons. Customers must contact the bookmaker to reactivate their account. But, if the company has suspended an account for a breach of terms and conditions, it may not be able to reactivate.
Can I do Ogabet registration on my phone?
Yes, new customers can complete the registration process by phone or on their desktop devices. By phone, the process uses SMS and some personal details to set up.
Is Ogabet Legal? 
Yes, Ogabet is legal in Nigeria under its Nigerian Gambling Commission licence.
When was Ogabet created?
This online betting platform first launched in Nigeria in 2016.