Before you start with OgaBet registration using the OgaBet promo code if available, you should learn everything you can about the site in this comprehensive OgaBet review.
It delves deep into every aspect of the site and gives you a complete picture of its pros and cons. After reading this, you should be able to reach a conclusion about the site.
| OgaBet Review | Our Rating |
| --- | --- |
| Markets | 5/5 |
| Odds | 4/5 |
| Streaming/Live Options | 4/5 |
| Mobile App | 3/5 |
| Payment Options | 3/5 |
| Customer Service | 3/5 |
| Average Grade | 3.7/5 |
| Register | Sign up to Ogabet |
OgaBet Sports Review – 3.7/5
Welcome bonuses are the bonuses that you can get from a sportsbook as a reward for signing up. That is why they are also referred to as sign-up bonuses. In most cases, you can claim such bonuses only once. That is, immediately after registration.
As far as OgaBet Nigeria is concerned, it does not have any bonuses that can be strictly described as welcome bonuses. However, that does not mean that it does not have any bonuses or promotions at all.
On the contrary, the site has a number of amazing bonuses that you can claim and enjoy. The best bonus it offers is the weekly free bets bonus. Unlike a welcome offer, you can claim this bonus every week if you meet the minimum requirements.
Using this bonus, you can get free bets worth anywhere between ₦50 and ₦5000 every week. But you need to fulfil the terms and conditions, which will be explained in the next section. So, please carry on reading.
OgaBet Weekly Free Bets – Terms and Conditions
As there is no sports welcome bonus, we will discuss the weekly free bets terms and conditions instead. The terms and conditions for the weekly free bets bonus are quite simple. The first thing that you must do is opt-in to their loyalty program. Since there is no promo code for this bonus, you must join the loyalty program to be eligible.

Moreover, you need to stake a minimum amount of real money funds to get the free bets. You have to spend anywhere between ₦1,000 and ₦50,000+ to get them from the sportsbook.
For instance, if you spend between ₦1,000 and ₦5,000, you will be eligible to get ₦50 as free bets. Whereas, if you spend ₦50,000 or more, you will get free bets worth ₦5,000.
Furthermore, you need to make sure that you wager your money on certain types of bets. Only bets with minimum odds of 2.00 count towards the minimum betting requirements. If you place combination bets, your total odds need to be 2.00 or greater.
The terms and conditions explained above are simply the most significant ones. They are not all the terms and conditions. You should read the entire list on the website before attempting to claim the bonus.
Betting Markets/Available Sports on OgaBet – 5/5
The most important aspect of a sports betting site is arguably the choice of sports and betting markets it can provide. Because if a site is unable to give you the options you are interested in, then nothing else matters. No other feature or bonus can convince you to choose that site.
However, that is a problem you will probably not encounter at this bookmaker. The site contains one of the biggest selections of sports and betting markets.
Football
Football is the most popular sport in Nigeria. Therefore, it is no surprise that this operator focuses the most on football betting. The site is one of the best in the country for football betting.
From the English Premier League to Nigeria Professional Football League, you will be able to bet on games for all leagues around the world. You will be able to bet on international competitions like the World Cup or AFCON as well.
The betting markets for football matches also tend to be the most numerous. Moreover, they tend also to have the most competitive odds.
If that were not enough, you could enjoy a multitude of football-specific bonuses on the site. They come in the form of win multipliers, odds boosts, and many other things.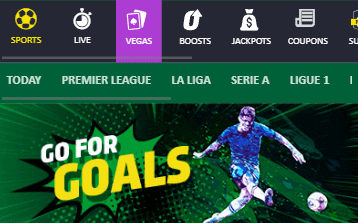 Basketball
In addition to football, basketball is a sport that Nigerians enjoy quite a lot. Therefore, the operator has created the best sports betting platform for Nigerian basketball lovers.
At the site, you can bet on the biggest games of the American NBA or American college/women's basketball. But that is just the tip of the iceberg. You can bet on games from numerous basketball tournaments happening in many parts of the world.
Tennis
This is not simply one of the best sites for betting on major sports. It does just as well for sports that have niche audiences. One such sport happens to be tennis.
While tennis has a dedicated following, it is not a mass sport in the way that football is. But there is no reason for you to despair if you are a tennis fan. You can bet on your favourite match-ups on the site.
The betting markets for tennis tend to be generally fewer than they are for sports like football. You can expect the options at this bookmaker to be slightly better than on many other sites.
MMA
In the sporting universe today, MMA is a global behemoth. It is one of the most preeminent sports that have a niche but big fan-following. If you are one of the many Nigerian MMA/UFC fans, this website is the place for you to be.
You can bet on almost every UFC event. The odds and the markets are among the best. You will not find many other sportsbooks in the country that focus on MMA as much.
OgaBet eSports
Since we are on the subject of the sports you can bet on at this website, we believe this one sport deserves special mention. Yes, we are talking about esports.
If you want to bet on esports in Nigeria today, there are a limited number of options available to you. One of them is OgaBet Nigeria. You will find many esports to bet on, including the following.
League of Legends
League of Legends is widely considered to be the best esport in the world. The teams and players that compete in League of Legends tournaments are the most renowned. That is a result of the attention and fan-following that League of Legends tournaments gets globally.
Released in 2009 by Riot Games, League of Legends is a battle arena style game. There are two teams made up of 5 people each. Each team tries to defend its territory while simultaneously encroaching upon enemy territory.
CS: GO
If there is any other esport that can stand its ground against League of Legends, it has to be CS: GO. The fan following for CS: GO is equally dedicated. Some of the biggest and most well-known esports tournaments are CS: GO tournaments.
This game involves two teams who are called terrorists and counter-terrorists, who compete against each other in many objective-based rounds. Each team has five people each. CS: GO was released in 2012 by renowned game developers Valve and Hidden Path Entertainment.
Dota 2
Dota 2 was released in 2013 by the game developer Valve. It is a game that is somewhat similar to League of Legends. That is because it is a battle arena-style game that has a huge following around the world.
At this moment, it is one of the best esports you can bet on. And you can bet on Dota 2 matches using none other than this site.
OgaBet Casino Review – 3/5
This operator's casino is not a full-fledged casino, so it does not compare favourably against those. However, it is one of the best sportsbook-cum-casinos.
Therefore, if you intend to play casino games primarily, you should choose another site. But if you want to bet on sports but play casino games on the side, then this site is one of the best choices. You can find popular games across several major categories, including the following.
Slots
Slots dominate online casinos and this operator's casino is no exception. Most of the games at the site are slots. You will find some of the best slots at the site. They include games like Book of the Fallen, Gods of Kemet, 9 Lions, and many more.
Progressives
In addition to run-of-the-mill slots, there are many slots at this casino that are progressive or jackpot slots. That means they give you the chance to become the lucky winner of a jackpot possibly. The games you will find in this category include 8 Tigers Gold Megaways, Book of Gems Megaways, and more.
Tables
If you like games of skill more than games of chance, you can choose one of the many table games at the casino. Some of the most popular games you can find at the site include baccarat, blackjack, poker, etc.


OgaBet Review Casino: Welcome Bonus – Terms and Conditions
Even though this bookmaker has a casino section, it is mainly a sports betting site. Hence, the casino does not come with many perks and privileges that you may expect at other online casinos.
For instance, the OgaBet casino does not offer any welcome bonuses. However, you can participate in some casino-specific promotions. Moreover, you can always reap the benefits of the sportsbook bonuses and enjoy casino games casually on the side.
Odds on OgaBet – 4/5
Odds are one of the most important aspects of a betting site. They determine whether betting on a site would be worth your time and money or not. Hence, it is only fair that we address the subject of odds in this review.
The odds at this bookmaker are comparable to the odds that you will get at the other leading Nigerian sportsbooks. You will not find a significant discrepancy in odds between comparable sites.
The differences tend to be minor, but those minor differences can be important as well. For instance, that is the whole concept of arbitrage betting. You identify the bets for which (according to you) the sportsbook has either underestimated or overestimated the odds.
In order to succeed with arbitrage betting, you have to bet on multiple sites with competitive odds. This site could very well be one of them. In fact, our OgaBet review would recommend that it should be one of your choices.
Streaming and Live Betting on OgaBet – 4/5
It would be no exaggeration to say that live betting is the most enjoyable aspect of sports betting. The thrill, the excitement, and the heightened sense of anticipation combine to make betting and the game more enjoyable.
Therefore, a betting site must provide the best possible live betting experience. In this OgaBet review, we would like to assure you that OgaBet Nigeria is one of the best sites for live betting.
A large number of events from around the world are available to bet on live on the site. It does not matter which sports the events are from or where in the world they are happening. If there is an event from a sport that is listed on the bookmaker's site, it will most likely be available to bet on live.
The betting markets that are open to punters during live games are quite astounding too. You will often find that many sportsbooks only keep the main betting markets open during live games. But that is not how this operator functions.
You will find a sufficient number of betting markets during your in-play betting sessions. Moreover, you will find several special features intended to make your live betting experience better.
For example, you will be able to get assistance from the readily available statistics and live scores feature. You will also be able to see the odds change in real-time as the game progresses. All of which will help you in your in-play betting decisions.
Live scores are not the only way you can follow every minute of your favourite games. You will find the live simulation for most games at this bookmaker.
OgaBet Review Mobile App – 3/5
Despite being one of the leading Nigerian sportsbooks, this operator does not have an official mobile app yet. There is no app for either iOS or Android.
As of today, you have to content yourself with the mobile site if you want to bet on your mobile. Based on our review, the mobile site does not really disappoint. In fact, it comes quite close to providing the same experience as you would get with an app.
The entire interface is optimised for mobile use, no matter which device you use. At the same time, it does not leave out any of the important features. You can access all the features for day-to-day betting and/or account maintenance on the mobile site.
Even so, nothing beats a dedicated mobile app when it comes to mobile betting. The operator may release one soon. We will be the first ones to let you know once it does.
OgaBet Review Nigeria – Payment Options – 3/5
As one of the leading sportsbooks in the country, OgaBet Nigeria accepts many of the commonly used payment methods. For example, you can make a deposit using your debit/credit cards, vouchers, and direct bank transfers, among other methods. Moreover, you can access a multitude of deposit methods through payment gateways such as Interswitch and Flutterwave.
Almost all the deposit methods are instant and do not incur a fee from the operator. The payment processing company may charge fees in some cases. But this will be clearly communicated to you during the deposit process.
The minimum and maximum deposit amounts vary from one payment method to another. But we can give you some general estimates. The minimum deposit requirement is generally ₦50. Whereas the maximum deposit limit is generally ₦3,000,000.
As far as withdrawals are concerned, the options are a bit more limited. You can only withdraw via direct bank transfer or vouchers. For withdrawals, you also need to go through an approval process. In other words, the sportsbook has to approve your withdrawal request manually. It does this in the shortest possible time. Then the money is disbursed to your chosen account.
Finally, one common payment-related information that you need to know concerns the currency. You can only make payments and withdrawals using one currency. The one that you choose during registration.
OgaBet User Experience – Site Usability
The OgaBet Nigeria site is quite user-friendly. We tested both the mobile and the full desktop site for this review. And both appeared quite impressive.
The site is quite easily navigable. You can easily find and select the sports, events, and bets that you are interested in. There is a search bar that you can use to quickly find sports and events.
Clicking on the events takes you to the entire list of betting markets that you can access. The most popular ones are highlighted, which is quite great. You can instantly find them. And you can always scroll down to see the full list of available betting markets.
Furthermore, you can find the entire list of events open for live betting on a separate page altogether. That ensures that the interface does not appear too cluttered.
Exciting features include live scores and live simulations of games. Both of which enhance the betting experience manifold.
The top bar of this desktop site contains quick links for login and registration. Moreover, you can find buttons for the different sections of the site, such as casino, promotions, and so on.
From a user experience standpoint, the mobile site is no less impressive. You will find the login and registration buttons at the very top of the site. Then there are the quick buttons for the sportsbook, live betting, casino, promotions, and so on.
The features and functionalities available on the mobile site are identical to the ones available on the full desktop site. But they have been optimised for a mobile interface. Therefore, despite the features and the buttons, the mobile site does not look cluttered or clumsy at all.
How to Contact OgaBet Customer Care? – 2/5
According to our review, the customer service is not up to par with its overall reputation for excellence. The number of contact options is limited, and the hours are limited as well.
For example, you can contact customer service primarily in two ways. One is the live chat option, and the other is the contact form method.
The live chat feature would have been ideal if it were 24×7, but it is not. So, it can only respond to urgent queries during standard operating hours. If you face issues outside business hours, you may have to wait till the next day to get help.
Moreover, the contact form method is not ideal for urgent requests anyway. It is generally a method suited for non-urgent queries that may be longer or more complex in nature.
At this site, the response to contact forms is comparatively quick, but still, it may take a few hours for you to get a response at the least.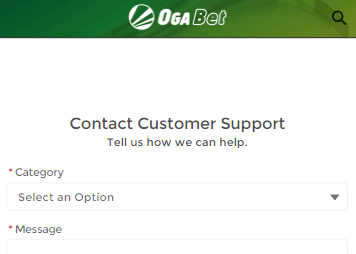 You can also contact them through their social media channels, but you will probably only get a response during standard operating hours. You can find them on Twitter, Facebook, and a few other social media platforms.
OgaBet Review: Our Verdict – 3.7/5
The following table summarises the overall verdict of this OgaBet review. It picks out the most important points from the aspects discussed in the sections above. Hopefully, it can help you make a final decision regarding the site.
| ✔️ What we like | ❌ What we don't like |
| --- | --- |
| A large number of sports and betting markets | No welcome bonus |
| User-friendly site | No mobile app |
| Competitive odds | |
| Good for live betting | |