Parimatch casino may be new, but you'll be surprised at the large number of online casino games they offer. Additionally, they offer a 120% first deposit bonus, up to NGN 120,000. You can also sign up with the Parimatch promo code if available. In our casino review, we will be looking at everything players stand to get when they visit Parimatch casino.
---
---
Parimatch Casino Welcome Bonus
If you're looking for an online casino with bonuses, Parimatch will not disappoint you. In this Parimatch review, let's take a closer look at the welcome bonus offer.
When you sign up on Parimatch, you get a match deposit welcome bonus. Their sportsbook offers a 100% bonus of up to ₦120,000 on your first deposit. You'll need to make a minimum deposit of ₦100 or more on your account before you can claim the bonus. To withdraw the bonus, you need to roll it over 10 times.
Also, it has to be on multi bets with odds not less than 3. The Parimatch sports bonus must be used within 14 days or it will expire. Before a punter can use Parimatch sportsbook, they have to be up to 18 years oer.
Also, there's also a bonus for casino lovers on Parimatch. When you make a minimum deposit of ₦300, you get a 100% bonus. The maximum welcome bonus players get at Parimatch casino is ₦100,000. You can only claim the casino bonus one time. The wagering requirement for this bonus is 35x your wager.
Ensure you read all the terms and conditions for this bonus, so you understand how it works. For instance, the bonus can only be used for certain games. If you read the T&C's, you'll see that the wagering of the bonus is available in the "Games for the bonus" section. The bo; ifvalid for 7 days and if lapse immediately will immediately lapse. Any winnings you get from it, if you haven't met the conditions of the bonus by then, will be forfeited.
Parimatch Casino
Parimatch casino has games from more than 25 game developers, including some of the most well-known in the industry. As a result, gamers can enjoy a wide variety of high-quality casino games on the site. You'll see game titles from top game developers like Yggdrasil, BetSoft, and Microgaming.
For slots and table games, Parimatch casino has a lot of games from these software providers. The site currently has over 3,348 slot machines, 345 jackpots, 200 table games, and 219 live casino games. If you want to see everything this place has to offer, you should visit the casino site.
You'll notice that casino games have several smaller categories. Parimatch has sections for table games, video poker, slots, and progressive jackpots. After you've gone through the checklist, you can click on "New Games," where you'll find the newest online casino games on the site.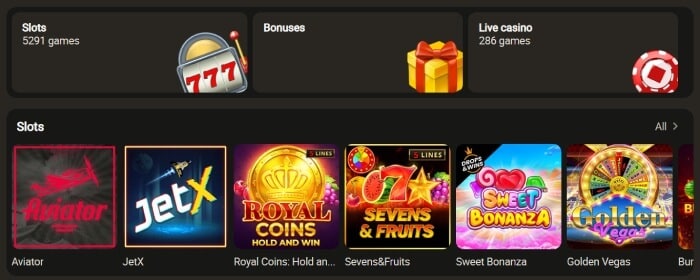 Parimatch Casino: Pros & Cons
These are some pros of this casino:
Parimatch casino has a large collection of games
Games are optimised for a mobile experience
There is a welcome bonus offer
High-quality games from leading developers
Fast deposits and withdrawals
Responsive customer support
We found one disadvantage, though:
Parimatch Slot
The online casino offers various slot machines, including more than 300 Progressive jackpot slots. So if you're a slot lover, Parimatch has a lot in store for you. There are over 3000 slot titles and they've made it so easy to locate. You can go for the new titles, popular ones or themed games. Some of the popular online slots on this site include Book of Dead, Vikings Go Wild, and Playboy Gold Jackpots.
How to Play Slots on Parimatch
Even if it's your first time playing slots, Parimatch casino makes it a lot easier. The best part is that they only feature high-quality games. You can play the slot games on your mohone as they are fully optimised. You can easily set your wager, spin the reels and navigate around the game.
Online slot machines are quick and simple to learn, and they are also a lot of fun. We've put together a step-by-step guide for those who are new to online slot machines on Parimatch.
Select your preferred online slot game on Parimatch casino and begin playing on your preferred device.
After you launch the game, you'll see the slot machine's reels and control buttons. You will see where to set your minimum and maximum bet.
Take a look at the game's pay table. You'll know how much each symbol is worth and which ones you should be looking for.
Decide how much you're willing pay lines and how many paylines you'd like to use. If pay lines to select all paylines at once, press the "max bet" button.
Spin the reels by pressing the "spin" button. If you've won, the game will show you your winnings.
Parimatch Roulette
If slots aren't your thing, you can check out the roulette games at Parimatch casino. They have a good number of roulette variations. Since this site offers a mix of old and new games, you'll be able to find something to play. You can play bonus-style games like Roulette 500X or even European Roulette.
How to Play Roulette on Parimatch
The rules of roulette are the same whether you're playing in a brick-and-mortar casino or on the internet. It won't take long to become an expert at the game of roulette if you follow this easy guide:
Decide on your wager. Chips of a certain size are required for a wager. Place your bet by clicking on the table layout.
As soon as you've selected your wagers, click "Spin." The ball is dropped into the wheel as the wheel is spun.
Eventually, the wheel will come to a halt, and the ball will land in a slot. If you were able to predict its final destination accurately, you win.
If you're lucky and you win, the dealer will give you your winnings.

Parimatch Card Games
There are a lot of people today who prefer to play card games, especially poker. For the time being, Parimatch casino has a few poker games available on its website for users to enjoy.
Even though there are only a few poker options available right now, the bookmaker offers the best variations on this well-known card game for players. For instance, you can choose from card games like Hold'em-style games, Triple Card Poker, and Caribbean Stud.
How to Play Poker on Parimatch
We'll show you how to play poker online if you're a newbie. However, before you begin, you should always verify any specific rules for your preferred poker game. Here's an easy step-by-step guide to playing poker.
To get started, players will place their bets before the cards are dealt. You can make an ante bet, for instance, where each player puts in the same amount of money. There's also a blind bet, where the player immediately to the left of the dealer places a small bet and the next player to their left places a larger one.
Next, each player is dealt two hole cards (face down). You can check, bet/call or bet/fold if you have a weak hand. These are all options players have at this point in the game, and they must choose one or the other at this point. Players can either bet or check each time a player chooses not to bet.
After the first bet is placed, all remaining players must call to match that bet's amount.
The flop (three face-up cards) is dealt with once the betting has finished. Another round of betting takes place now that players have a better idea of their hand strength.
Then there is a fourth and final card called the "turn," and it can be used to improve a player's hand. You need only five cards to make an entire hand in poker. After that, there is a new round of betting.
The river (a fifth card dealt face up) reveals the true strength of the hand for those players who are still in the game. Another round of betting is required before the final confrontation.
At this point, players must reveal their poker hands to see who has taken the cash prize. Ties can be broken using the highest card, known as the "kicker."
Parimatch Live Casino
Parimatch has up to 219 live casino games, and you will enjoy playing them. Players can choose from over 40 live roulette games developed by some of the industry's most reputable software providers. If you prefer blackjack to roulette, you'll still be able to play 35+ live blackjack games on the site. Parimatch also has a good number of live baccarat, poker, and many additional games.
The live casino section lets you play live dealer games, roulette, blackjack, and baccarat. The live dealer casino software is developed by NetEnt and XPG, as well as other leading developers. The majority of the games are, however, developed by Evolution Gaming. It's not surprising, considering that they are the best and they set a high standard for their competitors.

Final Thoughts
Parimatch casino has an extensive and diverse game portfolio. It is possible to play various games, such as slots, blackjack, roulettes and baccarat, and video poker on this site. They also have a variety of other games of chance, such as scratch cards or virtual sports wagering.
All of these are easy to access on their well-designed, mobile-friendly platform. If you want to enjoy a fantastic casino experience, we recommend you head over to Parimatch casino. Don't forget to take advantage of the welcome bonus.