We have brought together this YangaSport review to evaluate the site from every possible angle and give you a complete understanding of its strengths and weaknesses.
YangaSport Nigeria's reputation may entice you to jump on to YangaSport registration right away. More so if you use the YangaSport promo code MAXPROMO. But you should spend some time learning about the site first. 
| Ogabet Review | Our Rating |
| --- | --- |
| Bonus Offer | 210% Acca bonus |
| Markets | 4/5 |
| Odds | 4/5 |
| Streaming/Live Options | 4/5 |
| Mobile App | 2/5 |
| Payment Options | 3/5 |
| Customer Service | 3/5 |
| Average Grade | 3/5 |
| Register | Sign up to Yangasport |
YangaSport Sports Review – 4/5
A welcome bonus may not be the most important aspect of the sports betting site. There are other aspects which are more important. But the welcome bonus is what every punter looks at before signing up.
Therefore, the welcome offer is vital. It can have a huge impact on whether you end up signing up for a site or not. Yangsport fares very well, according to our review.
YangaSport Review Sports Welcome Bonus – Terms and Conditions
The Yangasport 210% Accumulator Bonus is a great way to add some excitement to your betting experience. This offer allows you to increase your potential winnings with every selection you add to your bet slip.
The bonus starts at 5% for 4 selections and increases incrementally, with each selection up to a maximum of 210% for 45 selections. This means the more selections you make, the bigger your bonus will be.
To qualify for this bonus, each selection must have odds of 1.2 or higher, which is a fair requirement. It's important to note that this offer is only available in Nigeria, so Nigerian bettors have a unique opportunity to take advantage of this offer.
The Yangasport 210% Accumulator Bonus is a great way to enhance your betting experience, and it's definitely worth taking advantage of for any bettor who is looking to add some extra excitement to their bets. It is also important to be aware of the terms and conditions of this offer, such as full cash out does not qualify for this offer, while for Partial cash out; the winnings will be calculated using the remaining stake.
Selections must meet the requirements to be awarded an accumulator reward.
Betting Markets / Available Sports on YangaSport – 4/5
The foremost consideration when choosing a sportsbook is generally the available sports and betting markets. That is the central feature of a sports betting site.
You will probably never choose a site that does not let you bet on your favourite sports or events. No matter what other features or bonuses it may offer you. But this bookmaker will never let you have those concerns.
YangaSport is one of the best betting sites in terms of the availability of sports/betting markets. It is the main reason why punters are so attracted to this bookmaker. Among the sports that you will find at the site, the following are just some of the most noted.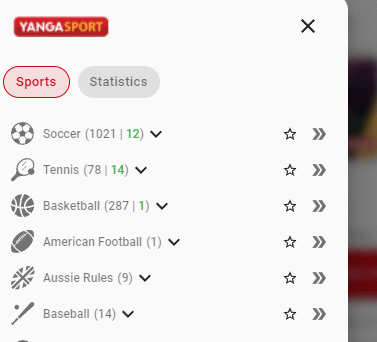 Football
YangaSport Nigeria is one of the best sites for football betting. You will simply love the site if you are a fan of football betting.
First of all, you will find a range of events to choose from. Whether you like the English Premier League or the Champions League, you will find plenty of international tournaments to bet on. Moreover, you will be able to bet on many regional tournaments like the Nigeria Professional Football League. If you are more inclined towards international events, you will find enough options like the World Cup or the AFCON.
Furthermore, the odds and the betting markets available for football bets are simply incomparable. You should not be surprised to find a dozen or more open markets for any given football match.
You can place all kinds of bets. From simple 1X2 betting to more advanced betting like Asian handicap, you will find every bet that suits your strategy.
Tennis
You should not walk away from this review with the misconception that the site is only good for football betting. While football betting is its key strength, the site offers ample opportunities for other kinds of sports betting as well.
For example, the site is among the most well-known sites in Nigeria for betting on tennis. There are several good reasons for this.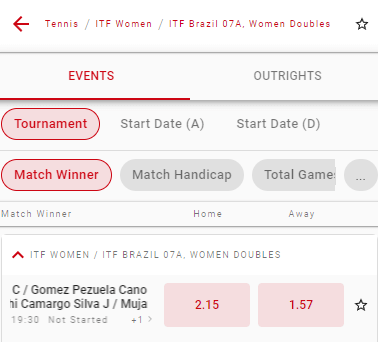 The first is that the sportsbook accepts bets for the largest possible number of tennis bouts. From the US Open to Wimbledon, every major and minor tennis competition is covered.
Therefore, no matter which tennis star you are a fan of or which tennis event you follow most closely, the site will offer something for you. Additionally, you will also find that the site offers the best odds for most, if not all, the bets you are interested in.
Finally, a word of caution: tennis markets are not numerous generally irrespective of the site. So, do not be too disappointed to see the low number of betting markets.
Basketball
Nigeria has produced its fair share of international basketball stars. It is a sport that has been steadily gaining ground in the country for several years.
If you are one of the many Nigerian punters who have fallen in love with basketball, this operator may be just the site for you. The sportsbook ranks among the best basketball betting destinations.
That is because the site allows you to bet on basketball games from around the world. Whereas most other sportsbooks simply restrict themselves to the big American leagues such as the NBA. Or, at best, the NBA along with other American college/women's basketball tournaments.
But that is not the case on this website. It will let you bet on games from basketball tournaments from many countries around the world. For example, you can bet on the CBA, the leading basketball championship in Asia, using your account.
Table Tennis
Table tennis has a crazy fan following in many parts of Asia and Europe. And it is still true that the major fan base is from those regions. But countries in Africa, such as Nigeria, have really taken a liking to the sport.
You may already be a fan or might become one shortly in the future. Whatever situation you are in, you may need a sports betting site where you can bet on table tennis matches.
This operator is currently one of the foremost sites for betting on table tennis matches in Nigeria. You can bet on the biggest international events such as the World Table Tennis Championships and also other regional tournaments.
Unlike tennis, you will find many more markets for table tennis betting. The odds at the site are almost among the best you can find among Nigerian sportsbooks.
Boxing
Boxing is another sport to which Nigeria has sent its fair share of icons and legends. It is one of those sports that enjoys a niche but dedicated fanbase in the country.
If you happen to be in their league and want to bet on boxing matches, this is the site you should be on. This site is an ideal place for betting on boxing.
You will find almost every internationally noteworthy boxing match listed on the site. Moreover, you can expect the betting markets to be numerous and the odds to be competitive. We can assure you that in this review.
YangaSport Casino Review
In Nigeria and elsewhere, there are many sportsbooks that also provide casino games. But YangaSport Nigeria is not one of them. It is a completely dedicated sports betting site.
The site has been licensed by the Nigerian National Lottery Regulatory Commission to provide sports betting services only. Its license does not extend to providing casino games online.
Therefore, if you would like to play casino games in addition to sports betting, you need to look for another site. The good news is that there are many great sites in Nigeria for you to choose from.
Odds on YangaSport – 4/5
We should mention at the outset of this section of our YangaSport review that odds are a complex matter. There is no site or group of sites that can offer the highest odds for every bet. That is simply not possible.
However, the best sports betting sites have the best odds on average. That means they have the best odds for the largest number of bets.
In our estimation, this is one of the sites that offer the most competitive odds. Compare the odds of a few bets on this site with those offered by another Nigerian sportsbook. You will immediately realise what we are talking about.
Needless to say, the most competitive odds at the site are for football matches. Since most punters are interested in football, the site aims to do its best in this regard. However, you will find that the sportsbook offers some of the best odds for niche sports like baseball, basketball, tennis table, and others.
Streaming and Live Betting on YangaSport – 4/5
YangaSport Nigeria is renowned for live betting. According to the word-of-mouth YangaSport reviews, one of the top reasons why punters choose this site is the live betting features.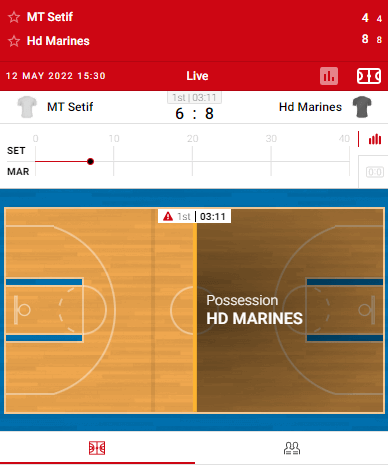 The site is known for accepting in-play or live bets for a wide variety of events. The number of betting markets is also sufficiently large. You will be able to place all kinds of bets during live games.
All markets are open for betting live, starting from 1X2 bets to Asian handicaps. Moreover, the additional features that the site incorporates enhance the live betting experience manifold.
For example, when you bet live at the site, all the necessary statistics, head-to-head insights, standings, match timelines, etc., are one click away. Furthermore, you can enjoy every minute of your favourite matches thanks to the live simulations of games.
The best part about betting live on this website is that all the features mentioned above are equally user-friendly on mobile. You can use the mobile site to enjoy all the live bet features from anywhere at any time.
However, one downside is that the site does not provide live streaming for matches. If that is provided in the future, the site will easily surpass its competitors in terms of the live betting experience.
YangaSport Review Mobile App – 2/5
A dedicated mobile app can take mobile betting to the next level. Thus, many sportsbooks in Nigeria as well as globally are releasing mobile apps. Some are releasing apps only for Android, while others are catering to both Android and iOS users.
However, we should let you know in this review that the sportsbook does not have any mobile apps at the moment. There is no YangaSport mobile app for either iOS or Android.
That is perhaps because the mobile site is so user-friendly and popular. As a result, the operators did not find it necessary to invest in developing a mobile app. That is true – the mobile site is actually quite impressive.
Even so, nothing comes close to a mobile app when it comes to the best mobile sports betting experience. Therefore, we hope that the operators do release a mobile app soon. We will let you know as soon as a mobile app is launched.
YangaSport Review Nigeria – Payment Options – 3/5
When it comes to sports betting with real money, the ease of payments and withdrawals is paramount. This section of our review deals with the payment methods you can use at the site.
The website offers convenient payment methods for both deposits and withdrawals. The main payment methods available at the site include the payment gateways Monnify and Paystack. You can use either payment gateways to deposit and withdraw funds using your bank account or debit/credit cards.
The minimum deposit requirement is ₦100, while the maximum deposit limit is ₦1,000,000. On the other hand, the minimum withdrawal requirement is ₦1,000, while the maximum withdrawal limit is ₦500,000.
Furthermore, when it comes to withdrawals, some additional requirements apply. For example, you cannot make withdrawals unless you go through some KYC or verification steps. They include proving your age, residency, and that you own the accounts you are using.
On top of that, you cannot withdraw any funds unless your deposits have been wagered 5x. This rule has been instituted to ensure that you do not simply use the betting account to store idle money. You have to use your money for betting.
How to Contact YangaSport Customer Care?- 3/5
Quick, responsive, and helpful customer service distinguishes good sports betting sites from the best sports betting sites. This is one of the best sports betting sites in terms of customer service. That becomes apparent as soon as you encounter the number of contact methods through which you can reach them. 
For example, you can reach the site's customer support team via phone calls. You just have to dial 09087008888 or 09096008888. You can also reach them via email by using one of the following email addresses: [email protected] or [email protected].
Furthermore, you can always speak to one of the customer service representatives using live chat. The live chat option is prominently displayed on both the desktop and the mobile version of the site.
Therefore, you can always expect quick responses irrespective of how urgent or complicated your query happens to be. But there is a huge downside to the site's customer service.
None of the methods listed above is 24×7. They all have limited operating hours, which limits the availability of timely support.
Phone support is available from 8 am to 8 pm every day. Whereas live chat support is available Monday to Friday from 9 am to 5 pm and from 10 am to 3 pm on Saturdays.
If you face any issues during business hours, then you will not have anything to worry about. But you may suffer quite a lot if you bet during odd hours and encounter some trouble.
YangaSport Review: Our Verdict – 3/5
Based on the YangaSport review presented in the preceding sections, you should have a pretty good understanding of the site. However, if you still need a quick summary, refer to the following table. It contains our overall verdict of YangaSport Nigeria.
| | |
| --- | --- |
| ✔️ What we like | ❌ What we don't like |
| Wide variety of sports and markets | Does not have a mobile app |
| Excellent welcome bonus | Does not have 24×7 customer service |
| High odds overall | |
| Ideal for live betting | |