If you're one of the few who are interested in golf and looking for a comprehensive guide on how to bet on golf, you've come to the right place. Learn all about golf betting, golf odds, and some of the best betting sites in Nigeria right here.
Betting on Golf
The honest truth is that not a lot of people watch golf. The road to a PGA Championship is long and arduous. So, that means there's a specific kind of person that watches and possibly bets on golf. But this is where it gets interesting.
Since a tour schedule can go for so long, this creates a lot of possibilities for live betting. It's no longer the same old over/under or winner/loser bet. Live golf betting gives way to multiple markets in the golf betting industry that can slowly change the face of sports betting itself.
Golf might not be as exciting a sport as some of the others on betting websites, but winning a Grand Slam is always an exhilarating experience. The major golf tournaments that include the Masters Tournament, U.S. Open Championship, The Open Championship and U.S. PGA Championship are all available to bet on at most sports books in Nigeria.
Although not as many Nigerians are interested in actually placing bets on the sport right now, this might change over the course of time.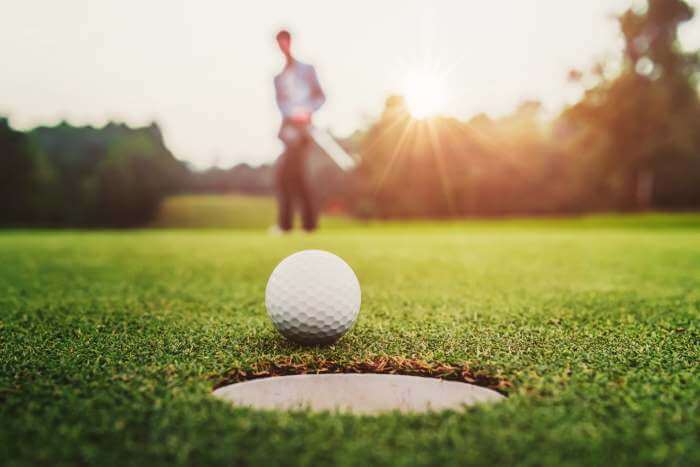 How to Register on a Betting Site and Bet on Golf
To register on a golf betting website, follow these steps.
Choosing a Betting Site.
First, you should choose a betting site. Most sportsbooks already offer golf. Find a list of the top sportsbooks in Nigeria and visit them.
The criteria for picking a good website are making sure it runs smoothly, the graphics and layout are pleasing, and the odds work for you.
Take a look at the golf markets and make sure the sportsbook offers in-play betting as well. Also, don't forget to make sure that you can use your preferred payment methods and that withdrawal times are fast.
Register.
Registration on most sites is simple enough. Almost all sportsbooks will offer you registration methods via a phone number or email.
You might have to add your name and verify that you are over 18, as that's the legal age for most sportsbooks. There should also be an option to pick a welcome bonus. Pick the sports bonus (if available) since you will be betting on golf.
Fund Your Account.
We assume you've already taken a look at the withdrawal and deposit methods by now. Depending on which sportsbook you've pledged your allegiance to, you might have to navigate to "My Account" or "Banking" or some similar type of option.
Follow the prompts and complete your first deposit so you can start betting.
Place Your Bets.
Now that you're all set with your account, you can go ahead to the golf tab and place your bets. Take a look at the odds for player matchups or for the championship titles. When you click on a bet, it should automatically be added to your betslip.
Once you've confirmed the bet, sit back, and wait for the results.
The Different Types of Golf Bets
It might seem like all there is to do in golf betting is picking a winner and waiting for the results. But you'd be wrong in thinking that. There are now multitudes of markets for golf betting, and this is just the surface.
Handicap Bets
Handicaps in golf are given when a golf matchup is created between unevenly skilled players. Each sportsbook will give you different odds on handicapped games where players receive scores based on previous performance.
Each Way Bet
An each way bet essentially splits one bet into two. You can bet on the player winning and on what position he/ she places. Even if the player doesn't win, you have a chance to win half of the bet if you guess the players finishing placement correctly.
Outright Bet
This one is about as simple as it sounds. You bet on an outright winner. Betting on one person to win the entire tournament would be considered an outright bet.
Player vs Player
Player vs player is a bit more complicated. For this kind of bet, the bookmaker will give you odds for each player, and you can bet on one in a head-to-head format. The player that finishes closer to the top is the winner.
3-Ball
3-ball is similar to player vs player bets. Golfers are grouped in threes on the course during the early stages of a tournament, and sportsbooks will give odds on those three players. The bettor will bet on a player to finish highest among those three.
Props
Props are proposition bets that don't have any rules to them. Anything can be a prop bet starting from whether a player will hit a hole in one to what he might have for dinner tonight (assuming you have ways of finding out).
Matchup
This is similar to the player vs player bets. At the start of a golf tour, sportsbooks will release odds for players that they've matched up. To win, you need to be able to guess the player who will score more.
The player doesn't necessarily need to win, he just has to finish higher than the matchup opponent.
5/10/20 Betting
Top 20, Top 10 or Top 5, depending on the competition, means betting on a certain golfer to finish in the top 10 for a tournament. So, if you bet on Andy Sullivan to finish Top 10 on a European tour and he wins 9th place, you win the bet. And if Andy places 11th, you lose.
Golf Betting Odds Explained
Golf betting odds are pretty similar to those for any other sport. You have your odds displayed next to each event in the default format for the sportsbook. You can look at the odds, compare them within the sportsbook and other sportsbooks, and then decide where you want to place your bets.
Sportsbooks offer fractional, decimal and American odds. Depending on where the sportsbook is based, the default format for the odds will be different. But you should have the option to change it from the default settings.
When you're reading golf odds, fractional odds will be in the format of fractions like 11/2. This means that for every ₦2 that you wager, you'll win a profit of ₦11 making your total winnings ₦13.
Decimal odds are in the form of a decimal number. So, if your odds are 5.5 for a certain player, the 5.5 is your multiplier. So, if you bet ₦10 on an outcome and win, your total profit is (5.5 x 10) = ₦45, and total winnings is ₦55.
American or Moneyline Odds are a bit different since they use mathematical symbols. +123 means you need to wager ₦100 to win a profit of ₦123 and total winnings of ₦223. And -150 means that by wagering ₦150, you can win a profit of ₦100 making your total winnings ₦250.
For first timers, we would recommend sticking to either the fractional or decimal odds since the moneyline odds are a bit more complicated.
Strategy When Betting on Golf
Every single sport requires a strategy for the player or the team to win. Sports betting is no different. You'll need to come up with a solid plan before you start betting on golf in order to avoid any losses.
If you're confused as to how you should start creating a strategy for your bets, don't worry. We have a checklist of rules that might come in handy.
Know the Sport Well
Golf might sound a bit tedious, but understanding the sport definitely makes it more interesting. When you're betting on any sport, you need to understand the rules of the sport, the players and their current form, and tactics and formations.
Similarly with golf, the player and his recent performances should play a role in your decisions as a bettor. It's also important to keep in mind that understanding the minor rules in the game might help you place bets in more unique markets.
Be Rational – Do Not Bet on Impulse
Getting swayed by your emotions and continually betting on your favourite player might lead you down the wrong road. It's great to support a player and want that player to. But you should also know when to cut your losses.
When betting on a sport and using your hard-earned money, you need to make logical and tactical decisions. Betting on impulse and letting your emotions get in the way will cost you a lot of might that you might not be able to afford to lose.
Know the Golf Betting Markets
We mentioned earlier that understanding nuanced rules about the sport will help you bet on more unique markets. There aren't too many markets in golf betting to begin with, compared to the other sports like football or basketball.
But, since you've decided to bet on golf, it's very important to understand the markets that exist for the sport. There are certain markets, like the outright bet, that are much easier to win. If there's a significant skill difference between the favourite to win and all the other players, betting on that player is a sure-fire way to win.
So, when you understand the markets and know which ones are easier to win, that makes things incredibly easy for you.
Be Aware of Weather Forecast and the Golf Course
Now, this one's important. Golf courses are made specifically to have certain textures of grass and specific soil density to make it easier on the players. If the weather on match-day is super dry, that dries out the soil, and if it rains, that loosens the soil.
All of these things play a significant role in each player's performance on the course. So, knowing the weather gives you an edge on which player might perform subpar on a certain day.
Know About Player Statistics
Player statistics are also very important since that gives insight into how a player will perform in the future. Statistics also provide information that could help you gain an edge during in-play betting.
Set a Betting Budget: Only Wager Money that You Can Lose
It already goes without saying, but we'll say it again; don't bet money you don't have. In the heat of the moment, when the entire game is turning around because of one outcome, you need to keep your head straight.
Before you start betting at all, set a limit for yourself. Bankroll management is essential to be able to do well in any kind of gambling or betting. Most websites will also provide a responsible gambling feature so you can self-exclude.
Top Sites to Bet on Golf: Current Offers and Bonuses in Nigeria
If you're a punter in Nigeria, there are plenty of sportsbooks that have a Nigerian version of their official website where you can place bets. Some of them even have bonuses meant specifically for a Nigerian customer base.
Betting Sites
Bonuses
Code
Bet9ja

100% welcome bonus +50% casino bonus

MAX9JA
1xbet

300% up to ₦189 280
Bet on 1xbet
Betking

Bet and Get ₦25,000 in Free bets
BONUSBET
Betway

Offers 100% bonus up to ₦250,000
PROMOMAX
N1bet

300% bonus up to ₦500,000
Bet on N1bet
Betwinner

100% bonus of up to ₦100,000
BEMYBETNG
Yangasport

Get up to 600% Acca Bonus
MAXPROMO
22bet

100% bonus up to ₦50,000
Bet on 22bet
Pari Match

100 bonus up to ₦150,000
NGPARI
bet365

Up to $30 in Bet Credits*
(Key Terms: Min deposit requirement. Bet Credits are available for use upon settlement of bets to value of qualifying deposit. Min odds, bet and payment method exclusions apply. Returns exclude Bet Credits stake. Time limits and T&Cs apply.)
Code: BETMAX365
(The bonus code BETMAX can be used during registration, but does not change the offer amount in any way)
How We Selected Our Bookmakers to Bet on Golf
Selecting a good bookmaker is very important. Especially for a sport like golf, where there aren't many people placing bets, you want to find a great sportsbook that gives decent odds and offers.
For this article, we analysed a few things before we jumped on the decision to recommend these sportsbooks to you.
🔹 Betting Offers
Make sure that the site you're betting on offers an extensive range of markets for golf. Golf as a sport right now doesn't boast too many main markets. But additional markets and live betting is a potential hotspot that's sure to attract punters in the upcoming years.
Also make sure that the bookmaker offers free bets and bonuses before you join. Most sportsbooks that also offer casino games have two separate welcome bonuses; one for casino and one for sports. If the bookmaker you're looking at doesn't offer the sports bonus, we'd suggest looking elsewhere.
🔹 Odds
We compared odds offered by the bookmakers when making the decision to put them on the list. More or less all the bookmakers will provide similar odds for any sport. But even marginally more significant odds for a certain tournament can make a difference.
Most bookmakers in the game will also offer enhanced odds for golf. Not just golf, these are available for most sports. Enhanced odds give you a boost when betting on a certain player to win. You might also want to check out bookmakers that offer these.
🔹 Betting Markets
We've already reviewed some of the more popular golf betting markets that most bookmakers are likely to offer. When selecting a sportsbook, make sure it has all of those markets in the golf section. Besides these markets, you should also make sure the sportsbook has a lot of additional markets and accumulator bets.
🔹 Live Streaming
Live or in-play betting is a major bonus for any sportsbooks, especially for golf. In-play betting has the potential to turn around the entire betting market for golf. It gives people the opportunity to analyse a player throughout the campaign and make strategic bets that are likelier to garner a win.
If the bookmaker does offer a live betting option for golf, another bonus is live streaming the matches. Punters always enjoy watching the match live as they place their bets. A lot of sportsbooks will offer live streaming just for signing up and some require you to have a premium account.
Either way, adding a live streaming option will always get a sportsbook in our good graces.
🔹 Licensed Bookmakers
To be able to run sportsbook services in Nigeria, the operator would need a Sports Betting licence issued by the National Lottery Regulatory Commission. Even overseas sports betting sites would need this licence to legally be able to run in Nigeria.
Besides this, the sportsbook should also have an international licence or a licence from its country of origin. The law in Nigeria does not prohibit online sports betting or gambling, but the rules to be followed are the same as the ones for land-based casinos.
Golf Competitions to Bet On
There are about four major golfing tournaments that run through the course of a season. Winning all of the major Championships means winning a Grand Slam. As far as we understand, no golfer has managed to achieve this feat yet.
The major championships are The Masters Tournament, U.S. Open Championship, The Open Championship and U.S. PGA Championship. The most popular among fans is probably The Masters Tournament.
But bets can be placed on any of the four major championships and minor events that happen in the golfing world.
Bet on Golf – Frequently Asked Question
How can I bet on golf online?
You can bet online on golf by going to a sports betting website. There are plenty of popular sportsbooks in Nigeria including Bet9ja, Betwinner, and 1xBet. All you need to do is register on the site and start adding bets to your betslip.
What are the easiest golf bets?
The easiest golf bets are probably outright bets. If you're placing your bets knowing full well which of the players are underdogs and which are favourites, you should be able to deduce which player is likelier to win a tournament.
Can I bet on golf from my phone?
Yes, you can if the sportsbook has a mobile version of the website or a mobile app.
What is a three-ball golf bet?
Three ball golf bets are wagers made on the three-person pairings made in a tournament. Betting on the player who finishes highest wins you the odds for that player.
What does it mean to 'Make the Cut'?
Making the cut in golf means avoiding elimination. If a player needs to exceed a certain score to stay in the tournament, and successfully does so, he has made the cut.
Can you parlay golf bets?
Yes, you can parlay in golf bets. Most sportsbooks will offer accumulators on golf and all of the other sports. You just need to stack bets on your betslip to turn them into accumulator bets unless the sportsbook says otherwise.