New and existing bettors can complete the Bet9ja login process to access their account. However, if you need help logging on to your betting profile, follow the instructions in our guide below.
How to login on Bet9ja on Mobile app
Firstly, you can complete the Bet9ja login process through the bookmaker's mobile app. Here, we provide step-by-step instructions about how to login to the Bet9ja app.
Firstly, open the Bet9ja account on your mobile device. If you do not have the app already, download it to your phone.
Second, click the Bet9ja login icon in the top right corner of the screen.
Then, enter your username and password.

Lastly, click log in and you will be directed to your account.
Alternatively, bettors can still use the bet9ja old mobile login option through the bookmaker's mobile browser platform.
How to login on Bet9ja on Desktop
Alternatively, you can access the betting site through the desktop platform. In this section, we guide you through how to complete the Bet9ja login on desktop devices.
Firstly, head to the bookmaker's homepage.
Second, click the green and white 'Login' button in the top right corner.
Then, fill in your username and password details and click the Bet9ja login icon.
Your personal profile will load and you can access the bookmaker's betting services.

Bet9ja bonuses
When new bettors sign up with this provider, they can receive a range of promotions and offers.
Firstly, players can use the Bet9ja promotion code MAX9JA to get a 100% up to N100,000 to use on the sportsbook (T&Cs apply). Also, players can get an extra 50% casino bonus after completing the Bet9ja registration.

But, new and existing customers can access many different offers from the bookmaker. For instance, Bet9ja provides a Cut 1 offer, where players can choose to remove one bet from an accumulator. Here, players choose a minimum of five selections, but if one result doesn't come in, then the rest of the bet is unaffected.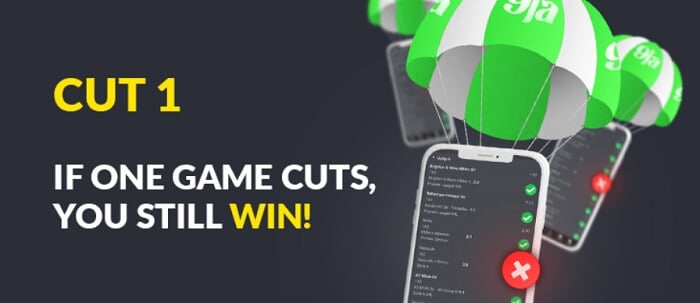 Also, the betting site offers an accumulator percentage bonus. Here, players can get additional percentages on top of their original bet. For instance, if a bettor selects five correct results, they get an additional 5% on their payout. This goes up to 38 correct bets, where the bookmaker will add a 180% bonus.
Bet9ja login error
Occasionally, players may encounter a bet9ja login error. However, solving these issues is often straightforward and can be done in a few minutes.
First, players might enter the wrong personal data when completing the Bet9ja login. Also, some players can forget their login details on occasion. To solve this, simply click the forgotten password link next to the login section on the site. Then, enter your email address and you can follow instructions on how to reset your password.
FAQ – Frequently asked Questions about Bet9ja
In this section, we provide answers to the most common questions about logging in via Bet9ja.
How do I bet on Bet9ja?
First, you create a betting profile with the bookmaker. Then, log on, make a deposit and you can start wagering on sports and casino games.
Does Bet9ja cash out?
Yes, Bet9ja has a cash out function that players can use during live bets.
Does Bet9ja give a bonus?
Yes, Bet9ja has various bonuses and promotions for new and existing customers. It also has a Bet9ja welcome bonus just for new players who register with the site.
How do I find my Bet9ja user ID?
If you lose or forget your Bet9ja user ID, use the forgotten password link to reset your details. However, if this does not work, contact the betting site's customer service team for support.