This post is designed as a BetKing promotion code guide. Also, find all features of this one of the best betting sites in Ghana.
BetKing Promotion Code: Details
If you read our BetKing review in Ghana, you might already know that this particular bookmaker is a big player in the country. And it did become one of the top names by offering lots of promotions.
The great thing about these promotions for Ghanaian punters is that you don't have to use any BetKing promotion code to claim them. Many African betting sites impose various codes to make the paradigm harder for the bettors. BetKing is a refreshing difference.
BetKing Welcome Bonus Details
One of the other things that BetKing does differently in Ghana is that it does not only offer a traditional welcome bonus but offering punters multiple other options. However, we have to admit that the welcome bonus is one of the most competitive ones available on the BetKing website.
The BetKing welcome offer can be claimed on both single and multi bets, however, multi bets come with some requirements. One of them is that the selection of bets cannot be smaller than 6 and the odds for each selection should not be greater than 3.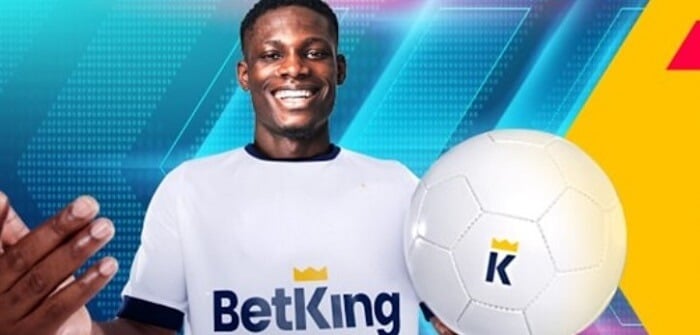 ---
---
Other Promotions
Cashback Bonuses
Just like all other uses of the BetKing promotion code, you don't need to use any for a cashback campaign as well. This is available to both new and existing punters. Basically, you get a cashback bonus on all of your lost bets and you can win up to a predetermined amount by the operator from it.
If you qualify for the bonus, you'll receive an SMS on your phone number explaining how much you won. The SMSs are rolled out on Mondays and Wednesdays only.
As for the qualifying bets, you need to comply with minimum selections and the average odds for each of the selections must be higher than 1.2. Again, you don't need to use any promotion code for this one.

Jackpots
The jackpot has been an iconic promotion across many African countries, including Ghana. In this promotion, you can win cash from a prize pool!
You can add unlimited selections to your bet slip for the virtual jackpot draw. The most amazing thing about this promotion is that it doesn't matter whether you've won the draw or not.
As the winners are selected randomly, you don't even have to worry about how many tickets you're adding to your slip. More will surely result in a higher likelihood of winning but it's not mandatory.
These jackpots are often offered on a daily (Duke Jackpot), and weekly (Kingmaker Jackpot).

Accumulator Boosts
If you're familiar with the ACCA bonus at online bookmakers, this promotion is basically that.
You just keep adding selections to your bet slip and your winnings will be boosted in cashback as you reach the maximum number of 40 selections.
Claim the Welcome Bonus with BetKing Promo Code
You already know that you don't have to use the BetKing promotion code to claim any of the bonuses. You also know that you don't get a traditional welcome bonus on BetKing Ghana as well. So, the actual process of claiming the bonus is very streamlined.
How to claim the BetKing promo code in Ghana?
Register for a BetKing Account

If you want any of the BetKing promotions to work, you need to be a paying customer. And to become a paying customer, you must register first. The BetKing registration process is very simple. Just check out our guide and you'll be good to go.


Deposit Money

None of the bonuses are no deposit bonuses. So, a real money deposit is mandatory. Compared to many other online betting jurisdictions in Africa, Ghana has one of the most progressive online payment paradigms.
As a result, you can use quite a few options to deposit like Visa, Mastercard, Paydirect, Webpay, ATMTransfer, Verve, PayInstantly, Zenith, and *737*transfer!

Claim the Bonus

To claim any of the bonuses we covered in the previous section, you just need to visit the "Promotions" page on the BetKing website and claim it. You don't have to enter any BetKing promotion code in any way.
Reasons to Register with BetKing Promotion Code
If you're looking for reasons to convince yourself to sign up for BetKing Ghana, we've got you covered.
Ghana is one of the most advanced countries in Africa when it comes to online gambling. As a result, almost all the international bookmakers accept players from the country.
In this section, let's go over the features that make BetKing a prominent brand in Ghana.
It's Licensed!
Every sensible punter will know that license is supposed to keep you safe. The job of the license is to keep you safe from fraudulent transactions and unfair odds. At the same time, it helps the operators keep scammers away. It's a win-win for both parties.
Thankfully, BetKing in Ghana is licensed by the Gaming Commission of Ghana. The license is granted to Arcadia Games Ltd. under the Gaming Act, 2006. The license is one of the many things that distinguish BetKing from many of the other operators.
Excellent Bonuses
Well, if the bonuses on BetKing Ghana is not a good reason for you to sign up, we don't know what will be. Let's not go too deep with this one because we've already covered all of them previously on this guide.
Lots of Tutorials
In most cases, new punters have to rely a lot on 3rd party websites to learn about how to place a bet, how to sign up, how to withdraw, and all that. BetKing has actually taken it into its own hands.
When you're on the BetKing Ghana website, you'll find lots of tutorials on how to place a bet, how to deposit, how to withdraw, how to check coupon status, how to reset password, how cashout works, and plenty of others.
You'll also find guides on how to use a BetKing promotion code.
Amazing Sports Betting Opportunities
Online bookmakers like BetKing know how much Ghanaians love to bet on sports. As a result, you can find hundreds of betting opportunities on the Ghanaian website.
On the main sports betting page, you can choose between Soccer, Tennis, Basketball, Cricket, Handball, MMA, Esports League of Legends, Table Tennis, Aussie Rules, Snooker, American Football, and lots of others.
Plenty of Live Betting Options
Live betting is a major part of the overall online betting industry now and the craze is also prevalent in Ghana.
BetKing in Ghana even has a separate tab labeled "Live" where all of the live markets are listed. At any given time, the number of markets you're going to find are offered football (soccer).
Our Opinion
We know our BetKing promotion code guide has turned into a full-fledged guide for this Ghanaian betting site.
The biggest takeaway from this guide is that you don't have to use any promotion codes for any of the bonuses. And apart from the bonuses, you have a massive array of other activities that you can participate in all the time.
BetKing Promotions Code FAQs
What is BetKing promotion code?
The BetKing promotion code is optionally required to claim the welcome bonus.
How do I get BetKing promo code?
At the time of writing this guide, BetKing does offer promo code. As it's an optional bonus, you can steer clear from it if you want. 
Does BetKing have registration bonus?
The answer is yes and no at the same time. BetKing in Ghana doesn't offer a bonus exclusive for the "registration". But you can claim any of the bonuses as long as you qualify for them. Check the T&C section of each bonus to see whether you qualify or not.