Among hundreds of online betting sites that accept players from Ghana, BetKing is one of our top choices. And for that reason, we're doing the BetKing review. Plus, we'll talk about the BetKing promotion code you might need.
Our BetKing Ghana Review
Sports betting is a massively popular activity in Ghana. According to many statistics, more than 60 million Ghanaians between the age of 18 and 40 are actively involved with gambling. As the government has legalized and regulated sports betting, physical betting shops are spread all over the big cities.
From our primary evaluation, we have to admit that BetKing's charm lies in its sports betting features. Of course, when we say "sportsbook", it includes live betting as well as virtual betting options for Ghanaian punters.
Another crucial element behind its popularity is the payment methods. BetKing offers way more methods in Ghana when compared to other countries.
Overall, BetKing has every right to be in the top league of betting sites in the country. In the rest of our BetKing review, we're going to dissect the features.
---
---
Is BetKing Legal in Ghana?
As a matter of fact, it is. Ghana is one of the few African countries that has regulated gambling, both online and offline. And that too, very structurally. The operator in question is even licensed in Ghana by the appropriate authority.
When we say appropriate authority, we mean the Gaming Commission of Ghana. It's the regulatory wing of the government that grants licenses to companies under the Gambling Act 2006. The operator for BetKing in Ghana is Arcadia Games Ltd. You can verify the legitimacy of the site with license number GCSB21Z2203R.
BetKing Promotions Review
To entertain all the Ghanaian punters, BetKing has an excellent promotional structure. You can access all of them from the "Promotions" page on the website. At the time of writing this BetKing review, the offered campaigns include 1 Game Cut, Spin It Win It, Kingmaker Jackpot, Duke Jackpot, and Multibet Bonus.
The first one, as in the 1 game cut bonus is essentially a cashback bonus. All you have to do is lose a real money bet at the offered terms and conditions.
Both the Kingmaker and Duke jackpots are draw-based bonuses. You include your selections every day or every week and hope that you win.
The most amazing thing about the jackpot bonuses is that you don't have to actively participate in them. Every time you make a real money bet, it's considered as a ticket for the draw. There's not even any limit on how many tickets you can submit every day or every week.
Last but not least, you can win through the Multibet bonus promotion.
BetKing Sports Betting Review
It's only obvious that the primary highlights of an online betting site are the sports betting features. BetKing is strictly an online bookmaker which means you can't play any casino games on this platform.
Then again, casino games were never the concern of our BetKing review anyways. So, let's cover the unique features of BetKing sports betting in Ghana.

Odds
As you're interested in sports betting, we assume you have the basics of betting odds. But nothing to worry about if you don't.
Odds do two things in a sportsbook. It projects how much you can get from a bet as well as what's the likelihood of that outcome. Ghanaian punters are mostly using decimal odds, so that's the default format chosen in our BetKing review.
However, if you're more comfortable with fractional or American odds, BetKing lets you use those formats too. You should see a settings icon on your account interface. That's where all the settings like the odds, the site format, scrollbars format, coupon docked, and live match trackers are listed.

Sports Betting
In this section of our BetKing review, we have to go a little more in-depth about the markets. Sports betting markets are the most important element of betting because the odds are actually projected based on markets.
As football is the most popular sport for betting as well as for viewing in Ghana, let's use it as an example. You get the usual markets like 1×2, double chance, and over/under bets for all the available matches.
And when you click on a particular match, you'll discover plenty of other markets. Most football matches on BetKing have multiple over/under projections, chance mix, handicap, home to win either half, multi score, and hundreds of other markets.
Yes, you read that right. A single football match in Ghana can have "hundreds of" markets at any given moment!

Virtuals
Although this has become a prominent part of everyday sports betting, it doesn't get enough traction in Ghana. Based on our review, we think BetKing has done a wonderful job of popularising it in the country.
In fact, you can find a dedicated section on the BetKing website labelled "Virtual". Once you're on that page, you'll find games like Spin 2 Win, Keno, Racing, and Greyhound. As each of the listings suggests, you get events like greyhound racing, live keno portals, and whatnot.
If you're confused about how to place bets on virtual events, it's actually the same as betting on real events. It's just that the games are not being played by real players.
The Sports Library
Everything about online betting starts with the sports library, doesn't it? On the BetKing sports page, you can find all of the sports that offer markets for betting on the left-hand side of the screen.
The collection includes soccer, cricket, tennis, basketball player specials, ice hockey, American football, MMA, athletics, Aussie rules, boxing, table tennis, darts, volleyball, Formula 1, snooker, rugby, and whatnot.
If you keep tabs on the sports world, you may already know that these are the most popular sports no matter which corner of the world you go to. The fact that BetKing offers this many sports for betting automatically makes it one of the finest choices in Ghana.
BetKing Payment Methods
It's nothing new that you're going to need online payment methods when you're trying to deposit or withdraw money from a betting site. If BetKing had physical shops where you could walk in and deposit, that would be nice in Ghana. Unfortunately, it's not possible.
So, what online payment methods can you use?
You'd be glad to know that your options are far more flourished than many other African countries. Take Kenya, for example. BetKing happens to accept players from Kenya, and it has a separate domain for that as well! But the only payment method for that site is M-Pesa.
On the BetKing Ghana site, however, you can use Visa and Mastercard along with plenty of local methods. The reason we're highlighting Visa and Mastercard is that these 2 are the only international methods and you don't see it happen very often!
The local methods on this site include Quickteller, Paydirect, Webpay, Zenith, PayInstantly, Verve, *737*transfer, and ATM Transfer.st
As for the minimum deposit, it's not stated. The maximum bet is also not stated.
Just like the deposit, BetKing Ghana doesn't state any minimum or maximum withdrawal limits. Just keep in mind that you must verify your account through the KYC process before you can withdraw any of your winnings.

BetKing Mobile Review
No online sportsbook review is complete without evaluating mobile features these days. It's understandable because way more players are focused on mobile betting when compared to desktop users.
BetKing has excellent mobile support in Ghana. The dedicated mobile site is different from the desktop site. It's optimised for small screens. From the placement of the elements to how each of the features behaves has been redesigned on the mobile site. So, you can't really compare the two.
But we can assure you that none of the features have been omitted on the mobile platform. You get all the sports, all the markets, all the promotions, and even all the payment methods.
However, if you prefer a mobile app for sports betting in Ghana, that's not possible at the time of writing. You can only access the platform via your mobile browsers.
An interesting fact is that the BetKing Ghana mobile site has been newly designed for modern devices. If you happen to use an older device or the internet in your area is not that good, you can still use the old site. It's lighter and looks a bit outdated but still retains all of the functionalities.
BetKing Registration Review
How can we put a wrap on our BetKing review without giving you the basics of BetKing registration? It's one of the mandatory steps if you want to enjoy the betting components of the site. Just follow the steps we've shared in our guide, and you're golden.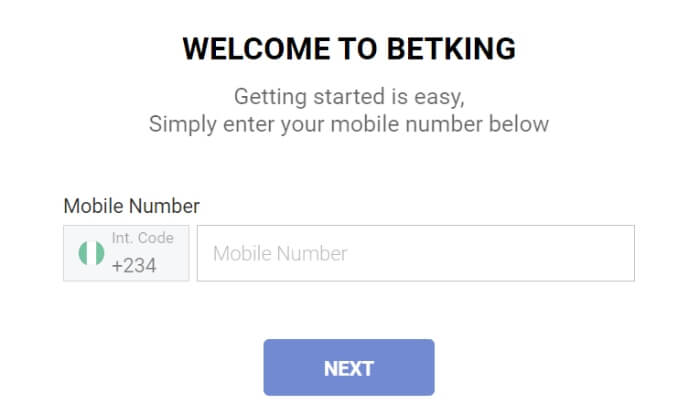 BetKing Live Betting/Live Streaming Review
Although live betting is a part of core sports betting now, it deserves its own header. The website designers of BetKing in Ghana seem to agree with us. You'll find a "Live" tab on the main navigation menu.
Under that section live all the live events. These matches are always rotating because the international roster of matches is always changing. You can expect way more markets in live betting when compared to pre-match betting simply because there's more room for BetKing to create a market.
As for live streaming, only a few select events offer it. Moreover, you must be a paying customer to access those streams.
BetKing Customer Service Review
You can reach out to the dedicated team 24/7 every single day of the week. You're free to use the live chat on the website. Or, you can call directly at 0242436850.
If you use social media, you can try Twitter, Facebook, and Instagram. The handle for all of these channels is @BetKingGhana.
Conclusion
We know that Ghanaian bettors don't want much from an online bookmaker. They just want a safe platform where they can seamlessly place bets on their favourite sports events. As for our BetKing review, we believe the operator is compliant on all fronts.
You get an excellent library of sports to choose from, active markets 24/7, reliable online payment methods, 24/7 customer support, and even virtual betting options. What more could you want?
BetKing Review Ghana FAQ
Is BetKing available in Ghana?
Yes, it is. In fact, BetKing has a dedicated domain for Ghanaian punters. It also accepts Ghanaian Cedi as the native currency.
How to Bet at BetKing Ghana?
Well, the process is very straightforward. You start with opening an account through the registration process. Then, you deposit real money with one of the methods. Finally, you browse through the markets to look for the profitable ones and add them to your bet slip.
How to contact BetKing Ghana?
In our customer support section, we've covered all the channels. Basically, you can reach out via live chat, telephone, or social media.
Other Bookmakers