The BetKing registration is available for all new players looking to join the betting site. Here, we provide step-by-step instructions on how to complete the sign up process, and we provide details about the BetKing promotion code.
BetKing Registration Ghana: Step-by-Step Guide
Firstly, our BetKing review shows new customers how they can complete the sign up process to get started with this bookmaker. Also, during the registration, new bettors can unlock the BetKing welcome offer.
Overall, the BetKing registration process is easy and straightforward, and it can be completed within a few minutes. Then, once the BetKing sign up is complete, new players can access all of the betting site's features, promotions and betting options.
Here, we provide a step-by-step guide on how to complete the registration process.
How to open a BetKing account in Ghana?
Head to the Homepage.

Firstly, new players can head to the betting site homepage to get started. Then, from here, press the blue 'Join Now' button located at the top of the page.


Enter Details.

Second, a new screen loads, which prompts players to enter their mobile numbers first. Then, on the following pages, they enter more personal information. This includes first name, last name, and email address.
Also, during this step, new players must set up a safe and secure password. Usually, a strong password contains letters, numbers and special characters.


Confirm Account.

Finally, to complete the BetKing registration process, players confirm their account. New customers are sent a confirmation link to their phone number or email address. Then, to complete the BetKing sign up, players click this link to confirm their account.

Login.

Once bettors have fully completed the setup process, they can log back in at any time by using their phone number and password combination. Also, if customers ever forget their login email address, phone number or password, they can easily reset these at any time.

To do this, all bettors need to do is press the 'Forgot Password' button next to the login section.
---
---
BetKing Mobile Registration
Additionally, bettors can register with the betting site via the BetKing app. Presently, this is available for both iOS and Android users. Also, the app is downloadable from the Google Play Store (Android) and Apple Store (iOS). Players wanting to register via the app must download it before signing up.
Then, once players download and install the app on their device, they can sign up with a few simple steps. Here, we outline how players get started at BetKing through the bookmaker's mobile app.
Mobile App
Firstly, open the app on your mobile device.
Second, from the home screen, click the blue 'Join Now' button at the top of the page.
Then, fill in the required phone number and other personal details. Also, new bettors must enter a safe and secure password.
Players are then sent a confirmation link to their mobile number or email address. Click this to confirm your account.
Lastly, new customers can log back into their accounts through the app by pressing the 'Login' button.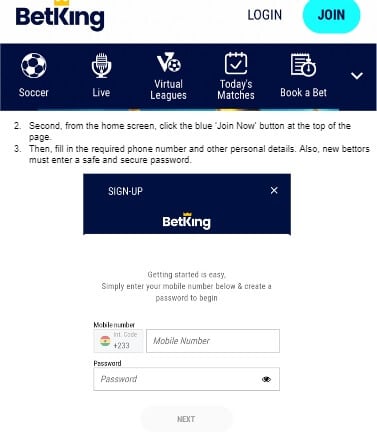 Mobile Browser
Alternatively, new customers who cannot download the mobile app can complete the mobile registration process. However, they must use the browser version to complete this process.
Below, we share the steps needed to complete the registration through the bookmaker's mobile browser site.
To begin, load the betting site homepage and click 'Join Now'.
Second, fill in the required personal details, such as mobile number, email, name and secure password.
Then, click the confirmation link that the bookmaker sends to your mobile or email.
Finally, your account will be set up, and you can log on at any time.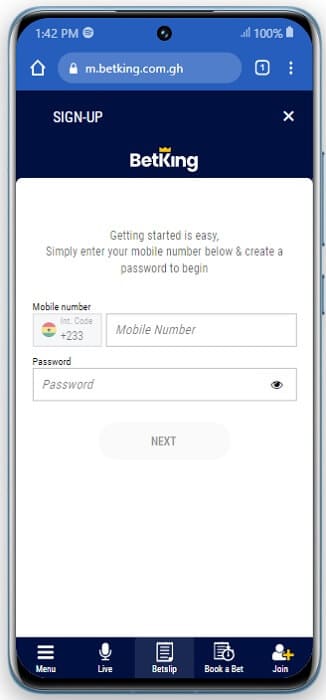 How to Verify a BetKing Account?
Today, all new customers at BetKing and any other online bookmaker must verify their account. This is known as the KYC (Know Your Customer) procedure, where players must confirm their identity to the bookmaker. Ultimately, this step provides safety and security for the bookmaker and the customer by preventing fraud and money laundering.
Generally, the verification process is simple, and the bookmaker often verifies identity quickly if the correct documents are provided. However, the betting company will contact players if they require more information about ID documents.
Once a new customer has set up their account, they must upload an acceptable identification document to the betting site. Currently, these include Voters card, International passport, National Identity card, Driver's licence or CAC document.
Then, once a player has the correct document available, they can upload it for verification by following these steps.
First, click the bookmaker's validation link.
Then, upload your ID card copy when prompted. Also, players must include a picture of the back for ID if the expiry date is on the back.
Check all details and images are correct and click submit.
Lastly, the BetKing support team reviews the documentation. Usually, they confirm if an ID is accepted within a few hours.
BetKing Registration Bonus
Presently, this Ghanaian bookmaker does not have a specific welcome bonus for new players joining the site. However, it does have a jackpot bonus and an accumulator bonus available, and players can access these after registration.
What Are BetKing Registration Requirements?
Ultimately, new customers can speed up the registration process at BetKing by having all the necessary information and documents to hand. Sometimes, without these available, new players' accounts take a long time to verify.
Here, we have created a handy list of all of the bookmaker's requirements when signing up.
An active Ghana mobile phone number.
A working email address.
Full name and last name details.
Address.
A secure password that is memorable and safe to use.
ID documentation for KYC steps.
How to Deposit at BetKing?
Usually, making a deposit at BetKing is easy, and deposits are often processed to an account instantly. To make a deposit, players login to their account, head to the 'Deposit' section then select their preferred method and amount to send. Currently, the bookmaker accepts deposit payments from debit cards, online banking and mobile money apps.
BetKing Ghana Registration FAQ
In this section, we answer some of the most common questions asked about the BetKing sign up process and about the bookmaker in general.
Is BetKing legal in Ghana?
Yes, BetKing is perfectly legal in Ghana and it will be licensed by the Ghana Gaming Commission (GGC). As a result, players can freely sign up, deposit, withdraw and make bets through the bookmaker. Furthermore, their accounts and payments will be protected by law as part of the betting company's licence.
How to login at BetKing Ghana?
First, new bettors must create a BetKing account before they can login and access the betting services. However, the sign up process is very easy and accessible for all new players. Above, we outline the exact details and requirements needed to register. Follow these steps to get started with the betting site.
How to fund my BetKing account?
Before players can start placing wagers at this betting site, they must first deposit funds to their account. To do this, bettors login to their account, go to the 'Deposit' section and then input their preferred method and amount. Then, funds should display instantly in an account.
How do I register for BetKing via SMS?
Currently, bettors can register via their mobile SMS service by entering their mobile number in the registration process. Then, players are sent a confirmation link by SMS. To complete, bettors click this link, and their account will be set up.