Currently, new and existing bettors can use the Betika paybill option to make deposits and withdrawals at this betting site. Read on to find out all the need-to-know details about the Betika review for payments.
How to Deposit at Betika With MPESA Paybill?
Once you have set up an account, you will need to make a Betika deposit to fund your wagers. You can choose various methods to do this, including Mpesa and Airtel Money.
At present, you cannot use the bookmaker's betting services unless you have a positive balance in your account. This includes access to any Betika welcome bonus or jackpots.
How to make a deposit at Betika Kenya with MPESA Paybill?
First, go to your Mpesa account and log in.
Second, select paybill

Enter the Betika paybill business number 290290.

Then, enter the amount you want to deposit into your account.
Lastly, input the pin code that is sent to you and confirm the amount.
Your account should be topped up instantly.
Minimum Deposit
Currently, you can make a minimum 1 KSH deposit to your betting account with the Betika paybill. Any transactions less than this amount won't be accepted.
Maximum Deposit
However, an upper limit of 150,000 KSH applies for any Betika deposit made through the paybill method.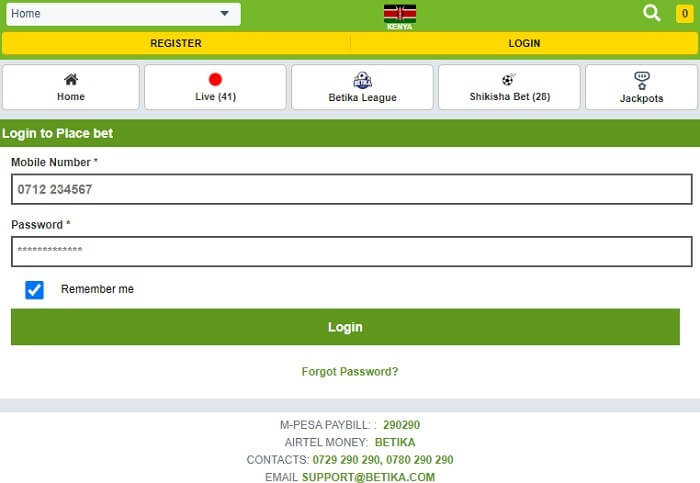 How to Withdraw from Betika With MPESA Paybill?
In addition, you can make a Betika withdrawal with the paybill method.
Here, we guide you through how to make a withdrawal with Mpesa, also known as Safaricom.
First, you must log on to your Betika account and select 'withdrawals'.
Then, you will be prompted to choose your amount and preferred method. Select Mpesa paybill.
Next, input the amount to withdraw and confirm and the money will be sent to your mobile account.
Lastly, you will receive a text confirmation from Mpesa and Betika that the transaction was successful.
Minimum Withdrawal
Today, any bettors who use this mobile method to make a withdrawal must make a minimum of KSH 50. The bookmaker will not approve any withdrawal requests lower than this amount.
However, the minimum amount might be different for other mobile payment methods, like Airtel Money.
Maximum Withdrawal
However, the maximum Betika withdrawal amount is KSH. 150,000 per day from an account. Furthermore, this maximum amount applies for a 24-hour period and you cannot withdraw more within the 24-hour timeframe.
Also, between 12 a.m and 6 a.m, you can only withdraw a maximum amount of KSH 30,000.
Betika Mpesa Paybill FAQ
In this section, we answer some of the most common questions about payment with this betting site.
What is the Betola paybill number?
This number can be used to make transfers to and from your betting account. It is a mobile money service so you can manage your funds from your phone.
How can I add funds to my Betika account?
To make a deposit to your account, you can log on to Mpesa and transfer funds to your betika profile. Use our step-by-step guide above for support. Alternatively, you can use Airtel Money to send funds to your account. 
How much does it cost to deposit on Betika?
Currently, deposits to this betting site are free. Also, funds come through to your account instantly. 
Is Betika bonus withdrawable?
At present, only the jackpot bonus is withdrawable. As a result, you cannot withdraw any other bonus.