Punters don't need to use a promo code to claim the Betkwiff welcome bonus. Simply follow this guide which takes you through the entire process from signing up to getting your bonus bet.
What Is Betkwiff Welcome Bonus?
All of the best betting sites in Kenya have sign-up offers; however, the Betkwiff welcome bonus is slightly different from what you may normally find.
| Betkwiff Kenya Welcome Bonus | Bonus Description |
| --- | --- |
| Bonus amount | Up to KSH 10,000 |
| Minimum odds | 5.00 |
| Minimum bet | 20 KSH |
| Wagering requirements | Qualifying bet – 3-fold accumulator at odds of 5.00 or above |
The offer is a 2x bonus surprise bet. To qualify, a punter needs to make their first bet of KSH 20, 100, 500, 2,500, or 5,000 on any sports and betting markets. The bet has to be a 3-fold accumulator with total odds of 5.00 or above.
For example, if you stake KSH 20 on a 3-fold at odds of 5.00, you'll receive a KSH 40 bonus surprise bet. Alternatively, if the stake for your qualifying bet is KSH 5,000, then your bonus bet is worth KSH 10,000.
In addition to the 2x bonus surprise bet, for which no Betkwiff promo code is required, punters are also guaranteed to get their first three bets (after the qualifying wager) supercharged, or 'Kwiffed' as the sports betting operator likes to call it.
How To Claim The Betkwiff Kenya Welcome Bonus?
Claiming the welcome bonus is straightforward, but there are a few stipulations related to the qualifying bet to be aware of.
You will need to complete the Betkwiff registration process. Then add funds to your account – you don't need to use a Betkwiff bonus code, so you can move directly onto this step after registration.
Place the qualifying bet – this must be the first wager you place. Bet one of the following amounts: KSH 20, 100, 200, 2,500, or 5,000 or any sport.
The bet needs to be a 3-selection accumulator with odds of 5.00 or above.
Once the qualifying bet is settled, you'll receive a surprise bonus bet which is worth 2x the amount of your qualifying wager.
Betkwiff Kenya selects the sport and market for the surprise bet. Punters can view the wager in the My Bets section of their accounts.
If the surprise bet wins, the returns (excluding the stake) are credited to your active real money balance. The next three bets after the qualifying wager are Kwiffed, which means they each have supercharged odds, giving punters better payouts if they win.

Reasons To Register With Betkwiff Welcome Bonus
With a growing number of stellar online betting companies now operating in Kenya, why choose this one? You can check out this Betkwiff review for in-depth analysis; however, here's an overview of what this mobile-centric betting app has to offer.
Sports Betting
Punters can bet on around 20 sports at Betkwiff Kenya, with this betting company offering both pre-match and live betting wagering options. A standout feature is that Betkwiff Kenya offers horse racing, which is something, not all betting sites cover.
In addition, you can bet on football, tennis, cricket, greyhounds, and basketball, with a plethora of worldwide events at your fingertips.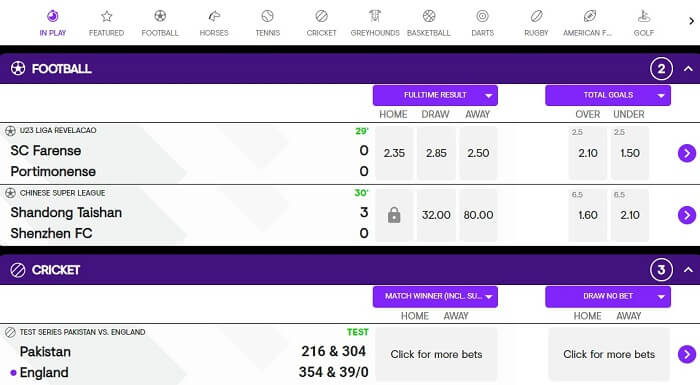 Supercharged Bets
A unique selling point of Betkwiff Kenya is its supercharged bets, known as being 'Kwiffed'. This is the only betting site that does this. Players don't need to use a Bwtkwiff promo code because receiving a supercharge is random.
Betkwiff Kenya can decide on any bet – regardless of the sport, market, and odds – that is going to supercharge the odds. Moreover, it could be a single, double, treble, or accumulator bet.
If the bet gets supercharged, its odds increase massively so that the payout is far greater than it would have been from the regular price.
Surprise Bonus Bets
Thinking outside of the box, Betkwiff Kenya has reinvented the free bet as a surprise bet. The difference between a surprise bet and a free bet is that the betting site chooses the former.
Therefore, it could be on any sport and betting markets, and the odds are unknown too.
No Betkwiff bonus code is needed. Punters just have to wait until the selection appears in the Cash Out section. Surprise bets can also be Kwiffed, which is like a double win when that happens.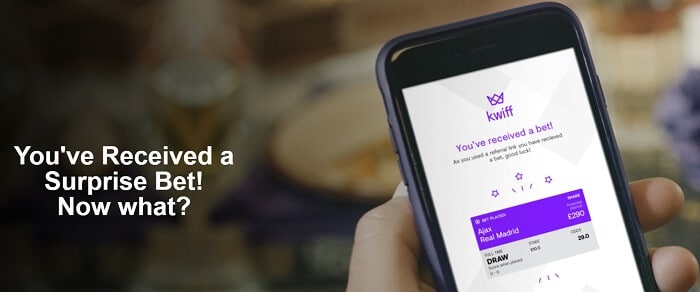 Betkwiff Kenya FAQs
Browse through our FAQs for more information on the Betkwiff promo code and welcome offer.
Does Betkwiff have a bonus for new customers?
Betkwiff has an intriguing welcome offer for new customers. They get a surprise bet worth 200% (double) the value of their first bet qualifying wager. Furthermore, the next three bets are guaranteed to have supercharged odds.
What is the minimum deposit at Betkwiff Kenya?
The minimum deposit amount may vary depending on the payment method you use. However, it's worth noting that players must place the first bet with a minimum stake of KSH 20 to activate the Betkwiff welcome bonus.
Can I claim the Betkwiff welcome bonus on the app?
Absolutely, yes. New customers can claim the welcome bonus through the Betkwiff app. To do this, you must ensure that you follow the rules of the promotion by placing a qualifying bet within the parameters of the terms and conditions. Once you've completed this requirement, the surprise bet becomes accessible through the app.
Is Betkwiff welcome bonus withdrawable?
Yes. If the surprise bonus bet wins, customers can withdraw the winnings (the stake isn't included in the returns). Effectively, the surprise bet is the same as a free bet, but the wager is chosen for you by Betkwiff Kenya.