In this review, we will be looking at the Helabet registration process.
Helabet Registration Kenya: Step-by-Step Guide
It's pretty easy to register at Helabet Kenya. The following steps will show you how to get registered:
How to register on Helabet Kenya in 8 steps?
Step 1

Open your internet browser on your mobile phone and navigate to the Helabet Kenya official website to get started.


Step 2

When the website loads, you should be on the homepage. On the top right corner of the homepage, you'll see two options: "login" and "registration." The registration option is coloured yellow as shown below.

Step 3

After that, click on the Registration button to move to the next stage.

Step 4

Now, the registration page opens, and you'll see a form to fill in your phone number and a password that you will use to access your Helabet account.


Step 5

The next thing to do is to fill in your correct phone number and click "Send SMS."

Step 6

Next, wait a few seconds for the confirmation code to be sent to you via SMS. You should receive an SMS if you entered your correct phone number.

Step 7

Enter the Helabet promo code in order to claim the First Deposit Bonus.

Step 8

After filling in the required details, click "Register" to complete the registration process. Ensure that your password and the re-entered password match to prevent problems during your registration.
After completing the registration process, you must then log in to your account in order to play and place bets.
Helabet Registration on Mobile
You can also set up your betting account on Helabet Kenya by registering on your mobile device using the Helabet app. Many gamers choose to place bets using the Helabet app since it is more convenient.
It includes all of the same features as the official website, including the same slots, sports betting, and much more. Only your favorite games are in your pocket, and Helabet allows you to play and win at any time.
Here's how you register on Helabet Kenya using the mobile app:
First, go to the official Helabet website and press the "Install now" button at the bottom to download the app to your smartphone. Both Android and iOS versions of the software are available for download.
After installing the application, open it and click the registration icon in the upper right corner of the main menu.
Next, you then fill up your personal information, including your cell phone number, e-mail address, and account password.
Click the "Sign Up" button to complete your registration.
You can now play your favorite games on your phone from anywhere and at any time.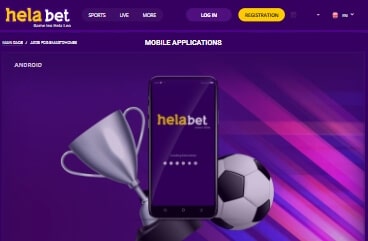 What is Helabet Kenya Registration Bonus?
New players on Helabet are eligible for a 100% first deposit bonus. So basically, you're getting a full refund of the deposited money and you can then bet on the first deposit bonus amount.
How to Verify the Helabet Kenya Account?
Helabet Kenya will verify your account by requesting you provide your identity documents after registration. After the bookie confirms your identity, you can then begin to place bets on Helabet.
To verify your account, you'll need to complete the registration form first.
Usually, you'll be required to verify your account when you are about to make your first withdrawal on the site. Helabet will ask you to provide the following:
Your ID Card or Passport
Proof of Address (Utility bill); or
Bank Statement
Make sure you upload clear documents showing your information, so you don't have issues with the verification process. If you're information checks out, you will be able to make your withdrawal and other subsequent withdrawals conveniently.
Reasons to Sign up at Helabet Kenya
There are thousands of bettors registered on Helabet, and you too can be one of them. One of the reasons why they are sought after is their credibility and integrity.
The site is known to be fair to customers, and they are very transparent in their dealings. There are many reasons why you should sign up with Helabet Kenya.
These are just a few of them.
Multiple Betting Options
There are many betting options on the Helabet Kenya site. Whether you want to bet on sports or play online casino games, they have you covered.
The bookie offers over 30 sports, including football, basketball, tennis, volleyball, ice, hockey, and other popular sports. Bettors can also access their eSports and virtual markets on Helabet.
Convenient Payment Options
Making deposits and withdrawals is seamless in Helabet Kenya. The bookie offers multiple options for Kenyans to make payments.
As a result, you can always choose your preferred payment method when you want to request a payout.

Bonuses and Promotions
Besides the welcome offer for new players, Helabet offers existing players ongoing promotions from time to time.
You can get cashbacks, boosted odds, free bets, and deposit bonuses when you register with this bookmaker. You can take advantage of these incentives to increase your winnings on their platform.
Competitive Odds
In addition to offering a wide variety of sports betting options, bettors will have access to competitive odds. Helabet Kenya offers top odds on different sporting events.
Football fans can take advantage of these odds when betting on their favourite teams.
Live Betting and Streaming
Another reason to sign up with this bookie is that you get to bet live on sports. Helabet offers a wide range of live sports betting options, including virtual and eSports.
Their live section also features a high quality live stream where you can follow the games in real time.
Mobile Betting
Helabet is one of the few bookies that offer a mobile betting platform in Kenya. You can either download their iOS and Android apps or use their mobile website when you sign up with them.
Problems with the Helabet Registration
Usually, the registration process is seamless, and there are hardly any issues. If you're having problems, it could be because of these reasons.
Incorrect Details
If you enter incorrect details during registration, it won't be possible to sign up with Helabet Kenya. Make sure you type a valid phone number or email address when filling out the registration form.
Verification Issues
Helabet will verify your identity after you register. If you are unable to meet their requirements, you won't have access to your account.
As a result, you need to make sure that the information you provide during the sign up process matches your identity documents.
Poor Internet Connection
Also, if you're unable to register with this bookmaker, it could be because of your internet. You need a good internet connection to access their platform.
Restart your WiFi and then check if you're connected.
What Do You Need To Register on Helabet Kenya?
Registering on the Helabet Kenya website is easy and straightforward. You will need to fill in your personal details on the registration field provided.
Also, Helabet Kenya will request you verify your account, so make sure you use an active mobile number. The verification code will be sent to you and then you can begin using your account.
How to Login to Helabet Kenya?
Follow these procedures to log into your Helabet Kenya account:
Go to the official Helabet Kenya website and then click the "Log in" option in the upper right corner of the page.
Next, enter the username you chose while creating your game account.
After this, enter the password you used when you first set up your Helabet account.
You may then wager, play, and earn with Helabet Kenya once you've logged into your account.
Helabet Kenya Registration FAQ
Is Helabet Kenya trusted?
Yes, the Betting Control and Licensing Board (BCLB) has licensed the Helabet platform. It is one of the most reliable and trusted betting sites in Kenya.
How to verify a Helabet account?
To verify your Helabet Kenya account, go to the area that contains your account and click "Verify". Next, Fill in all of your personal information, Complete the verification procedure for your gaming account by clicking the "Verify" button at the bottom of the page.
How long does the Helabet Kenya registration process take?
The registration process doesn't take time to complete. In less than 5 minutes, you can start using your Helabet Kenya betting account.
How do I get the Helabet registration bonus?
To get the Helabet first deposit bonus, use the promo code to unlock the bonus during the Helabet Kenya account registration.
How to contact Helabet Kenya?
You can contact Helabet Kenya customer care on their official website. They can be reached via live chat, email and the telephone number provided on the website.