Do you want to explore the Sahara Games Paybill option for making payments? If you don't have an account with the bookmaker, you can use the Sahara Games promo code to sign up with them.
---
---
How to Deposit at Sahara Games with Paybill?
The ease of depositing and withdrawing determines customer loyalty.
The Sahara Games Paybill option is the easiest way to deposit and withdraw funds on the Sahara Games platform. It is straightforward, and it takes only a few minutes for the money to reflect in your account.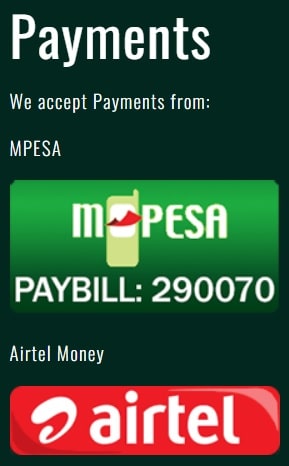 Deposit Using M-Pesa
Here is a step-by-step guide on how to deposit money into your Sahara Games account using M-PESA Paybill:
First, you need to open the M-PESA app on your phone; if you don't already have it installed, go to the Play Store or App Store and download it.
Once you open the app, click on the "Pay Bill" option
Next, you will need to fill in the space for the business number with 290070
Then enter Sahara as the account name
Fill in the amount of money that you want to deposit
Finally, input your M-PESA PIN and tap Send.
A few seconds later, you will get a confirmation via SMS
If the funds don't reflect in your account after making a payment using the Sahara Games Paybill option, reach out to the M-PESA customer team. They will rectify the issue in no time.
Deposit Using Airtel
You can also explore other deposit options like the Airtel Money app to make payments. Depositing money to your Sahara Games account with the Airtel app is easy; this makes it a great alternative to Paybill. If you want to give it a try, here is how to go about it.
Visit the Airtel Money menu.
Click on the menu icon
Select make payment
Choose Pay Bill and then select "Other."
Fill the Sahara Games business number '290070.'
Enter your pin
Finally, you'll be required to enter a reference number and use 'SAHARA' as a reference.
How to Withdraw from Sahara Games with Paybill
Just like deposit, withdrawal on Sahara Games is also straightforward;
Go to your Sahara Games account.
Choose Paybill as your withdrawal option and follow the instructions on your screen.
Enter the amount you want to withdraw, and select 'withdraw.'
The amount you choose will be credited to your M-PESA account.
How To Withdraw With Paybill Using M-PESA
You can also withdraw money from your M-PESA account by texting GET and the desired amount to 29007, and the money will be credited to your M-PESA account.
How To Withdraw From Paybill With Airtel
Similar to the Sahara Games Paybill option, Airtel allows players to withdraw their earnings directly from the website. However, instead of Paybill, pick Airtel, input the amount you want to withdraw, and select "withdraw."
Sahara Games Paybill FAQ
What is the Sahara Games Paybill number?
Sahara Games paybill number is 290070. Before payment, you should correctly input the numbers and go over them again to be sure.
What is the minimum deposit at Sahara Games?
The minimum deposit varies between countries; for Kenya, there's one amount of minimum deposit required, while for players in Nigeria and Uganda, it differs. All details you can find on the official website.
What are the maximum odds on any bet slip?
Sahara Games, just like most booking platforms, has a maximum odd restriction for bookies. The maximum odds allowed on the platform is 2000 odds. If you go above the benchmark, it will not be processed. 
How long does it take for Sahara Games' deposit to reflect?
Payment is almost instant; it takes only a few seconds for the money to appear in your betting account.