You are on the right page if you have been looking for ways to go about your Betway registration in Kenya. Here is a step-by-step guide on using a Betway sign up code: BONUSMAX to open a new account with Betway Kenya.
Betway Kenya Registration: Step-by-Step Guide
Registering a new account with Betway Kenya is seamless, and you only need to follow a few steps. Below is a step-by-step guide on how you can complete your Betway registration.
Step 1: Visit Betway Website
Before you can sign up for a new account on Betway Kenya, you must visit the website. When you get to the website, locate the "Sign Up" button at the top right-hand area to proceed with your Betway registration.
Then, click the button, and a form will pop up for you.

Step 2: Fill Out the Sign-Up Form
After the form pops up, fill in the form with your details. Here, you will enter your mobile number, password, first name, last name, and email address.
Make sure the first and last names you input are the same as what you have on your identification card.
This will help you get your account verified quickly, especially when you want to withdraw your winnings. If the names you enter do not tally with what is on your identification, you will most likely not be able to withdraw your winnings.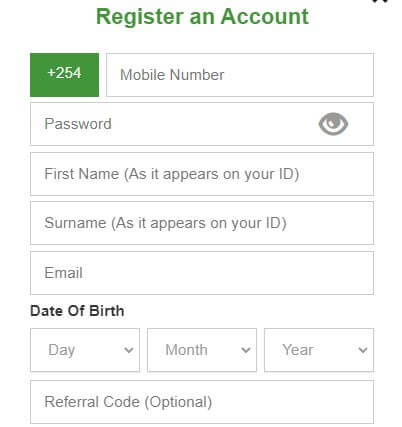 Step 3: Enter your Date of Birth
Another critical step in completing your Betway Kenya registration is to enter your date of birth. Betway requires its users to enter their date of birth to ensure they are of legal age.
Bettors must be at least 18 years of age before registering with Betway Kenya. This is according to the rules guiding sports betting in Kenya.
Unfortunately, if you are not up to 18, you cannot register an account.
Step 4: Enter a Sign Up Code: BONUSMAX
The next step to complete your sign up on Betway Kenya is to enter a sign up code: BONUSMAX. Although this is optional, it will ensure you can enjoy the betting platform's promotional benefits.
For instance, new users have access to a registration bonus of up to 5,000 KSH in free bet.
Enter the Betway sign up code: BONUSMAX to claim this Betway registration bonus and other amazing offers the website has to offer.
Step 5: Enter a Referral Code
This step is also optional. However, if a friend has introduced you to sign up on Betway, you can enter the person's referral code in the space provided on the registration form.
The benefit of using a referral code is that the person referring you will earn some free bets.
Step 6: Certify Your Age and Agreement to the Terms and Conditions and Privacy Policy
Before Betway allows you to finish your registration, you must certify that you are 18 years or above. Also, bettors will need to accept the terms and conditions of the website as well as the privacy policy.
The betting platform does this to ensure you agree with the rules of betting on the website and agree not to violate any of them.
Then, all you need to do is to tick the box after the space for the sign up code on the form.
Step 7: Finalise Your Registration
Once you are done with every other step, you can then click on the "Register" icon to finalise your registration. Betway will then send you a welcome notification through the email address you entered on the form.

---
---
Betway Registration on Mobile
In case you don't have access to a computer, you can still register a Betway account. All you have to do is to use your mobile phone.
There are two ways you can do this; either you register through a browser on your mobile phone or download the Betway app.
Since we have covered the general process of registering an account on Betway Kenya, this section will focus on how to complete your Betway registration on the mobile app. Check below for the step-by-step guide:
How to open a Betway Kenya account on mobile?
First, you need to visit the Betway Kenya website.
On the homepage of the betting platform, scroll to the bottom of the page, and you will notice two icons.

One states "Download on the App Store," while the other states "Download for Android."


Depending on the device you use, click on the one that matches your device.

If you use an iOS device, click on the "Download on the App Store" button. However, click the "Download for Android" icon if you use an Android device. 

Complete the download process and install the app on your phone.
After that, open the app, and navigate to the top right-hand area of the page to click the "Sign Up" button.
A form will pop up where you can enter your details. Input your mobile number, password, first name, last name, and email address.

Ensure you enter your first and last names the same way they appear on your ID. This will help you verify your Betway account seamlessly after registration.

Enter your date of birth, and input a sign up code if you have one.

You can also enter a referral code if a friend is referring you.

Then tick the box after that to certify that you are over 18 and that you accept the terms and conditions and privacy policy of Betway Kenya.
Click on the "Register" icon at the bottom of the form to complete your Betway registration.
What is Betway Registration Bonus?
One of the benefits you will enjoy after registering an account on Betway Kenya is the welcome bonus. Betway allows you to kick off your sports betting journey with a 50% first deposit bonus.
Once you finish your registration, you can make your first deposit and get up to KSh 5,000 in free bets. In addition, the betting platform allows you to have a first bet risk-free.

What Do You Need to Register on Betway Kenya?
There are no special requirements for you to register on Betway Kenya. All you need is to fill in your details on the form with your phone number, first and last names, email address, and sign up code.
However, you will need to verify your Betway account later, especially when you want to withdraw your winnings.
For this, you will need to provide your government-issued identity card. This is why you need to use the names on your identity card when registering your Betway Kenya account.
Apart from that, there are no other special necessities required to register on Betway.
Personal Information
During the Betway Kenya registration process, customers need to enter specific information. At Betway, the required information includes a mobile phone number, full name as per your ID, email, and date of birth.
Furthermore, during the Betway registration process, you will need to confirm that you are of legal age, and accept the terms and conditions of the operator. You can also sign up to receive information about the potential free bet promotions that might be available.
Proof of Identity
In other words, one thing customers will need to provide in order to get full access to the brand and its features is proof of identity. In order to complete the verification process, players need to provide specific documentation.
Most commonly, the document you need to provide is an ID, which is why during the registration, you will need to enter the information as per your ID. Uploading a photo of the required document should suffice.
Reasons to Register on Betway Kenya
By creating your Betway account, you open the door to many options the brand offers. There are numerous features that customers might find interesting, and some of them are listed in the following section.
Long List of Betting Options
One of the features that attract new customers from Kenya who prefers sports betting is the variety of sports sections and betting markets. By joining Betway Kenya, you have the opportunity to bet on a variety of sports, some of which are:
Football
Basketball
Volleyball
Netball
Rugby
Various Promotions
Another reason to join the operator is the promotions the brand offers. There are multiple promotions, including the Betway registration bonus, most of which are free bet promotions.
Please note that the free bet bonuses have unique terms and conditions in order to withdraw the funds.
The best option to check out all the available bonuses is to visit the Betway website. Make sure to go through the terms and conditions of each promotion carefully.
Because, to claim the bonus amount, you need to complete the full list of terms and conditions of the bonus.
Competitive Odds
Perhaps most importantly, Betway offers its registered users competitive odds. In other words, the odds for specific betting markets are on par with the odds of other brands in the region.
This a feature that is very important for players from Kenya looking for a new sportsbook.

Banking Options
Betway has several payment options in the banking section, making it easy for the majority of users to make deposits. The variety of banking options is another reason why Betway is one of the top options in the region.
Accessibility
Finally, another reason to join Betway is that it is very accessible. The brand is easy to use, and also offers a mobile app, which gives users additional mobility. The app is intuitive and simple to navigate.
Furthermore, mobile users can also try the mobile-friendly website, which is another great way of accessing the brand through a mobile device without having to download the app.
You can just open the Betway website through a browser on your phone.
Betway Registration Review
To summarise the brand's registration review, the process of creating an account is very straightforward. But, becoming a member opens the door to many features and options.
In other words, players from Kenya can check out the brand and see what makes it one of the top options in the region.
There are various promotions and bonuses, including a welcome bonus for new players. Combining the bonus options with the long list of betting options, you have an excellent combination of features.
Add diverse banking options, competitive odds, and additional features, and you have a top sportsbook.
What's After the Betway Registration?
After completing the registration process and verifying your account, you are eligible to use all the brand's features. The following lists some of the options you have and what you need to do in order to place a bet.
Make a Deposit
The first step after creating your Betway account, regardless of the options you want to use, is to fund your account. Making a deposit is easy and fast, and the brand offers multiple banking options.
The deposits are usually instant, but they have minimum and maximum limits that customers can deposit.
Place a First Bet
After making a deposit to fund your account, you can easily place bets on available sports. There are numerous sports sections and diverse betting markets.
You can place a bet easily on a single, or multiple markets, by clicking on the adequate betting market to add it to the slip. Enter the stake and just click the "Place Bet" button.
Download the Mobile App
Another option you have is to download the brand's mobile app. With the Betway app, you can still use all the features and have additional mobility.
The app is easy to download and uses the same login credentials as the desktop version.


Betway Payment Methods
Once you are done with your Betway registration, you will need to deposit funds into your account to wager your bets. The following are the deposit methods available on Betway;
M-Pesa USSD
Airtel Money
M-Pesa Online
Card Transactions
In addition, when you want to withdraw your winnings, you can use the following methods;
Betway Kenya Registration FAQ
How to register on Betway casino?
Once you register a Betway account with the betting platform, you can access both the sporting and casino markets. So, you only need one registration to access both options.
Can I claim Betway sign up offer?
New customers can claim the Betway sign up offer when they complete their registration. The offer is only available for new customers, and they can claim a 50% welcome bonus of up to KSh 5,000 in free bets. Once you finish your registration, deposit funds into your Betway Kenya account, and you can claim the offer. Betway also gives its new customers a risk-free first bet.
How long does Betway registration take?
Betway registration doesn't take long, and you will be done within a few minutes. The process is seamless, and you can follow the steps in this guide to complete your registration.
How do I deposit money on Betway?
You can use any of the methods available on the Betway Kenya website to deposit money into your account. Bettors can deposit through M-Pesa USSD, Airtel Money, M-Pesa Online, and Card Transactions.