Chezacash registration is a straightforward process and we have compiled for you the steps to follow. As a new user, you can qualify to claim the ChezaCash bonus; you just have to complete the registration and fund your account.
Chezacash Registration: Step-by-Step Guide
ChezaCash is one of the betting sites in Kenya that is rapidly gaining momentum because of its offers. If you are an enthusiastic punter, you can visit the site and explore some of the bookmaker's features.
To get access to all the available betting features, the first step is to register at ChezaCash. We have compiled for you a detailed step-by-step guide that will enable you to create an account.
How to open a ChezaCash account?
Visit the official ChezaCash website

This is the first step that allows you to use your desktop to open the ChezaCash website. It opens up to an elaborate homepage with massive features, including the offers you get when you join the site.


Click the 'Register' button

Navigate to the far top right corner and press the 'Register' button in a yellow box.


Enter your mobile number

The ChezaCash registration process is very simple because it does not involve a long form to fill out with information such as email, date of birth or country of residence.
The 'Register' button will direct you to a simple page where you only need to provide your mobile phone number. It will act as your username so that you can enter it every time you log into your account.


Tick a checkbox to confirm compliance

Confirm that you agree to the terms and conditions of the betting site and that you have attained the correct betting age. Do this by simply ticking the checkbox.


Enter the ChezaCash Kenya registration code

As soon as you tick the checkbox, ChezaCash will generate an automatic SMS code and send it to your phone. You need to enter this code in the required field. This verification method will determine if the mobile phone you provided truly belongs to you.

Create a password

Create a strong password using a mixture of numbers, symbols and letters. However, the password should be easy to remember because you will need it every time you want to access your account. Be careful not to use common names for celebrities or people around you because it makes it easier for other parties to guess your password.


Claim the welcome bonus

After successful verification, your ChezaCash account will be created. Your first activity should be to make the first deposit and claim the ChezaCash sign up bonus which is a special offer for all new ChezaCash customers.
Chezacash Registration on Mobile
Registration of the ChezaCash account using a mobile device is not any different from the desktop. It is only the screen size that differs. You will still get a welcome bonus as a new customer. Therefore, follow the steps below to create an account with your mobile device:
Visit the official ChezaCash website with your mobile device. You can go directly to the mobile site, but users with Android devices can download the app from the website. There is a mobile app icon on the main menu bar, which automatically downloads the apk file when you click on it.
Click the 'Register' button on the top side of the homepage
The 'Register' button directs you to a new page where you need to fill a slot with your mobile phone number
Tick the checkboxes on the same page to confirm that you have attained the age of 18 and that you agree to the ChezaCash terms and conditions.
ChezaCash will generate an automatic SMS code and send it to the mobile number you provided. Enter the code in a provided slot to verify that the mobile number belongs to you.
After verification, claim the welcome bonus and start betting on your favourite events.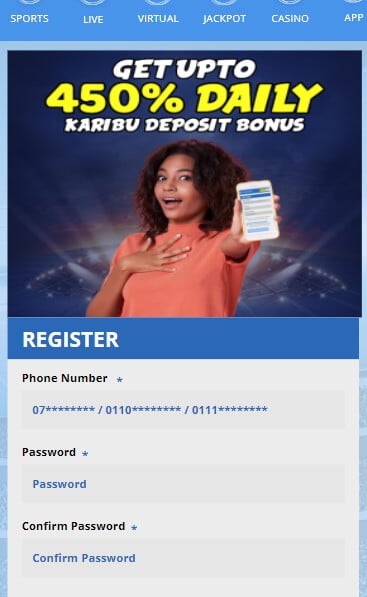 Alternatively, you can still use your phone to conduct SMS registration. Simply send a message with the word 'WIN' to 29030. The system will immediately reply to you with your username, PIN and password. Use these details to access your account through the official ChezaCash website.
What is Chezacash Registration Bonus?
New players are entitled to a ChezaCash bonus worth up to 450% on their deposit. However, this offer is divided into three, where the first, second and third deposits are worth 200%, 150% and 100%, respectively.

What Do You Need To Register At Chezacash?
Before you register at ChezaCash Kenya, you must fulfill certain conditions.
Age Requirement
First, all eligible players must have attained the age of 18 and above. You also need an ID card to verify your age and correct names.
The bookmaker can conduct a verification exercise during withdrawal by requesting you to provide this document.
Desktop/Mobile Device
Successful ChezaCash Kenya registration will also require that you acquire a modern device that will help you to run the software efficiently. For example, the desktop and mobile devices you use should have boosted specs that will enhance functionality.
Players registering accounts should also have a proper internet connection to facilitate a seamless process. Remember that the site will send verification codes to your mobile phone. If your connection is poor, the verification process may take longer.
Deposit Methods
Lastly, the available deposit methods are another crucial aspect that will determine your experience at ChezaCash. Fortunately, the site offers convenient banking options. We will discuss more about payment options in the section below.
Chezacash Payment Methods
The only payment platform available on ChezaCash is MPESA, a popular mobile money transfer method in Kenya. All deposit and withdrawal transactions are instant.
Chezacash Registration Kenya FAQ
Is ChezaCash trusted?
Yes, this bookmaker is licensed and regulated by the Betting Control and Licensing Board (BCLB) of Kenya; therefore, it is highly trusted.
How to register ChezaCash via sms?
Send a message with the word 'WIN' to 29030 and wait for a confirmation reply with login details.
How to verify ChezaCash account?
Enter an automatic code sent to your phone number into a slot provided during registration.
How long does the ChezaCash registration process take?
The process is short, and you can complete it in less than two minutes.
How do I get the ChezaCash registration bonus?
You can get the registration bonus by making the first three deposits.
How to contact ChezaCash Kenya?
The site has a customer care number, WhatsApp/ SMS number and an email address.