But you need to know about Mozzartbet registration before you can enjoy all those perks and privileges. That is what you can learn from this article. Every registration method is covered. Thus, you can identify the most convenient one for yourself and use that.
Mozzartbet Registration: A Step-By-Step Guide
Mozzartbet registration is your gateway to the exciting world of sports betting at one of Kenya's best sites. It happens to be an incredibly simple process. It can be done using any internet-enabled device with equal ease and simplicity.
Follow the steps below if you want to register on Mozzartbet:
How to open a Mozzartbet account in Kenya?
Visit the operator's website.

Use the preferred browser.


Locate and click on the register button.

That should direct you to the registration form. 

Fill out the required details.

For Mozzartbet Kenya registration, you only need to provide your mobile number and set a password initially.

Read the Terms and Conditions and the Privacy Policy of the site.  

Click on the register button. 
After you follow the 4 simple steps listed above, your Mozzartbet account will be created. And you will be directed to your account profile.
Make sure you read the terms and conditions carefully during registration. This is a step many punters often ignore to their expense.
MozzartBet Registration Terms and Conditions
The terms and conditions list many important clauses that may affect you. For example, the site may only allow you to create a single account from a given IP address.
So, if you are using a shared IP address, you will be unable to create an account if someone else has already done it.
The terms and conditions list all the circumstances under which your account can be suspended, blocked, or completely banned. They also tell you what you can do to reinstate your account.
Moreover, they explain other important details such as payment methods, minimum/maximum deposits and withdrawals among other things.
Though the registration form is short, you may need to provide additional details down the line.
Since Mozzartbet is a legal sportsbook in Kenya, it has to comply with certain laws and regulations. Therefore, it needs to verify the age, identity, and residence of punters before allowing them to bet and/or withdraw funds.
Furthermore, this section describes the Mozzartbet online registration using a desktop/laptop computer. But this is not the only way.
There are many other ways to register, as you will find out as this article progresses. So, please continue reading to find the most convenient method for you.
Mozzartbet Registration on Mobile
You do not necessarily need to reach for your laptop or desktop to complete Mozzartbet online registration.
You can do it just as easily from your smartphone or tablet. Moreover, you can choose to use the mobile version of the site or the Mozzartbet app.
Follow the steps below to register Mozzartbet account through the mobile site:
Visit the operator's website from your preferred mobile browser.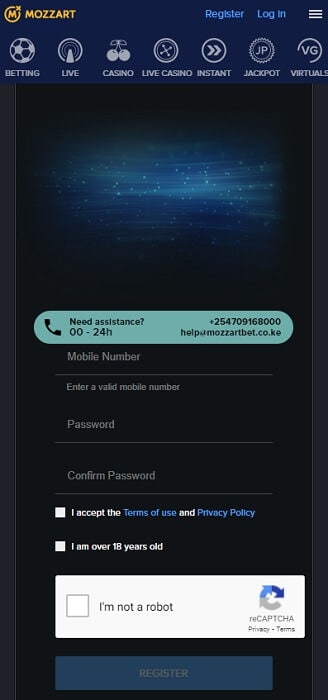 Click on the register button that you can find on the top-right corner of the page.
Fill out the registration form with the required details.
Click the register button at the bottom of the registration form.
After you complete the steps listed above, you will be directed to your Mozzartbet account. You can make your first deposit and update the rest of your account information there.
The entire process described above can be done in more or less the same manner using the Mozzartbet app.
If you are an avid mobile bettor, then downloading the app will be the best long-term decision. You can use the app for everything from registration to day-to-day sports betting.
The Mozzartbet app download process is quite simple. However, doing it just for registration does not make sense.
You will save much more time by simply registering through the mobile site. Later, if you wish to do mobile betting, you can easily download the app and place bets.
What Is Mozzartbet Registration Bonus?
Generally, you may be able to find a registration bonus at many sportsbooks. You can think of it as simply a kind of incentive for you to choose a site over others.
It is also known as a MozzartBet welcome bonus or sign-up bonus among other names.
So, is there a registration bonus?
Unfortunately, the answer is no. The site does not have a registration bonus for Kenyan punters at the moment.
However, there are many other bonuses that you can enjoy after you register on Mozzartbet. They include the following:
Super Grand Jackpot
Bonus 1000
Super Charged Odds
Mozzart Refund Cash Back
Bet Builder
As you can see, the other bonuses and promotions compensate for the absence of a Mozzartbet registration bonus.
Such bonuses can be much better than a welcome bonus. That is because they can save you a lot more money in the long run. Far more money than what even the biggest welcome bonus can offer.
Thus, some recurring bonuses can be even better than a big one-time-only welcome bonus.
Moreover, you gain access to one of the best sports betting sites in Kenya after you register on Mozzartbet. That in itself is a huge incentive to sign up at the site.
Therefore, you should not be discouraged by the absence of a Mozzartbet registration bonus. Evaluate its features, user-friendliness, and other bonuses before making up your mind.
What Do You Need to Register on Mozzartbet?
In terms of things you need for Mozzartbet registration, there are some obvious requirements.
Stable Internet Connection and Internet-Enabled Device
For example, it will be ideal if you have access to an internet-enabled smartphone, tablet, or computer. Then the registration process will become extremely easy for you.
Phone with Cellular Connection
If you do not have an internet-enabled device, then you should at least have a phone to send an SMS.
Active Mobile Phone Number
As it must be evident to you by now, Mozzartbet registration is a quick and simple process. It requires you to only provide your mobile phone number and a password.
Make sure that you can access the mobile phone number during registration. Because you may be sent a verification code that you need to enter during the process.
Also, ensure that the mobile number you provide has not been used by anyone to create a Mozzartbet account before. You may not be able to register at the site if it has.
That is all you need to ensure during the initial registration process. However, more information is likely to be required later.
Additional Verification Documents
After you register on Mozzartbet, you may need to provide additional documentation for several things.
For instance, you may need to prove your age and residency. And you may need to provide additional documents for that purpose.
Moreover, you may even need to prove that the accounts you use at the site belong to you. In other words, you need to prove that no one else is using your account to make bets.
Such evidence is required by the sportsbook to verify your account. This is mandated by the laws and regulations of the country.
Therefore, they cannot legally allow you to bet and/or withdraw funds from the site. Unless they can verify this information.
Mozzartbet Payment Methods
Once you register on Mozzartbet, the first thing that you need to do is make a deposit. But for that, you need to know about the payment methods that you can use and how to use them.
The most prominent Mozzartbet deposit methods that you can currently use include M-Pesa and Mozzartbet shops. The first one, M-Pesa, is a popular contactless payment service in Kenya as you may already know.
In addition, you might already be familiar with it and how it functions. Still, let us quickly break down the process for you if you are not aware.
Using M-Pesa, you can deposit money using the M-Pesa platform or the Mozzartbet site.
If you use the M-Pesa method, you need to know Mozzartbet's Paybill number.
The Mozzartbet MPesa Paybill number is 290059. You can enter this number, and your desired deposit amount, and the transaction will go through.
On the other hand, if you want to deposit through the sportsbook, you have to go to the deposit section. You can then select M-Pesa, enter your desired deposit amount, and enter your M-Pesa PIN to make the deposit.
If you do not have an M-Pesa account, you can deposit via Mozzartbet shops spread across the country. You can pay at the shop and the funds will reflect on your betting account.
Both the methods described thus far process your deposits instantly. This means that the funds will be available in your betting account within minutes if not seconds.
Mozzartbet Registration Kenya FAQ
Get quick answers to some of the most frequently asked questions about Mozzartbet registration in Kenya:
Yes, Mozzartbet is a completely trustworthy and legal sportsbook in Kenya. It has the necessary licenses to operate a sports betting site in the country.

Furthermore, it is one of the most renowned sports betting sites in the world. That would not have happened if they were not trustworthy.
To verify your Mozzartbet account, you may need to provide additional information and documentation to the sportsbook. They include documents to prove your age, identity, residency, etc. Once the sportsbook has verified your information, they will let you know via email or SMS.
The Mozzartbet registration form is extremely short and straightforward no matter which device you use. It should not take more than a few minutes for you to complete the entire process.
At this time, there is no Mozzartbet registration bonus that you can claim during registration. We will let you know when that changes and tell you how to claim the bonus. If a promo code is required, we will let you know as well.
You can contact Mozzartbet in Kenya through several channels. You can call them by dialling +254 709 168 000 or you can reach them through Whatsapp number 0713 665 355.
If your query is a bit more complex, you can consider emailing them at [email protected]. You can also try contacting them via social media channels like Facebook.