MozzartBet has taken the African nations by storm, and for a good reason. To know more about the operator and the MozzartBet promo code, take a look at our MozzartBet review.
Our MozzartBet Kenya Review
MozzartBet is based in Kenya and is registered with the Betting Control and Licensing Board in Kenya.
The operator has a decent selection of sports as well as slots and some casino games. Since its inception, punters have given the operator pretty good ratings in terms of the website design and overall experience.
In this MozzartBet Kenya review, we're going to go over all of the exciting features of the operator as well as the things it could improve on. For now, we'll give you an overview of some of the features.
Sports Betting Markets and Odds
MozzartBet doesn't have the longest list of sports for punters to bet on. However, all of the sports that it does offer are very popular in the regions where the operator is available.
The betting markets for all of the available sports are quite extensive. The operator has found many ways to add exciting markets for punters to bet on.
The odds are also quite competitive for the most part. A quick comparison with other popular sportsbooks will show that the odds there is a better option.
Live Betting and Streaming
MozzartBet allows punters to place in-play bets while the event is going on. Punters can also watch good quality live streams of some selected sports, given that they have an account with MozzartBet.
Cash out
The cash out feature is very popular among punters. If punters aren't too confident in one of the legs of their bet, this feature at MozzartBet allows them to cash out the winnings at that point.
Casino and Jackpots
MozzartBet also has a great casino section with plenty of slots and table games.
These games are offered by some of the best software providers. You can also find weekly and daily jackpots at this operator.
Is MozzartBet Legal in Kenya?
Yes, MozzartBet is legal in Kenya. The provider of the website in Kenya is MozzartBet Kenya Limited. The website is registered and licensed by the BCLB (Betting Control and Licensing Board of Kenya).
The laws that MozzartBet is in compliance with are the Betting, Lotteries, and Gaming Act, Cap 131, Laws of Kenya.
The licensing number that can be used to verify the registration of MozzartBet is BK.0000219.
To legally register at MozzartBet Kenya, the punter must be in ownership of a Personal Citizenship Number and a valid email.
Each player is only allowed to create one account and must accept the Terms and Conditions of MozzartBet while creating the account.
---
---
MozzartBet Bonuses and Promotions Review
One of the promotions running is The World's Biggest Odds in the sports betting section. The operator picks and chooses certain events and matches to boost the odds.
The operator claims these boosted odds are the highest odds in the world, and we can confirm that they are pretty competitive.
Another promotion can be found in the virtual games section of the operator. For Betradar and Golden Race games, the operator gives some of the strongest odds similar to the previous promotion.
But for this specific promotion, there can't be any other offers running in the virtual sports section.
There is also a jackpot in the section of virtual. This jackpot is only available for virtual games, and it's available exclusively for Golden Race tickets.
The only requirement for the jackpot is a winning ticket, and there is no fuss regarding minimum and maximum stakes.
You can also find supercharged odds at MozzartBet, which give you higher odds in certain groupings. MozzartBet also offers cashback refunds. You can get up to 100 times cashback if you lose out on a potential win.
If you lose one leg of your accumulator bet after making four or more selections, the operator gives you a cashback on the lost leg based on the stake and the odds.

MozzartBet Sports Betting Review
The MozzartBet sports betting section is the default page that you can get by launching the website.
The features of the MozzartBet sportsbook can be accessed by registering with MozzartBet and creating an account. Afterward, punters would have to make a deposit in order to place bets.
MozzartBet has a decent sports betting section, but it's not without any flaws. In this section of our MozzartBet Kenya review, we're going to do a deep dive into the MozzartBet sportsbook and all of its features.

Sports Markets and Odds
The very first thing to be mentioned is that the list of sports offered by MozzartBet isn't very long.
The sports that it does offer are quite popular but sparse.
You can find the most common sports like football, cricket, tennis, and volleyball in the sportsbook.
The selection of markets, however, is quite impressive.
The operator has made up for the lack of sports by giving punters a plethora of markets to enjoy.
The odds are also quite competitive compared to other sportsbooks with similar features. There is also a live betting feature, but we'll touch on that in a later section.

Sports Promotions
The operator has a long list of promotions in the sports section running at all times.
Since MozzartBet is primarily a sportsbook, it focuses on retaining sports betting customers.
And as a result, you'll find many interesting promotions in this section.

Esports
At MozzartBet, you can get access to eSports like virtual football, virtual tennis, and virtual basketball.
We've also mentioned some nice promotions that are particular to the virtuals section of MozzartBet.
MozzartBet Casino Review
Although MozzartBet is primarily a sportsbook, it has given great effort in the casino section as well. You can find some of the top software providers listed in the casino section of the operator's website, along with some well-developed slots and games.
Software Providers
MozzartBet has partnered with game providers like PragmaticPlay, Fazi, Playson, Evoplay, and a few more to provide some of the best slots and table games that you'll find at any operator.
Slots and Video Slots
MozzartBet has a long list of slots and video slots for gamblers. The slots all have different themes and variations besides the classics to keep it fresh and to keep gamblers hooked.
The interface of the website also makes it so that gamblers can sort by categories and other criteria for the type of slots they want to play.
Table Games
The list of table games isn't as impressive as slots. However, they are enough to keep gamblers interested in the operator.
You can find a few variations of blackjack, roulette, and baccarat at MozzartBet. There are also a few video poker games.
Live Casino
The live casino section can be found within the casino section at MozzartBet. Once on the page, punters can find some variations of roulette and blackjack, along with some other games.
There are also jackpots and other promotions running in this section for gamblers.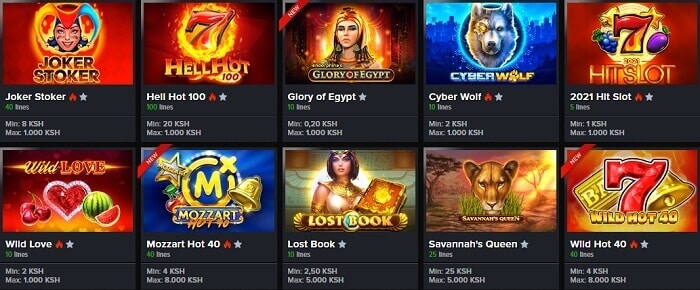 MozzartBet Payment Methods
MozzartBet doesn't have a wide range of payment methods which is unfortunate for punters. You can really only pay using M-PESA and make deposits and withdrawals.
MozzartBet has a paybill number that you can use to deposit money into your account using M-PESA. The process is very simple, and punters can have access to more funds in a matter of minutes.
As for withdrawals, there are a few ways. MozzartBet has betting shops in multiple locations. Punters can go with their identification and proper documents to make a withdrawal request and withdraw cash.
Punters can also withdraw using M-PESA by going on the MozzartBet website. And the last method is using the SMS system to request a withdrawal.
However, this method also entails receiving the money in your M-PESA wallet.
Although MozzartBet doesn't offer many payment methods, the methods it does offer are simple for punters. So, for our MozzartBet Kenya review, we would give it an average rating.
MozzartBet Mobile Review
The MozzartBet app is compatible with Android devices only. To download it, punters must use the link posted on the MozzartBet website. For this MozzartBet review, we've reviewed the app as well.
One thing to note is that the app is only available through the official MozzartBet site. The MozzartBet Android app is well-developed, just like the website.
It's easy for punters to navigate, and the interface is user-friendly. The menus and submenus are well-designed, and the app theme is also similar to the website theme.
Punters can find the same features on the app like sports betting, casino games, and slots, and all of the promotions are also available via the mobile app unless stated otherwise.
Although there is no mobile app for iOS users, there is a way to access MozzartBet. The MozzartBet website can be accessed using both iOS and Android mobile browsers.
The mobile website runs faster and provides all of the same features as the desktop version.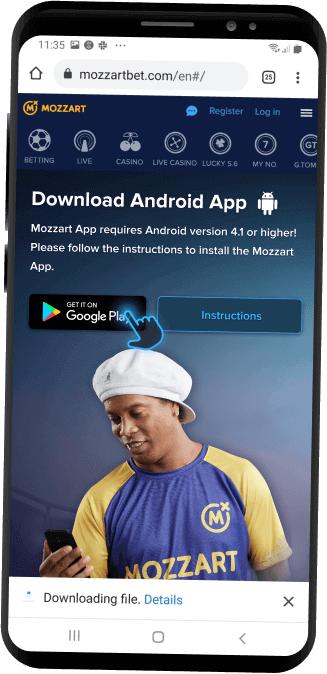 MozzartBet Registration Review
Registering at MozzartBet is pretty simple, and you only have to provide some basic information to create an account.
All you need to do is provide a valid phone number along with a password and verify your age and accept the Terms and Conditions.
The form might also ask you to complete a CAPTCHA, and if you have any issues with your registration, you can find 24/7 customer support gateways on the same page.
MozzartBet Live Betting/ Live Streaming Review
MozzartBet also has a live betting feature on the website. All punters need to do is launch the website and navigate to the live section. In this section, punters can find all of the ongoing and upcoming live games.
The odds for these games are posted in the same format as pre-match bets, and punters can find an equally wide range of markets in the live section.
This section also allows punters to view live streams of selected matches.
Both features are only available for punters who have a registered account on MozzartBet. And the live streaming is only available for certain sports selected by MozzartBet since it's not possible to stream every single event.
But we would give a good rating to the live section in our MozzartBet review since it has plentiful offers and doubles as a streaming platform.
MozzartBet Customer Service Review
MozzartBet doesn't appear to have a 24/7 live chat button. However, there are many alternative ways to contact the operator.
You can email MozzartBet your queries at [email protected] or call the hotline using the number +254 709 168 000. There is also a WhatsApp number that you can use to contact the operator, which is +254 713 665 355.
Besides the direct methods, MozzartBet also has a very extensive FAQ/ blog section where punters might find answers to certain queries that they might have. There are also a few video tutorials in the blog section.
Conclusion
Our overall MozzartBet Kenya review is good. The operator has put in the work to create an exciting experience for punters in the region. There are a couple of things that the operator could improve on.
One of these things is the selection of sports at MozzartBet. There could be quite a few other popular sports added, however, the choices of markets are a plus point.
Another thing that could be changed is the lack of a live chat which most punters look for in a good sportsbook.
Besides these aspects, the sportsbook has done a good job creating a user-friendly website along with an Android app for punters.
And further improvements are always on the way, so MozzartBet is set to do even better in Kenya.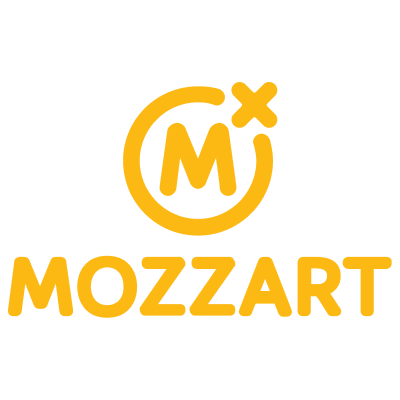 MozzartBet Kenya Review FAQs
MozzartBet has a great website, which is user-friendly, and all relevant information is easy to navigate.
However, if you still have any queries about the operator, you might find the answer in this FAQ section of our MozzartBet review.
Where is MozzartBet legal?
MozzartBet is registered with the Betting Control and Licensing Board in Kenya. The betting site is also legal and licensed in regions such as Kenya, Ghana, and Nigeria. When punters enter the website, they can pick their country from a prompt which contains the mentioned countries, along with Ghana, Zambia, Tanzania, and many more.
How to bet at MozzartBet Kenya?
To place a bet at MozzartBet Kenya, punters first need to create an account and make a deposit. Afterwards, punters can navigate to the sports section and place a bet on any sporting event. Alternatively, punters can also place bets using the SMS text method.

To place a bet via SMS, punters must text their Game ID, Prediction, and Stake to <29990>, and the operator will confirm the acceptance of the bet.
How to get free bets on MozzartBet?
Depending on the region, MozzartBet has multiple promotions running at any given time. In order to win free bets on MozzartBet, punters must claim the relevant promotions or bonuses by following the Terms and Conditions. The rules for the bonuses are usually attached to the bonus.
Why is MozzartBet not working?
The MozzartBet website might not load on your device for a number of reasons. To fix this issue, you can clear your browser cache, check that your antivirus software has not blocked the website, or simply try at a later time.

If the website still doesn't load, you can contact MozzartBet customer support for further assistance.