One way Kenyans can deposit or withdraw money is with Betway Paybill. If you reside in Kenya, you can use the Betway sign up code to get started.
---
---
How to Deposit at Betway Using Paybill?
Once you've registered an account with Betway Kenya, you'll need to make a deposit. Only after you've paid on the betting site can you bet on any sports you choose. For Kenyans, depositing at Betway is easy.
The most popular options are MPESA and Airtel money. For either method, you'll still need the Betway Paybill to make your deposit.
If you'd like to make a deposit into your Betway account with MPESA or Airtel money, follow this step-by-step guide.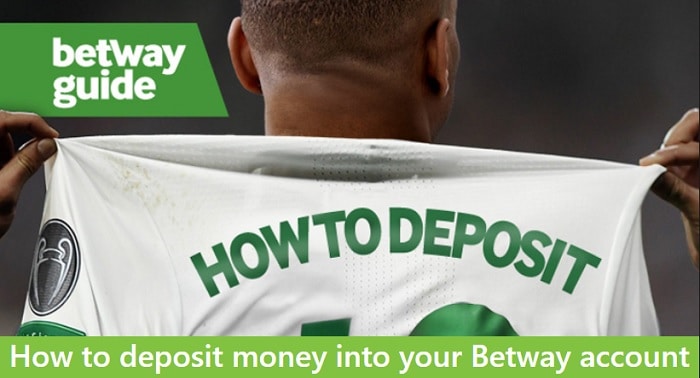 How to Make Deposit With MPESA Paybill?
First, log in to your Betway account.
Next, go to Deposit Funds, and then choose MPESA.
Click on Paybill and enter the Betway Paybill 880185.
Type in the amount you want to deposit
Finally, enter your MPESA PIN and complete your transaction.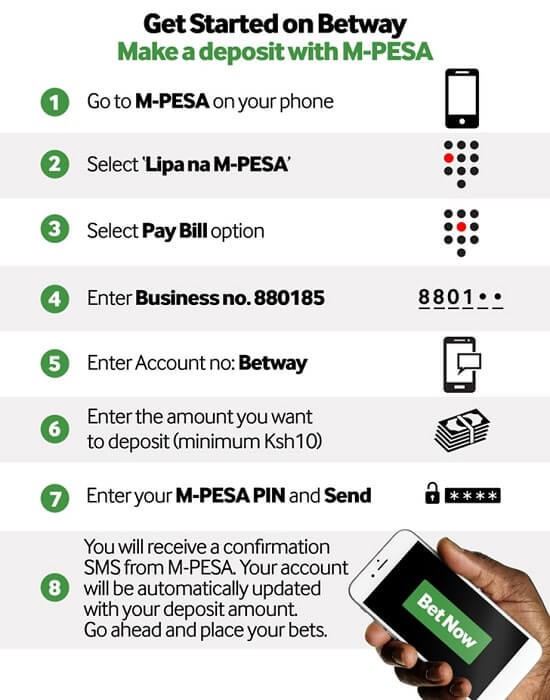 How To Deposit To Betway With Airtel Money?
First, log in to your Betway account
Go to Deposit Funds and choose Airtel Money.
Among the options, choose Paybill
Next, type in the Betway Paybill number 880185
Include the name Betway under "Reference"
Put in your deposit amount
Lastly, type your Airtel Money PIN and send it.
Betway Deposit Details
To make a deposit on Betway, you can do so directly from MPESA and Airtel Mobile Money. The transaction is instant, and you will get a confirmation on your mobile phone within seconds. Betway's deposit is straightforward.
In addition to using these mobile payment methods, you can also make deposits using Visa and MasterCard. However, the most popular forms of withdrawal are Airtel and M-Pesa. T
How to Withdraw from Betway Using Paybill?
Cash transfers are simple with the Betway Paybill system. It's also very safe, and there are rarely ever any problems. Withdrawing money from your Betway account is just as easy as depositing. You can make a withdrawal on Betway via M-Pesa and Airtel Mobile Money.
Here's how to withdraw money from your Betway account using the Betway Paybill number.
How To Withdraw Using MPESA?
Log in to your Betway account
Go to 'My Account' at the top right-hand corner of the homepage.
Click on 'Withdraw' Funds'.
Select MPESA from the drop-down menu
Enter your withdrawal amount
Click "Withdraw Now" to complete your request.
How to Withdraw With Airtel Money?
Log in to Betway
Go to My Account and click on Withdraw Funds
Select "Airtel Money"
Enter your withdrawal amount
Type in your mobile money PIN
Click on 'Confirm' to complete your request.
Betway Withdrawal Details
After making a withdrawal request, Betway will process the withdrawal immediately. So, you will likely receive it within minutes. MPESA charges withdrawal fees while Airtel Money withdrawals are free.
When it comes to safe, secure, and reliable payment methods, Betway Kenya is the best. At Betway, you can take your money out whenever you want. Withdrawals are instant when you use both Airtel Money and M-Pesa. Whatever mobile money service you use, the Betway paybill number provides sufficient security for your transactions.
Betway Paybill FAQ
What is Betway paybill number?
The Betway Paybill number is 880185. Kenyan punters can use this Paybill number to deposit money in their betting account.
What is the minimum deposit in Betway?
What is the minimum withdrawal in Betway?
How long does it take for the Betway deposit to reflect?
When you make deposits on Betway will reflect in your account instantly. Whether you use MPESA or Airtel Money, deposits are instant.
How much time does it take to withdraw from Betway?
When you make a withdrawal request on Betway, it is processed immediately. For MPESA and Airtel Money withdrawals, you will receive your money within minutes.