There are a number of different Betway deposit methods, and we are going to go through them here. Looking after your money is very important when it comes to online sports betting. You need to know that your funds are safe and secure – and that you can deposit and withdraw money easily.
Read on to find out everything you need to know about the process and how to deposit in Betway customer accounts.
Mobile app for Android and iOS
Large variety of betting markets
Multiple bonuses
---
---
The Betway Deposit Methods
Here is the list of ways that customer account holders can deposit funds into Betway in South Africa.
I-Pay
SiD
Visa and MasterCard
OTT Voucher
EFT Bank Transfers (FNB, ABSA, Standard Bank, and Nedbank)
Visa and MasterCard
Visa and MasterCard cards are accepted around the world, and Betway South Africa allows them as one of the deposit options for customer account holders. As with all the methods, there are no Betway deposit charges.
First, click on the 'My account' button in the top right-hand corner of your screen
Select debit/credit card from the list.
Enter the amount that you wish to deposit.
Then click 'Proceed'.
Enter your card details and then click 'Next'.
You will then be notified that your transaction has been completed successfully.
The balance on your Betway deposit account will also automatically update.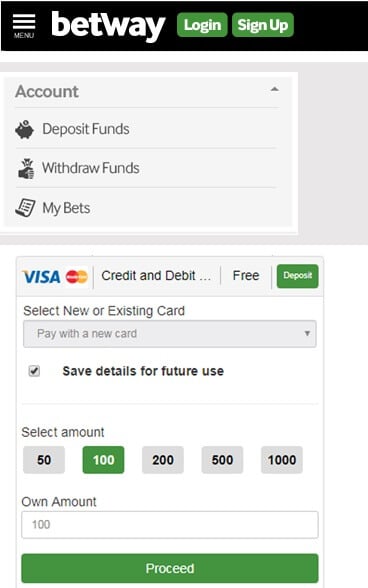 EFT
EFTs – or electronic fund transfers – are the second most popular way of completing a financial transaction in South Africa, after using cards. Once you have completed the Betway registration you can deposit funds via EFT.
You have a choice of your banking app or depositing at a bank or ATM to process your Betway deposit using an EFT.
Add Betway as the beneficiary.
Enter the bank details provided on the Betway South Africa website.
Make the deposit and send proof of payment to eftclearance@betway.co.za.
You will then see your funds have been credited to your customer account.
Quick EFT
There is an option at Betway to choose an instant bank transfer, with i-Pay and SiD. If you prefer to deposit funds this way, you can just follow these simple instructions.
Tap on the 'My account' button in the top right-hand corner of your page.
Select 'quick EFT' from the list – choosing SiD or i-Pay.
Enter the amount that you wish to deposit. Then tap 'Proceed'.
You will then need to select the bank that you wish to use to complete the Betway deposit.
Next, log into your bank account and tap 'Proceed with payment'.
You will receive an OTP (one time pin) on your mobile phone. Enter the OTP and tap 'Next'.
You will then see a confirmation page with all the Betway deposit details.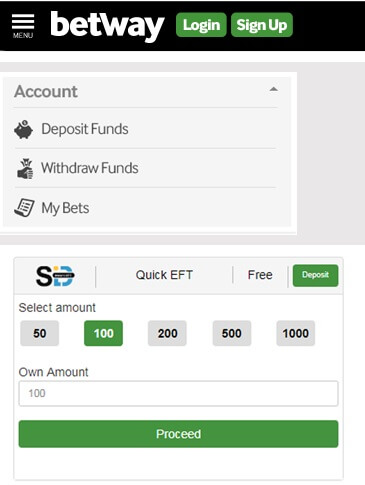 OTT Vouchers
OTT vouchers are very popular with South African punters – and Betway accepts them as a way of boosting funds in customer accounts. The process of buying the voucher – and then using it – is very straightforward. Here's how:
You can purchase an OTT voucher from a retailer or from the OTT online site.
You just need an active bank account, and then you can choose what amount the voucher will be worth. You don't need a Betway deposit code.
If you are completing this transaction online, you will need to select your bank and enter your details.
You will receive a voucher PIN and serial number.
Then log into your Betway South Africa account.
Select voucher or OTT as your deposit method. Enter your voucher PIN and submit.
Your Betway customer account will then be credited with the voucher amount.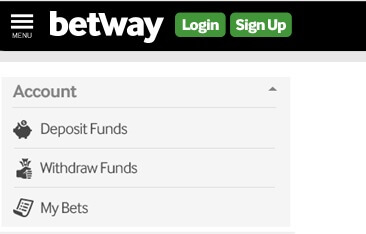 FAQs
How long does a Betway deposit take to reflect? 
All payment methods at Betway South Africa should update your credit amount almost immediately.
How do I deposit a Betway voucher?
We have gone through the process for voucher payments. You just need to purchase a voucher – either online or at a retailer. Then use the voucher PIN when you have accessed the Betway site to complete the transaction.
How to increase my Betway deposit limit?
If you wish to increase your deposit limit for your customer account, you should get in touch with the help team at customer service. They should be able to see if you are able to increase your limits.
How to get a Betway deposit bonus?
When you first register for a new customer account, you may be able to enter a Betway sign up code. This is part of the registration process and acts as an opt-in to any new customer offer that Betway is running at the time. Check the Betway minimum deposit on the official website.
Which bank does Betway use?
Betway accepts payments from a range of banks in South Africa, including FNB, ABSA, Standard Bank, and Nedbank.