If you feel like betting like a king in South Africa, you must read our BetKing review. We know it sounds a little cheeky, but that's what it is. It's one of the best betting sites in South Africa for a myriad of reasons. Let's dig them up.
---
---
Betking Review – Is it Legit and Safe?
When you're signing up for the best betting apps in South Africa bookmaker, it's crucial that you ensure their legitimacy. For our BetKing review, we took matters into our own hands to ensure your safety.
BetKing is owned by a Nigerian company, primarily targeting Nigerian bettors. However, the website is accessible all over Africa, including South Africa. It's licensed by Western Cape Gambling and Racing Board to operate legally in SA. You can check the website along with some of the best betting exchanges sites in South Africa.
To protect your interests even further, the BetKing website is protected by SSL 128-bit encryption. The operator also won multiple awards for its innovative operations across the countries.
Available Sports on BetKing
Before we go into the betting sites with welcome bonus in South Africa, let's go over the sports. The first thing we looked at for this BetKing review is the sports library. It's simply because this is an online sportsbook review. And sportsbooks are supposed to have as many sports as possible to make the journey enjoyable for the paying customers.
So, what kind of sports does BetKing has in South Africa?
Well, we found pretty much every kind in our BetKing review. To get to the sports library, you'll need to visit the website and then click on the "Sports" tab on the main navigation bar. Once the new page loads, just look at the left-hand side of the screen where "Sports A-Z" is located.
Under that section, you'll find sports like:
Soccer.
Tennis.
Basketball.
Boxing.
Golf.
Darts.
Table tennis.
Field Hockey.
Bandy.
Waterpolo.
Bowls.
MMA.
Esports.
Snooker.
Badminton.
And plenty of others.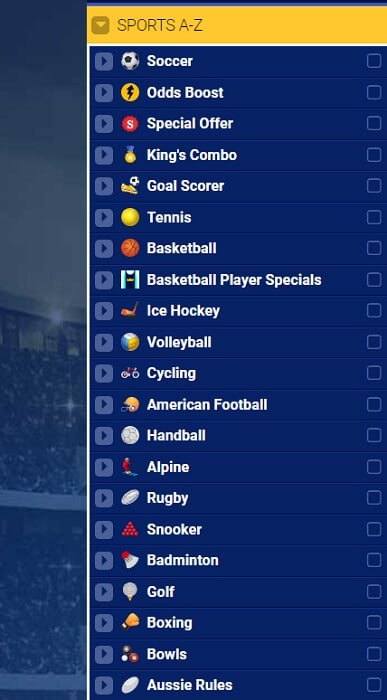 The only thing we don't like about this sports menu in the BetKing review is the mix of things. For example, you'll see options like "Odds Boost", "King's Combo", "Special Offer", and whatnot. These all make sense in the context of an online sportsbook. However, we believe the placement is not right.
Also, when you're dealing with an online sportsbook in South Africa, the collection of sports is not the only thing you're looking at. You'll also need to consider the available markets.
Markets for Betting at BetKing
In a betting context, a "market" is where you place your bets. A single match can have plenty of markets based on the operator's creativity. In our BetKing review experience, we found plenty of markets that will keep you entertained for quite some time.
Let's consider football as our sample sport. It's labelled as soccer, so don't get confused. Once you click on soccer from the A-Z sports menu, a plethora of new options will come your way. You'll see both country names and top soccer leagues from around the world. We're choosing the Europa League for this example.
In the tournament, if you click on a particular match, you'll see all the available markets. Some markets available at the time of writing this BetKing review include:
Match Winner.
Over/under.
1st Half.
2nd Half.
Handicap.
1×2.
Double Chance.
To qualify.
These markets can also change from match to match based on the analysis done by the BetKing experts.
Odds on BetKing
Just like all other African online betting sites, BetKing also uses the decimal format of odds. The purpose of the odds is to project the likelihood of the event as well as the potential winnings.
Before we move further into our BetKing review, it's important that you know how decimal odds work. They're nothing but multipliers. If you see "1.65" odds for a particular team, it means your winnings will be 1.65 times the stake, if you win the bet. You deduct the stake from the winnings to calculate your potential profit.
To evaluate the quality of the BetKing odds, we looked at other reputed betting sites in South Africa too. From what we can tell, the odds are pretty much on point for all the available events. You'll always find some discrepancy between the bookmakers, but that's supposed to happen.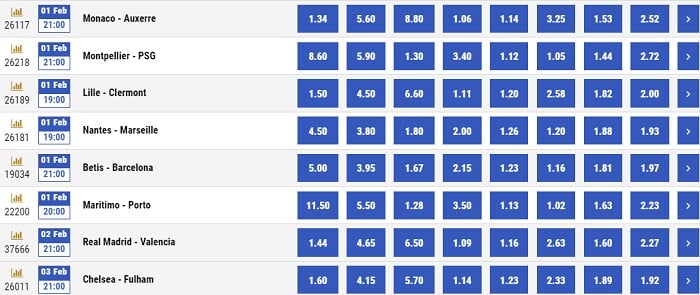 Live Betting on BetKing
To get to all the live betting BetKing options, you'll need to choose "Live Betting" from the sports menu. The number of available events will vary based on what tournaments are actually happening around the world.
At the time of writing this BetKing review, our options are soccer, basketball, tennis, ice hockey, volleyball, cricket, and soccer. You'll also notice numbers hanging on the sports. These numbers represent the available events for betting live.
We know you're thinking about the live streaming availability for this brand. Unfortunately, BetKing South Africa doesn't offer live streaming. On the bright side, all live events come with 2D scorecards that keep updating in real-time. So, even if you don't have access to a stream to monitor the matches, you can use the scorecards.
As for the markets and BetKing odds for live betting, your options are pretty much the same as pre-match betting at BetKing. The only difference is that you'll see the odds changing in real time.
Another great aspect of this bookmaker is that it offers cash out on selected events. Using this feature, you can cash out early from a pre-match bet if your prediction seems wrong. We've tested it for our BetKing review.
BetKing Mobile on BetKing
When you're betting online following this BetKing review, you surely feel the need to monitor the matches from time to time. It's not very convenient if you have to do it from a computer or laptop all the time.
That's where the BetKing mobile site comes to play. If you're thinking about the BetKing mobile app, we'll get to that in a while. The mobile website looks pretty much identical to the desktop site. Of course, the placement and the layout are different for the obvious change in screen size. But the mobile site is just as intuitive and easy to use.
The great thing about the BetKing review mobile site is that you don't have to compromise on any front. All the bonuses, sports, and markets remain the same for mobile users.
Coming back to the BetKing mobile app paradigm, there are none. In this time and age, it's not an issue. The mobile site is more than capable enough to take care of all your needs. You won't even feel the need for a BetKing mobile app.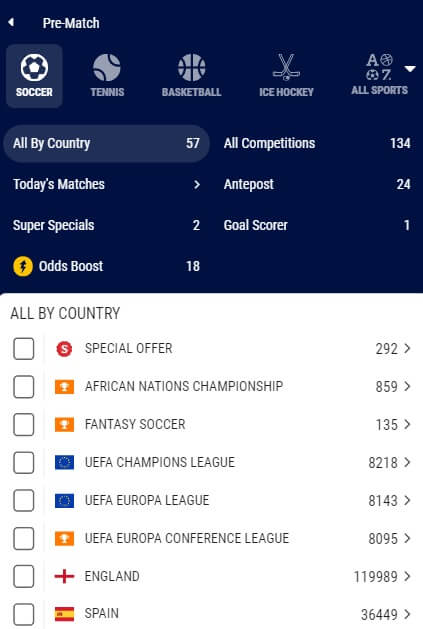 Payment Options on BetKing
The majority of online payment methods in South Africa are available across other African countries. As BetKing is a Nigerian operator, the website only portrays Nigerian Naira (NGN) as the currency. With that in mind, let's take a look at what payment methods you can use.
GTB.
Interswitch Webpay.
Opay.
Paydirect.
Paystack.
Polaris Collect.
Quickteller ATM.
Quickteller Web.
UBA.
Zenith Bank Transfer.
There are no fees for deposits or withdrawals, according to our findings in this BetKing review. As for the minimum requirements, you must deposit the equivalent of 100 NGN. The maximum is capped at 1,000,000 NGN.
The withdrawal limits, on the other hand, are between 1,000 NGN and 10,000,000 NGN. BetKing promises to process your withdrawal requests instantly, which means you don't have to wait for the usual withdrawal processing time.
How to Register and Login on BetKing?
Registration is the first thing you need to do if you want to enjoy the features offered by BetKing in South Africa. Let us take you through the process.
How to Register on BetKing?
In this section of our BetKing review in SA, we will explain the steps of signing up for a valid account. Let's go.
Visit the BetKing website and locate the "JOIN NOW" button in the top right corner.
Click on the button to trigger the registration form.
You need to enter your mobile number before getting any further into the process. Choose "SA" from the dropdown menu before entering the correct phone number.
Once your phone number is verified, you'll need to enter further details like your username, currency, account password, email address, gender, etc.
If you have a promo code for the welcome bonus, don't forget to enter it.
How to login on BetKing?
After your account is registered in the BetKing database, you're ready to log in to your account and start betting. Follow the steps in our BetKing review.
Reload the homepage after registration.
Look at the top right corner. You'll find "Username/Mobile" and "Password" fields. Enter them according to the registration data.
Click "LOGIN", the button on top of the "JOIN NOW".
You've now entered your account.
FICA Procedure on BetKing
It's common knowledge that customers are required to verify their identities before withdrawing any money from gambling sites. While most countries stick to the regular KYC process, South Africa follows the FICA process.
In case you're not aware, FICA stands for Financial Intelligence Centre Act. It's designed to combat money laundering, tax evasion, and terrorist funding issues. To verify your identity at BetKing SA, you'll need to submit the following FICA document.
Valid passport.
Valid work permit (for foreigners).
Copy of birth certificate.
ID of the guardian/parent.
The BetKing Bonuses & Promotions
BetKing in South Africa has lined up quite a few bonuses that you can enjoy after signing up. Let's take a look at them one by one. The BetKing shop is an interesting place too. In the BetKing shop, you can do a BetKing coupon check to see whether your coupons are valid or not.
Not only that but the BetKing shop allows you to buy coupons to load up new bonuses.
BetKing Welcome Bonus
We usually see online betting sites offering deposit match bonuses on sign up to new customers. BetKing, however, has decided to take a different approach. Instead of a deposit match, it's offering a 50% cashback, if your first bet loses.
You can get up to 30,000 NGN from this bonus alone. To qualify for this, you'll need to deposit at least 100 NGN and use it on an accumulator bet. You must include at least five selections; all selections must have odds between 1.20 and 1.70. Of course, you need to meet all the bonus terms.

Accumulator Bonus
This is the best bonus in our BetKing review. You can secure up to 225% from accumulator bets. The more selections you add, the higher your bonus goes. It starts with a minimum of 5 selections and a 5% bonus. Remember, you must win across all fronts for this bonus to work.
Kingmaker Jackpot
In the Kingmaker, you essentially participate in a guessing competition consisting of multiple matches. The more of your predictions are correct, the more you stand a chance to win.
Conclusion: Strengths & Weaknesses of BetKing
Based on our evaluation of BetKing in South Africa, we can safely conclude that it's an amazing operator. You get a massive list of sports to choose from. Not only that, but you get the most high-voltage tournaments from all of those sports.
Along with core sportsbook features, our BetKing review also found some fantastic bonuses. The unique welcome bonus, along with the massive jackpot potential, makes BetKing one of the best online bookmakers in all of South Africa.
BetKing Review FAQs
What can I play on BetKing?
BetKing is an online gambling site that solely focuses on sports betting. Your options are limited to sports betting, virtual sports betting, and live betting BetKing. No casino games are available at the time of writing this BetKing review.
How many accounts can I have on BetKing?
Just one. According to the terms and conditions, only one account per legit bettor is allowed. If you try to open more accounts, you may lose the existing ones.
Is BetKing legal?
Yes, BetKing is a legal online gambling platform licensed in multiple countries. In South Africa, the licensing body is Western Cape Gambling and Racing Board.
How can I register on BetKing?
You must be 18 and follow the steps we've outlined in the guide to register on BetKing SA.
Does BetKing have a welcome bonus?
Yes, BetKing offers a 50% cashback on your first bet loss.