Read and learn about all the Hollywoodbets registration methods to create an account. Few sports betting sites are as well-recognized as Hollywoodbets in South Africa. It is a site with an incredible welcome bonus that you can get using the Hollywoodbets promo code.
Hollywoodbets Registration: A Step-By-Step Guide
Hollywoodbets is one of the premier sports betting sites in South Africa. As a consequence, its registration process is quite simple and straightforward. It is designed in a way that is compliant with the law but also makes it easy for you to register at Hollywoodbets South Africa.
Follow the steps below to complete Hollywoodbets registration online:
Visit the operator's website from your mobile or desktop browser.

Find and click on the registration button.

On your desktop, you should see a 'join now' button at the top-right corner. On your phone, you should see a 'register now' button at the top-right corner.


Fill out the registration form that loads after you click on the registration button.

Make sure you fill in all the required fields.

Click 'submit'.

Your registration should be done.
Though there are only a few steps theoretically, Hollywoodbets registration can take some time. It can be a longer process than what you may have experienced at other sports betting sites. That is because the registration form is more elaborate.
You need to provide a lot more details upfront during Hollywoodbets online registration. For example, information about the source of income, full residential address, and ID number are generally asked after registration. But you need to provide them at the time of registering for a Hollywoodbets account.
This is not as bad as it may sound because you will need to provide these details later anyway. So, you will be saving time in the long run by filling out a longer registration form in the beginning.
---
---
Hollywoodbets Registration on Mobile
One of the great things about Hollywoodbets registration is that you can do it from any device of your choice. A desktop or laptop is not mandatory. You can register at Hollywoodbets using the mobile site.
Follow the steps below to complete Hollywoodbets mobile registration:
Visit the operator's website from the browser on your mobile device.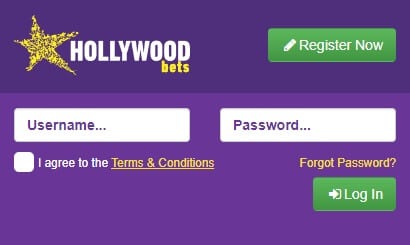 Find the 'register now' button on the top-right corner of the webpage and click on it. This should bring up the registration form.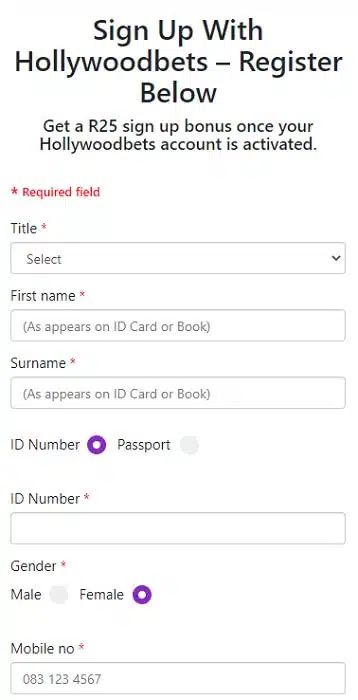 Fill out the registration form with all the necessary/required information.
Once you have filled out the form, click on the 'submit' button at the end of the form.
After you finish going through all the steps listed above, your Hollywoodbets account should be created. As you can see, the registration form does not change if you do Hollywoodbets mobile registration. It is the same on every device.
Generally, mobile registration forms tend to be a bit shorter. So that punters can quickly register, but that is not how this site does it. This can have a silver lining, as we mentioned earlier.
You save a lot of time in the long run by giving more information upfront. Moreover, providing all the information upfront ensures that your account is verified much faster. Then you get full access to every feature of the site.
What Is Hollywoodbets Registration Bonus?
Hollywoodbets online registration gives you access to one of the best sports betting sites in South Africa. But it also gives you something special. That is the Hollywoodbets registration bonus. It is also often referred to as the sign-up bonus.
The bonus is a no deposit bonus worth R25 given out in the form of free bets, plus 50 Free Spins. You do not need to make any qualifying deposit or anything else. Even if you have not completed Hollywoodbets FICA registration, you can still enjoy the welcome bonus.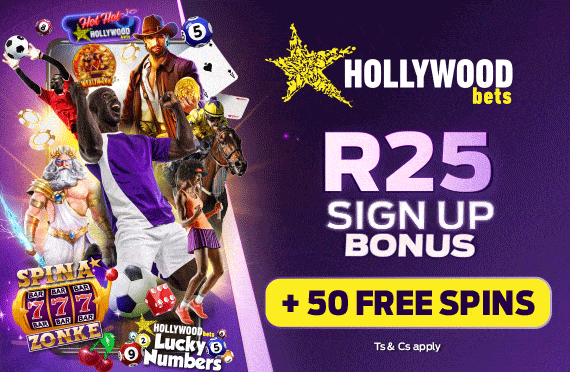 The bonus will be credited to your account almost as soon as you finish the registration process. You have to use it up within 24 hours. But you need to wager the entire amount in a single bet or event.
What Do You Need to Register at Hollywoodbets?
For Hollywoodbets registration, you need some basic things that you would need to register at any other site as well. Those things include a good internet connection and a functional internet-enabled device.
Internet Connection
The internet and the device need not be the best. They just have to be sufficiently functional for Hollywoodbets online registration. It is mandatory to have both things since there is no internet-free way to register at Hollywoodbets.
ID and Other Personal Details
Furthermore, as you may have realized, you will need to provide a lot of details during Hollywoodbets registration. You need to provide an ID/Passport number, your full address, source of income, and so on.
Therefore, it will definitely help if you keep some of the necessary documents at hand during registration. Particularly your ID document so that you can ensure your name, date of birth, and ID number are accurate.
Phone Number
You will also need an active phone number and email address to create a Hollywoodbets account. The email address is optional but the phone number is mandatory.
You may be sent a confirmation code on your phone number. So, make sure that the number you provide is active and at hand during registration.
How Do I Register FICA at Hollywoodbets?
Since Hollywoodbets is a legal online sports betting site in South Africa, it needs to comply with all the laws and regulations. For example, it needs to comply with the FICA regulations.
One of the requirements of the FICA regulations is to perform digital KYC (know your customer) checks before allowing punters to use the site. Therefore, you need to provide the site with additional documents before you can access all the features fully.
For instance, you may be unable to withdraw funds from your account unless you complete Hollywoodbets FICA registration.
Therefore, you need to understand what FICA is, what sort of documents you need to give, and how to give them.
FICA basically requires you to prove your age, identity, and residence to the sportsbook. And even your source of income if necessary. You can do this by providing documents such as national ID, passport, driver's license, etc.
In addition, you can provide utility bills or bank statements to prove things like your residence and source of income. But how do you provide these documents? That is what concerns the next section of our guide, so please continue reading.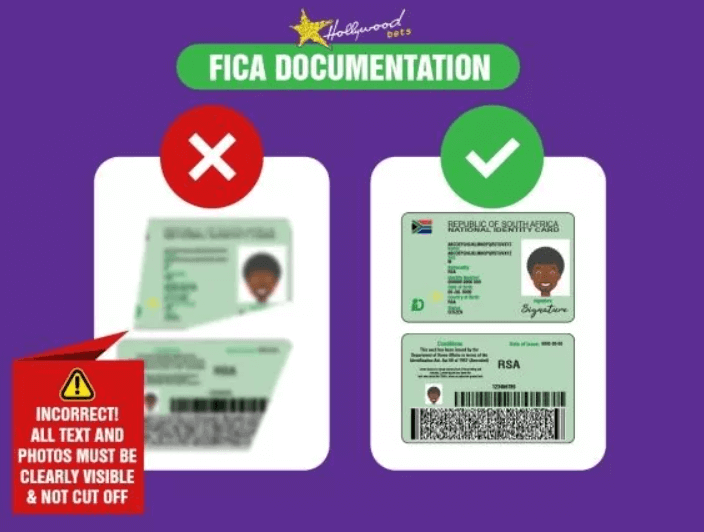 How Do I Submit FICA Documents on Hollywoodbets?
After your complete Hollywoodbets registration, the sportsbook will sooner or later remind you to complete Hollywoodbets FICA registration. But that may delay the process for you.
You may not be able to fully use the site, especially the welcome bonus unless you complete the FICA requirements. Hence, you should not wait for the site to remind you.
There is a way using which you can submit FICA documents well in advance and get them approved by the site. This involves using the Hollywoodbets FICA Self Service.
After you have done Hollywoodbets mobile registration, you can take pictures of your documents using your phone camera. Then you can easily upload them to the self-service site.
You can also upload images of your documents if you have them saved on your PC or phone. But this is not the only way.
While Hollywoodbets Self Service website is the best way, you can use other online and offline methods to submit documents as well. Other online methods include emailing the documents or sending them via Facebook Messenger.
If you prefer to drop the documents physically, you can do that as well. Use the drop-off boxes at the Hollywoodbets brand nearest to you.
How Long Does It Take for Hollywoodbets to Approve FICA Documents?
The approval process for Hollywoodbets FICA registration is generally quite quick. It can take anywhere from 30 minutes to 48 hours.
The Self Service method can guarantee the quickest response. You can have your documents approved within 30 minutes.
However, if you drop your documents off at a Hollywoodbets branch, then it may take a bit longer. It may take a day or two before your FICA submission is approved.
In either case, the approval process is relatively quick as far as sports betting sites in South Africa are concerned.
Hollywoodbets First Deposit
Once you finish Hollywoodbets registration, the first thing that you might think about doing is perhaps depositing some funds. The good news is that you can access many popular payment methods to do this.
Once you log in to your Hollywoodbets account profile, you will find the deposit option. The button is located right below where the login options generally are.
After you have selected the deposit option, you will have 3 payment options. They include credit cards, bank deposits, and Payfast. The fastest options are credit cards and Payfast.
Bank deposit may take a bit longer and requires you to go through a long process. But you can do a direct bank transfer using Payfast as well because it is a payment gateway. So, even if you want to do a bank transfer, use the Payfast method and not the bank transfer method.
Hollywoodbets Registration South Africa FAQ
Quickly get the most sought after information about Hollywoodbets online registration below:
How Do I Transfer Money From Capitec to Hollywoodbets?
You can transfer money from your Capitec account to Hollywoodbets using the Payfast or the bank transfer method. It is recommended that you use the Payfast method because it is faster and requires fewer hurdles.
How Long Does It Take to Register Hollywoodbets?
Hollywoodbets registration may be one of the longest registration forms among sportsbooks. But still it does not take that much time. You should be able to complete the entire process in 5-10 minutes on average.
Where to Buy Hollywoodbets Vouchers?
You can buy Hollywoodbets vouchers from retailers spread across the country. Many of the most famous retail chains are affiliated with the sportsbook and sell its TopUp vouchers.
Where to Find Hollywoodbets Account Number?
You can find your Hollywoodbets account number in your email inbox. This is sent to you shortly after you complete Hollywoodbets registration. You can also find your account number in your account profile.
How Do I Verify My Hollywoodbets Account?
After you register for a Hollywoodbets account, you need to verify the account by providing FICA documents. You can provide such documents either online or offline. Once the sportsbook checks and approves your documents, your account becomes verified.
What Are FICA Documents for Hollywoodbets?
FICA documents include common documents that can help prove your age, identity, residence, and perhaps even source of income. For example, national ID, passport, bank statements, utility bills, etc., are common FICA documents.