This YesPlay review reveals that this gambling platform features various sports and games excellent for all kinds of gamblers. This YesPlay South Africa review contains all the relevant information you should know about the platform.
Our YesPlay Review
YesPlay is a betting platform based in South Africa, offering a unique gambling experience for South African bettors. From novices to seasoned pros, punters can easily access the site. Many players trust the website because it uses security measures such as SSL encryption to protect user information.
In addition, it adheres to the stringent standards set by the Western Cape Gambling and Racing Board. This is to prevent scams and the laundering of illicit funds.
Furthermore, there are several games available on YesPlay. The software providers on the site include Pragmatic Play, Evolution, and Ezugi. The games offered by these three publishers all have high-end graphics, which contribute to the exceptional gaming experiences players have on this betting site.
This YesPlay South Africa review will show players some of the key features to take note of. They include:
Large selection of betting markets to choose from.
The bookie has a license from Western Cape Gambling and Racing Board.
Availability of Lucky Numbers.
The sportsbook was launched in 2002.
YesPlay is one of the most successful South Africa.
Is YesPlay Legal in South Africa?
Yes, it is. The platform operates legally in South Africa. Consequently, they have a license and are subject to regulation by the Western Cape Gambling and Racing Board. The platform's registration is under the name SA Sportsbook (Pty) Ltd.
The bookmaker collaborates with the National Gambling Board and financially supports the country's National Responsible Gambling Programme. Most importantly, the personal and financial information of customers is kept safe on YesPlay. This is done by the SSL encryption certificate provided by R3.
Additionally, as part of their efforts to comply with the regulations, YesPlay ensures a secure environment for gamblers. As a participant in the Protection of Personal Information Act, the online gambling platform offers an additional safety measure to its customers.
Like most bookmakers, YesPlay has a whole page on their website on responsible gambling.
No matter the YesPlay review you see online, almost none of them will have anything negative to say about the bookie. As such, you can always trust the bookmaker's platform. In addition, all their games pass through regular audits to ensure fairness.
YesPlay Welcome Bonus Review
All new players are eligible for the YesPlay welcome bonus. After you sign up, you'll receive a 100% bonus on your first deposit. You can bet on the upcoming match or any other pre-match or live event, lucky number, or game with the bonus money. In comparison to other sign-up offers, this one allows you to spend your bonus on more events.
Like most sports bonuses, there is a wagering requirement on YesPlay. Ensure you read the terms and conditions that apply to this bonus. We rate this bonus 4/ 5.

YesPlay Sports Betting Review
While conducting this YesPlay review, our opinion is that YesPlay is a decent sportsbook. They offer over 10 sports options, which is not as many as you'll find in most bookies. Some of the sports you'll find include:
Soccer
Tennis
Cricket
Rugby
Basketball
Boxing
Ice hockey
Volleyball
They also offer esports like Dota 2 and League of Legends. Also, players using the site can access odds from various betting markets, both locally and internationally.
The sportsbook section has some fantastic features for punters in South Africa. For instance, they can view live results, upcoming events, available odds, and other helpful game statistics when betting on sports. In addition, the bookie features top sports competitions from countries worldwide.
Also, the sports betting website allows users to place wagers before and during the actual event. The following are some of the most well-liked options for placing sports bets at YesPlay.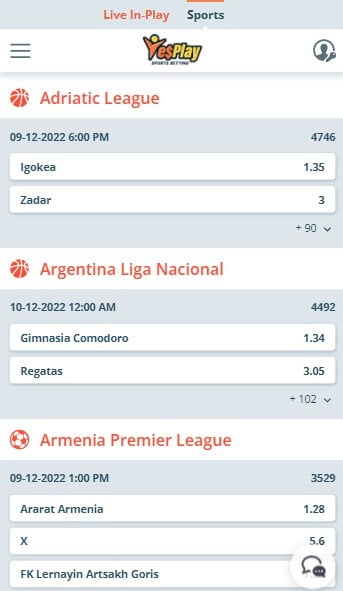 Sports Betting Markets
When you compare this platform to other sites, YesPlay provides a select number of matches and betting markets. There is a limit to the available betting possibilities. You can wager on sports such as soccer, rugby, cricket, tennis, basketball, ice hockey, boxing, mixed martial arts (MMA), volleyball, and esports.
The selection is less comprehensive than what you will find at some of the more well-known bookmakers in South Africa.
The sports betting section of Yes Play's website has been purposefully built to be user-friendly. The sports betting site is optimized for mobile use and operates quickly across all platforms. A format similar to 1×2 is used. Therefore, users have access to future matches and events that are due to begin in the coming hours.
Odds
YesPlay offers quite favourable odds, with about 100 betting markets available for each English Premier League soccer match. Since YesPlay does not yet offer horse racing, fans of the sport are likely to have less satisfaction with the quality of service.
Irrespective of this, you do get competitive odds on the site, with the odds being provided to facilitate the placement of quick bets.
Lucky numbers
It can be fun to try your luck at the lotto. To win the lottery, all you have to do is place a bet on the numbers. After that, you then wait to find out if your pick was a winner. You can play lottery games from all around the world at YesPlay. They feature popular games such as 49S Lunch 6/49, Keno 20/80, Gosloto 5/36, and Kentucky Keno 20/80.
The South Africa daily lotto 5/36, and California Hot Spot 20/80 also fall into this category.
Live Betting
YesPlay allows customers to gamble in real time on the outcomes of several sporting events. This includes basketball, tennis, and soccer. Consequently, the range of markets available for in-play betting is comparable to what was available for pre-match wagering.
Live betting is not only quick and interesting but also provides a few more betting possibilities than traditional betting does. As a result, you are able to participate in the action and place bets even after the event has already begun.
YesPlay Lucky Numbers Review
YesPlay is an excellent betting site for you to use if you enjoy participating in instant win live games and lucky numbers. Consequently, It provides access to over 60 lotteries from all over the world. Players can win a trip anywhere in the world by playing the lottery.
Additionally, since the site covers many different lotteries, there is always one that is open for betting on. Also, you can, of course, also take part in the national lotteries that are offered in South Africa. This includes the SA Lotto and the SA Powerball.
The bookie's lotto feature, known as the Lucky Numbers tab, allows users to wager on many international lotteries. The South African Daily Lotto, the UK 49s, Gosloto, Keno, and California Hot Spot are part of it. Also, the New Jersey Quick Draw is some of the most popular lotteries players can choose from.
If you enjoy playing these games, make sure to remember to take a look at their promotion page. Meanwhile, there are always special free bet promotions available on some lotteries, so ensure to take advantage of them.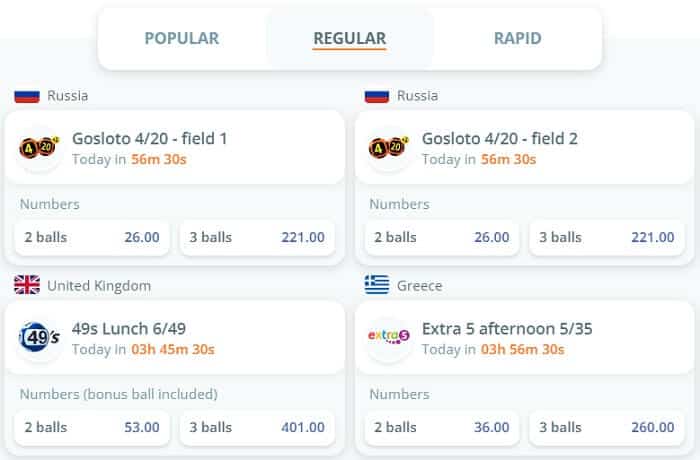 YesPlay Payment Methods Review
Financial transactions are a crucial aspect of the online sports betting experience for South African participants. There is the need to both deposit money into their accounts and withdraw their winnings. The site offers different payment methods. As a result, you can choose from different banking options when making transactions on the site.
Deposits and withdrawals on the site are an easy process since there are various payment options available for you to choose from. These include Visa, Mastercard, EFT, 1ForYou Voucher, FNB, SnapScan, Ozow, and OTT Voucher. Also, the site requires a minimum deposit amount of R50.
Deposits are instant, sometimes the entire transaction is finished in a matter of seconds. We rate the methods 4/ 5.
YesPlay App Review
Bettors in South Africa can use mobile applications to connect to a bookmaker's website. That is to say, the betting site has a mobile app available for Android or iOS. Customers have the option of downloading the apps through the Google Play Store, App Store, or directly from the website.
The Android and iOS versions of the YesPlay app have comprehensive mobile optimization. Please be aware that the website does not currently provide any bonuses that are mobile-only. Indeed, the bookmaker has made betting highly convenient for players.
YesPlay Registration Review
The signup process for YesPlay is among the most straightforward of any sports betting site in South Africa. To get started with the YesPlay registration, click on the sign-up button. After that, you will be required to complete the process by entering your personal information. Finally, you can submit the form.
YesPlay Customer Service Review
You may run into issues with your account on YesPlay South Africa from time to time if you play there. However, there is no need to freak out about this situation. This leading online bookmaker provides first-rate customer support services. In other words, their customer service representatives are always prepared to offer assistance.
You can contact YesPlay's customer support team at any time, day or night. This YesPlay South Africa review revealed that they have various support channels. This includes email, phone, and social media pages.
Bettors can contact YesPlay by sending an email with details of the issue. Subsequently, they can anticipate receiving a response in no time. However, if you would prefer to speak directly with a representative, you can get immediate assistance by giving them a call.
YesPlay, in contrast to other online sportsbooks, enables its users to communicate with one another using social media platforms. These include Facebook, Twitter, and Whatsapp.
Before contacting any of the support channels listed above, it is recommended that you first look for answers in the Frequently Asked Questions section. YesPlay provides exceptional customer support service available around the clock, seven days a week if you have any problems.
Conclusion
From this YesPlay review, you should be able to tell that the site is a trustworthy online gambling platform. The platform offers promotions and bonuses for punters. The predictions and the odds players receive automatically elevate the level of excitement that comes along with betting.
This YesPlay review proves that the site is a secure website that complies with all applicable laws and regulations. In that case, they hold a valid gambling license. This makes it an ideal destination for gamblers searching for a legit site for sports betting and other games.
The site's quality of enhancing the betting experience is more impressive by the extensive selection of sporting events. Most importantly, their live-in betting feature is an advantage. They offer top-notch betting experience on desktops, mobile phones, and tablets.
Their bonus section continues to provide punters with new offers, which keep bettors playing on the site. Even when you aren't actively playing, YesPlay keeps you abreast of what's happening in your favourite games.
YesPlay Review South Africa FAQs
Is YesPlay trustworthy?
Yes, it is. Players can bet with a sense of safety knowing that a reputable body licenses the site. Also, players' information on the site is protected against hackers.
Does YesPlay work in South Africa?
YesPlay is a legal sportsbook in South Africa with the appropriate license. YesPlay operates with a license from Western Cape Gambling and Racing Board.
How do you use FICA on YesPlay?
You have to either scan or snap your FICA documents using your phone. Make sure that both the photos and the text are legible. You can then submit your FICA documents through email.
How to open a YesPlay account?
To open a YesPlay account, navigate the website and click the registration button. Next, fill out the registration form and submit the form. It is essential to ensure you submit the correct information.